Architectural design practice Hundred Mile House, have renovated and added an addition to a custom-built post and beam mid-century ranch house built in 1954 at the base of San Jacinto Mountain in Palm Springs, California.
Here's a glimpse of what the original house looked like before and during the renovation. Unfortunately the original architect is unknown.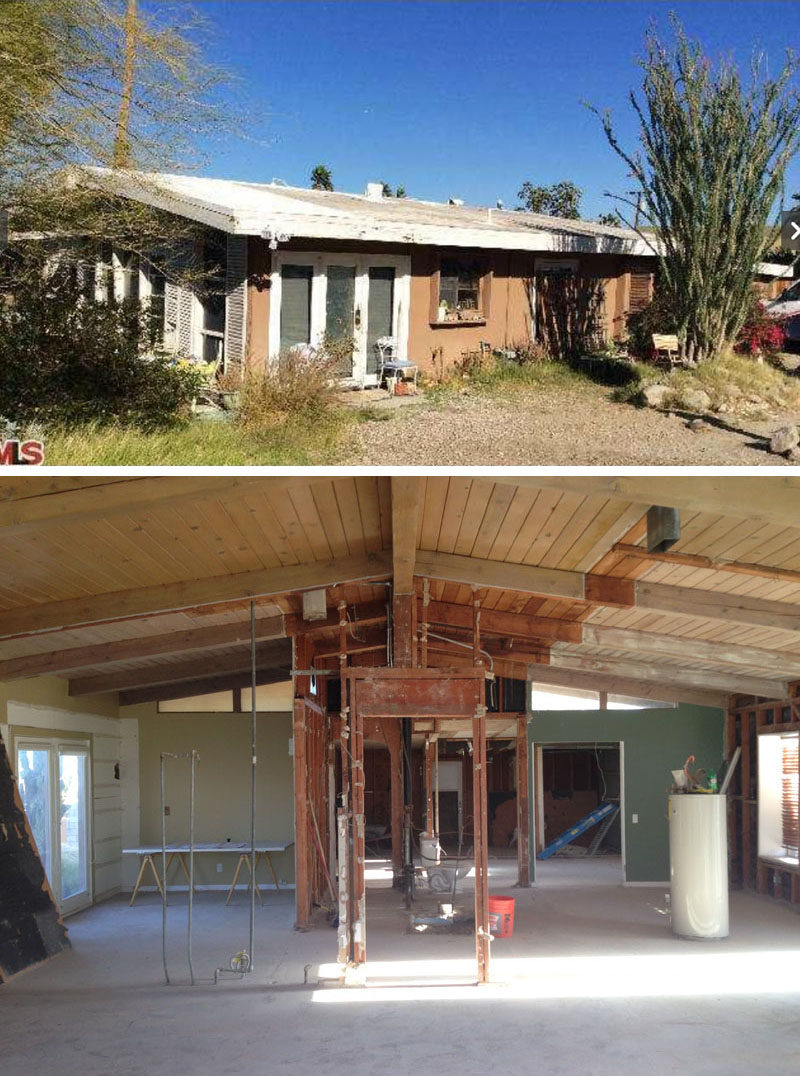 ---
The material palette used for the house has been inspired by the desert. On the exterior of the house sand-colored stucco is paired with wood elements and a rusted steel fence.
---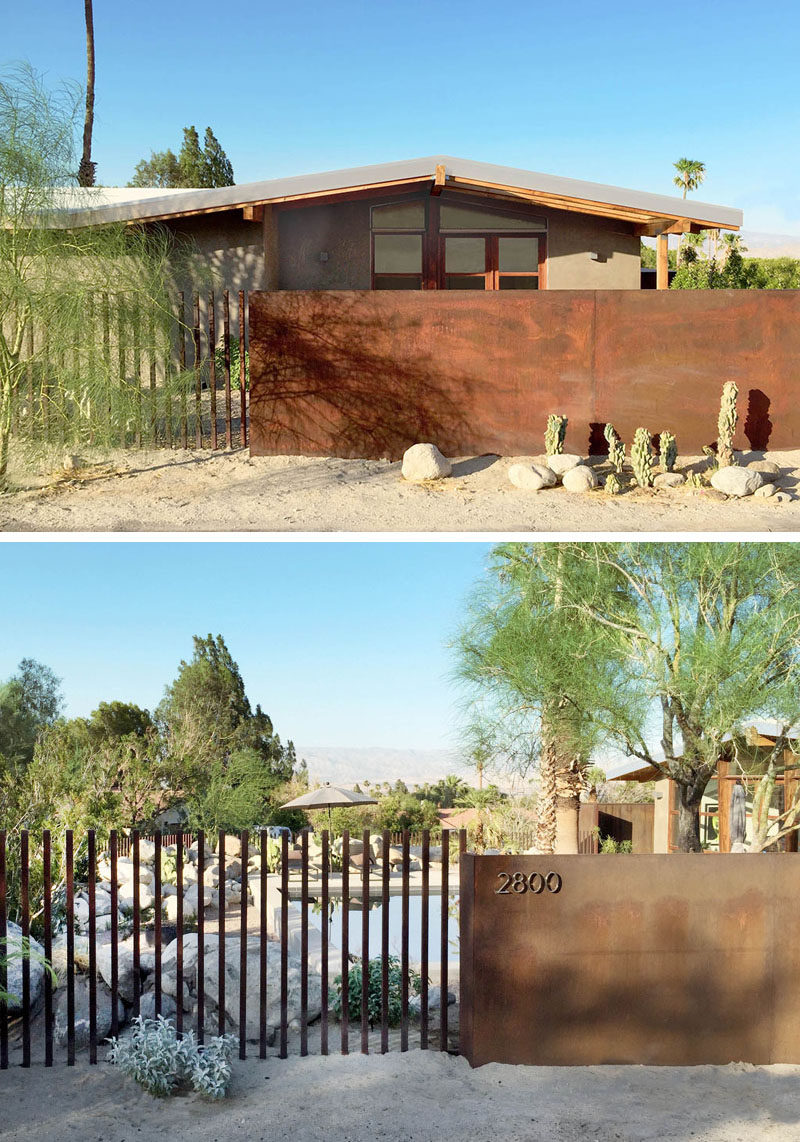 ---
Behind the fence is a courtyard with desert landscaping and steps leading up to the front door.
---

---
Inside the front door, there's a small foyer with a large piece of art hanging on the wall. The original concrete floors were re-coated and sealed, with the new addition also having polished concrete to create a consistent appearance.
---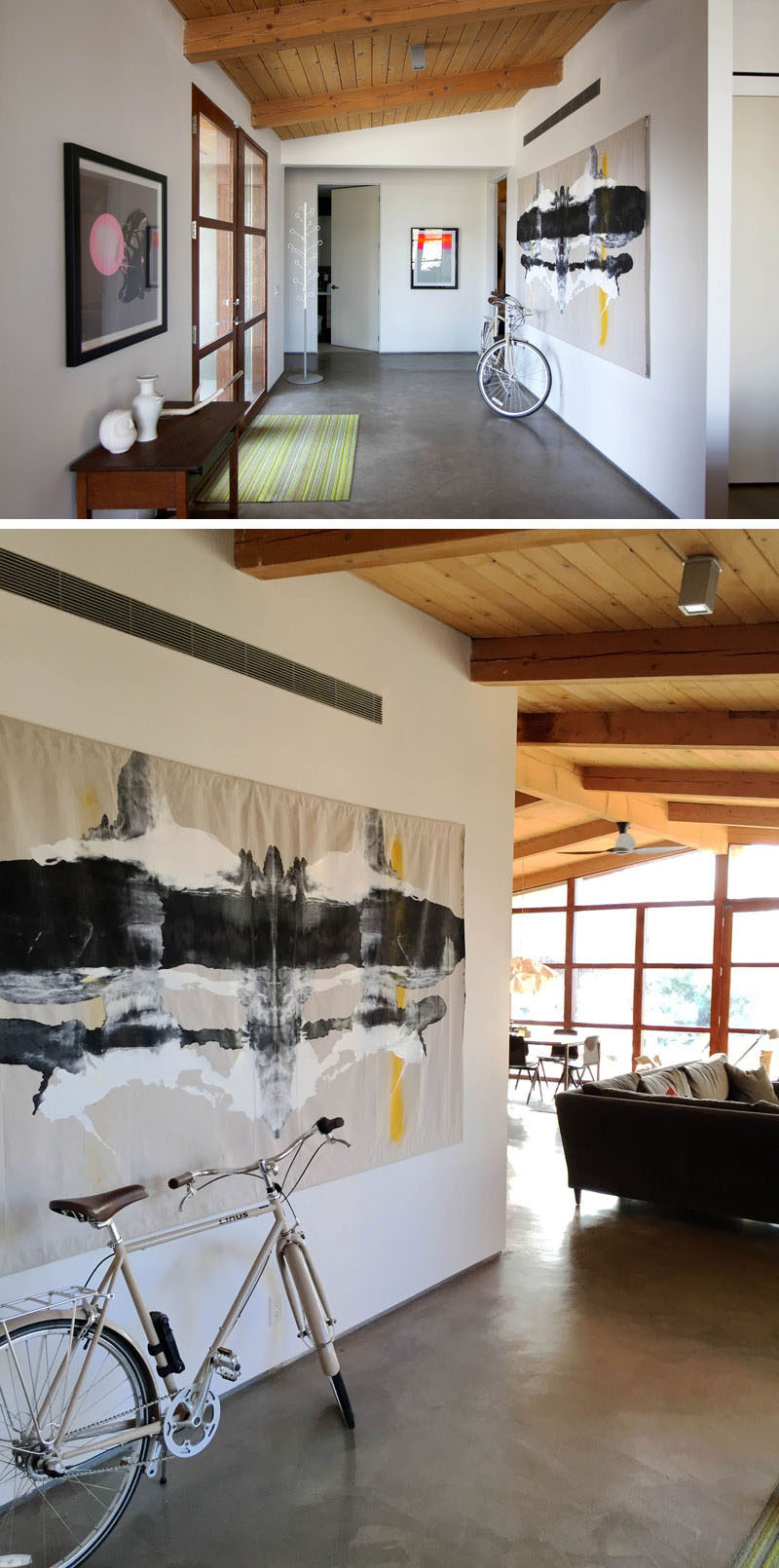 ---
The foyer opens up into a large open plan room that houses the living room, dining room and kitchen. The living room is focused on the black brick fireplace and a wall of windows floods the room with natural light.
---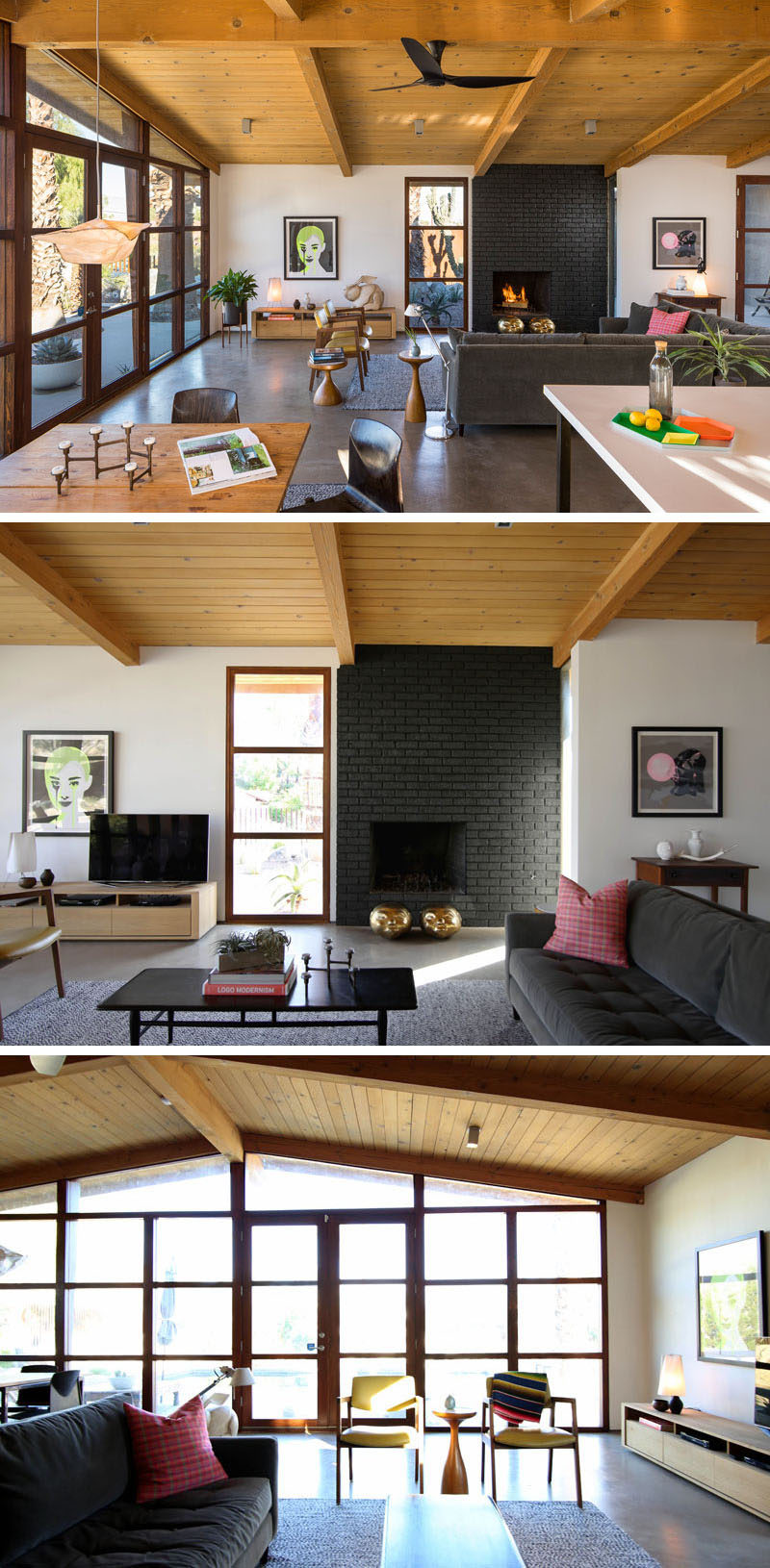 ---
Just off the living room and dining room is a new patio and pool. When renovating, the designers saved as many of the original plants as possible, including a very mature Monstrose Apple Cactus.
---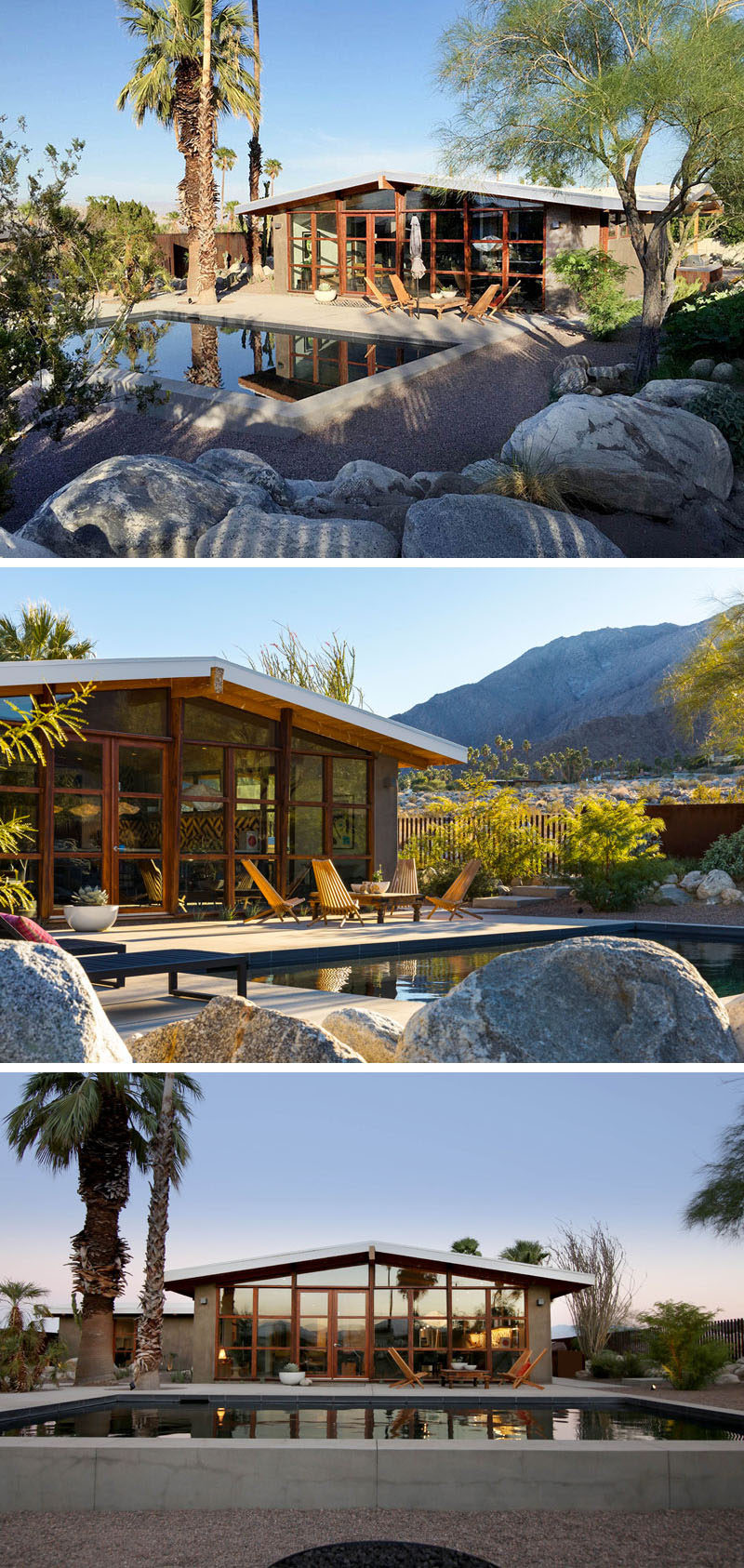 ---
Next to the patio is the new pool that's surrounded by landscaping that matches the courtyard at the front of the house.
---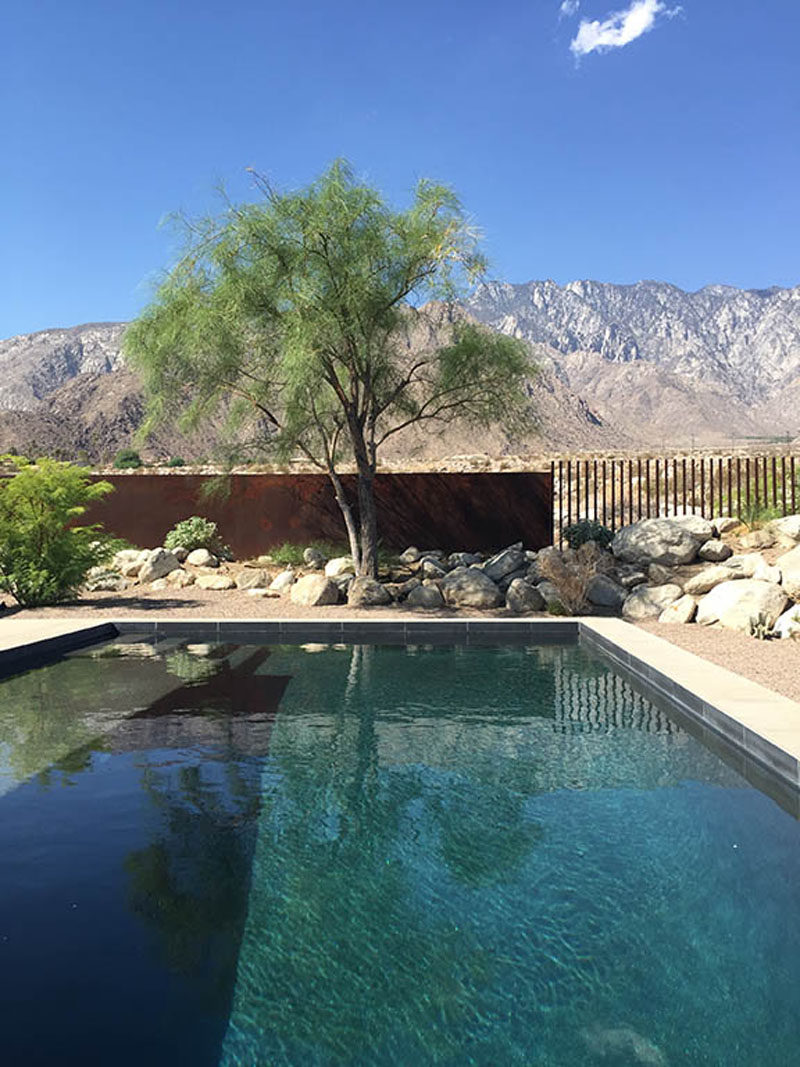 ---
At the other end of the pool is a firepit with chairs, ready for socializing on a cool desert evening.
---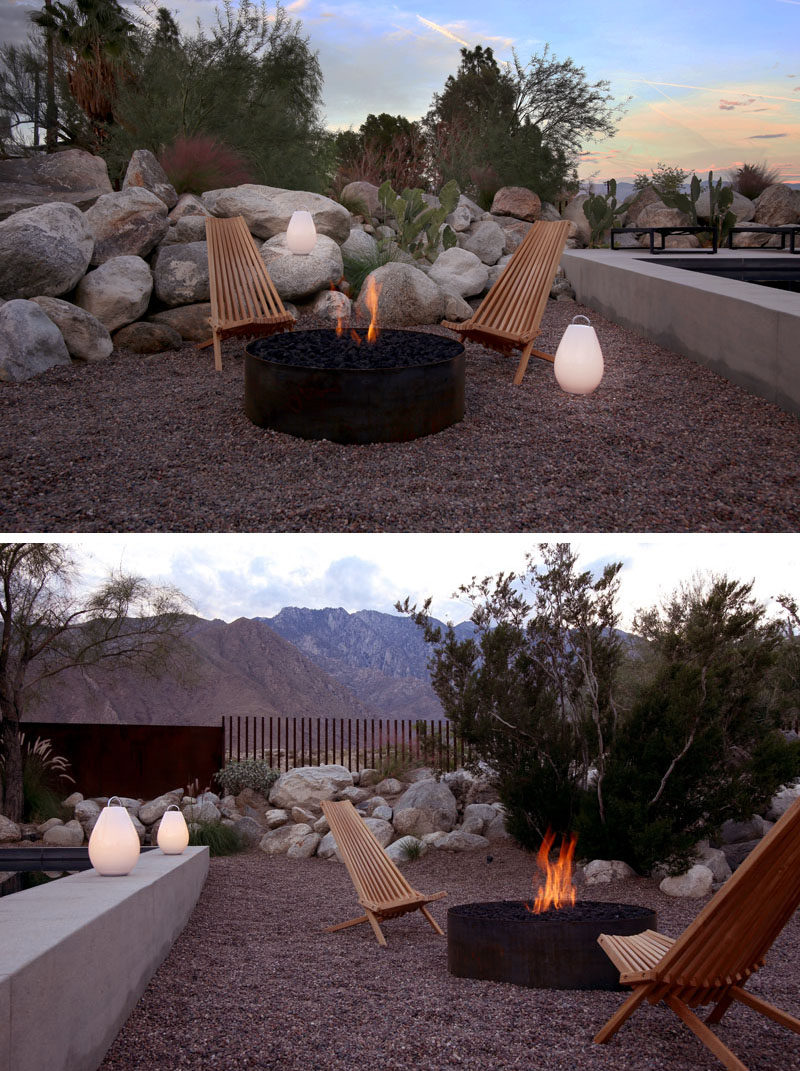 ---
Back inside, there's the dining room with a large cloud-like pendant light hanging above it.
---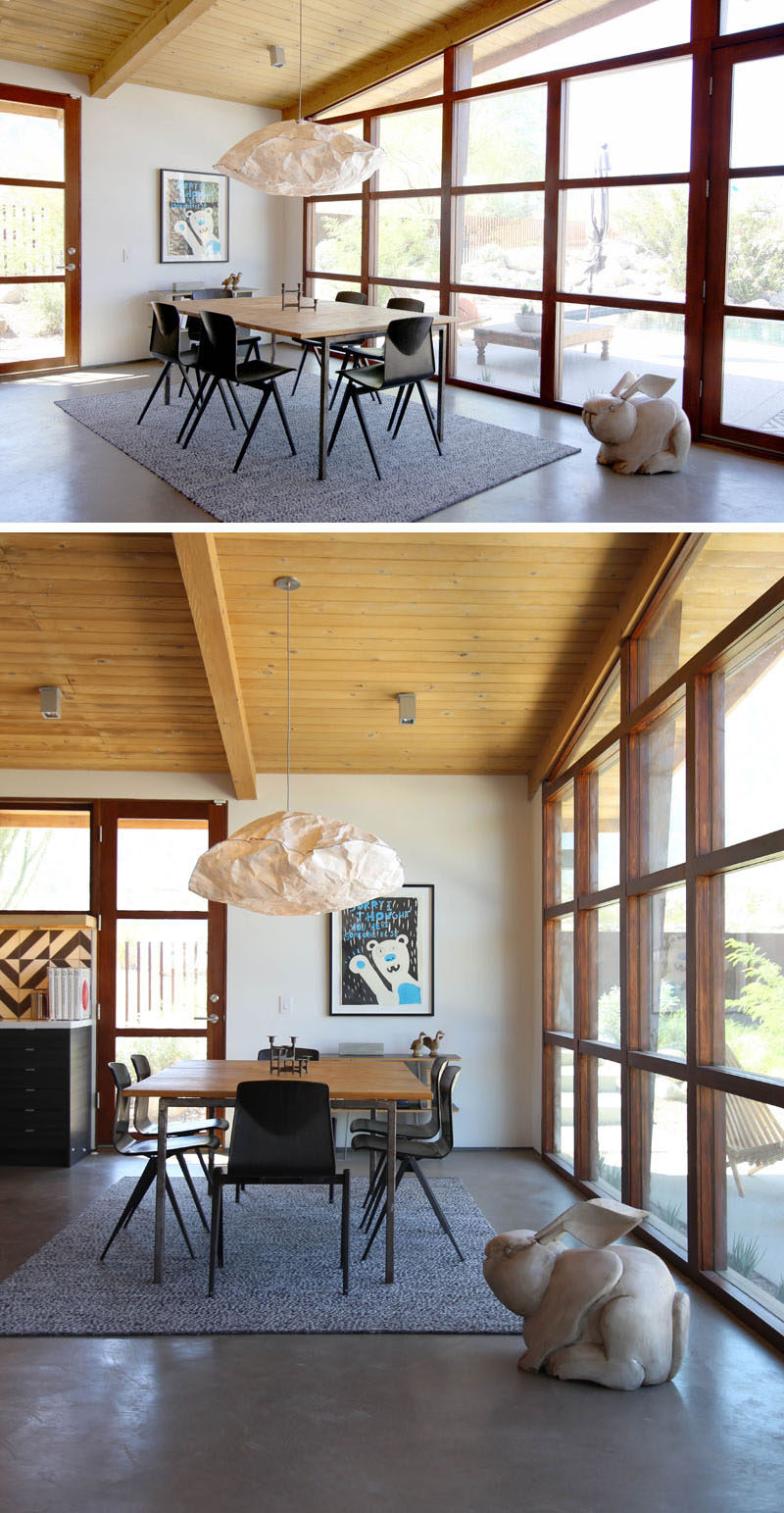 ---
Beside the dining room is the kitchen. Dark cabinets have been paired with stainless steel appliances and a patterned backsplash for a contemporary look.
---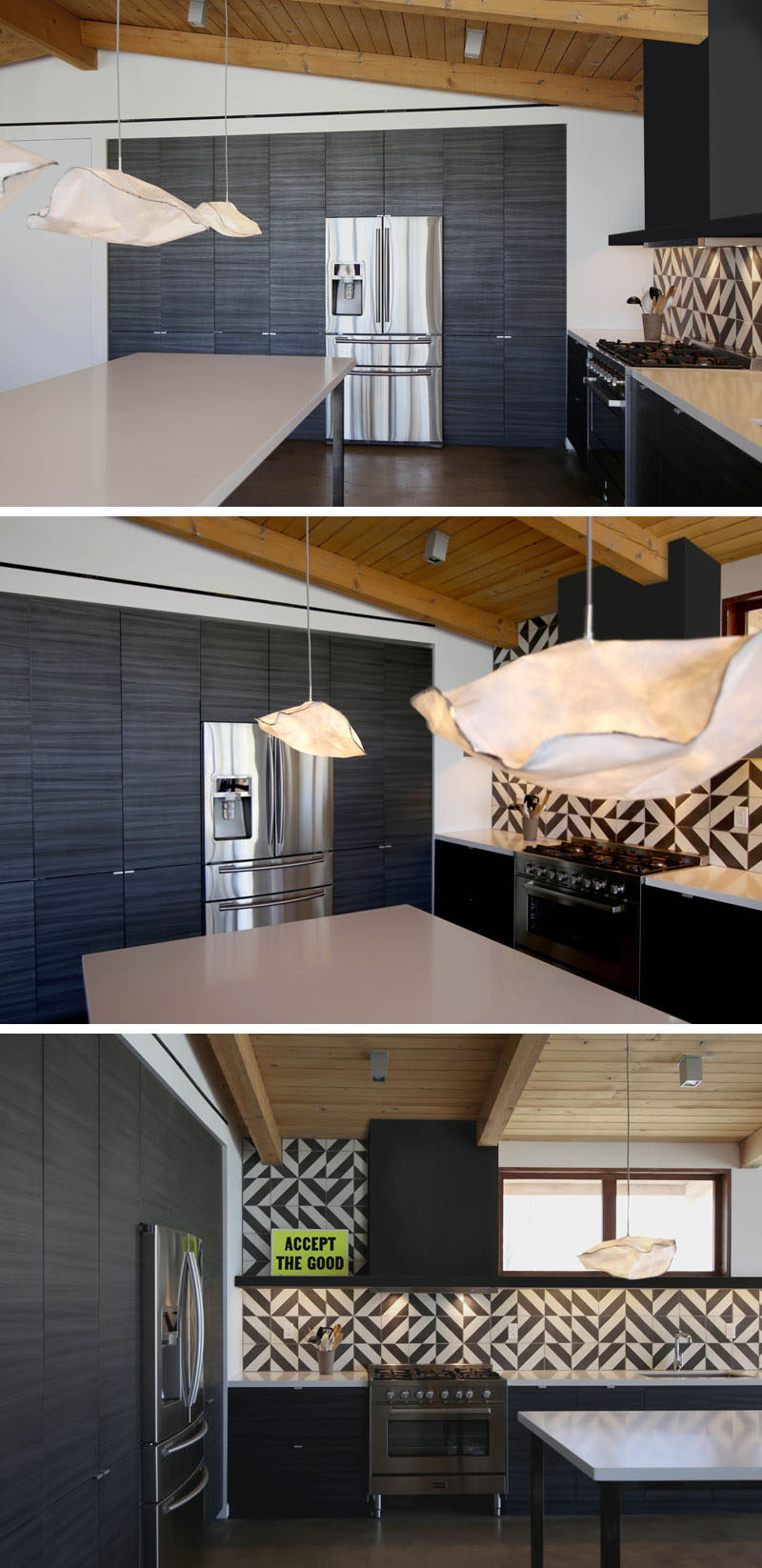 ---
On the other side of the entrance foyer is a hallway that leads to the bedrooms and studio.
---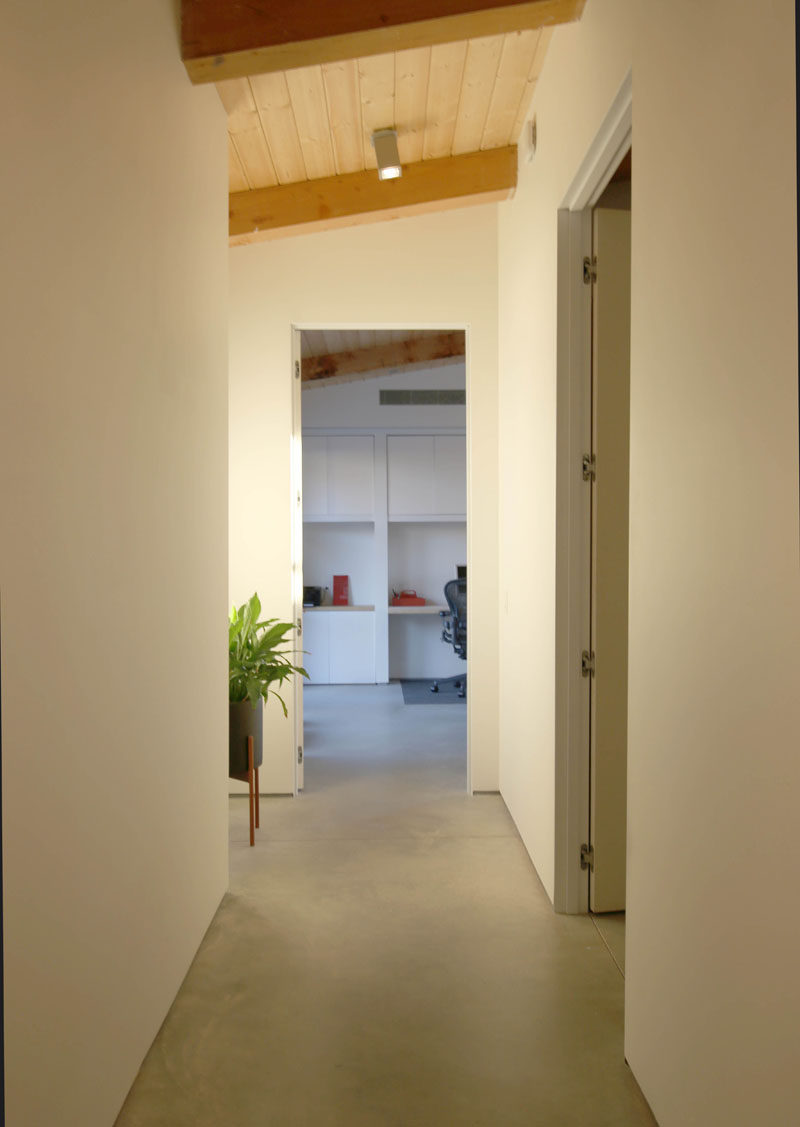 ---
In the master bedroom there's a vaulted ceiling that creates a sense of openness.
---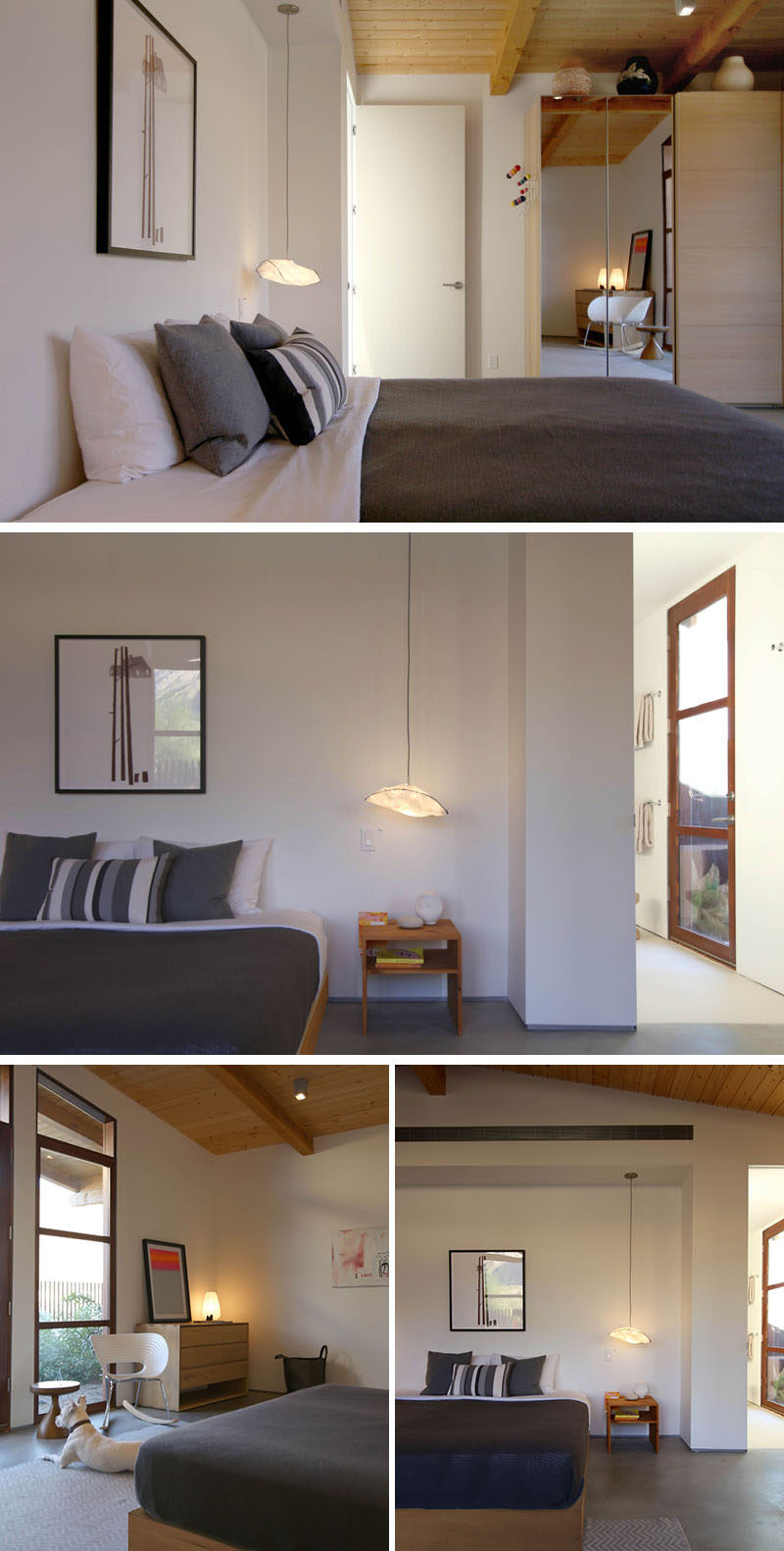 ---
The master bedroom opens up to a private patio with a firepit and small garden.
---

---
In the master bathroom, dark tiles have been used to create an accent wall, while a glass partition separates the shower from the bathtub. The dark tiles have also been used on the wall behind the mirror and vanity.
---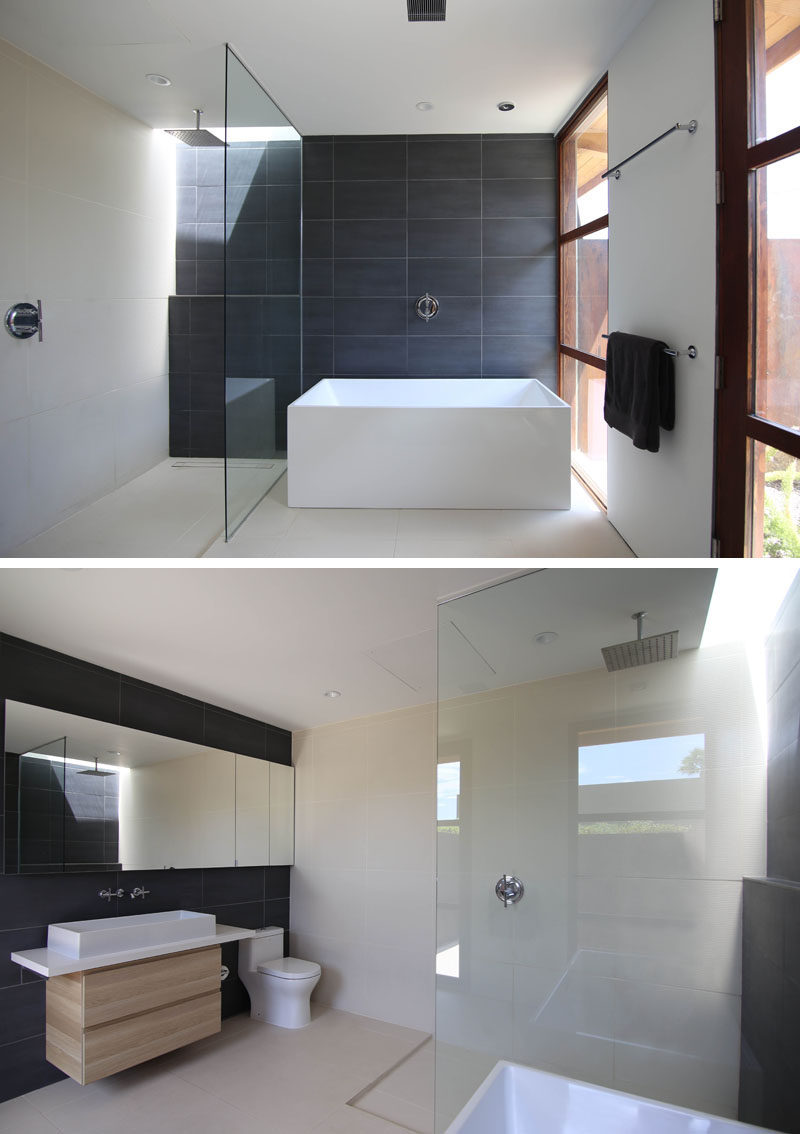 ---
In the guest bedroom, two pendant lights hang from the high ceiling to create beside lamps.
---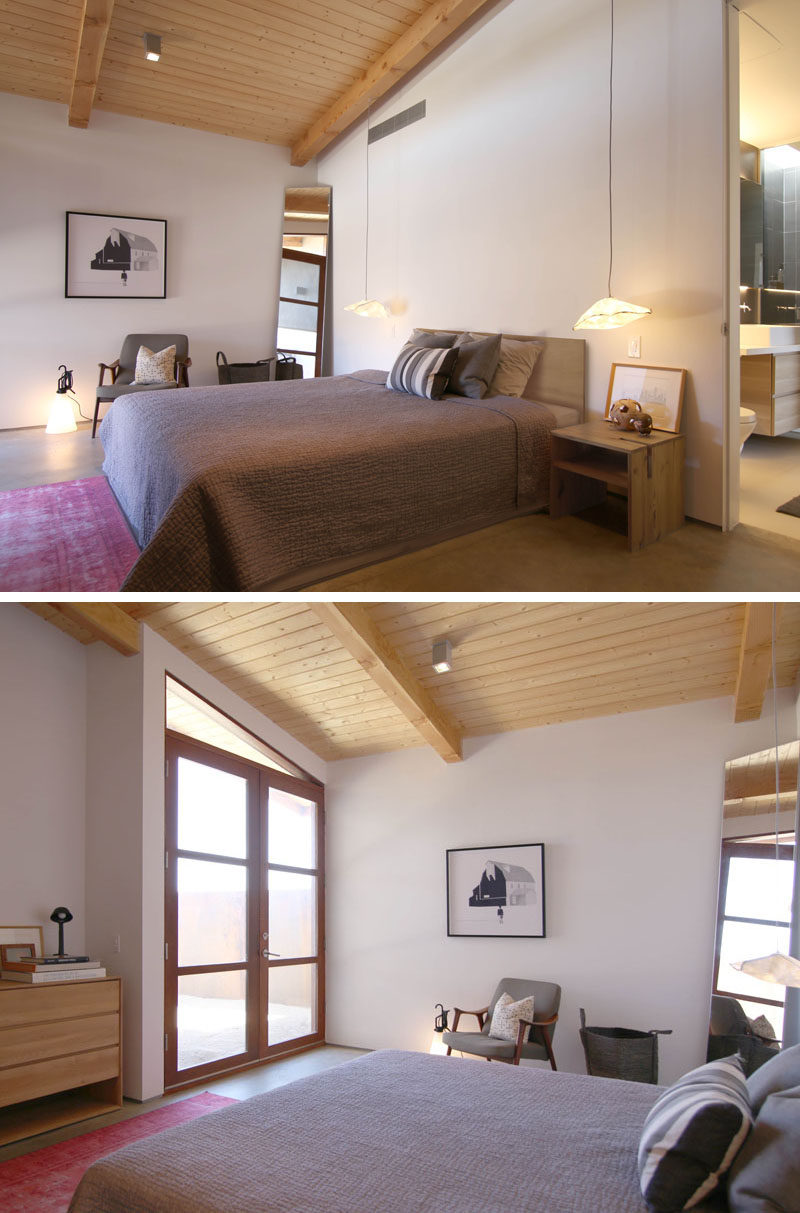 ---
The guest bedroom also has a private patio surrounded by the weathered steel fence.
---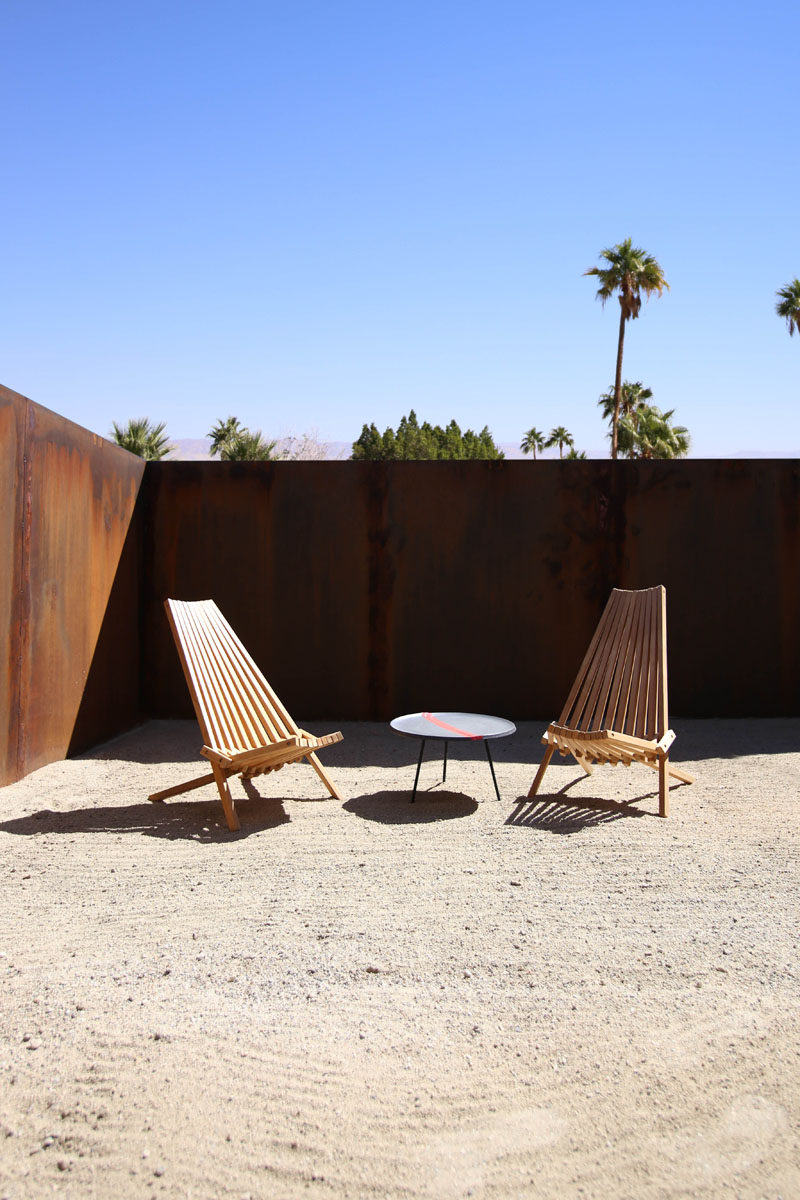 ---
The guest ensuite bathroom uses the same dark tiles as the master bathroom. A backlit mirror provides ambient light in the room.
---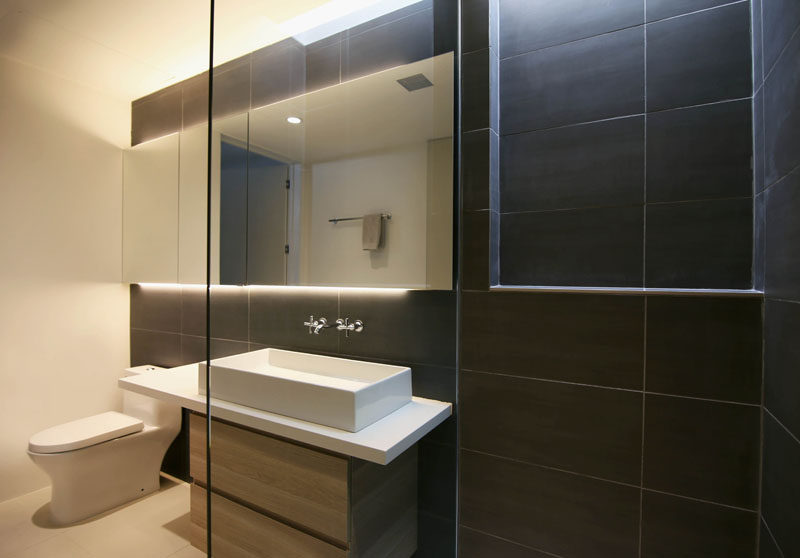 ---
Next to the guest bedroom is the studio / home office that also doubles as a gym. Wood framed glass doors open up to the patio off the guest bedroom on the right and the front courtyard on the left.
---
---