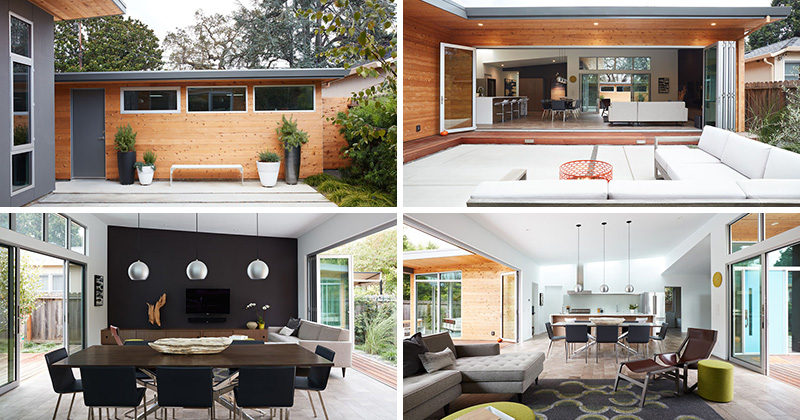 Klopf Architecture have remodeled a 1960s midcentury modern home in San Carlos, California, to be a more open, light, and indoor-outdoor, contemporary home.
The renovated house features a wood and grey exterior, and when approaching the house, you walking down a concrete path surrounded by rock gardens, wood fencing and mini courtyards provide extra privacy for the home.

---
Approaching the front of the house, beyond the sliding glass doors and clerestory windows is the living room. To the right of the sliding doors, is the front entrance highlighted by a blue door framed with glass windows.
---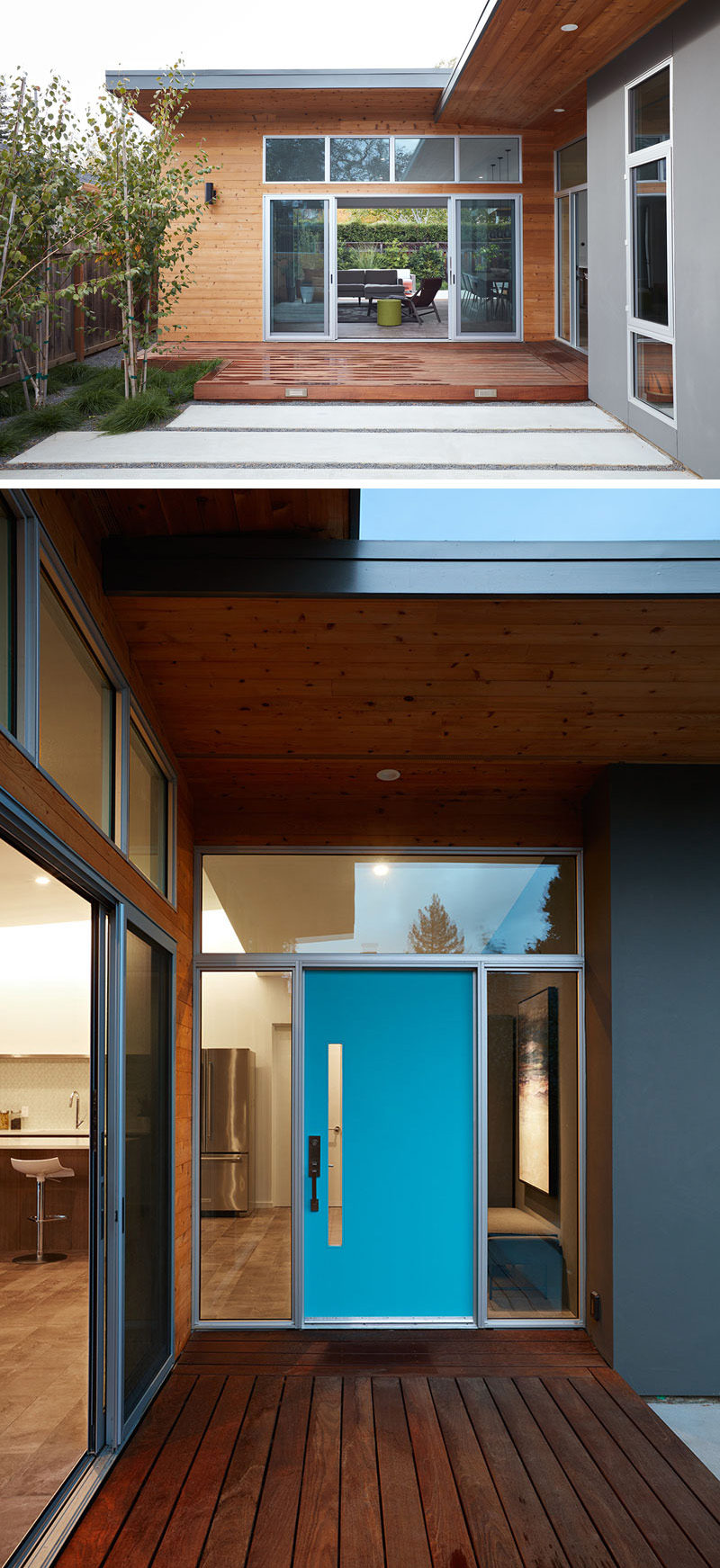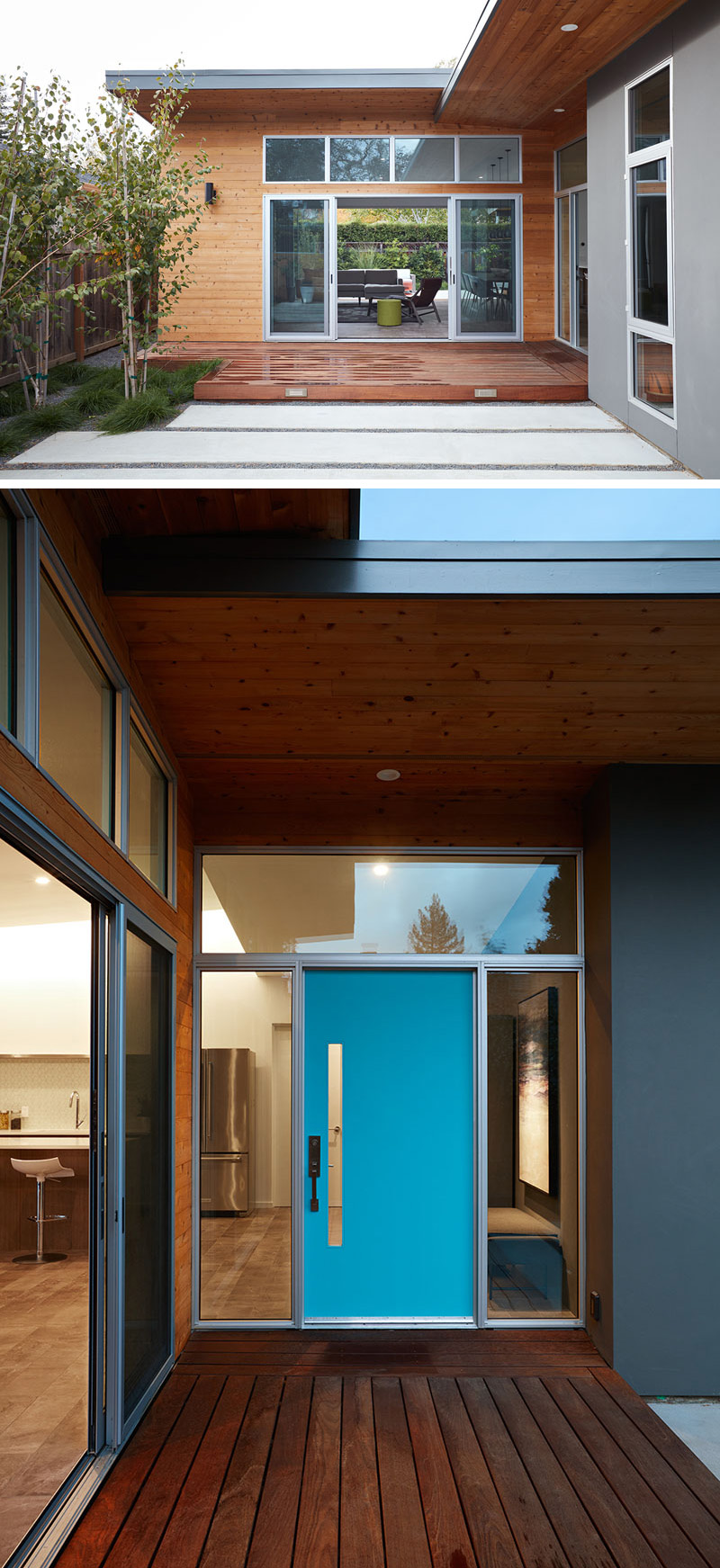 ---
Inside, the kitchen and dining area are separated by a large white and wood island that has a prep sink, which matches the white countertops and wood cabinetry. Light blue, geometric tiles have been used as a backsplash for a light touch of color.
---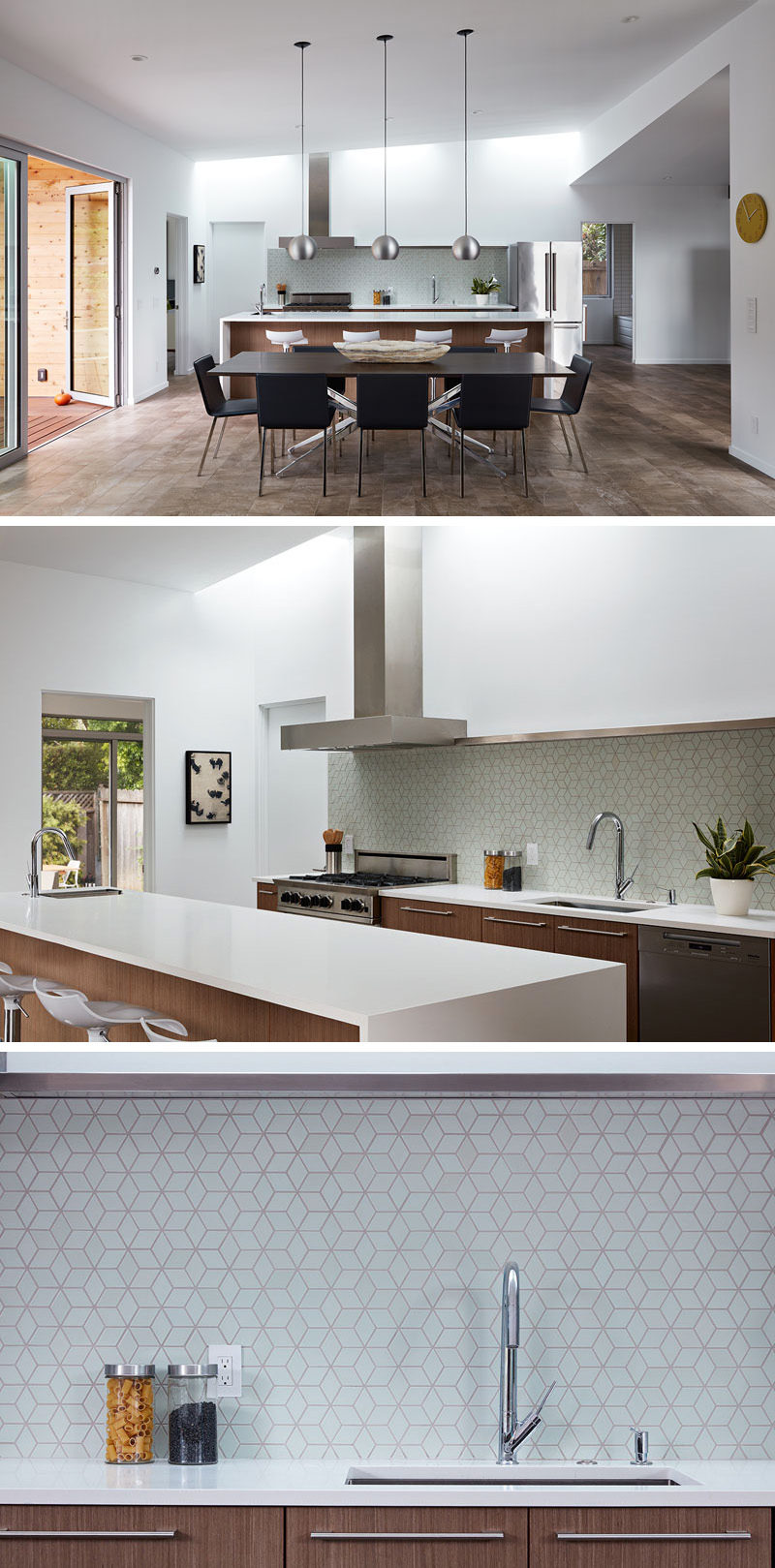 ---
The dining area separates the living room from the kitchen. Opposite the kitchen is the living room with a dark accent wall. Three silver, round, pendant lights hang above the wooden dining table, anchoring it in the large open room.
---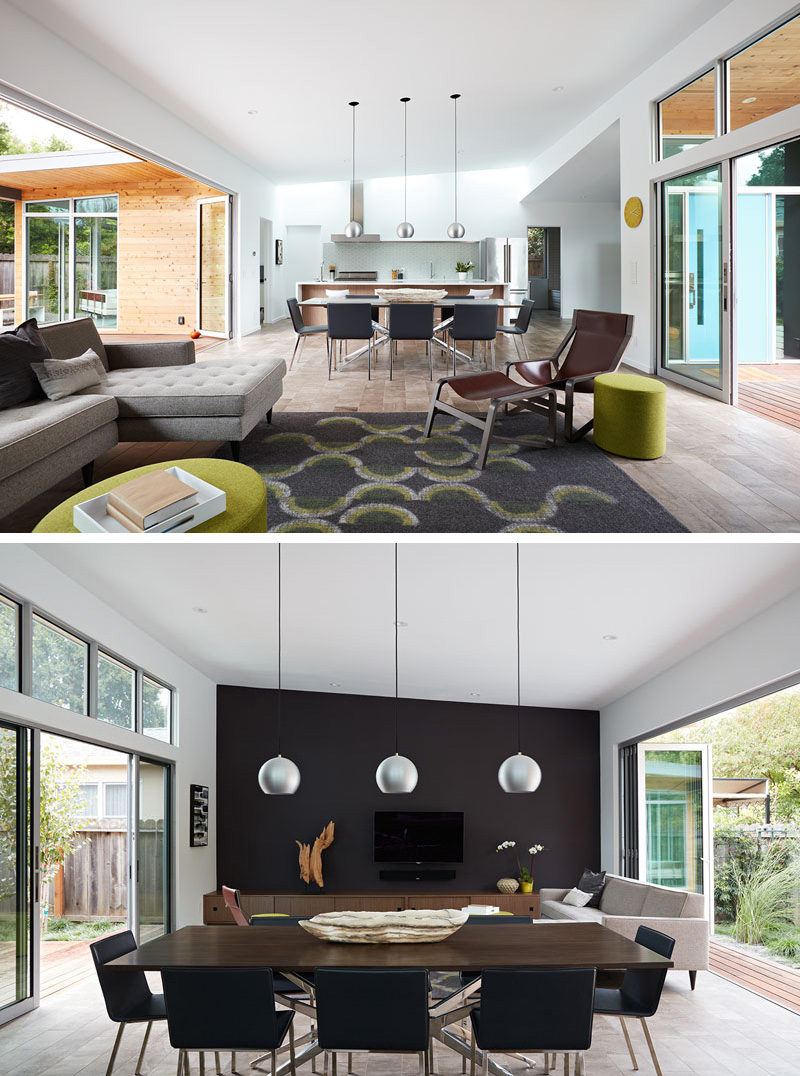 ---
The living room looks out onto the patio through a wide, glass folding wall system. The gray, green, brown, and wood furniture match the colors of the outside space.
---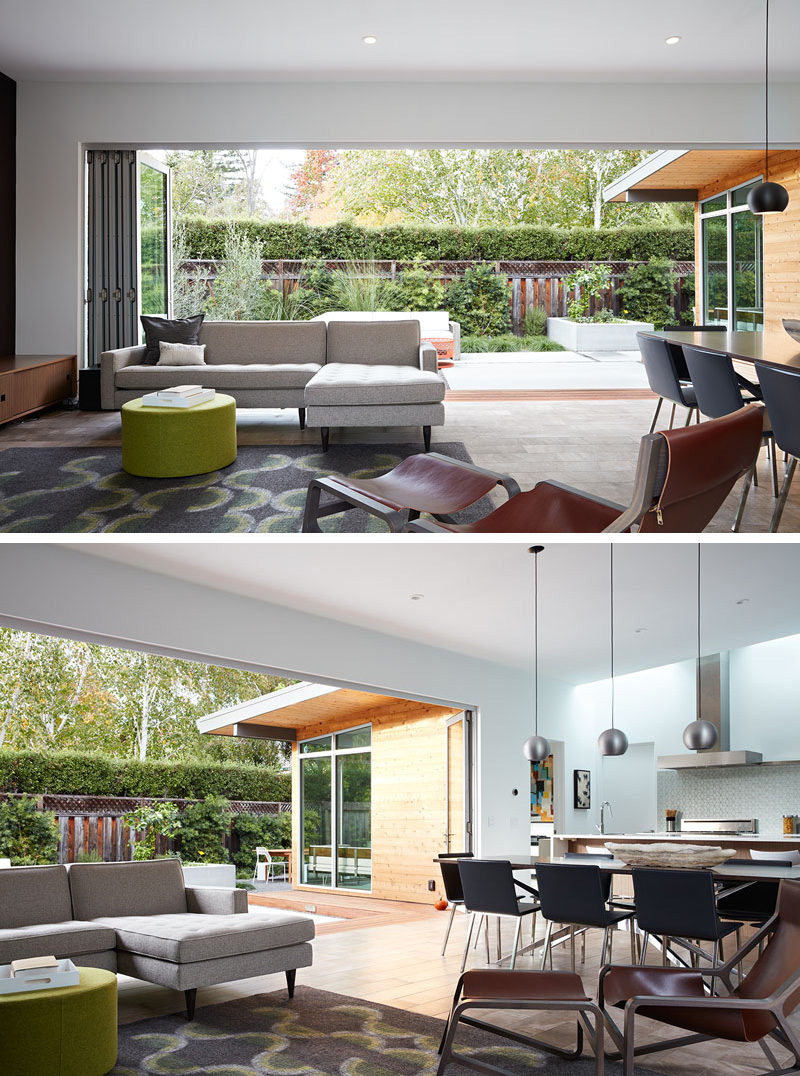 ---
The folding wall system allows the interior of the home to open up to the outside courtyards, designed by landscaping company, Growsgreen.  The patio has a comfortable outdoor corner sofa with white cushions that match the white walls of the interior of the home and a fire pit for cooler nights.
---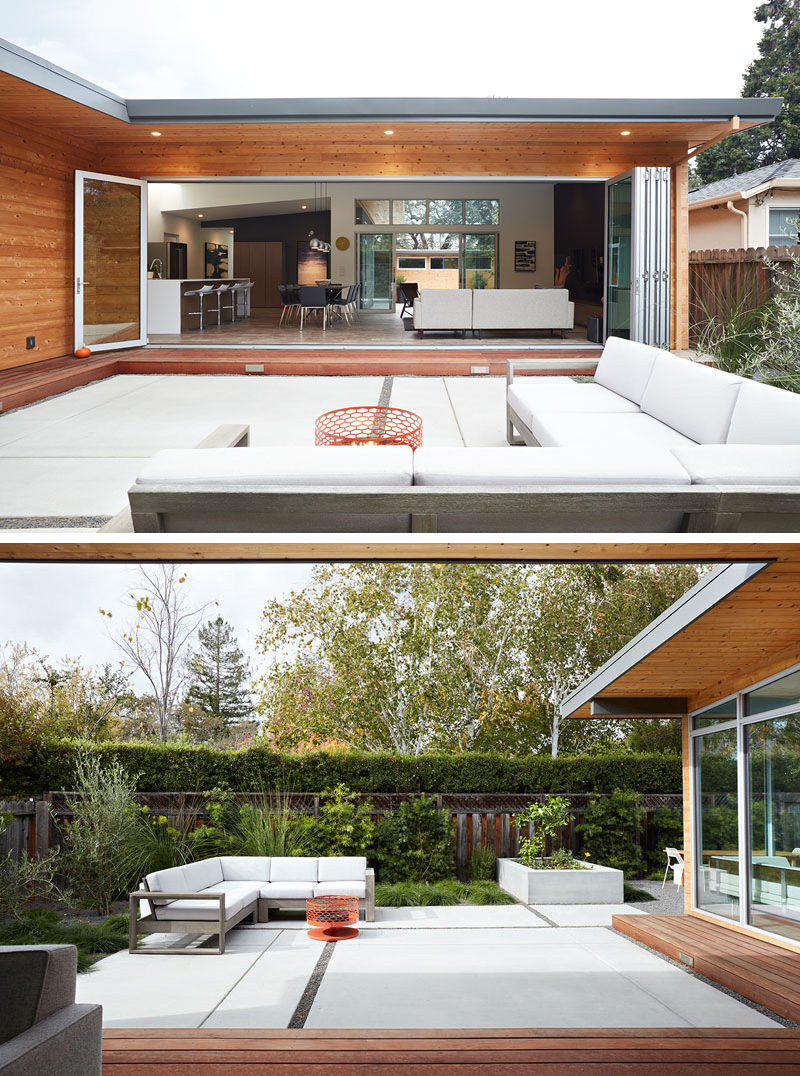 ---
Tucked beside the patio is an outdoor dining area set up with a wood dining table and bench seating.
---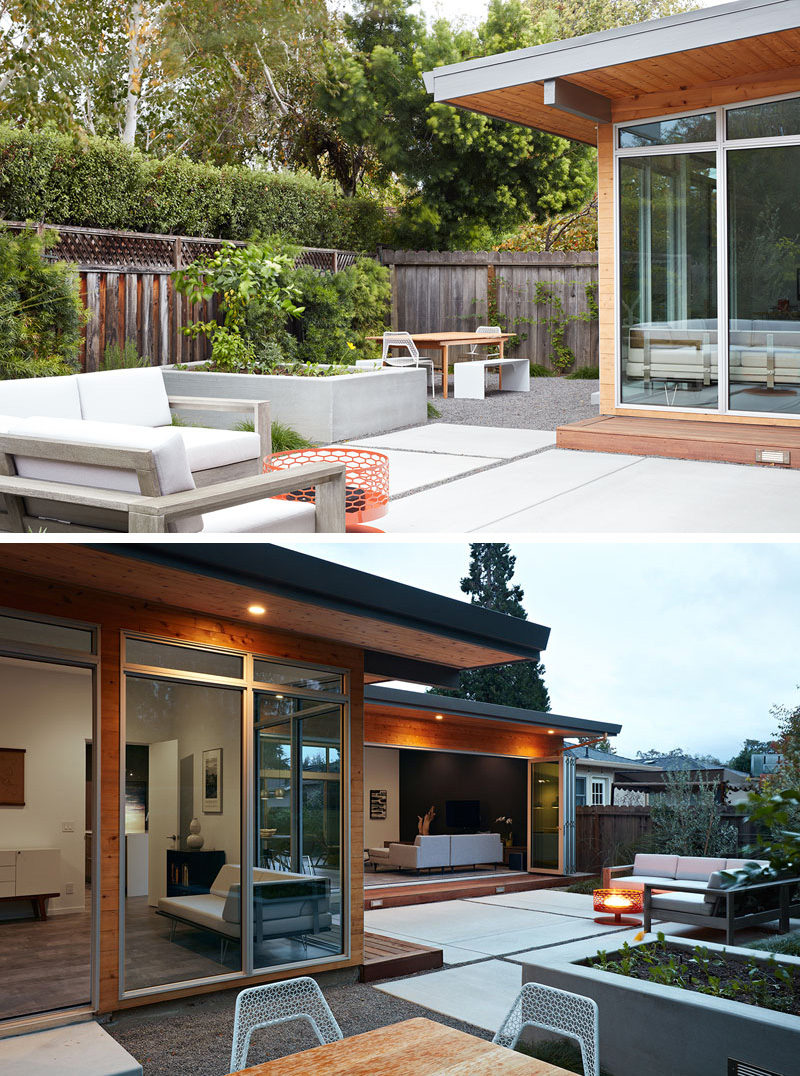 ---
Located beside the outdoor dining area is a home office that's surrounded by large windows and sliding glass doors, filling the room with lots of natural light to work in.
---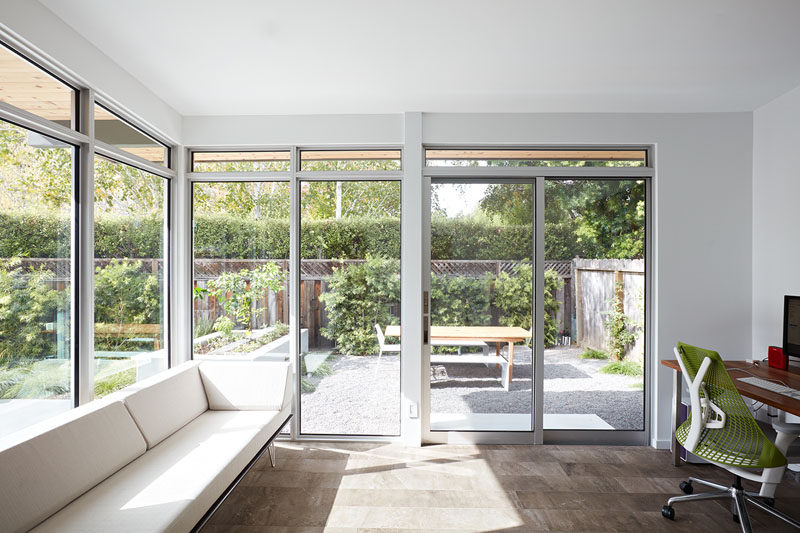 ---
Leaving the office, a white hallway with a skylight leads to the bedrooms and bathrooms.
---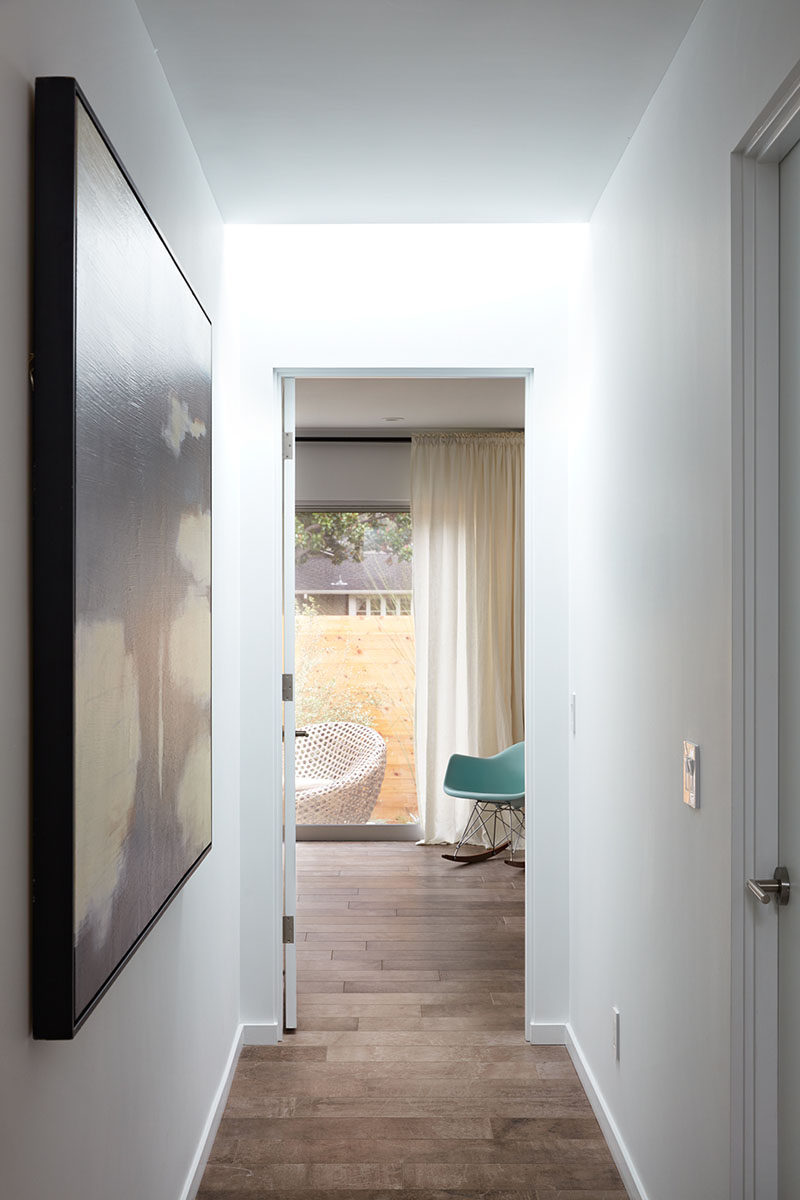 ---
The master bedroom has a pop of color with a bold art piece that matches a blue Eames rocking chair in the corner of the room. The bed faces a large sliding glass door that looks out to a private patio.
---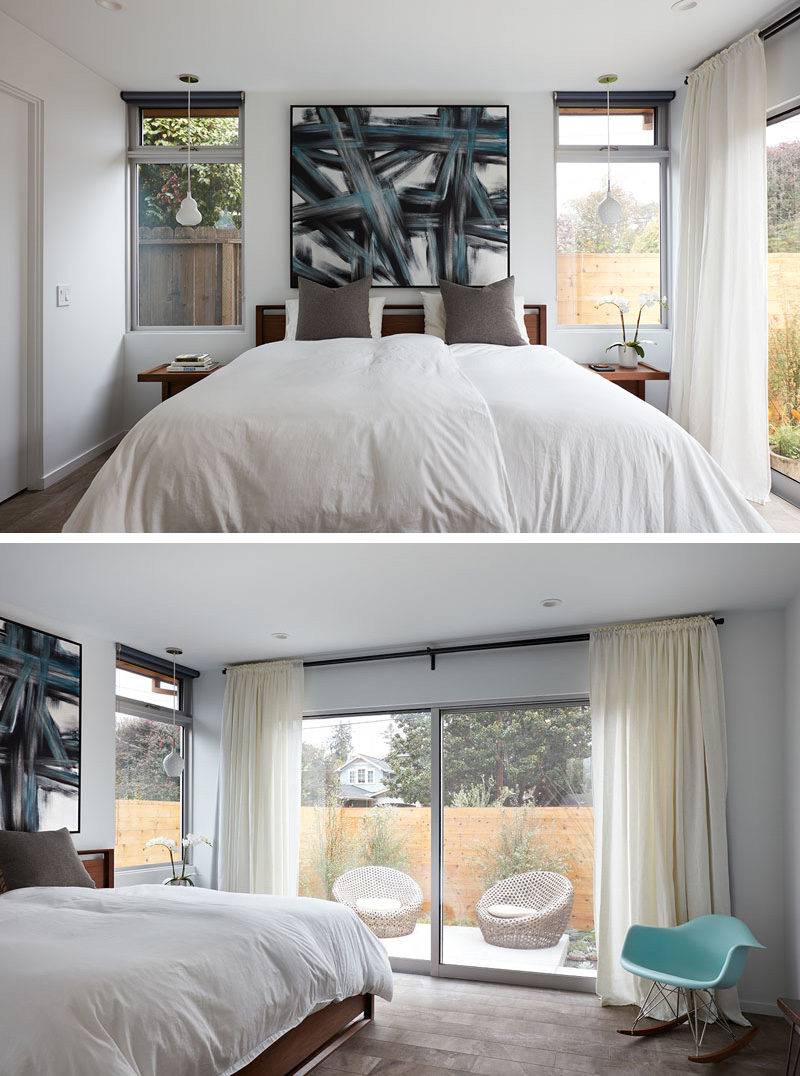 ---
The mini private patio has a set chairs to relax on and enjoy the view of the garden.
---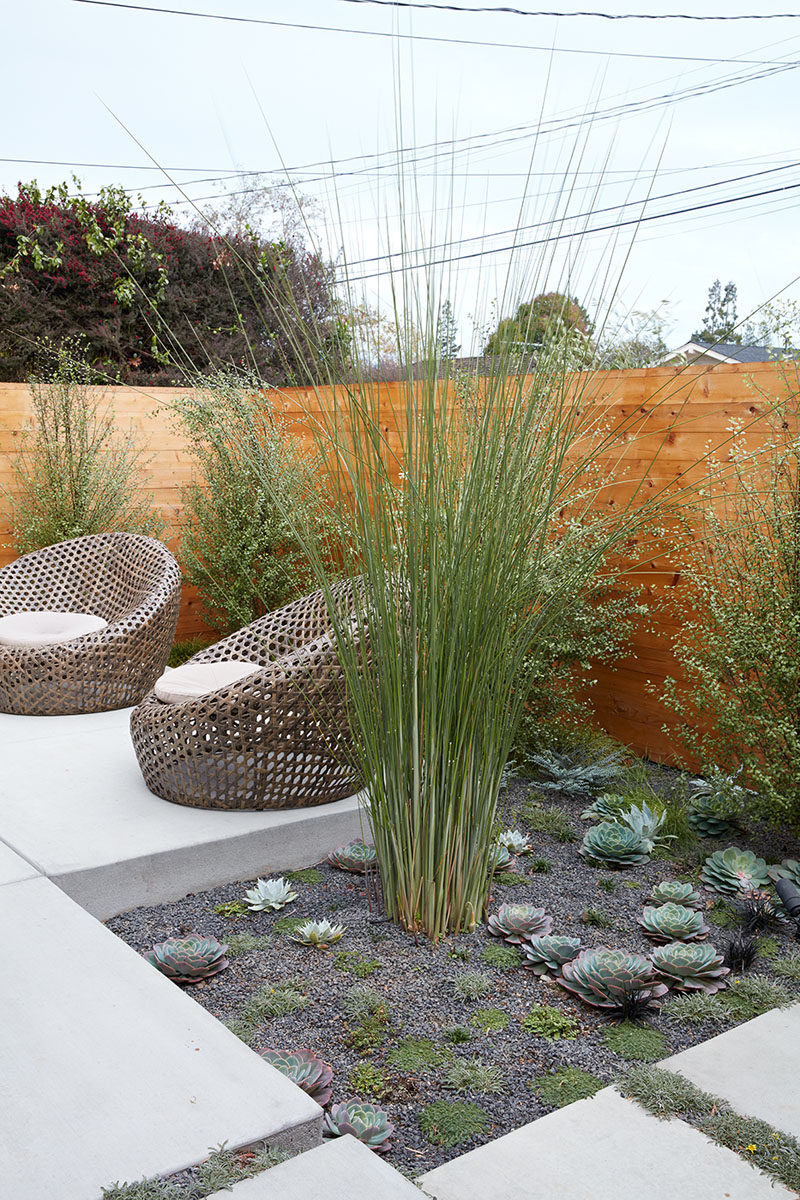 ---
Back inside, the light from the skylight above the his and her sinks in the master bathroom bounces off the matching mirrors making the room brighter.
---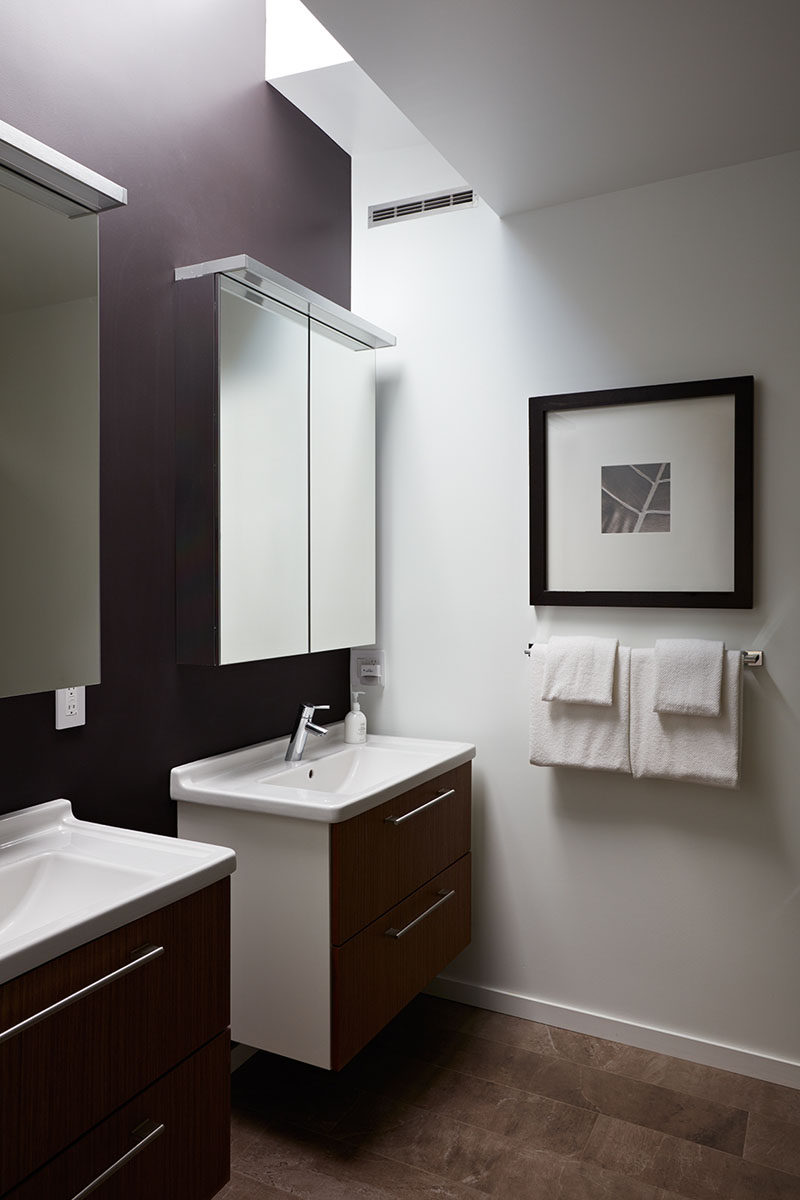 ---
In the second bedroom, the bed sits between two windows and against a wall with decorative motifs. The closet is accessed by a set of sliding doors.
---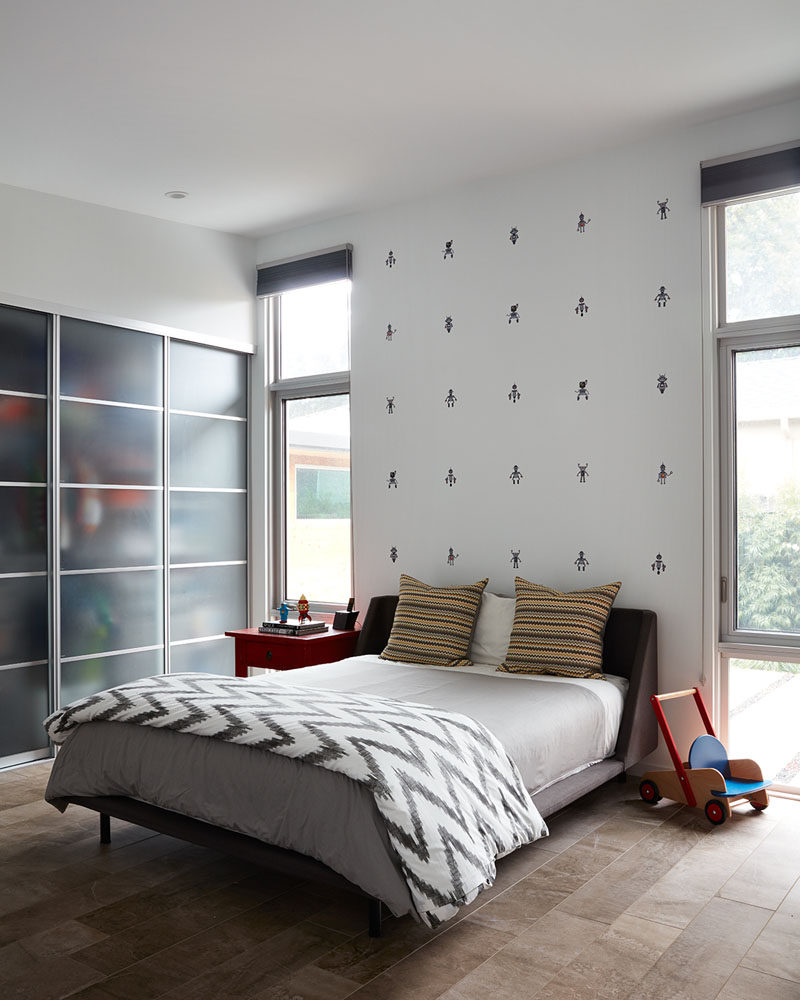 ---
The final bathroom has a tall window, and a large bath tub with shower is surrounded by cream colored rectangular tiles.
---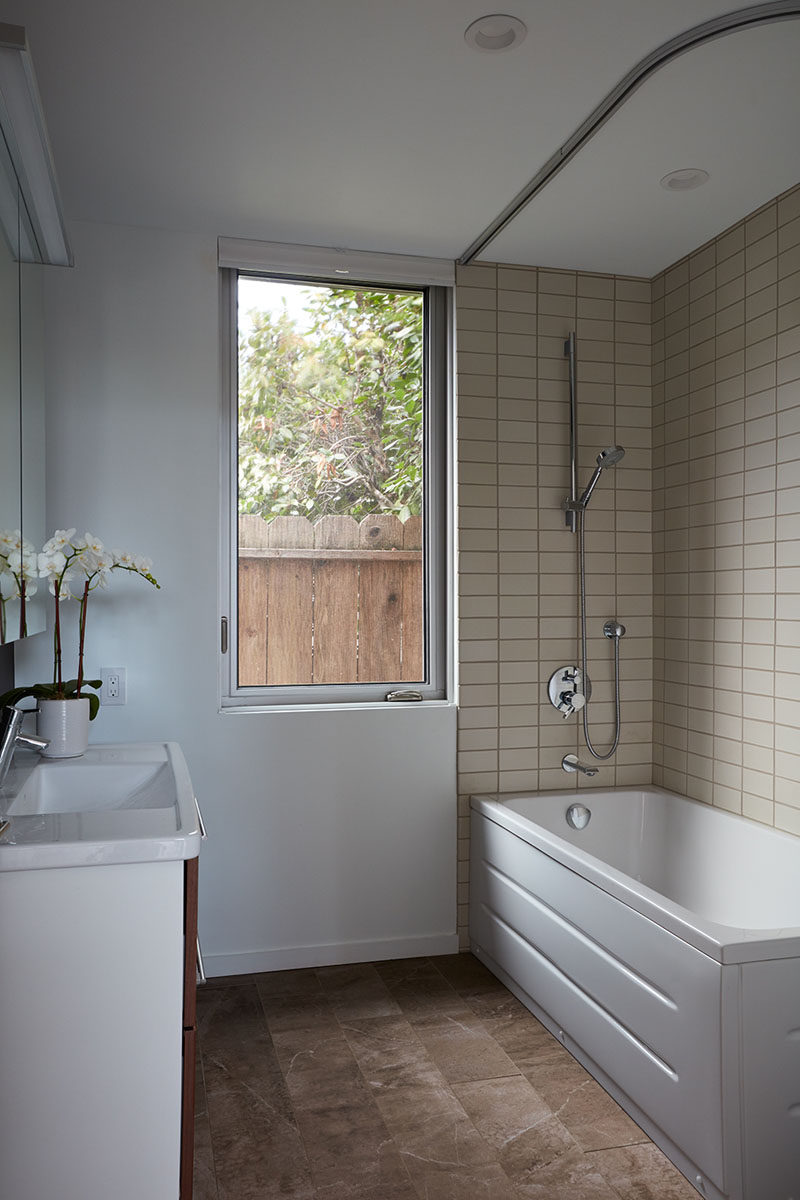 ---