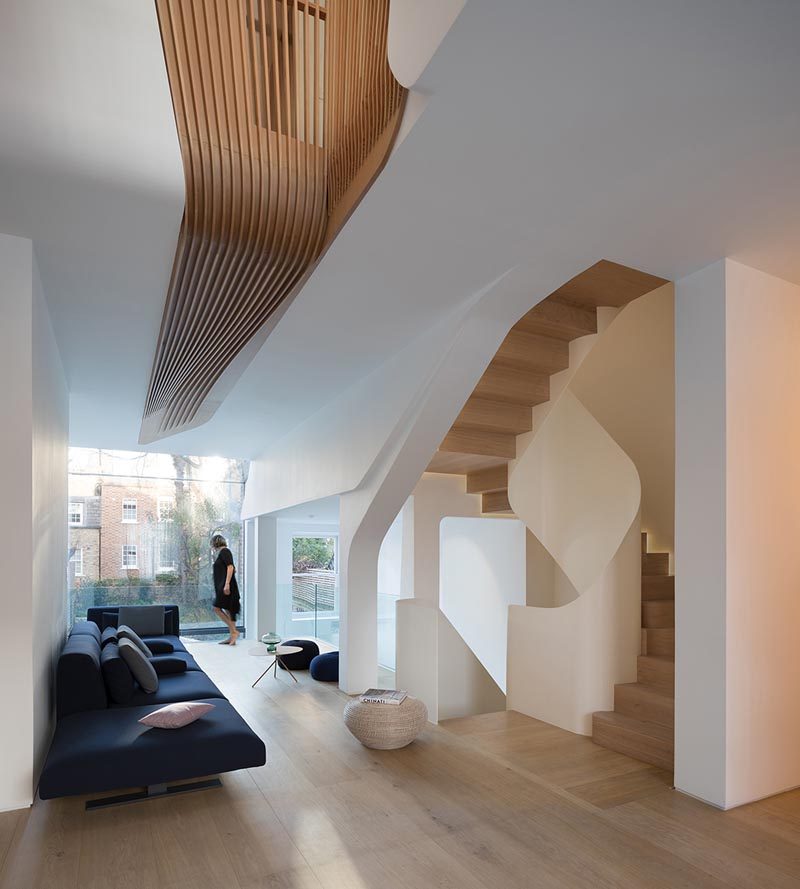 FLOW Architecture together with MAGRITS (Maria Grazia Savito Architects) has extensively redeveloped a Victorian terraced house in Kensington, London.

Originally built in 1851, the house was transformed into a large four-story home with an addition that included a basement and a double-height rear-extension.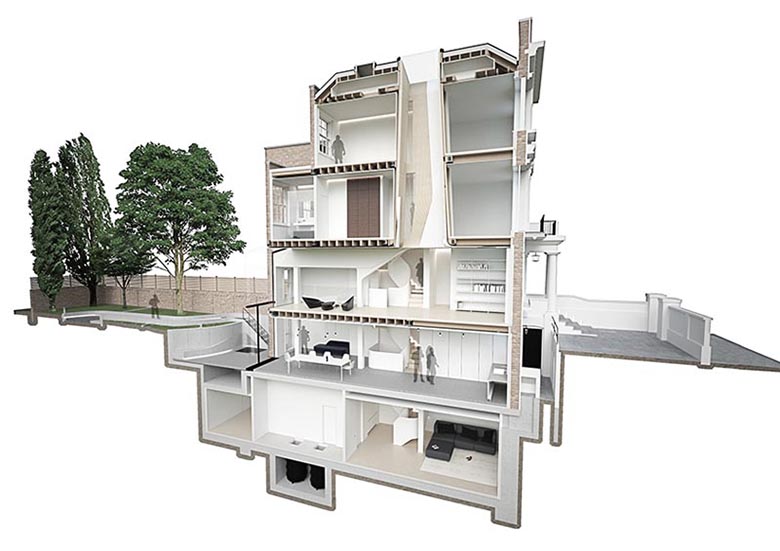 Stepping inside the front door, you're greeted by a sitting room with white open bookshelves and a comfortable armchair with a footstool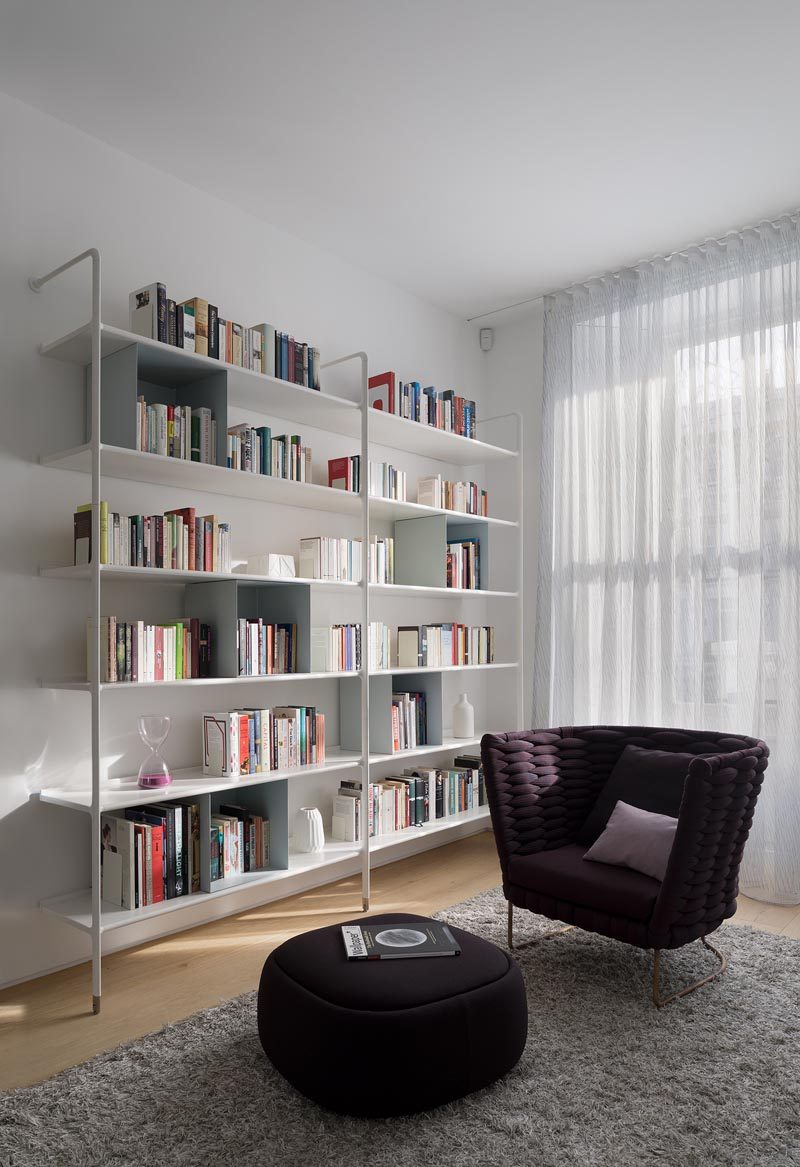 The sitting room opens up to a space with a couch that has views of the garden and the lower level of the home.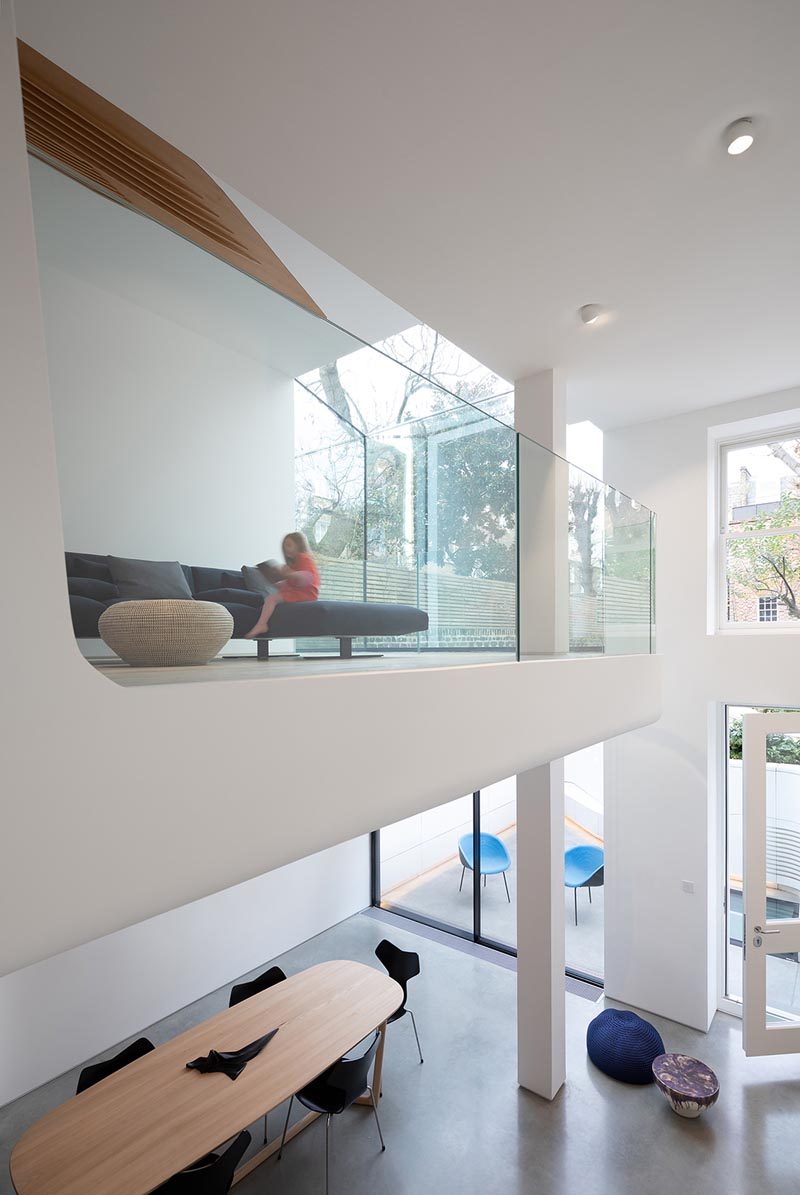 Wood stairs spiral their way between the floors, adding a sculptural element to the home.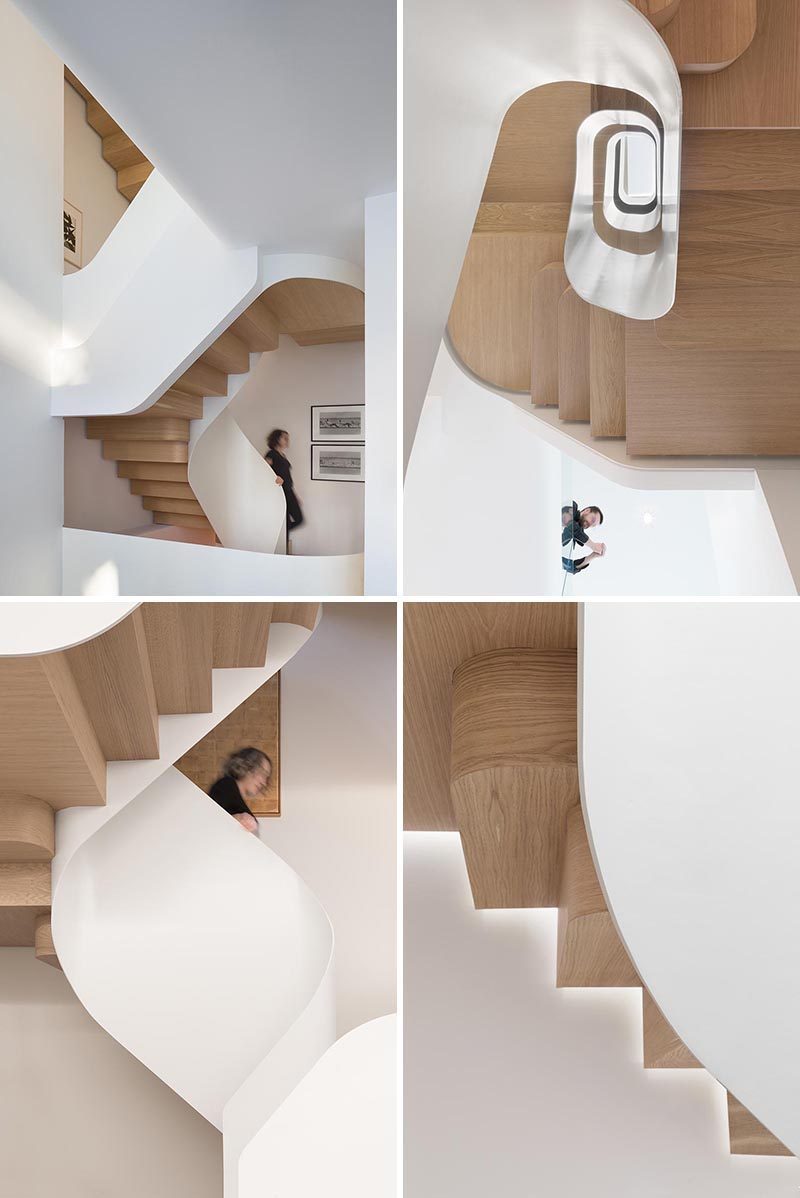 Wood slat details draw the eye upward to a single skylight that fills the home with natural light.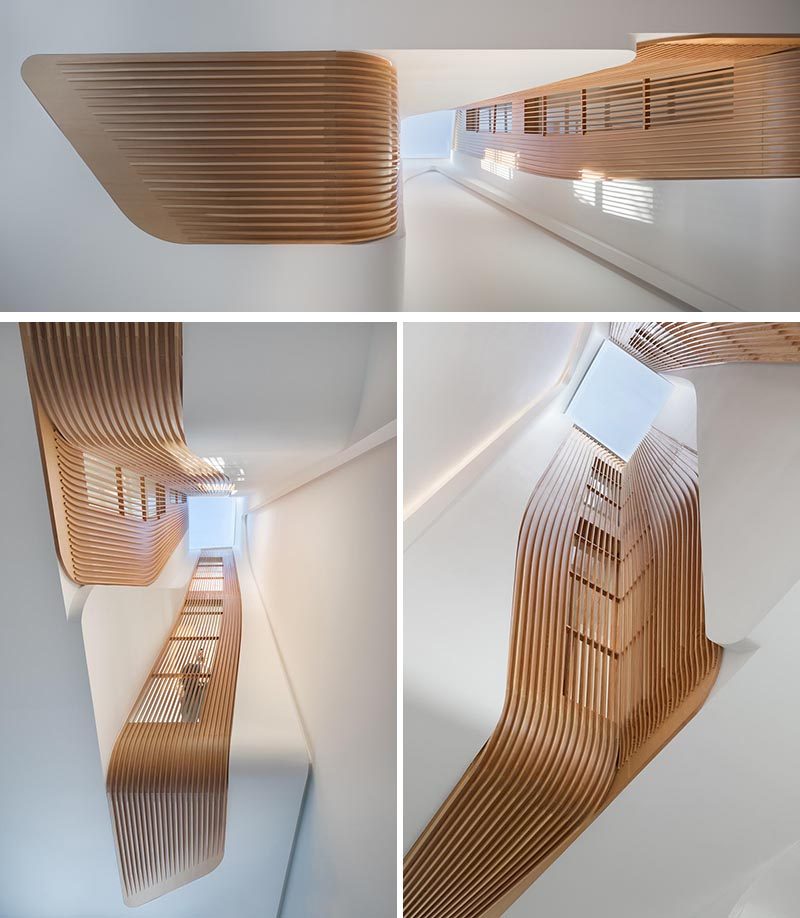 The main social areas of the house include an open plan kitchen, dining room, and living room. In the kitchen, dark upper cabinets, backsplash, shelving, and countertop, contrast the white cabinets and walls.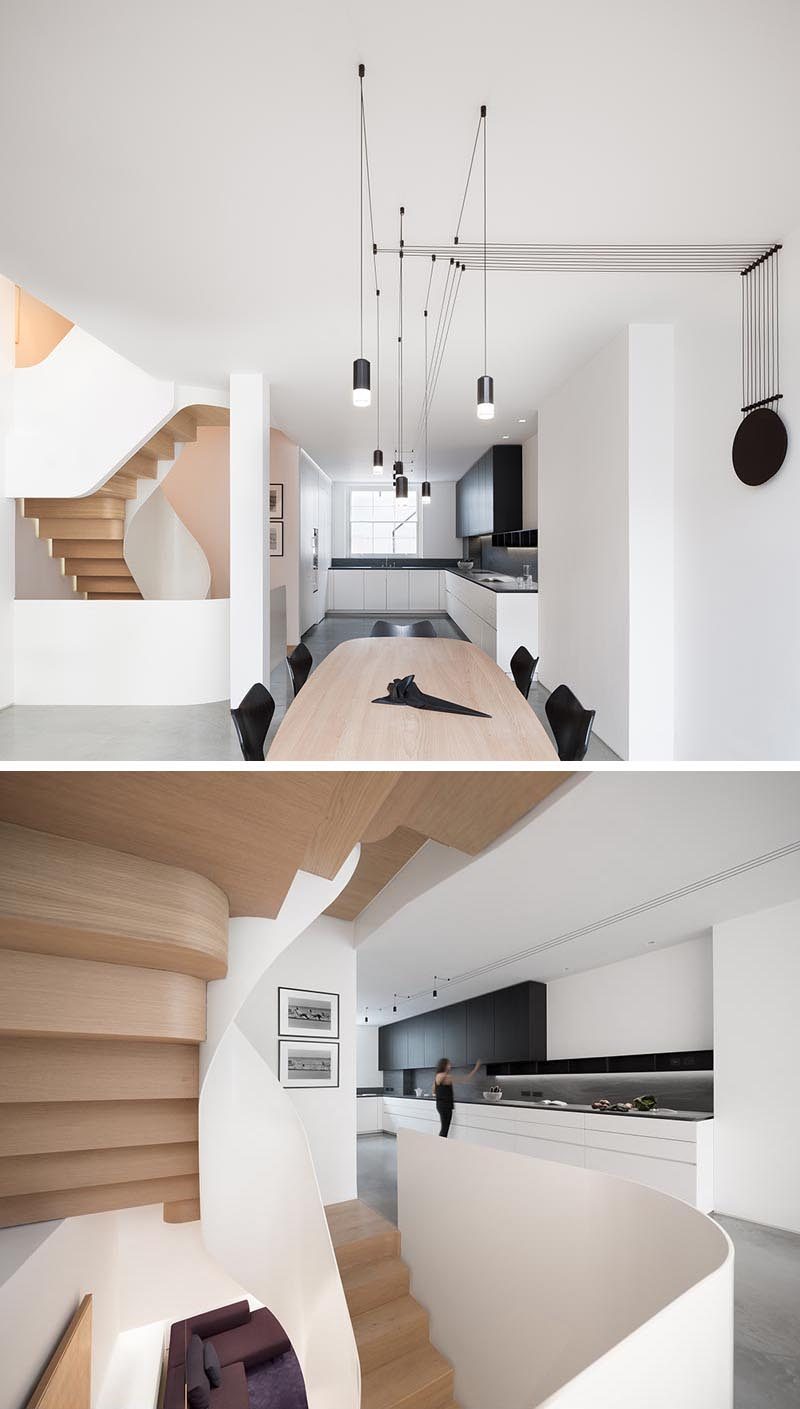 Opposite the dining table is the living room, which features a double-height ceiling and a large woven textile art piece.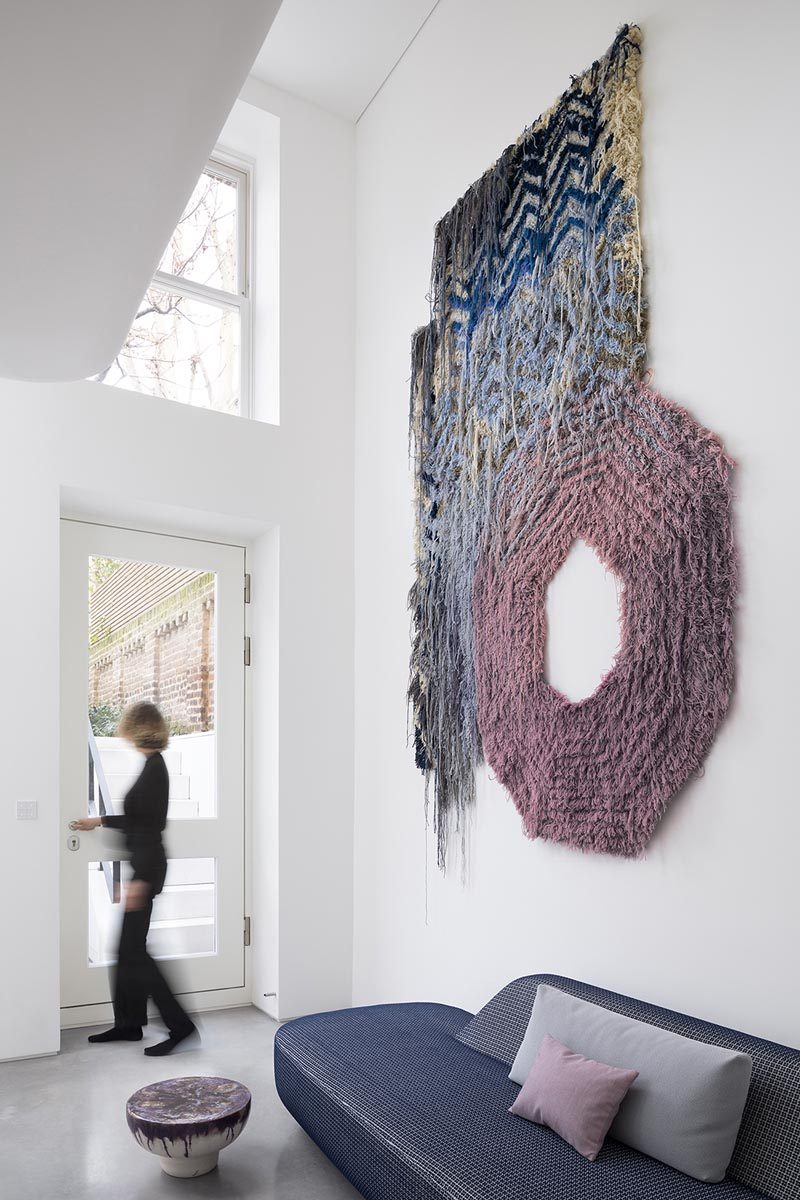 Both the living room and dining room open to a rear patio with a built-in seat and a window that lights the interior spaces below, while a path at the top of the stairs curves through the garden.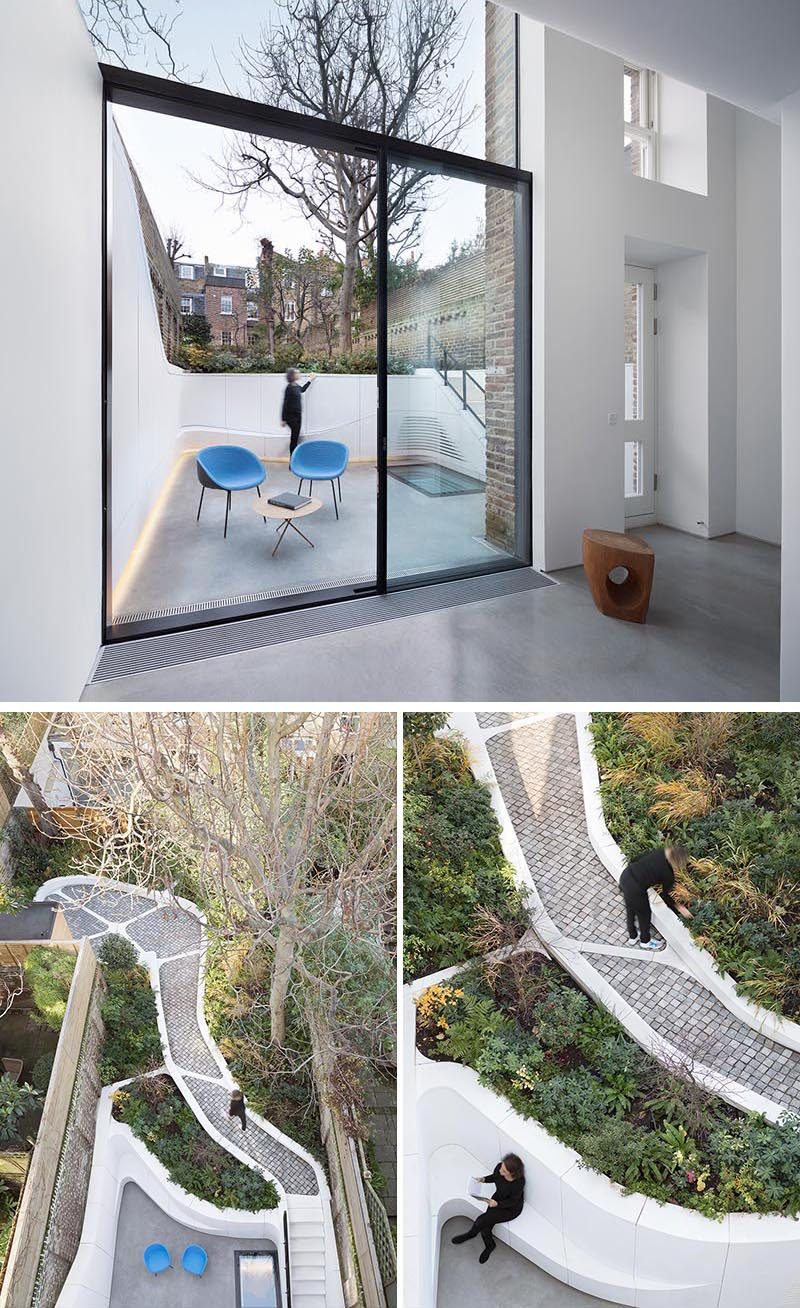 From the garden, you can see the rear of the house, and the large windows of the dining room and sitting room above.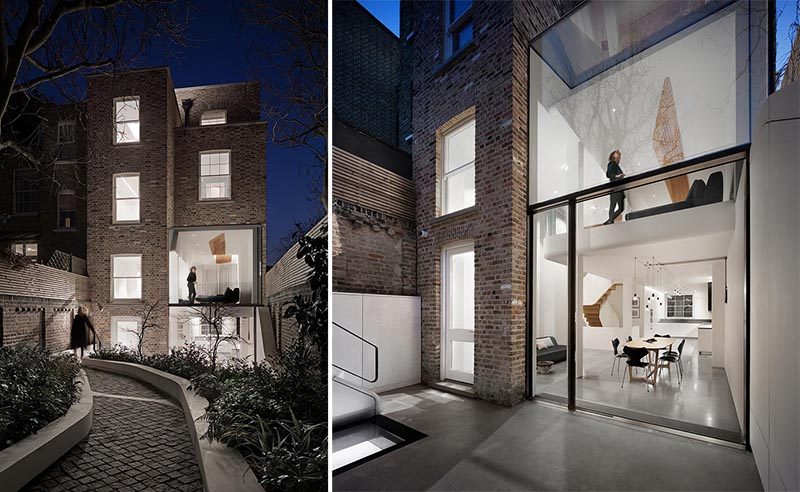 Back inside, we see there's a room with custom-built minimalist white cabinets that surround a sculptural and curved wood-lined shelving accent.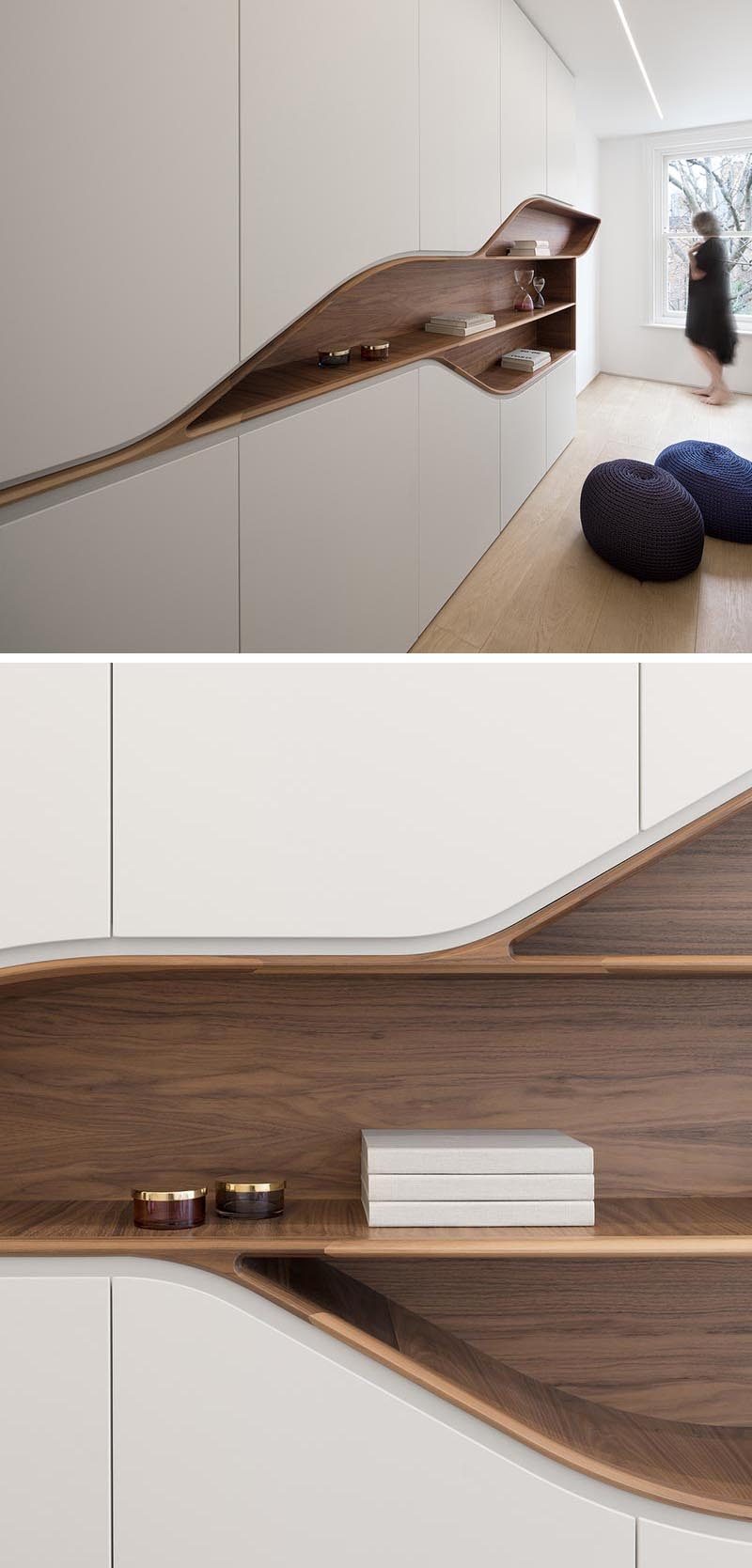 In the basement there's more custom storage that sits flush with the wall, while lighting runs along the ceiling and a wood accent surrounds the television.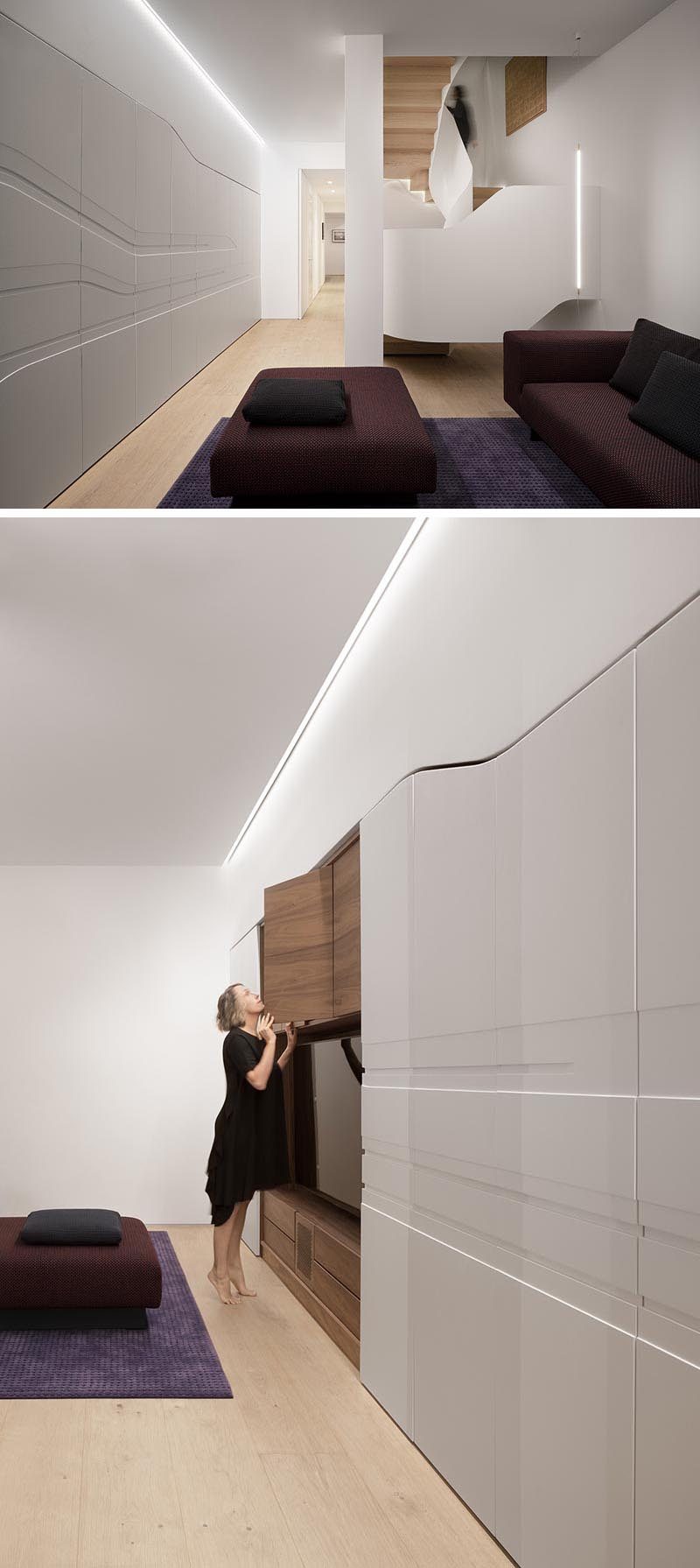 In the upper levels of the home are the bedrooms. This bedroom showcases the wood slat details that line the light well leading up to the skylight.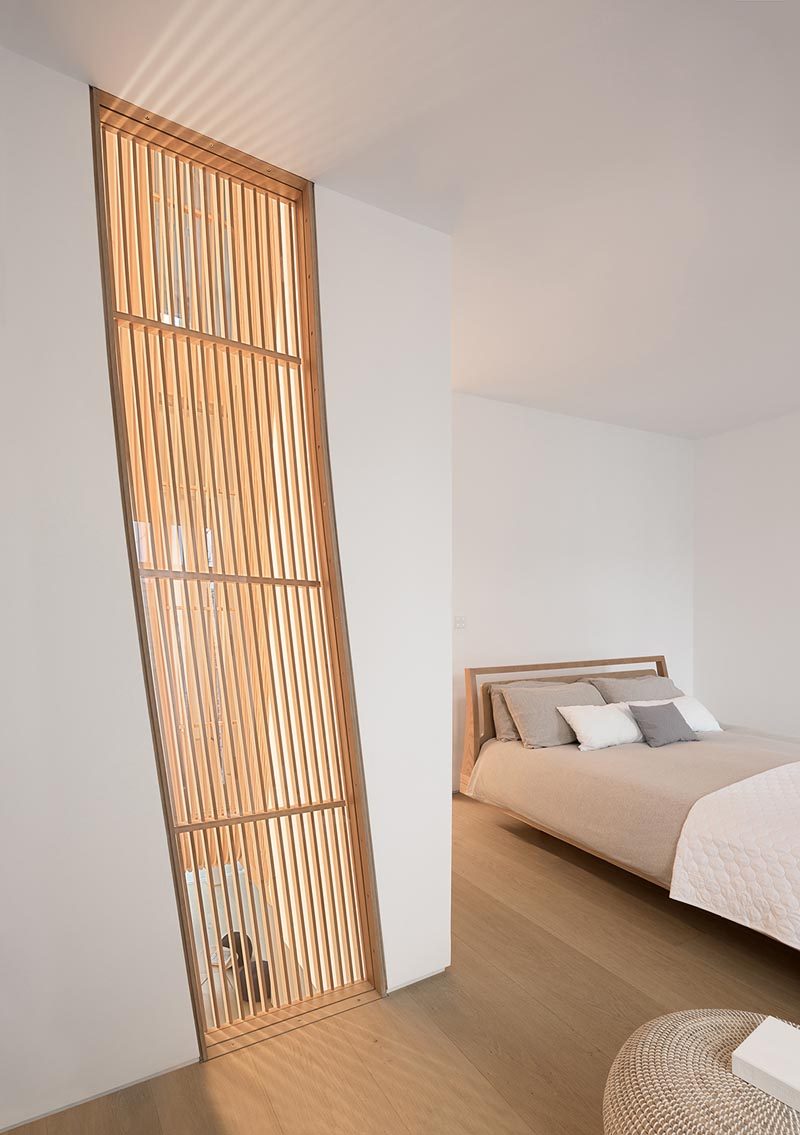 In one of the bathrooms, grey walls are reflected in the full wall mirror, while the faucet travels straight down from the ceiling for a striking and unexpected design element.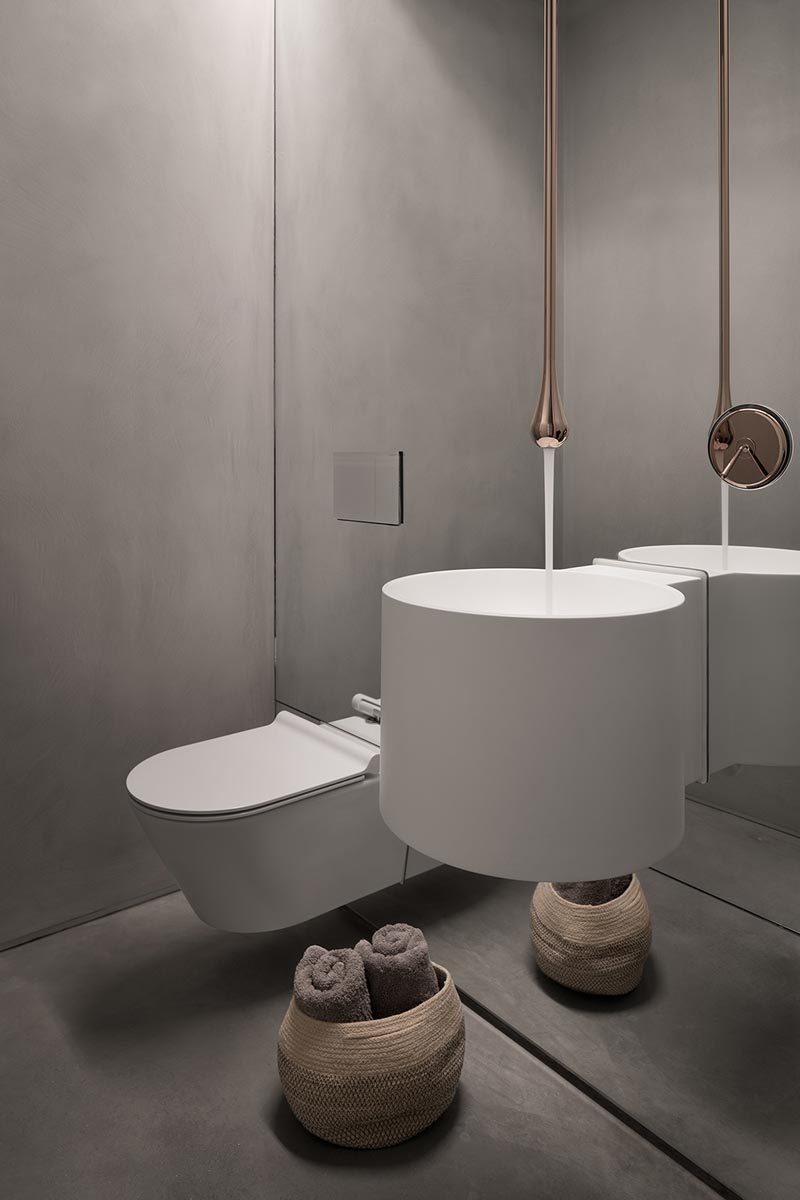 Photography ©NAARO | Architect: FLOW Architecture with Magrits – Project team: Vincent Nowak, Annarita Papeschi (FLOW Architecture), Maria Grazia Savito (Magrits) | Contractor Shell & Core: London Basement | Contractor Fit-out: Michael Brady | Structure: StructureMode | MEP: SGA Consulting | Quantity Surveyor: BTP Group | Lighting Design: Mindseye | AV Consultant: Openfield Technology | Planning Consultant: ADL Planning