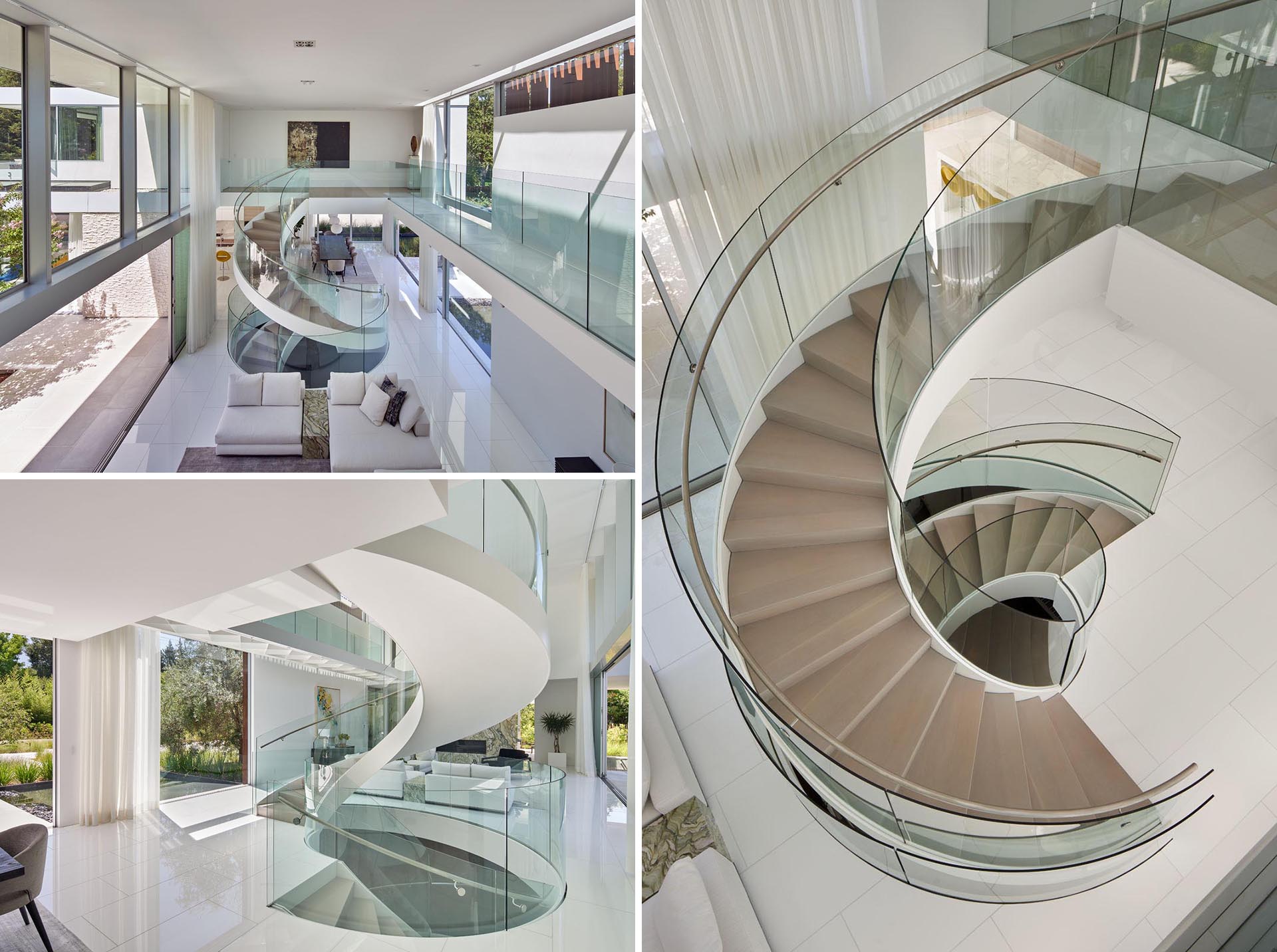 Mark English Architects have recently completed a new home in Atherton, California, and included in its design, is a large eye-catching spiral staircase.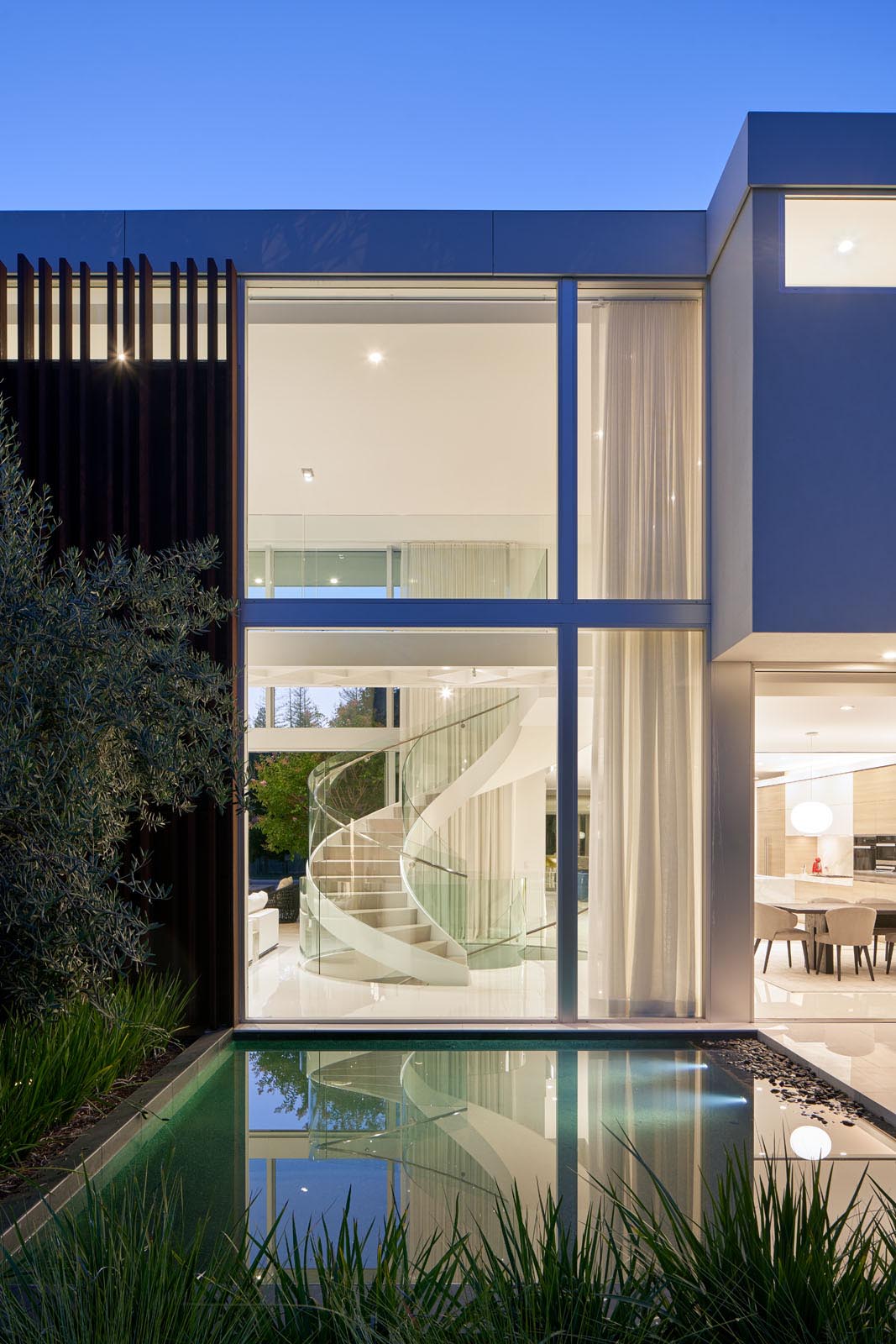 Working together with fabricator Blank & Cables, the custom-designed spiral staircase connects all three floors of the home, from the basement to the second floor.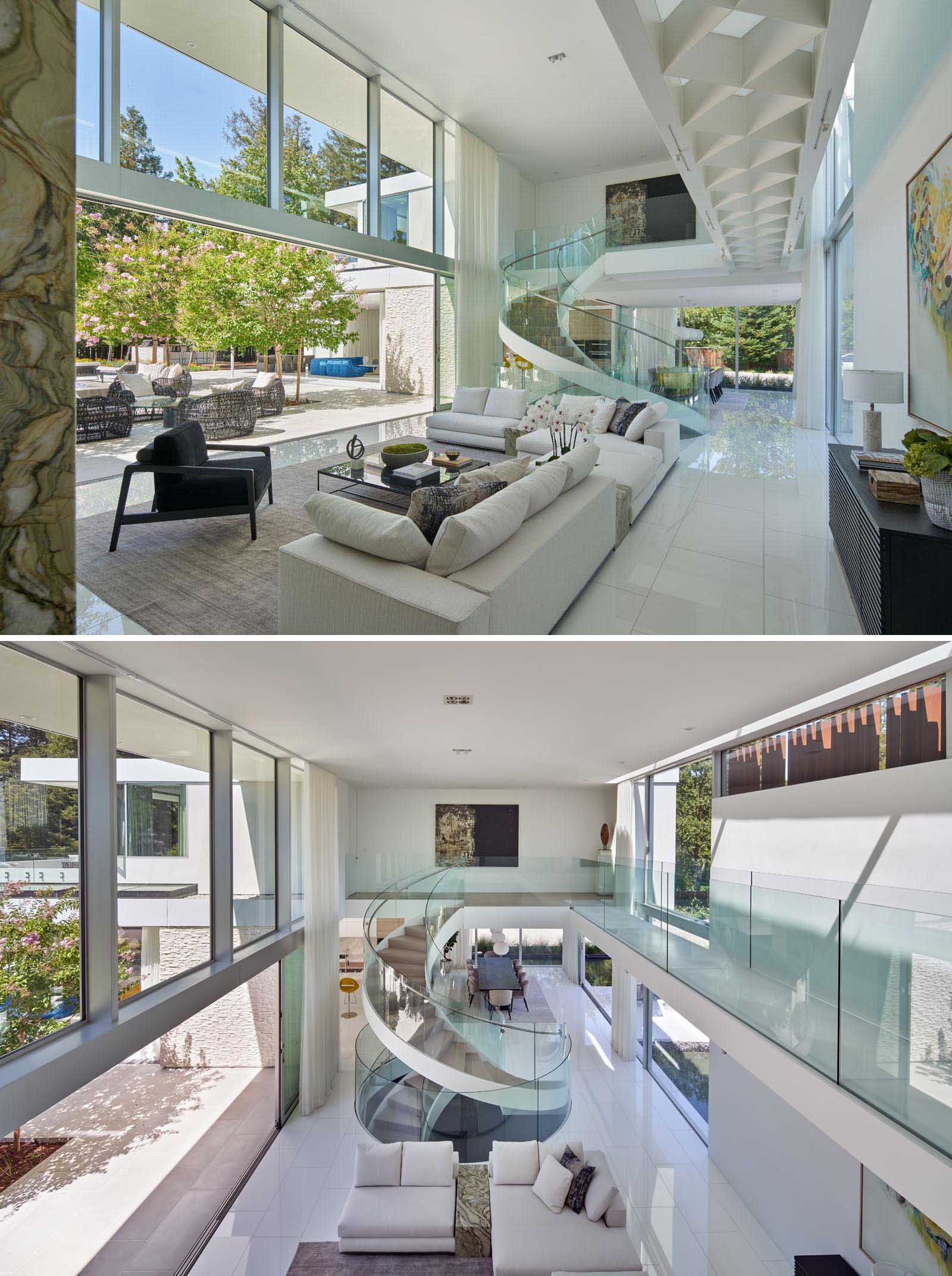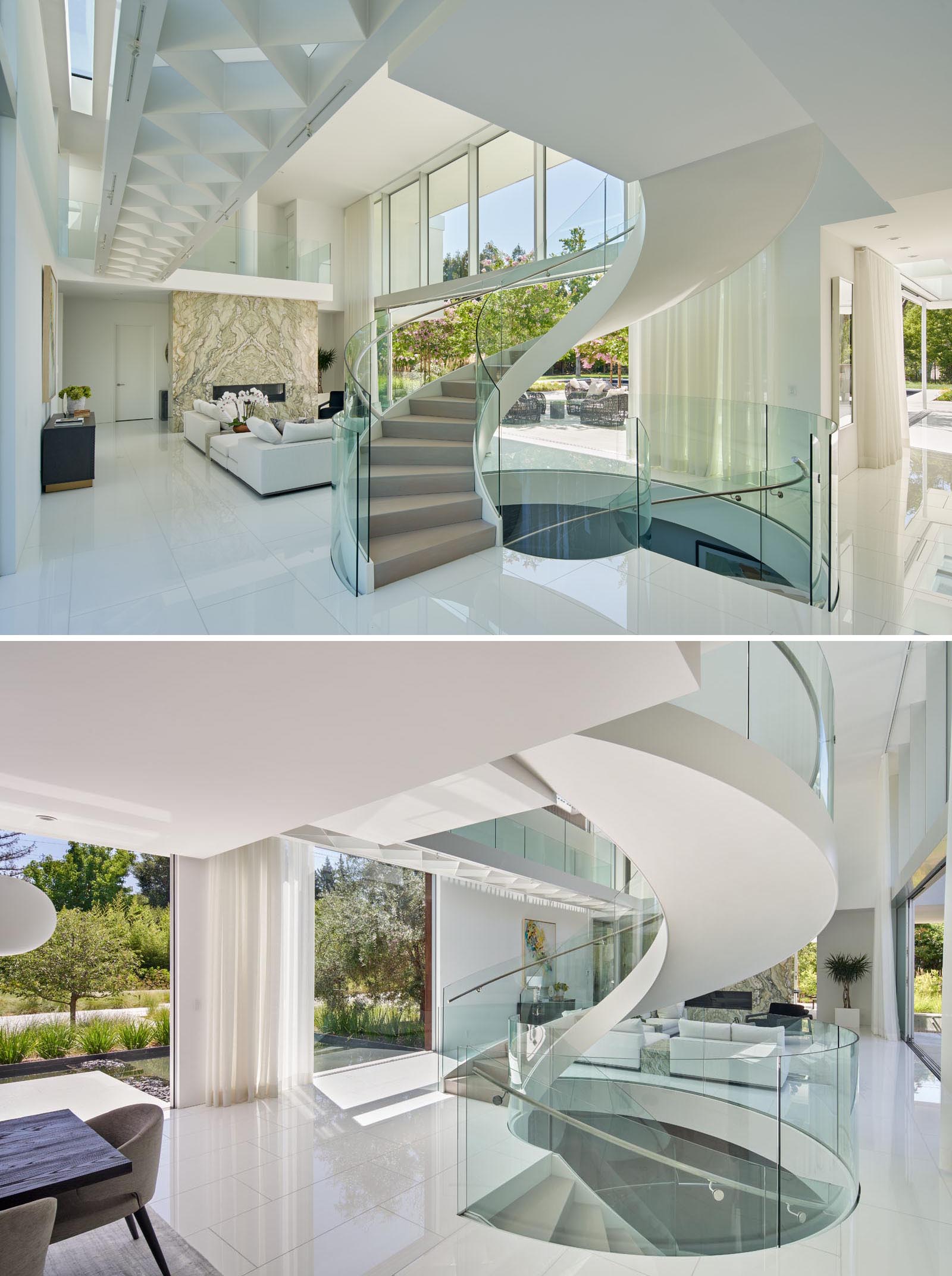 The custom-designed staircase includes glass handrails and a steel frame that complements the surrounding white walls.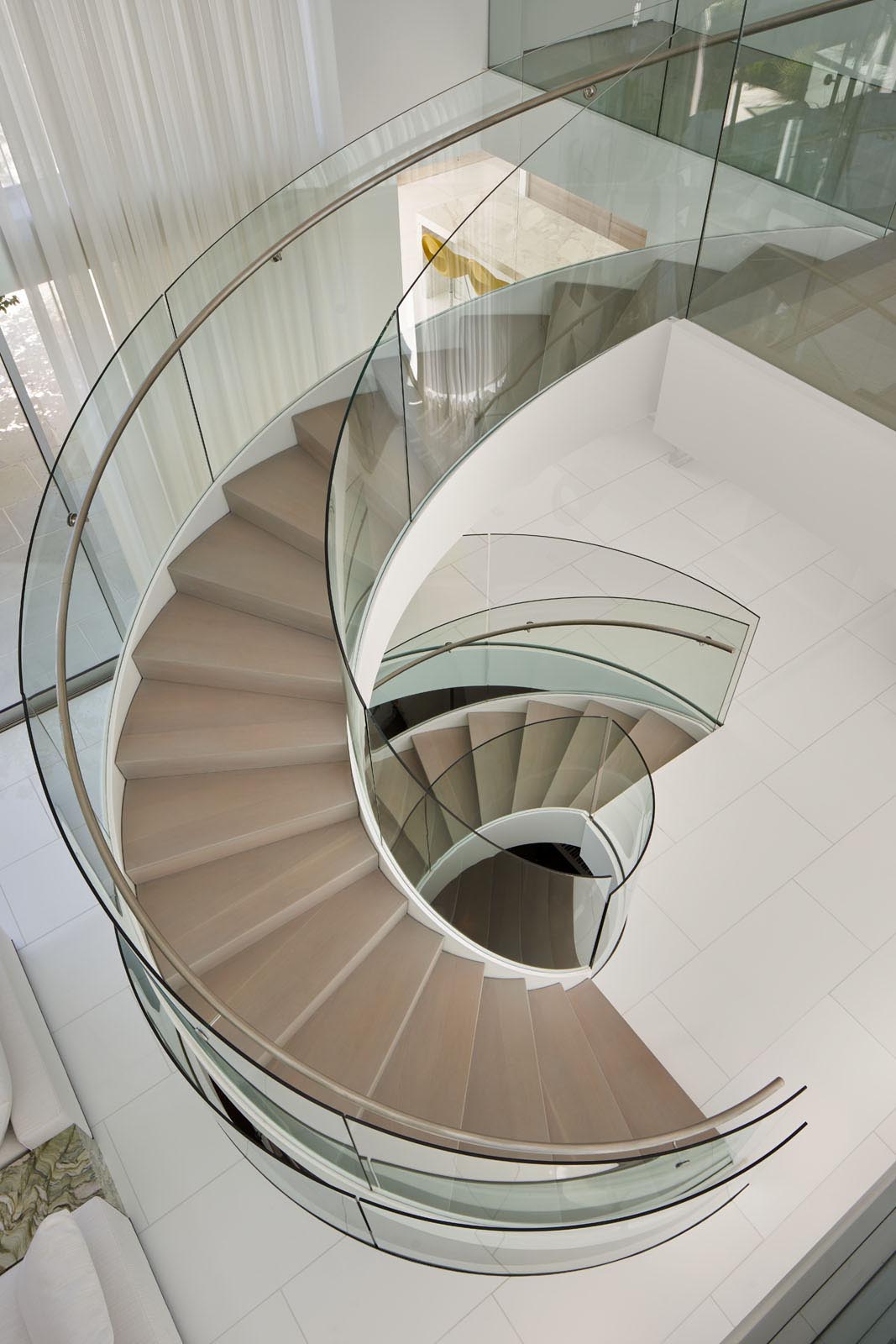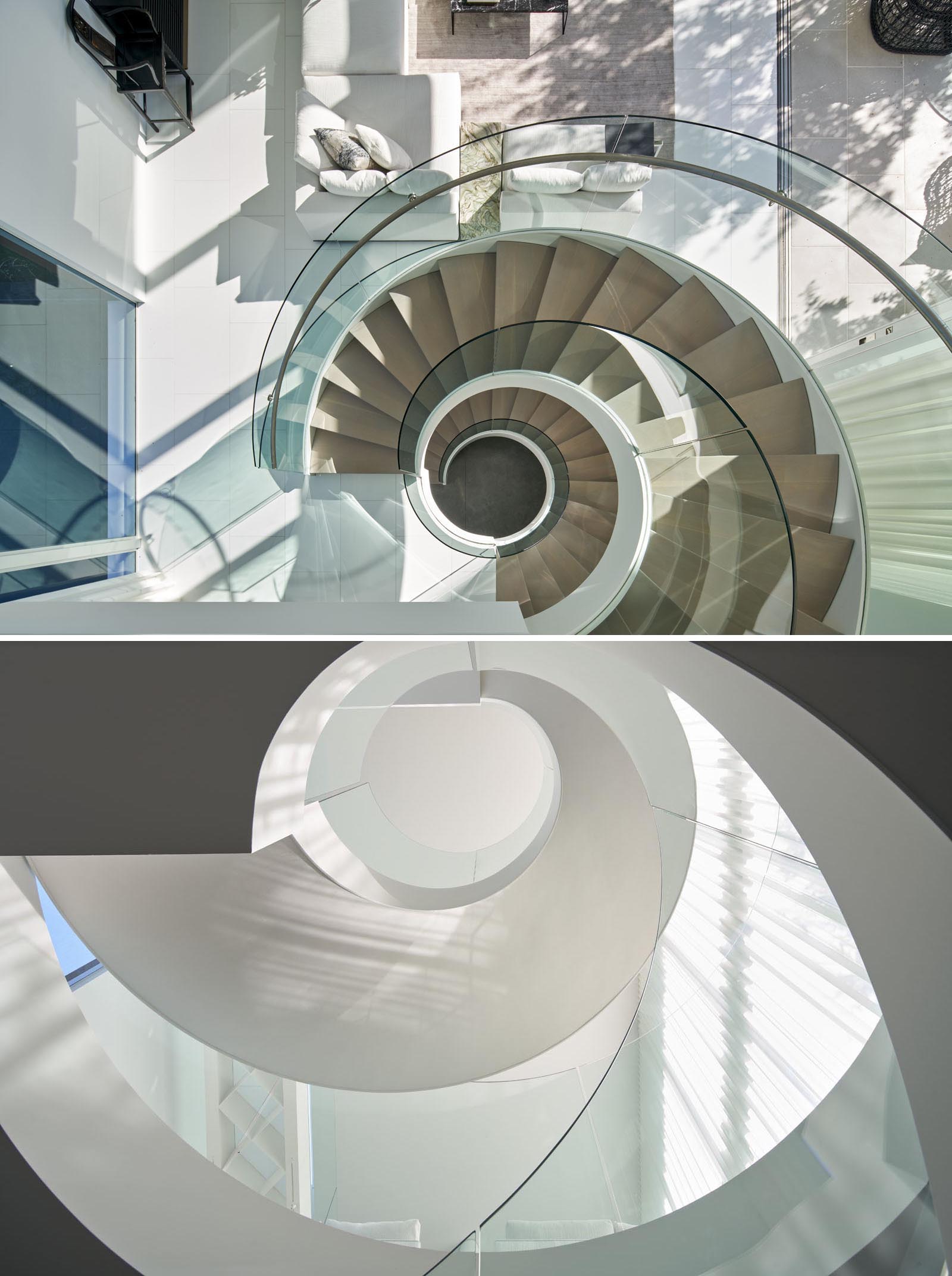 At the bottom of the stairs is the basement that features concrete flooring, a casual lounge, and a wine storage wall.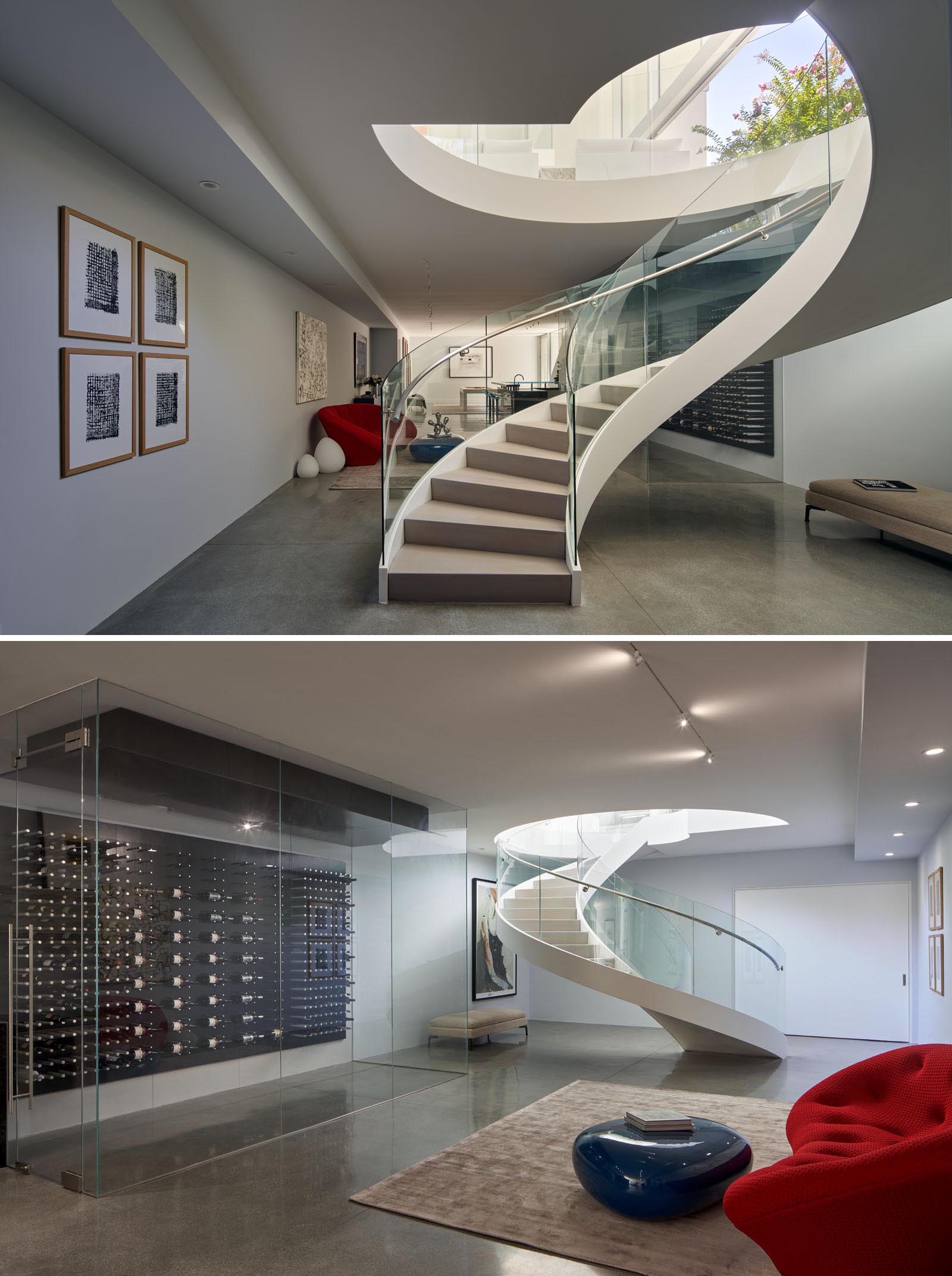 Let's take a look at the rest of the home…
The Exterior
The front wall of the home includes a weathering steel accent and a mature olive tree. There's also a small patio and water feature for a relaxing moment.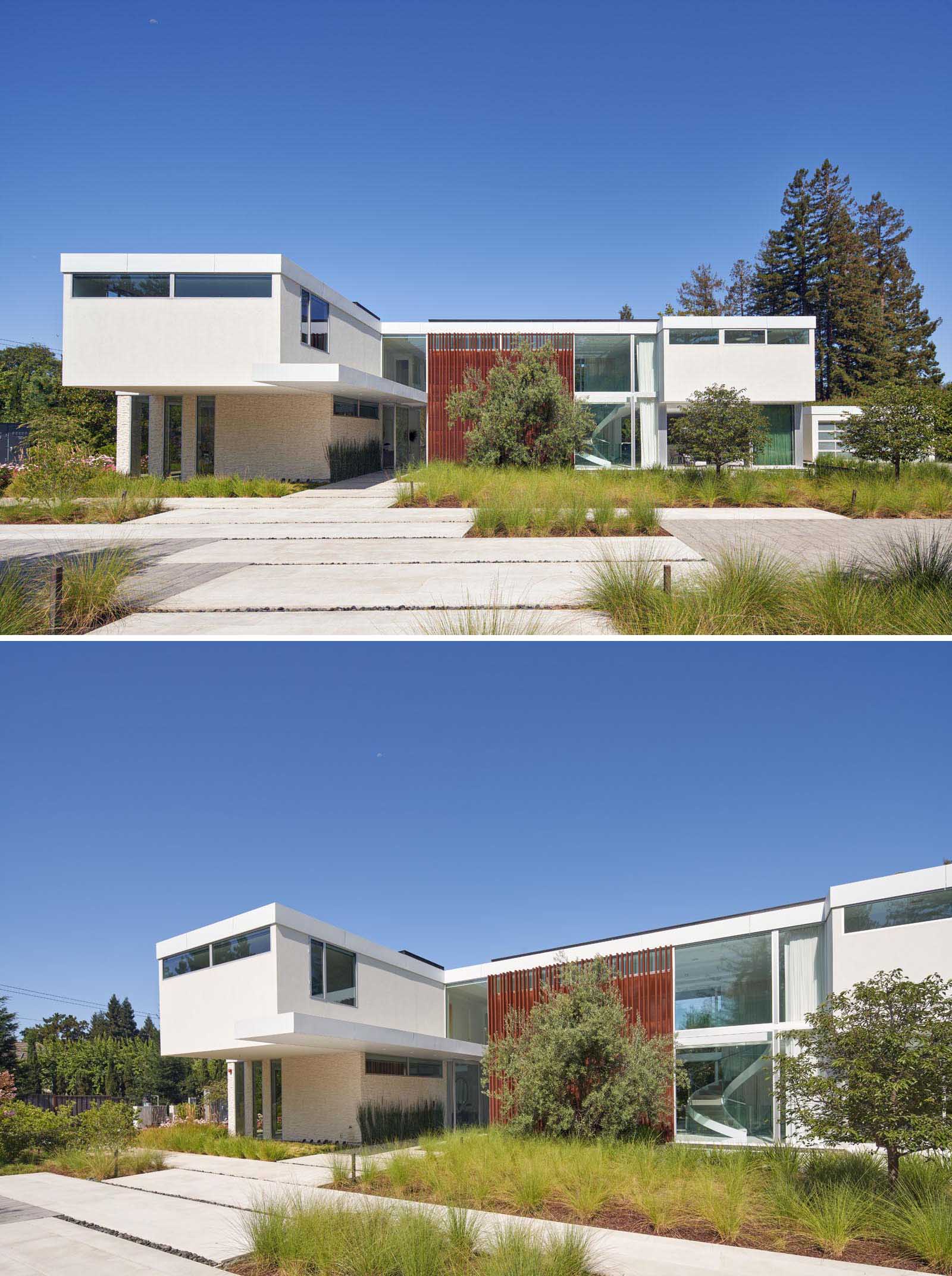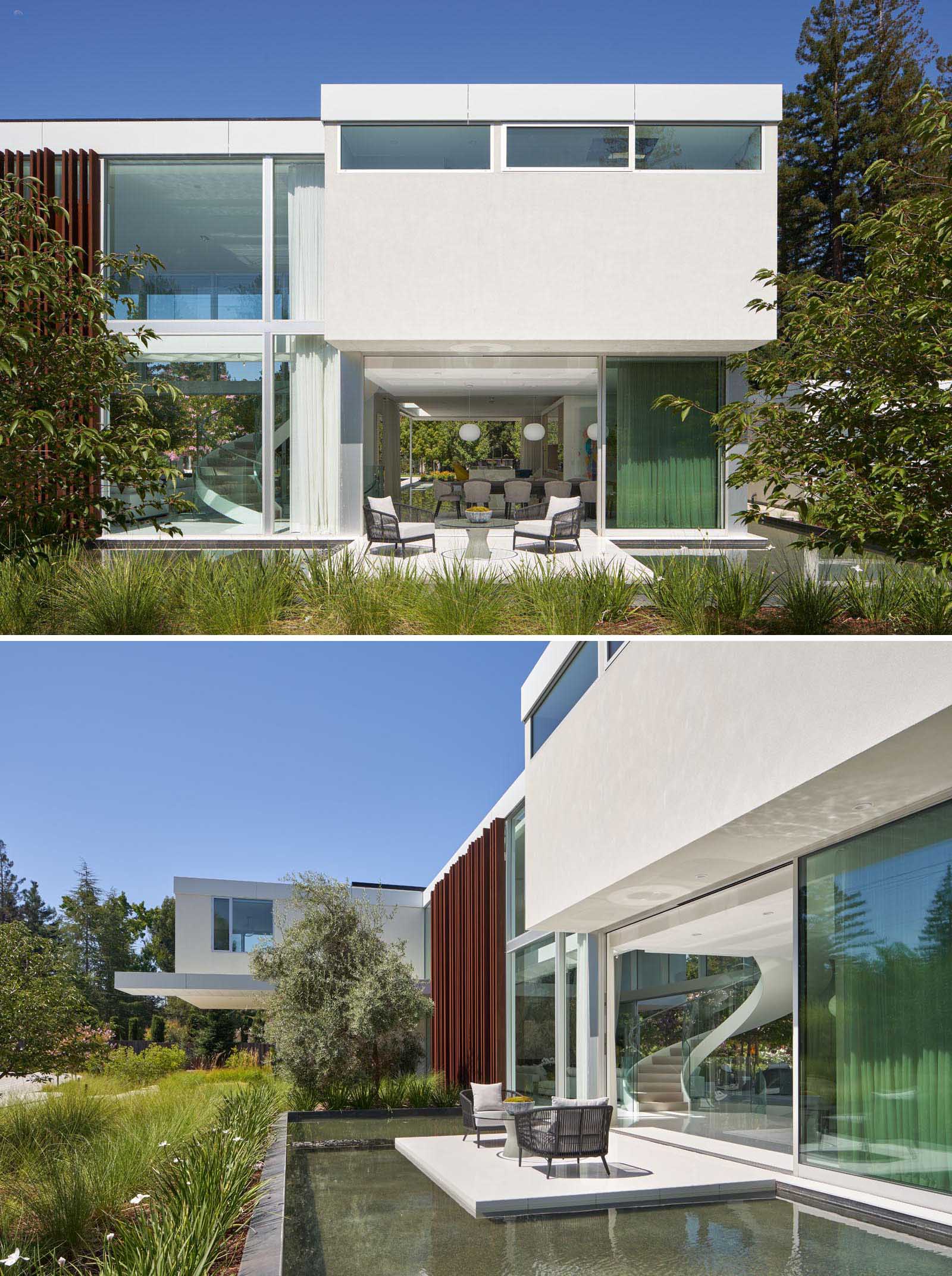 Front Door And Entryway
A covered walkway connects to the pivoting glass front door and the entryway.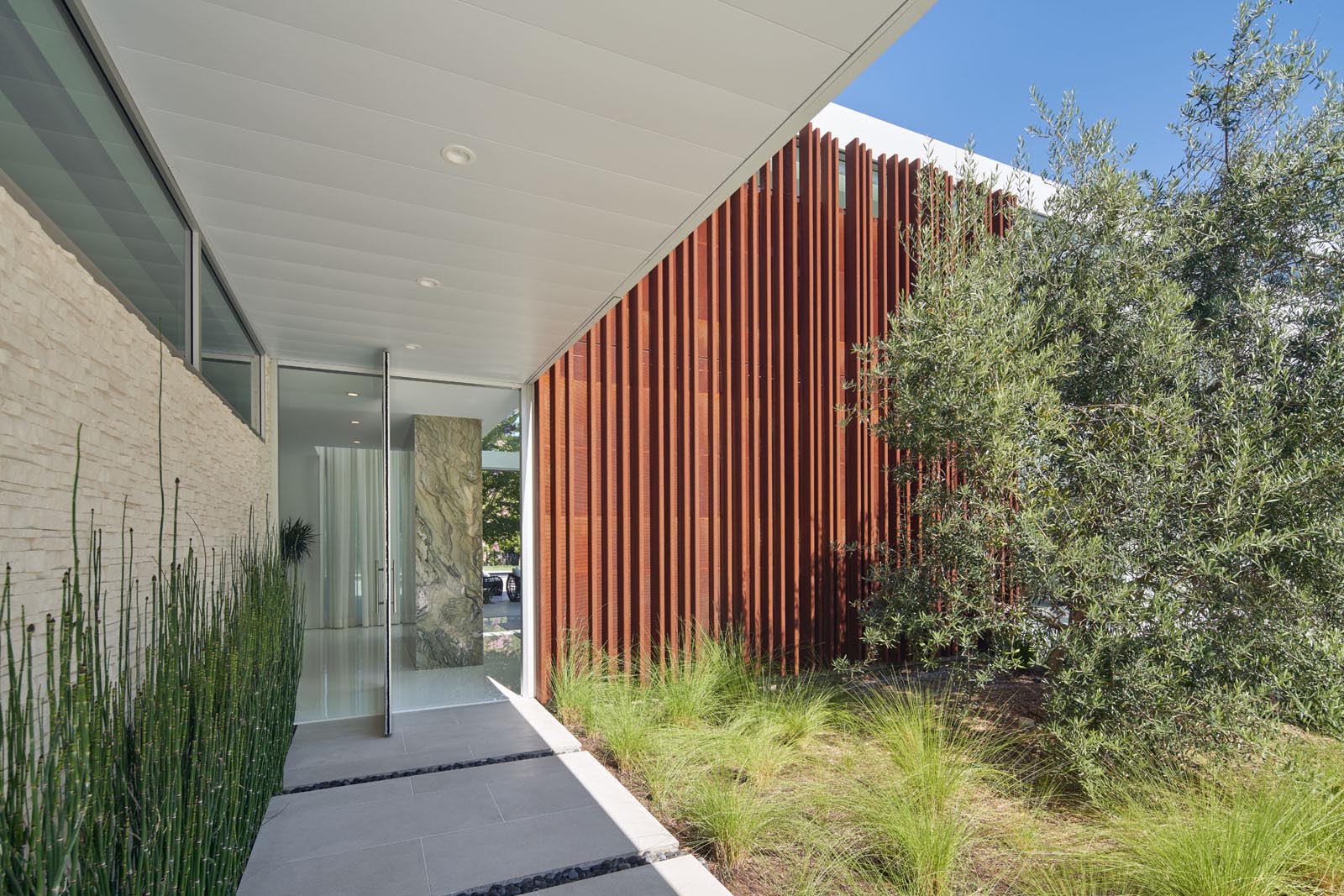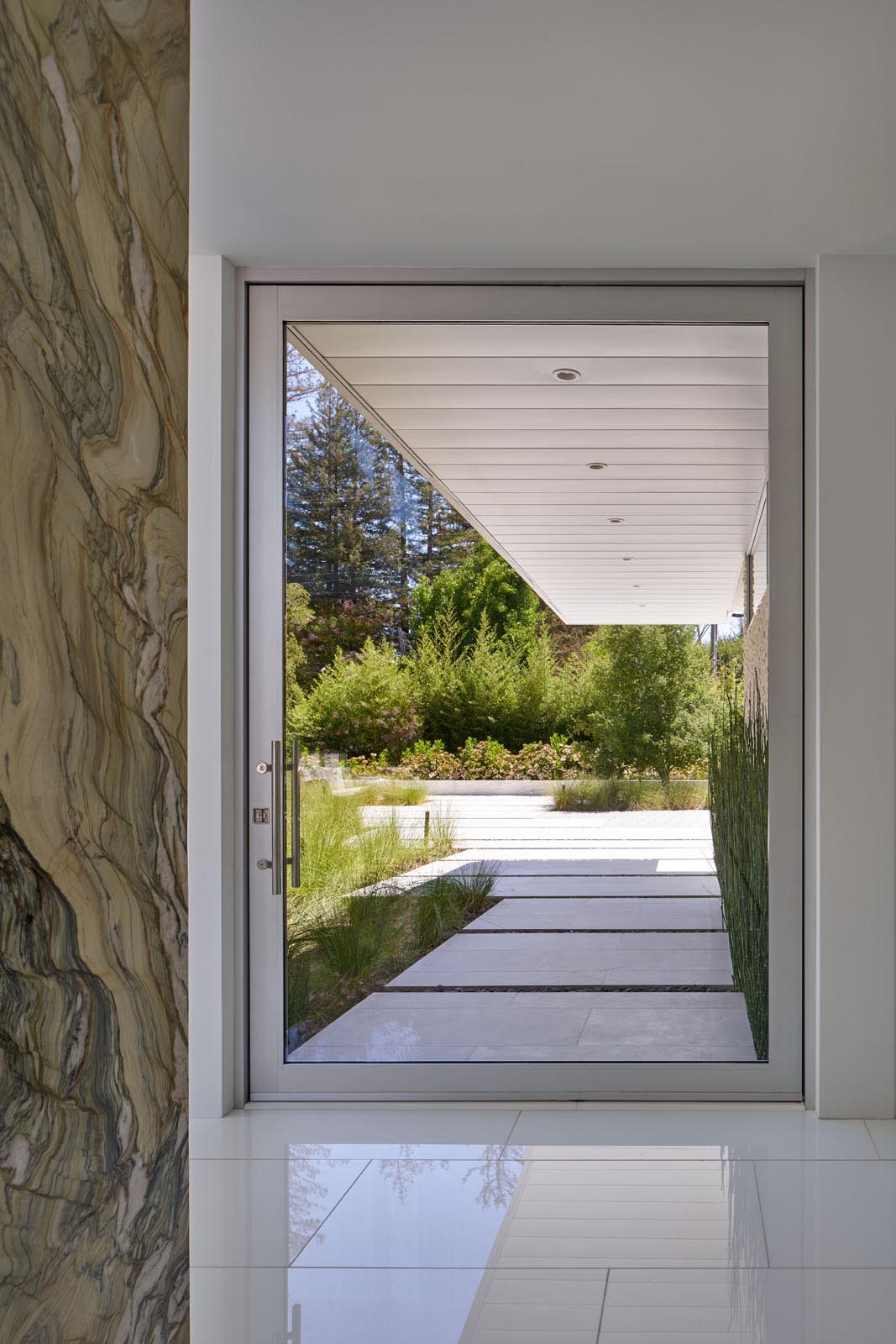 The Living Room
The living room has pocketing sliding glass doors that dissolve the boundary between inside and outside. At night, white curtains can be closed for privacy. Polished concrete tiles by Concrete Collaborative are showcased on the floor.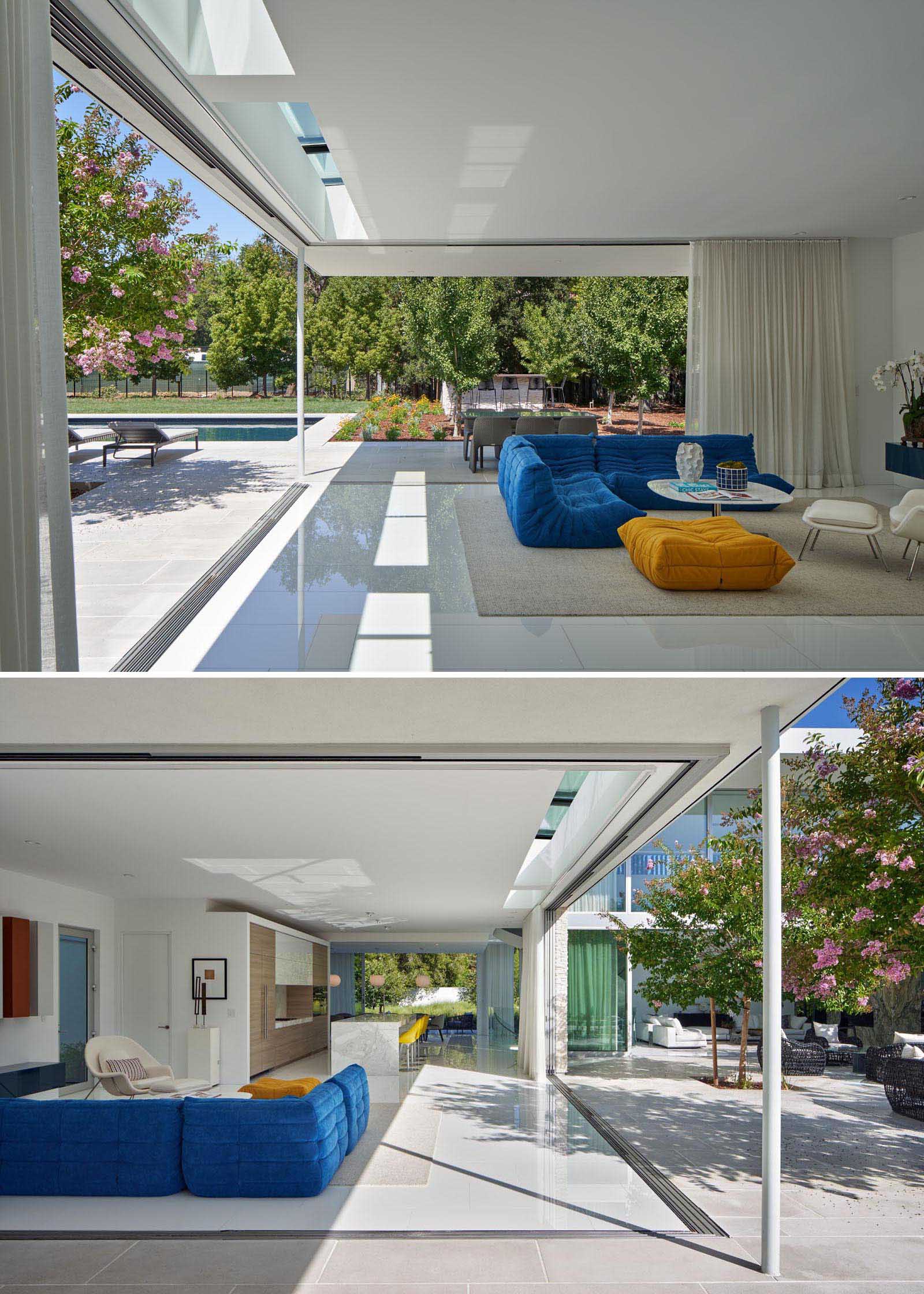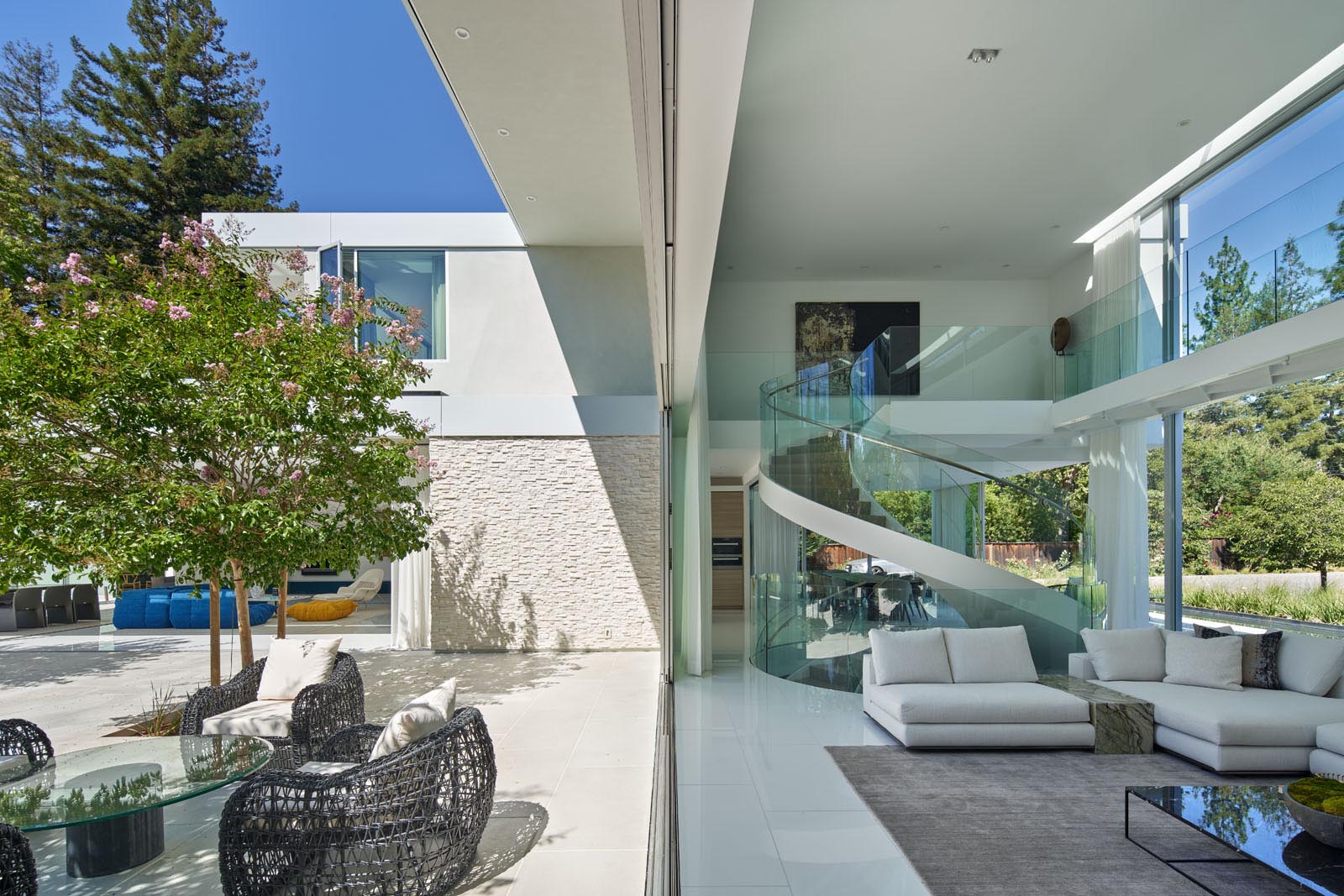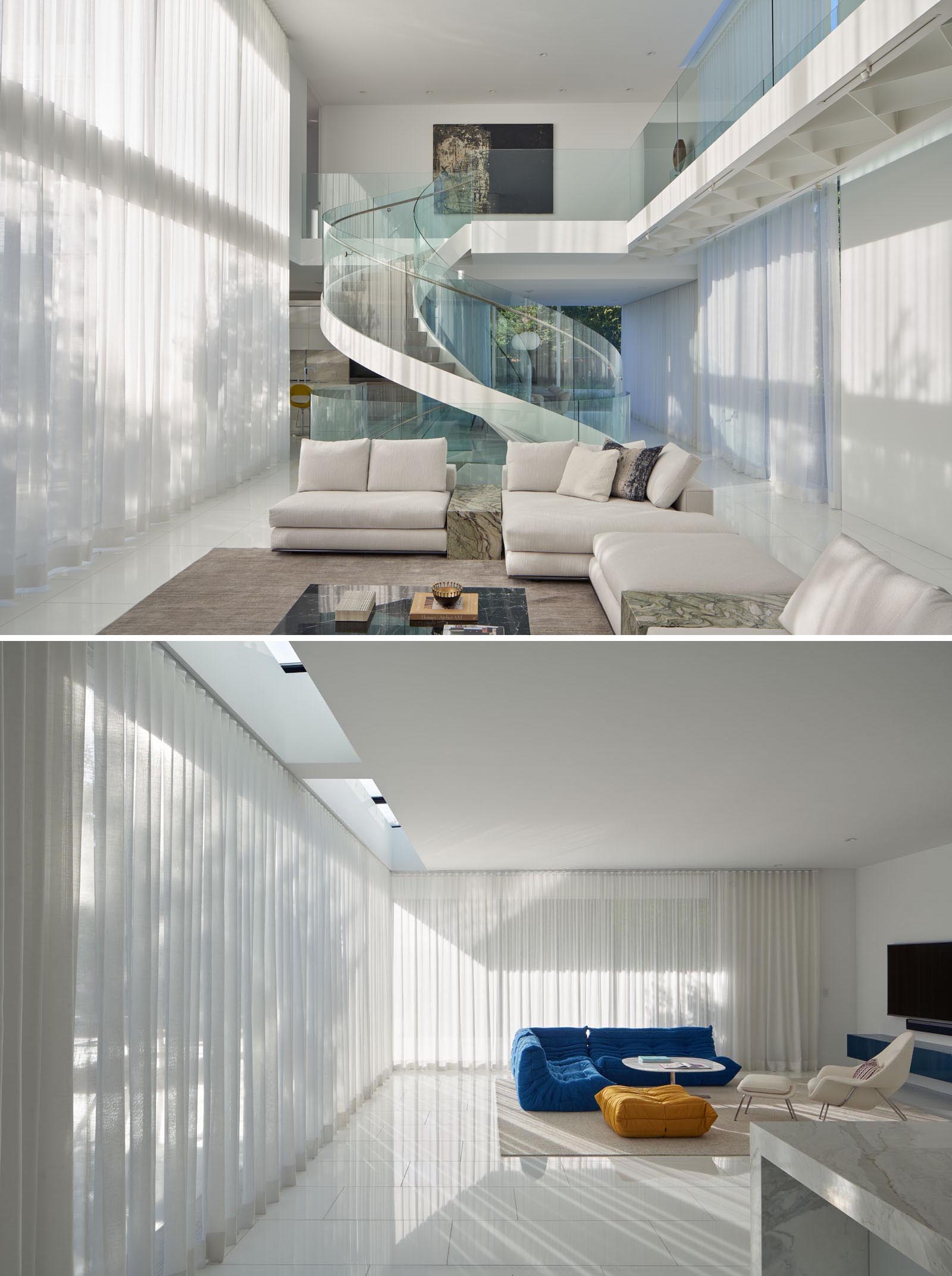 The Kitchen And Dining Room
The kitchen and dining room are located next to each other, with the kitchen featuring hardware-free wood cabinets and Calacatta Marble slab countertops.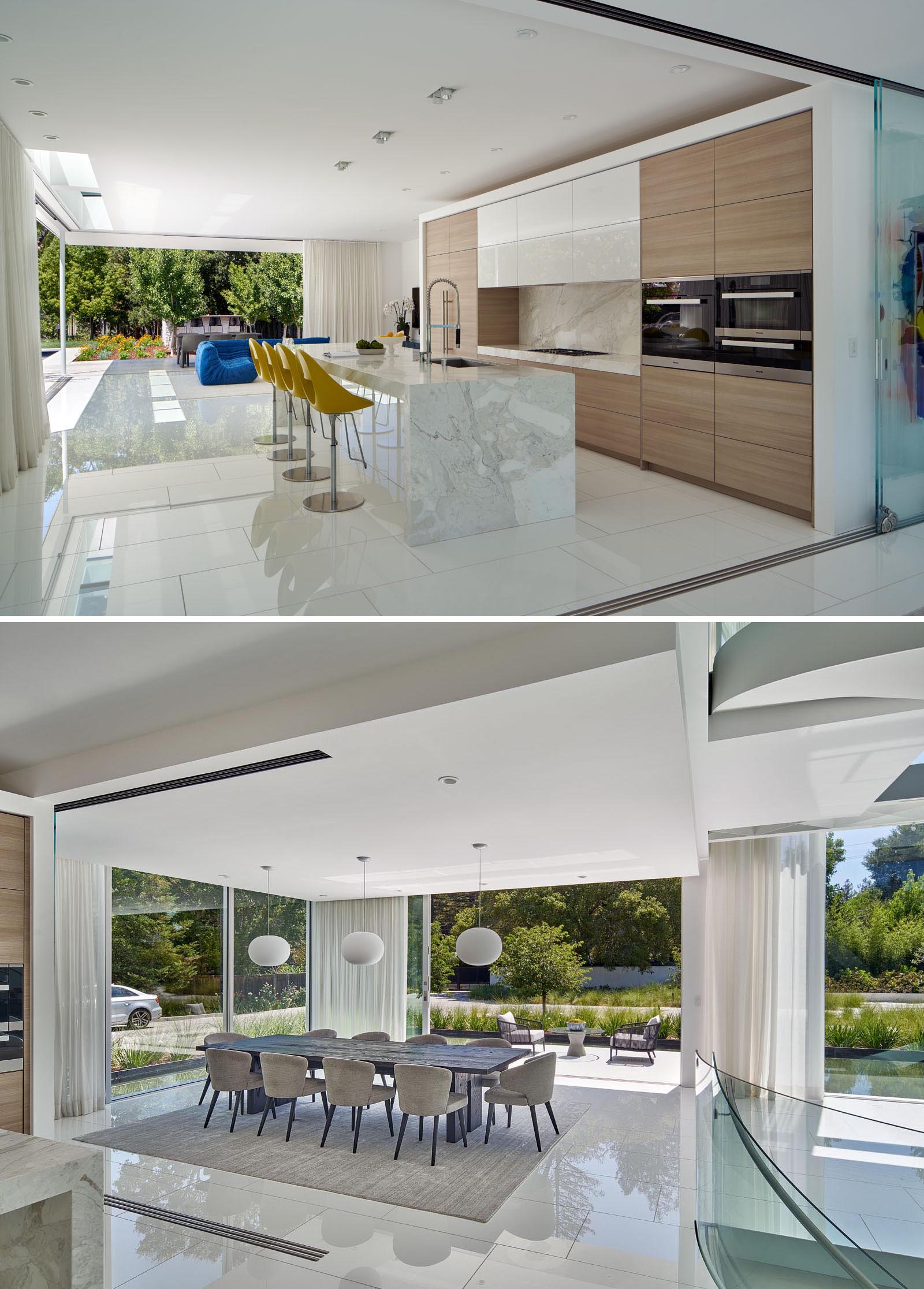 The Home Office
In a home office, a dark bookshelf provides a backdrop for the desk, while a sculptural light fixture adds interest to the room.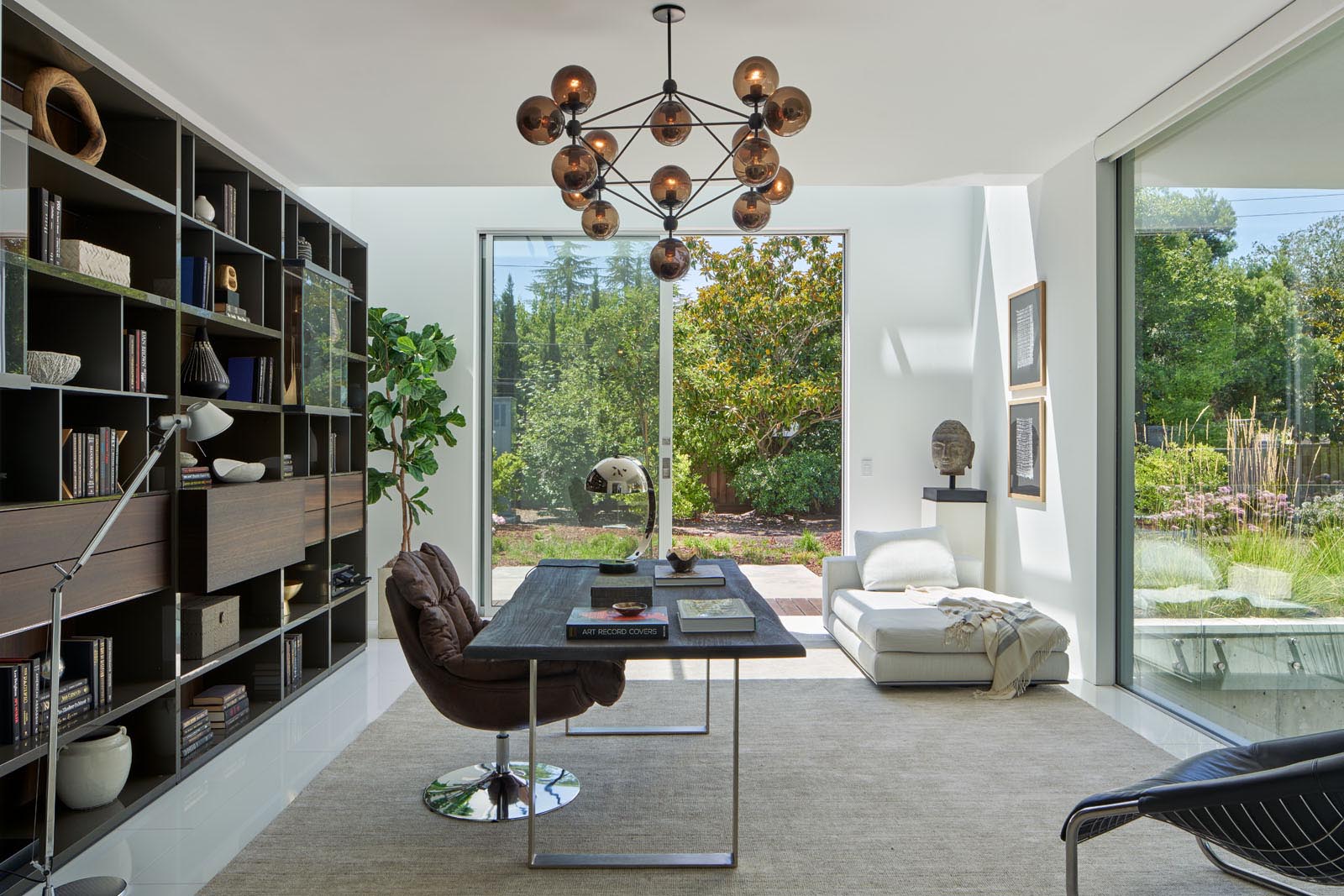 The Bedroom
The bedroom has floor-to-ceiling windows and a sliding glass door that opens to a patio and the garden.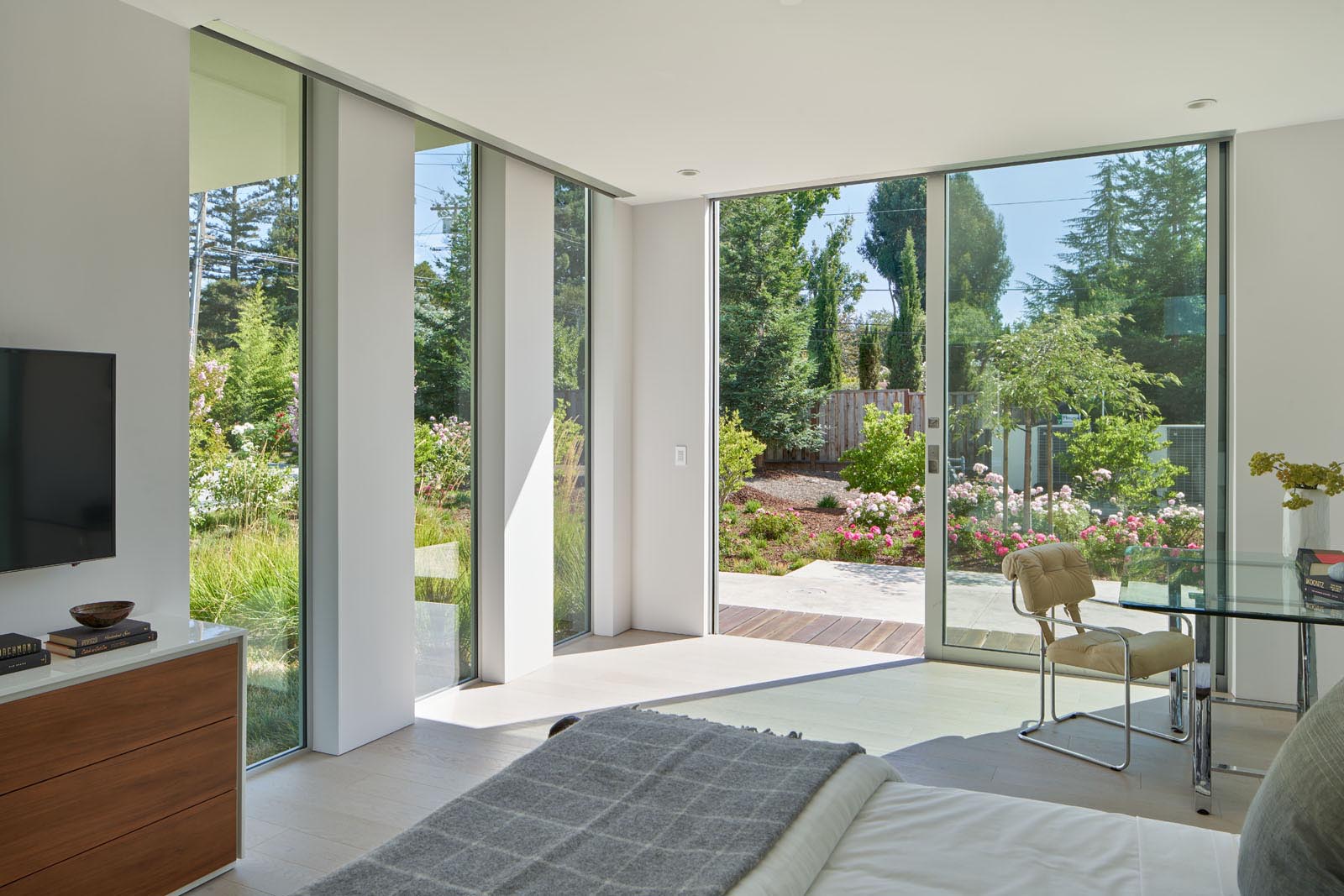 The Master Bathroom
In the master bathroom, there's a double vanity, a freestanding bathtub, and a large walk-in shower.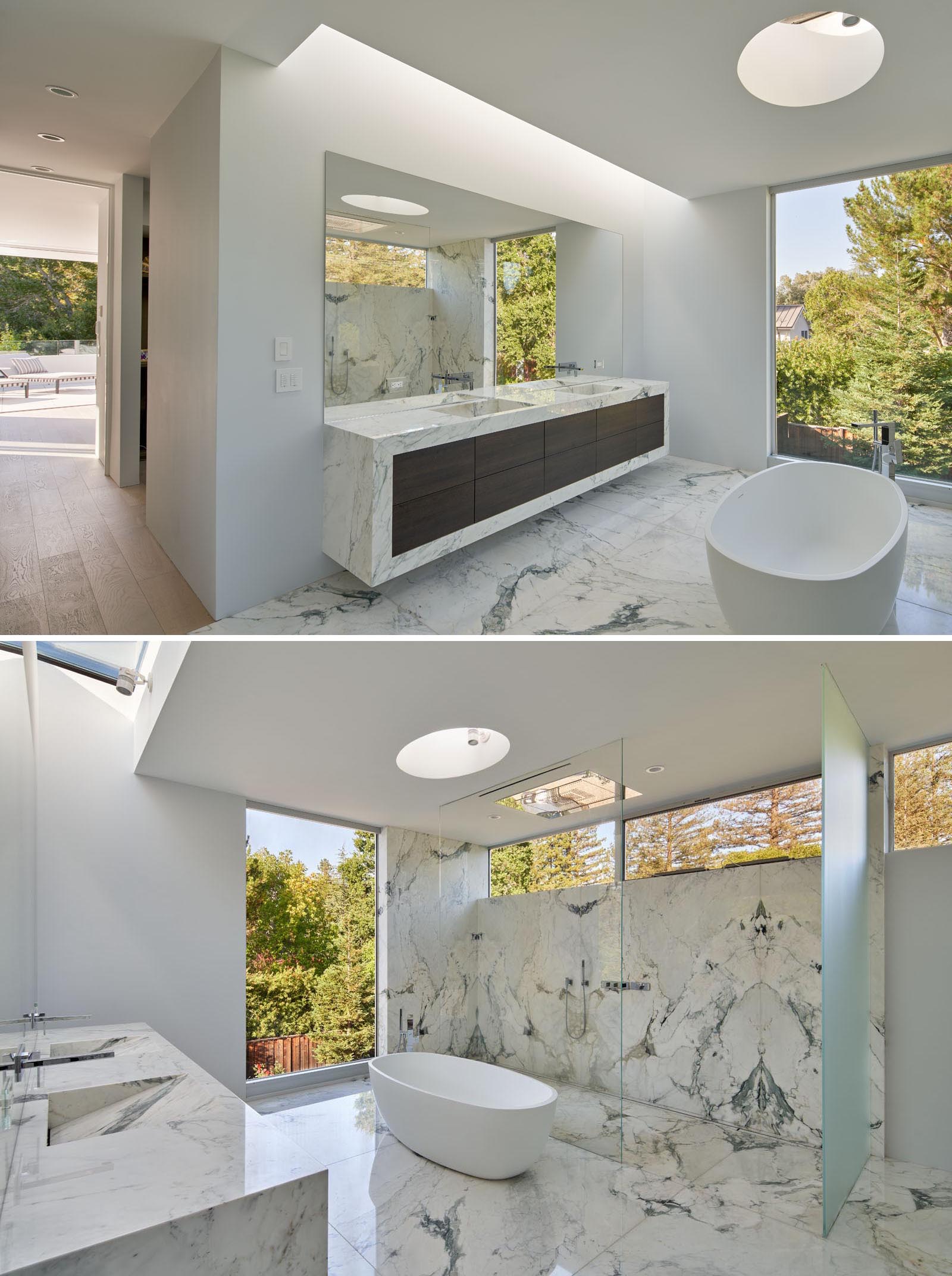 The Bridge
An acrylic and steel bridge begins near one end of the stair landing and travels 40 feet to the children's bedroom wing.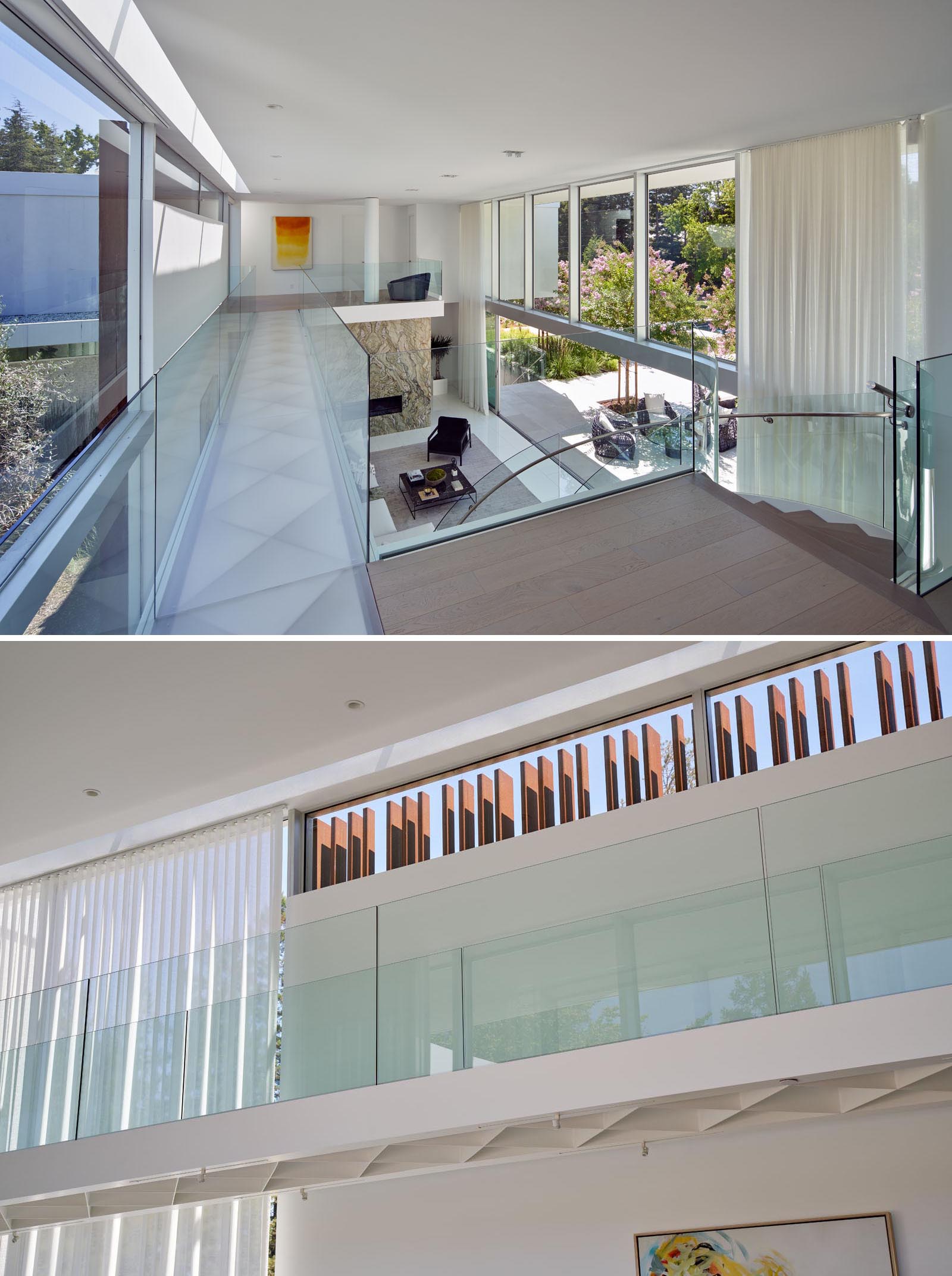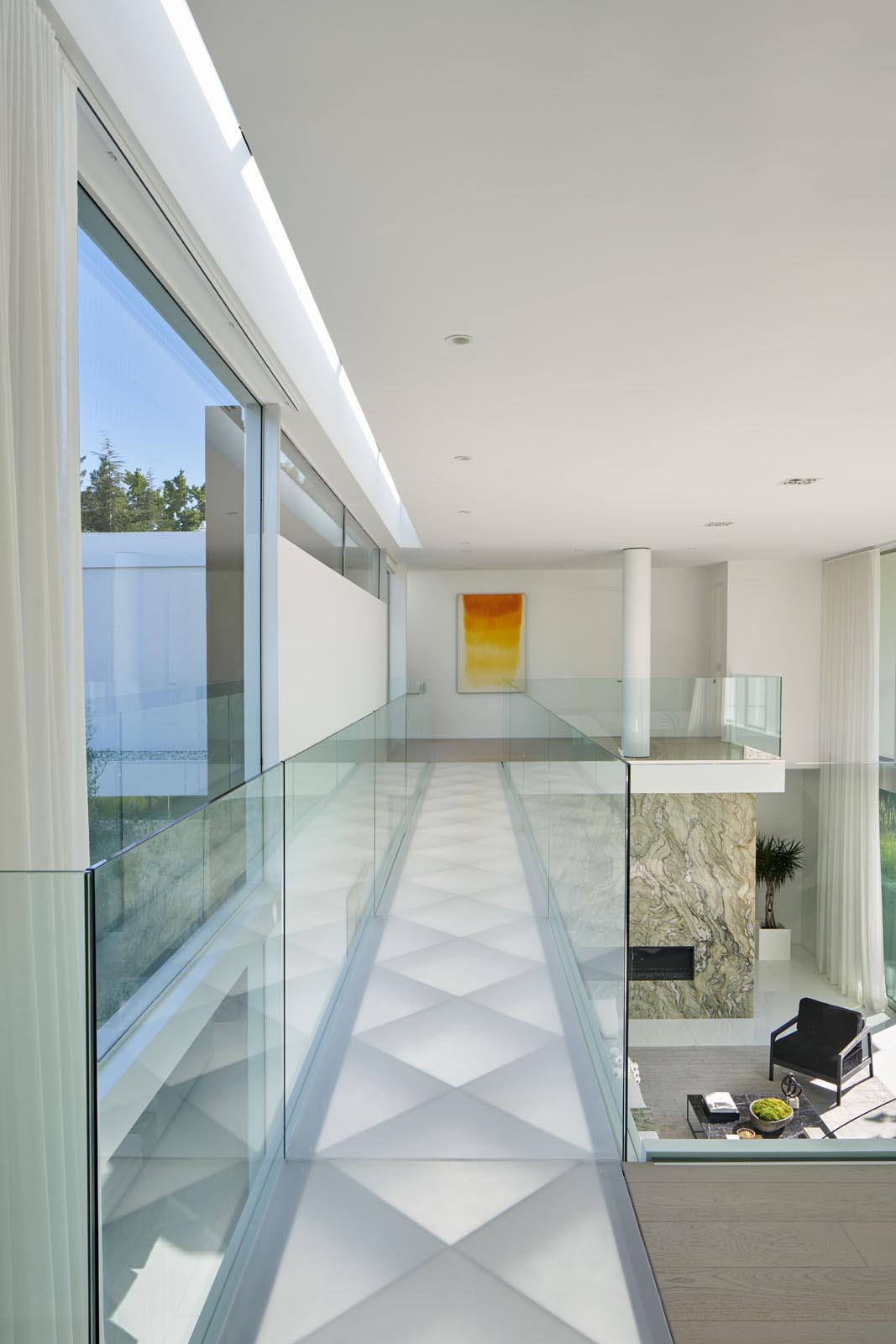 The Outdoor Space
The outdoor spaces include a covered dining patio, a lounge area, and a swimming pool.
The Floor Plan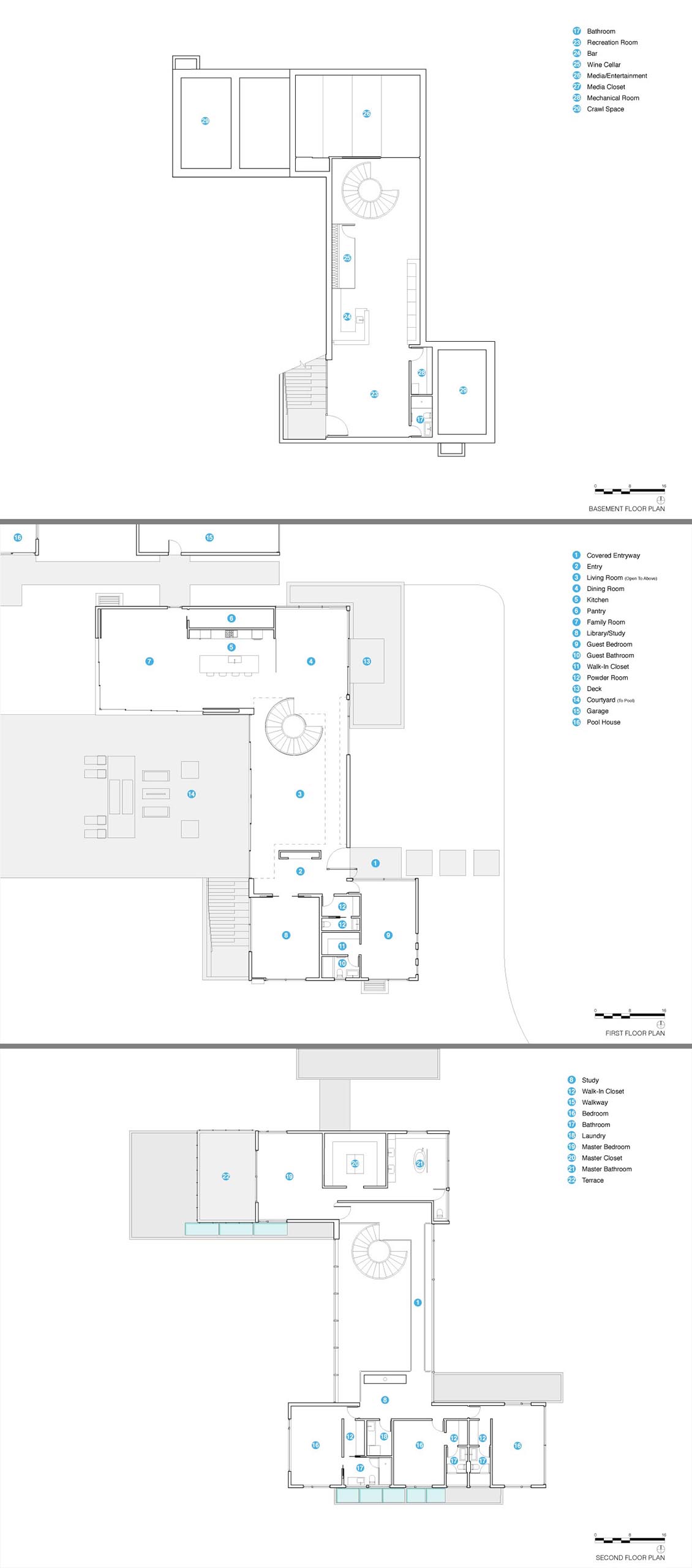 Photography by Bruce Damonte | Architect: Mark English Architects | Project Team: Mark English, Samantha Senn, Greg Corbett | Contractor: De Mattei Construction | Consultants: Holmes Structural Engineers, Precision Engineering Civil Engineer, PGSoils INC, L. Wade Hammond Surveyor, Arterra Landscape Design