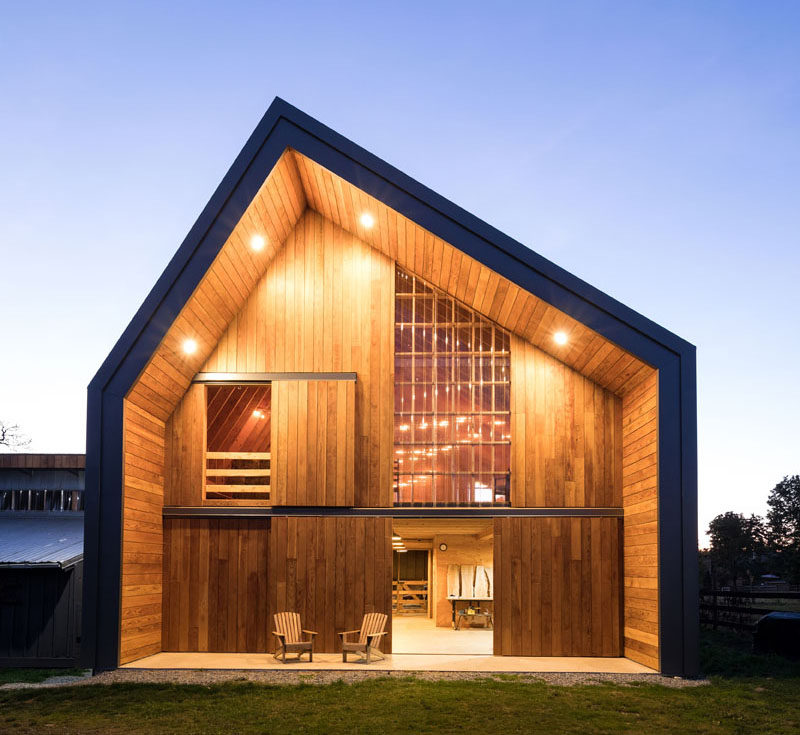 Asher deGroot of MOTIV Architects has designed a modern barn in Langley, BC, Canada, for his parents who own a modest hobby farm.
The simplicity of the barn's form is intentionally reminiscent of traditional North American barns. It's clad entirely in vertical Douglas fir siding, reclaimed from prior use as boardform concrete formwork.
The architect also acted as builder for the project, and along with his father, they coordinated specific build days with crews of up to 40 people. The frames of the roof structure were constructed completely on site and raised into place in less than 4 hours.

---
The barn was designed for simple inhabitants like resident cattle, swine, sheep, fowl, cats, and barn owls, as well being a place for workshops and storage for the farm.
While upstairs, there's a hayloft that can be used as a vibrant community gathering space, suitable for hosting concerts, weddings, art shows, poetry readings, fundraisers and long-table dinners serving an abundance of food from the small farm.
---

Photography by Ema Peter Photography | Architect: Asher deGroot, Architect AIBC, MRAIC | Structural Engineer: Equilibrium Consulting | Construction team: Asher deGroot, Dennis deGroot and James Munns
---