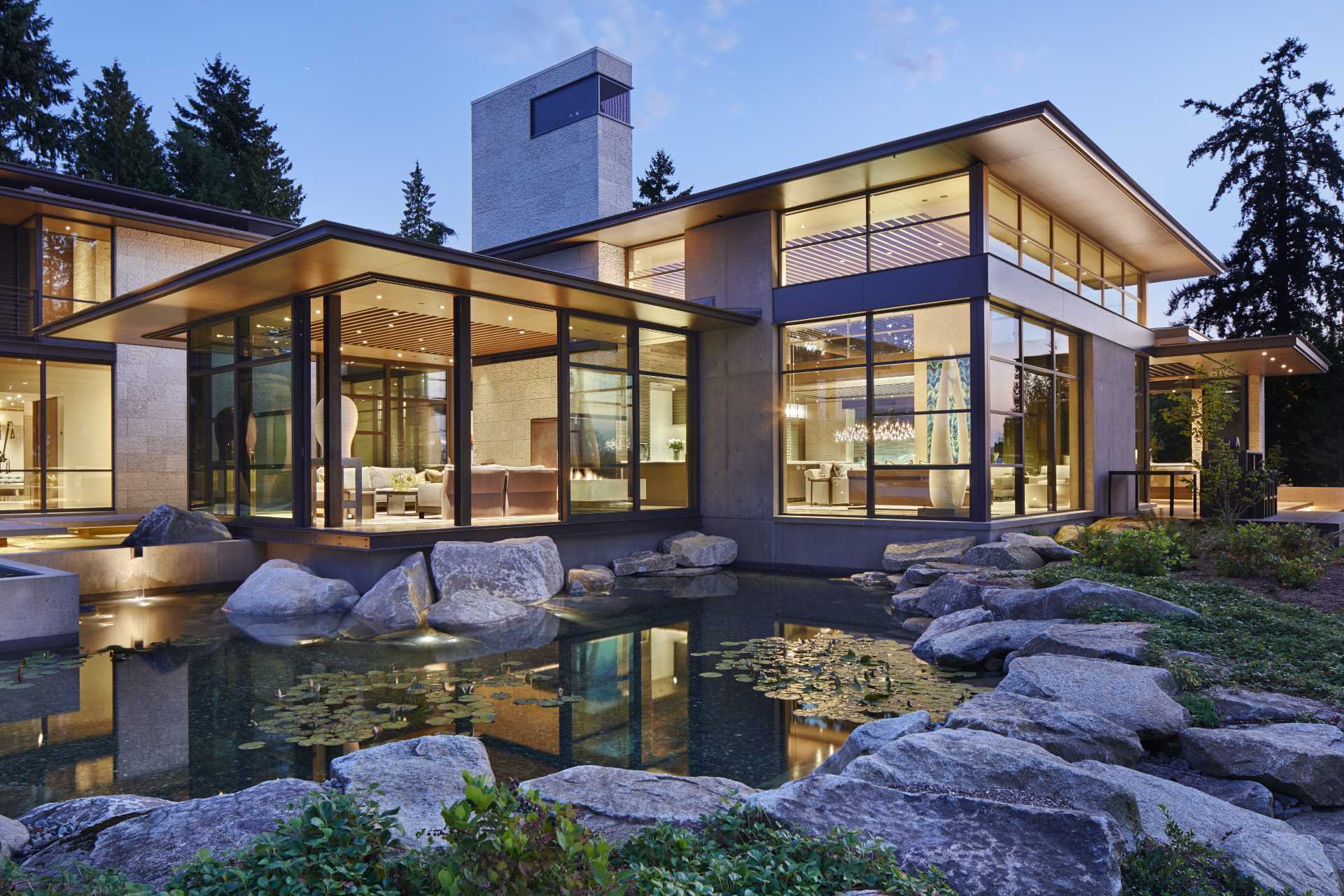 Kor Architects has designed a new lakeside home in Washington State that uses materials like wood, stone, concrete, and steel, as well as a series of water features.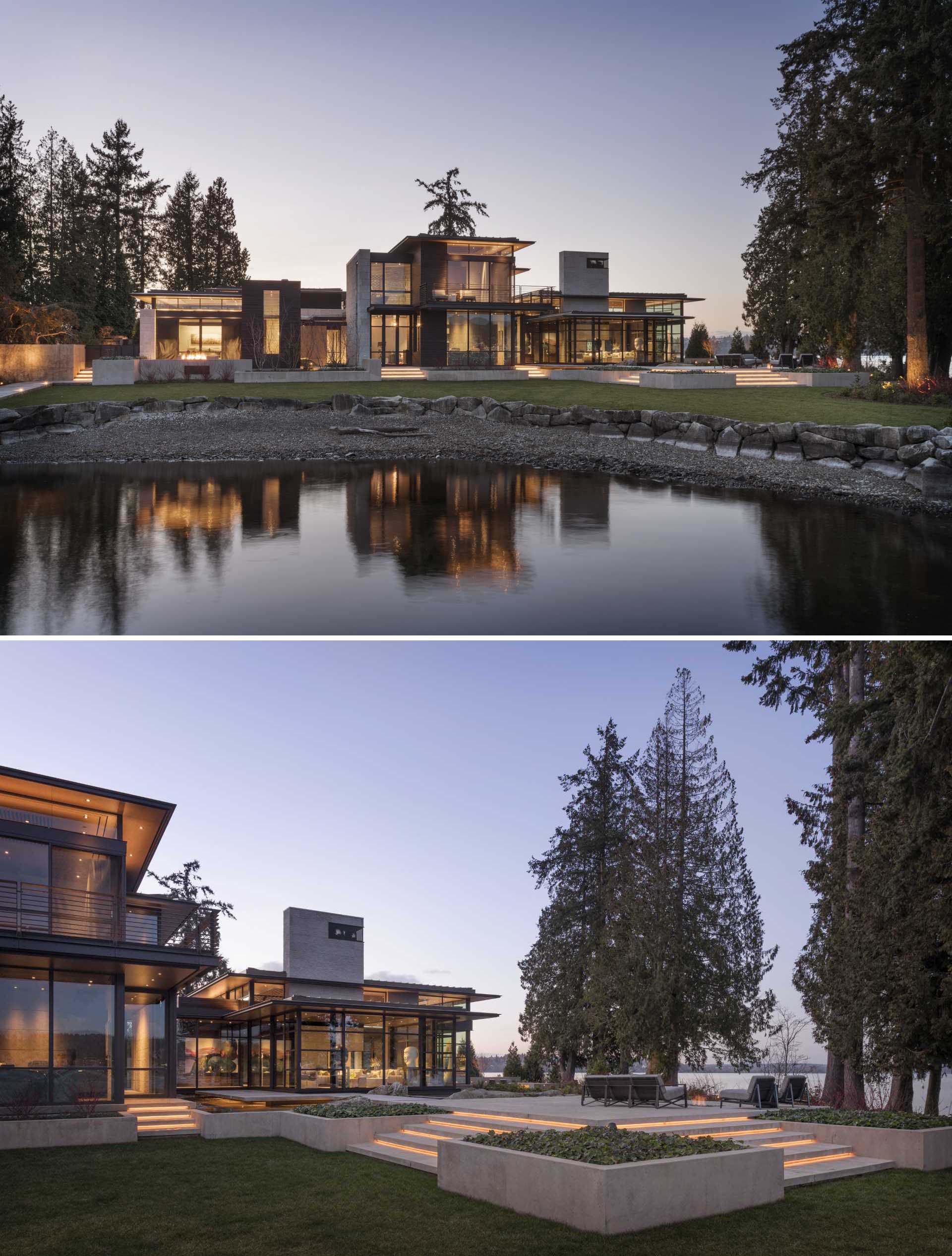 The design of the home includes various water features. The first water feature can be seen at the front of the house, where it guides you to the front door.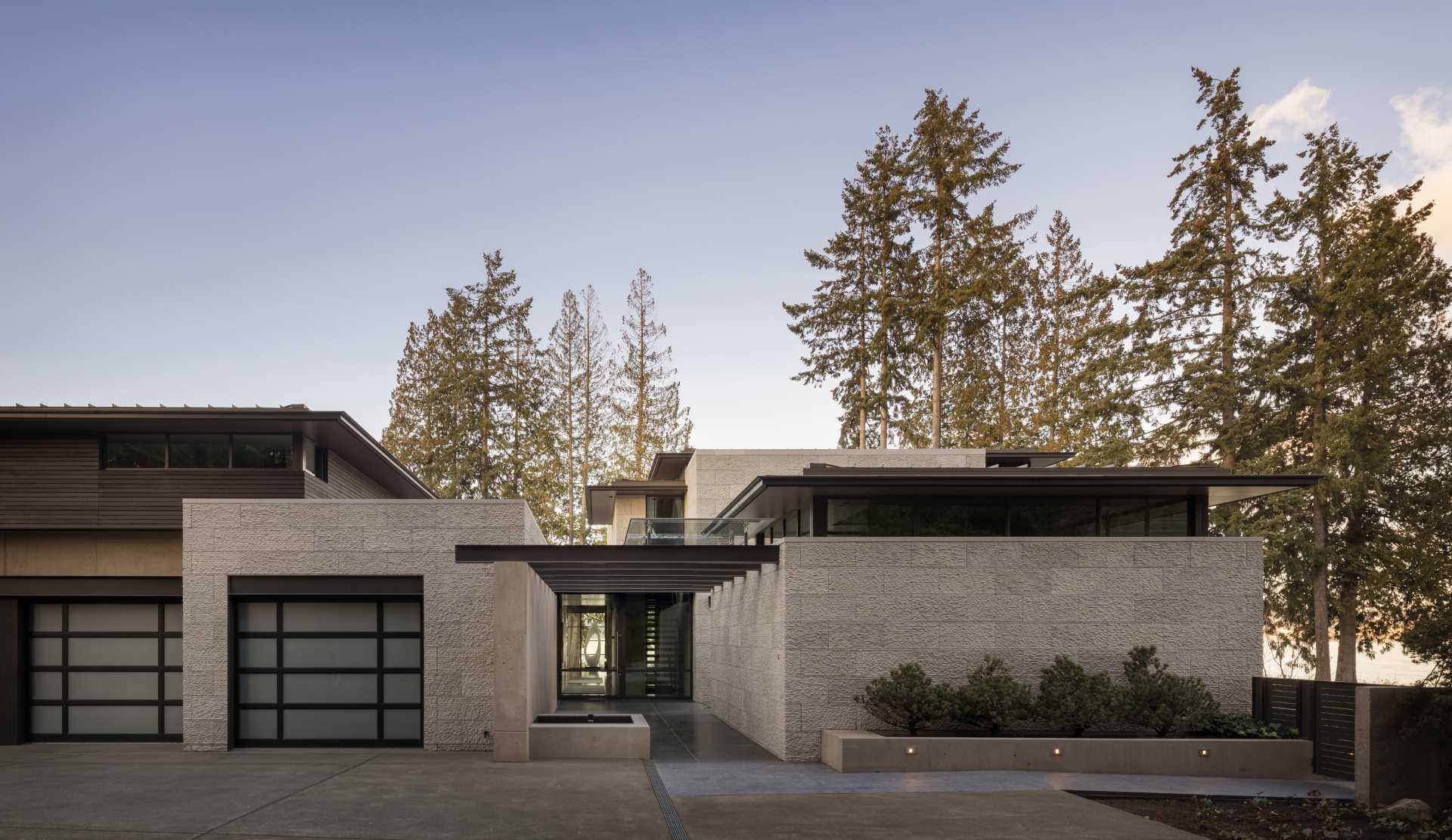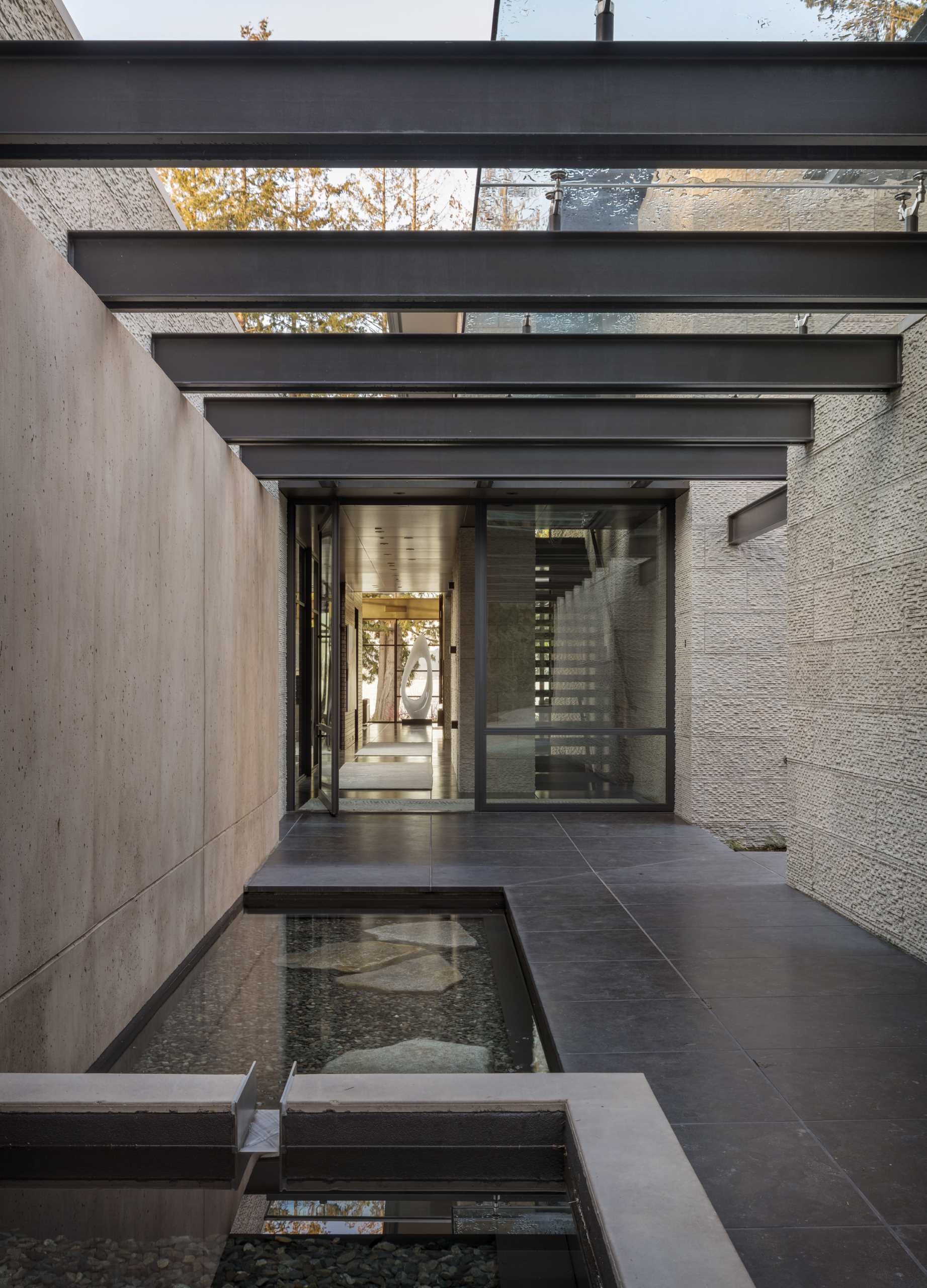 Other water features, which feature around the exterior of the home, also flow beneath some parts of the building, where they meet up with large stepping platforms.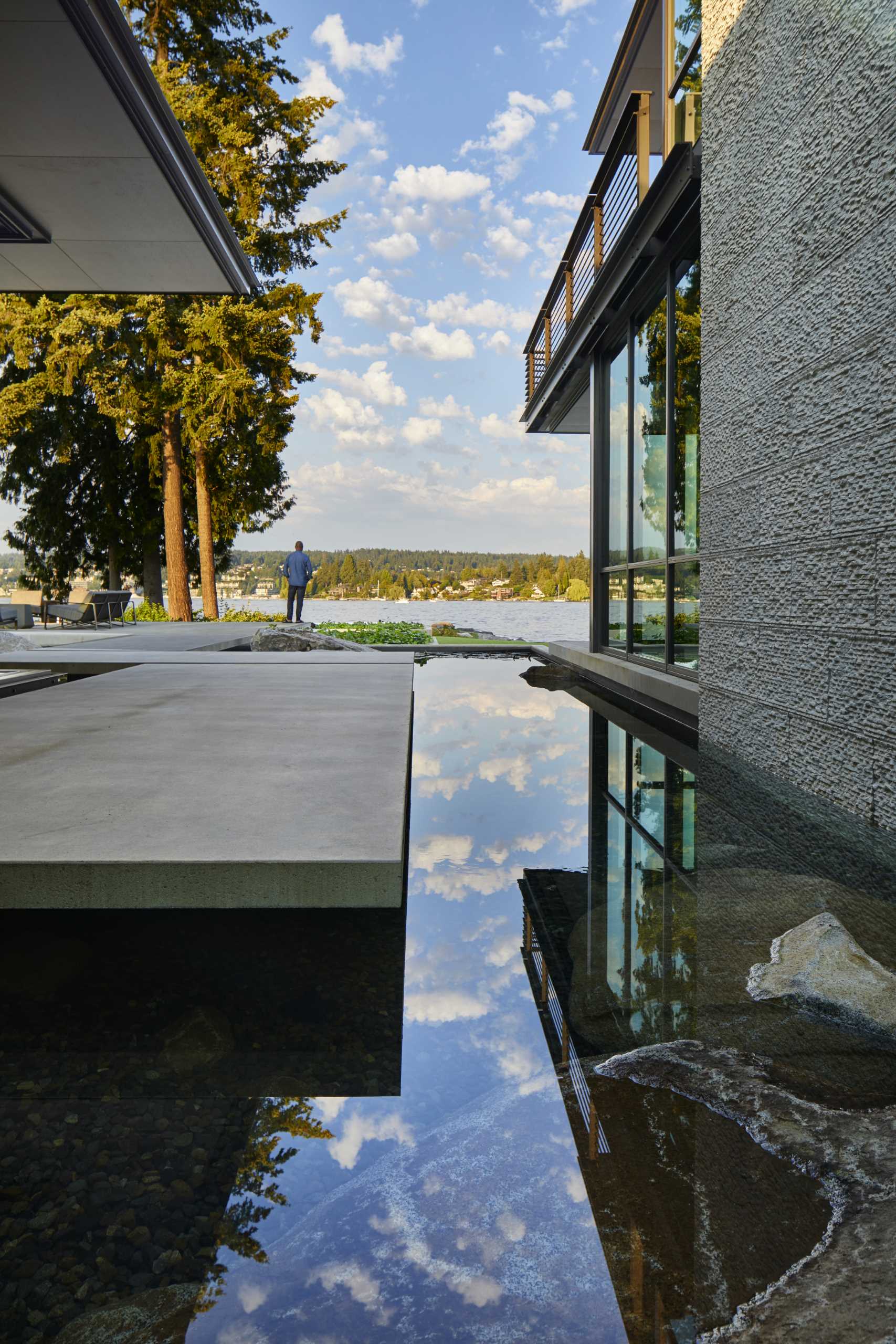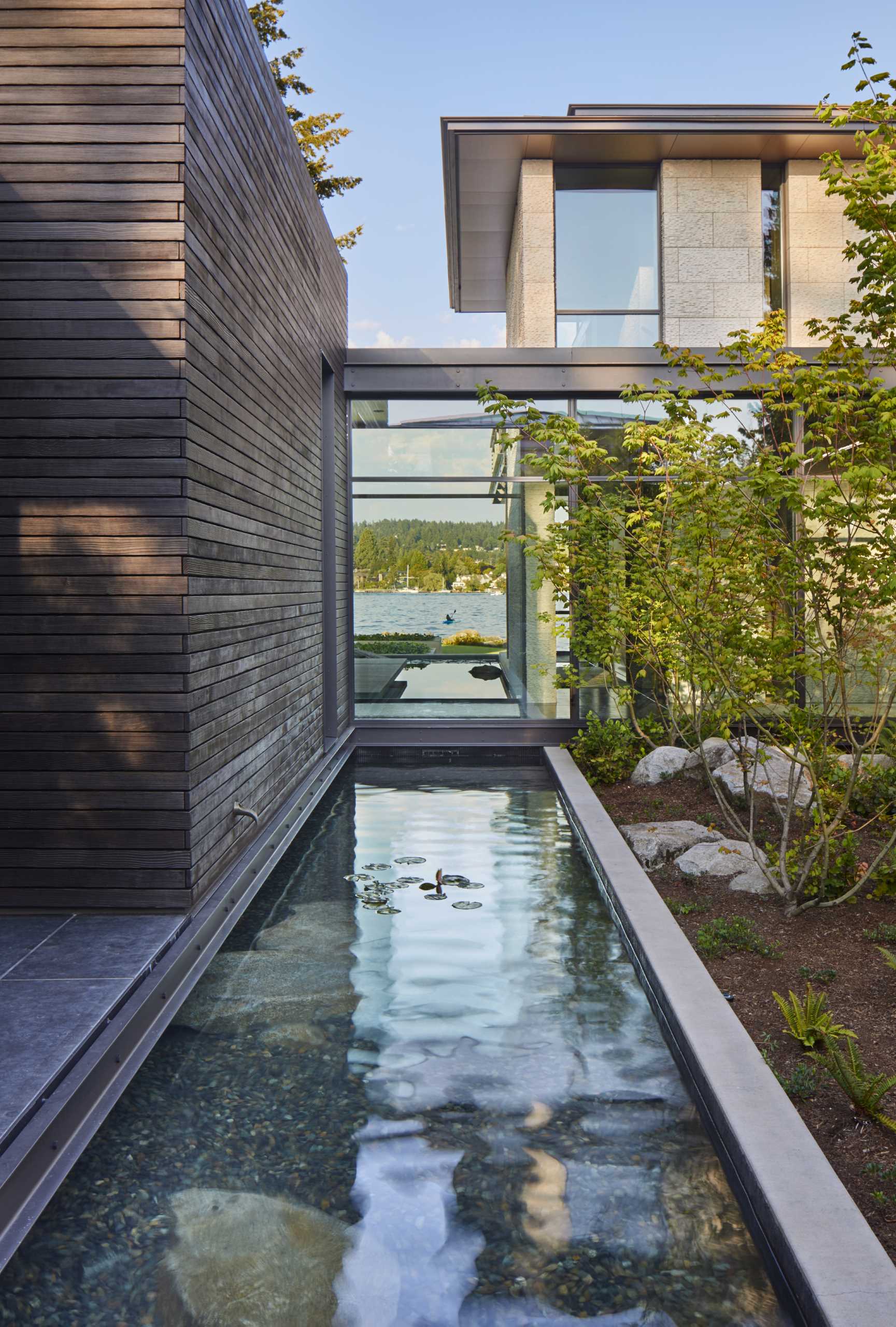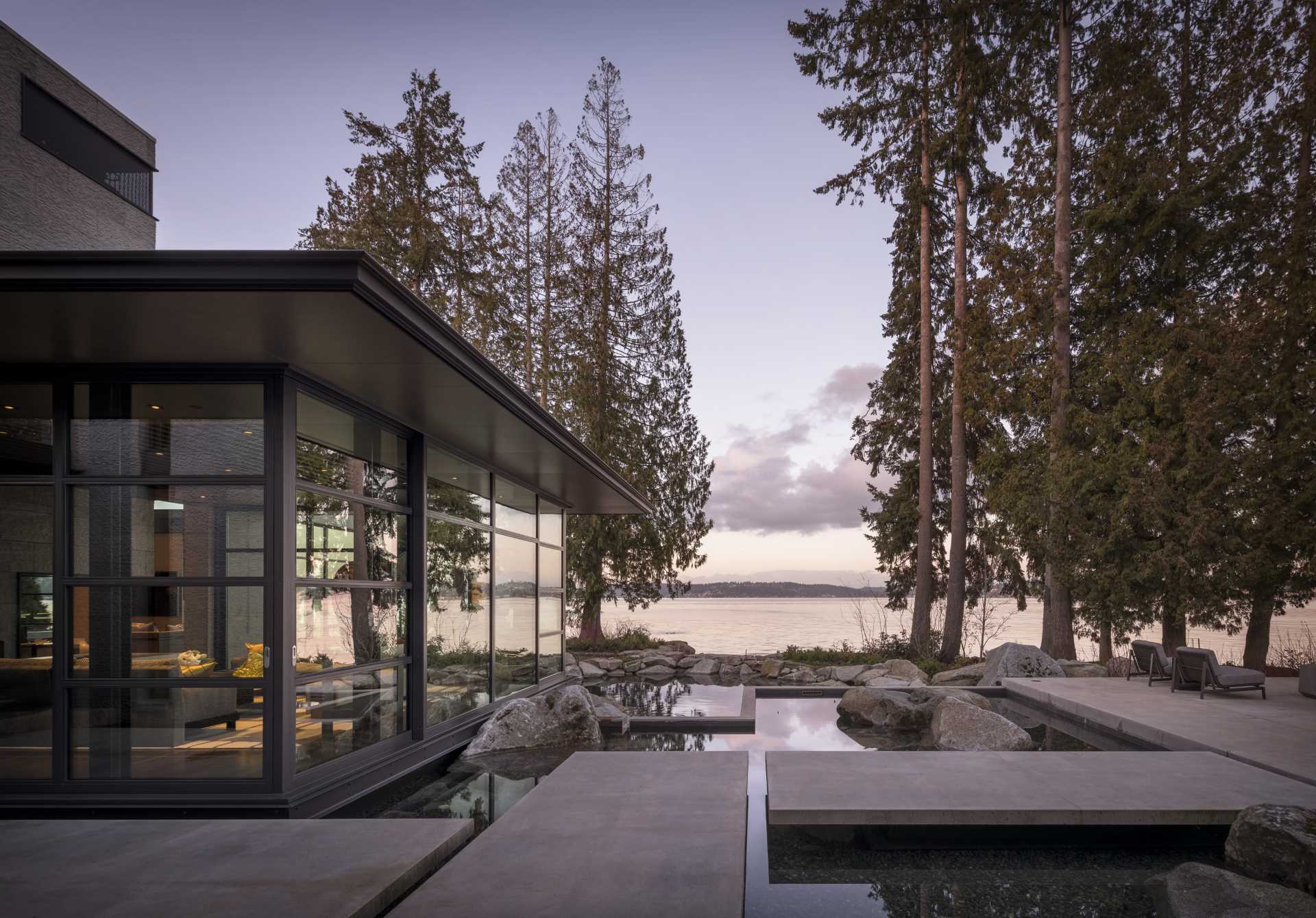 The water flows into a large feature made to resemble a native pond adjacent to the lake.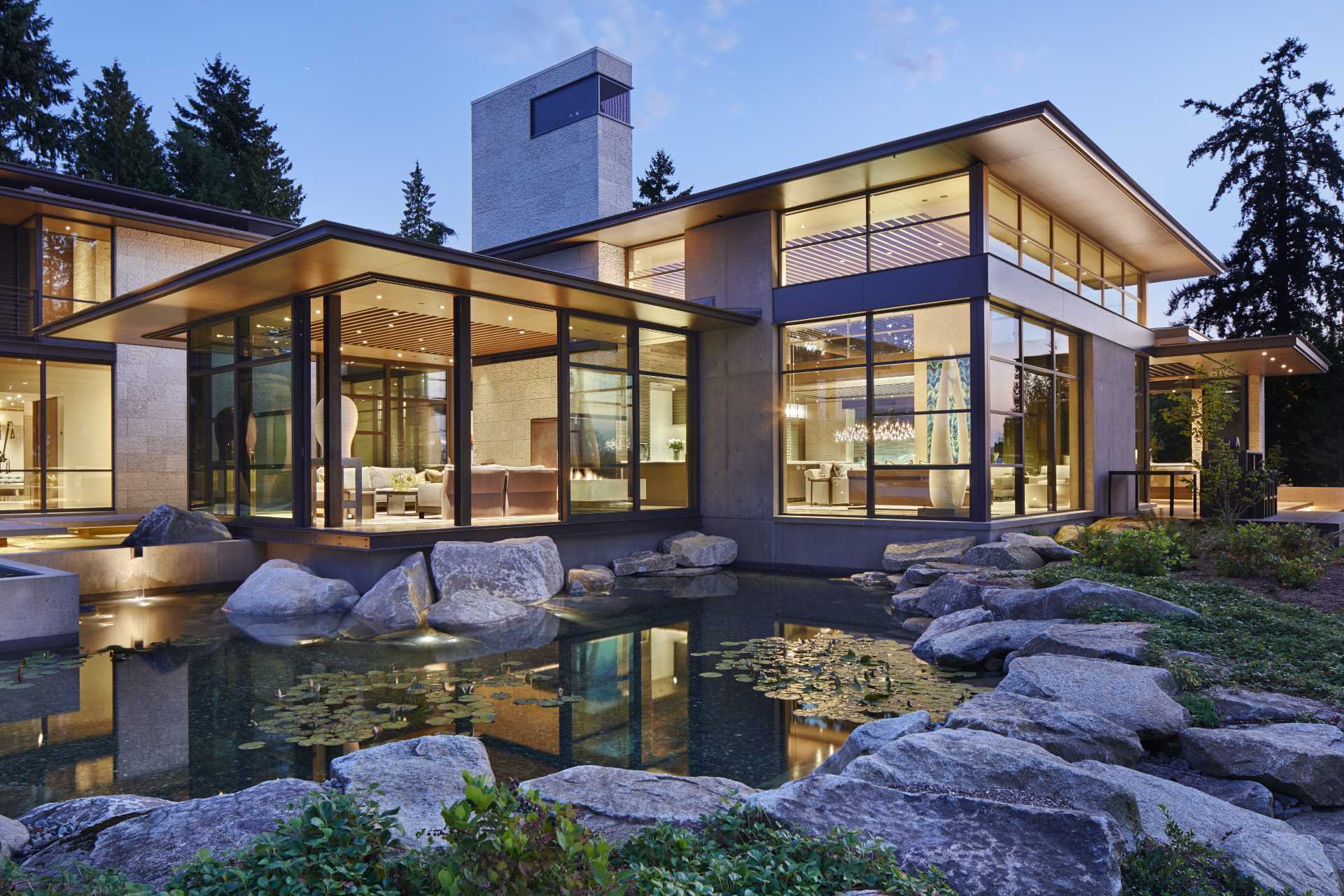 Complementing the water features are the outdoor living areas that have views of the lake, and include steps with hidden lighting, large built-in concrete plants, and a lounge area with a fire pit. The architects worked with Ohashi Landscape Services to complete the outdoor spaces.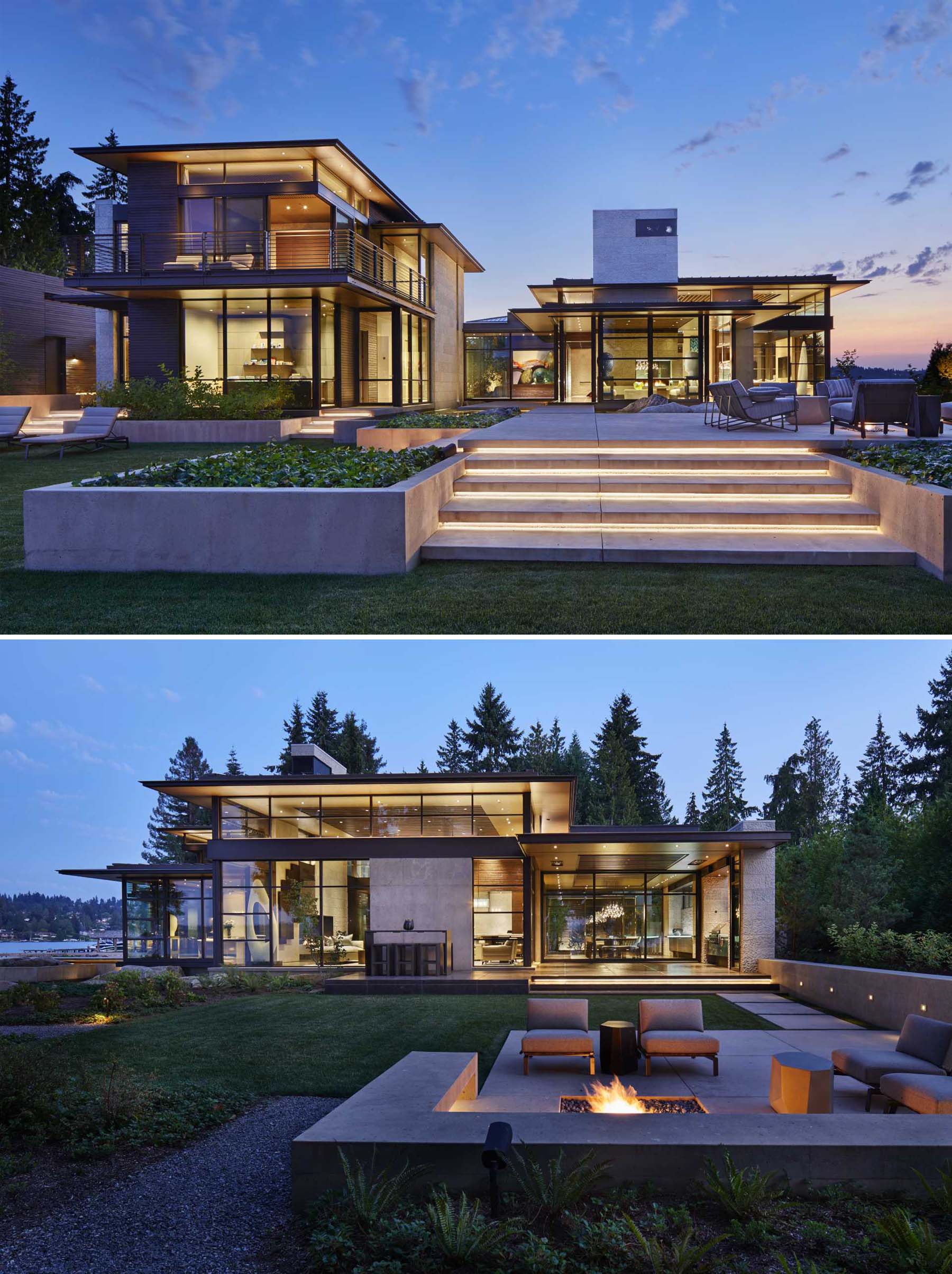 The interiors of the home, which were designed in collaboration with Barbara Leland Interior Design, are filled with natural light from the floor-to-ceiling windows.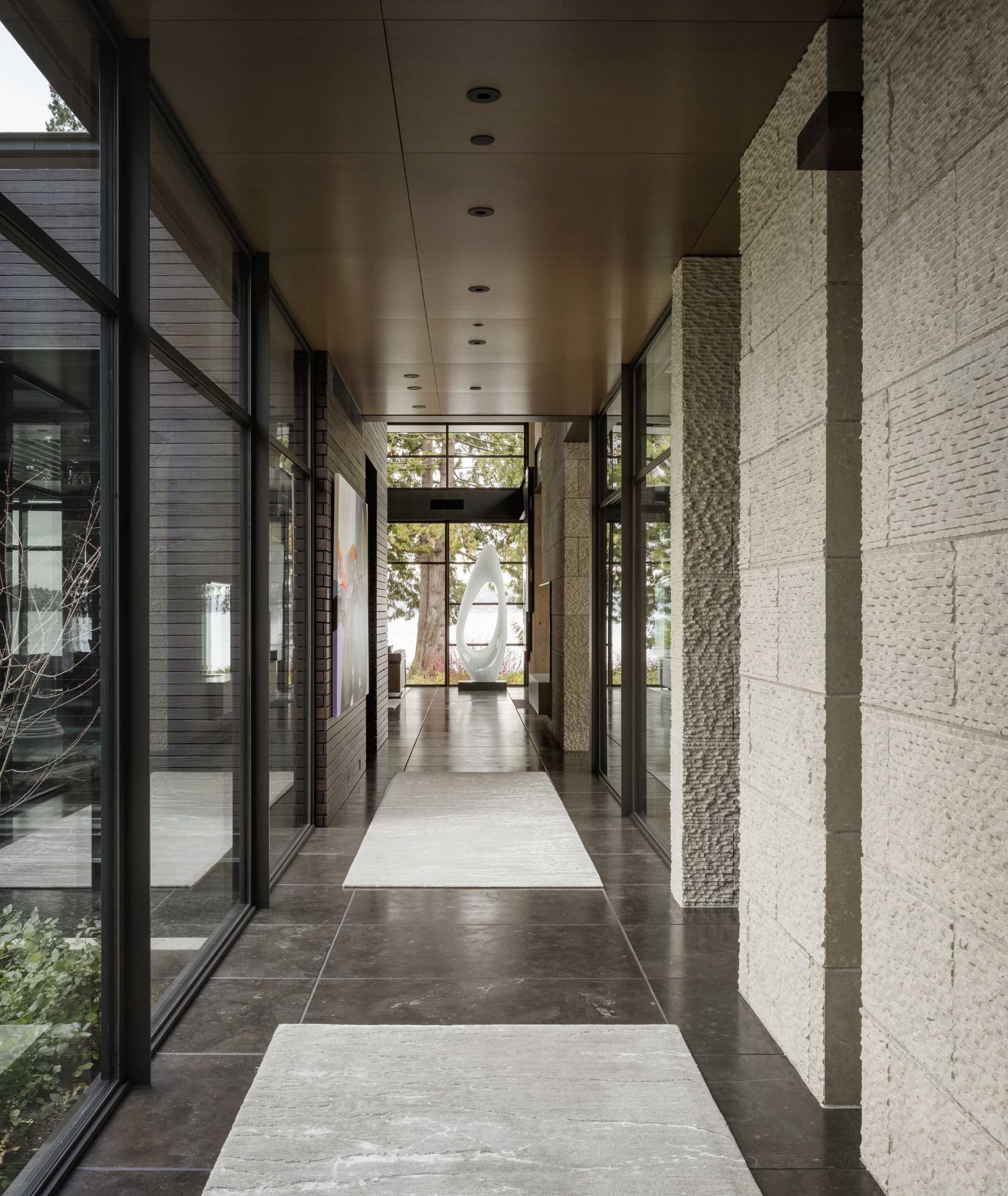 The home has two different living rooms with views of the lake, that are connected via an opening and a double-sided fireplace.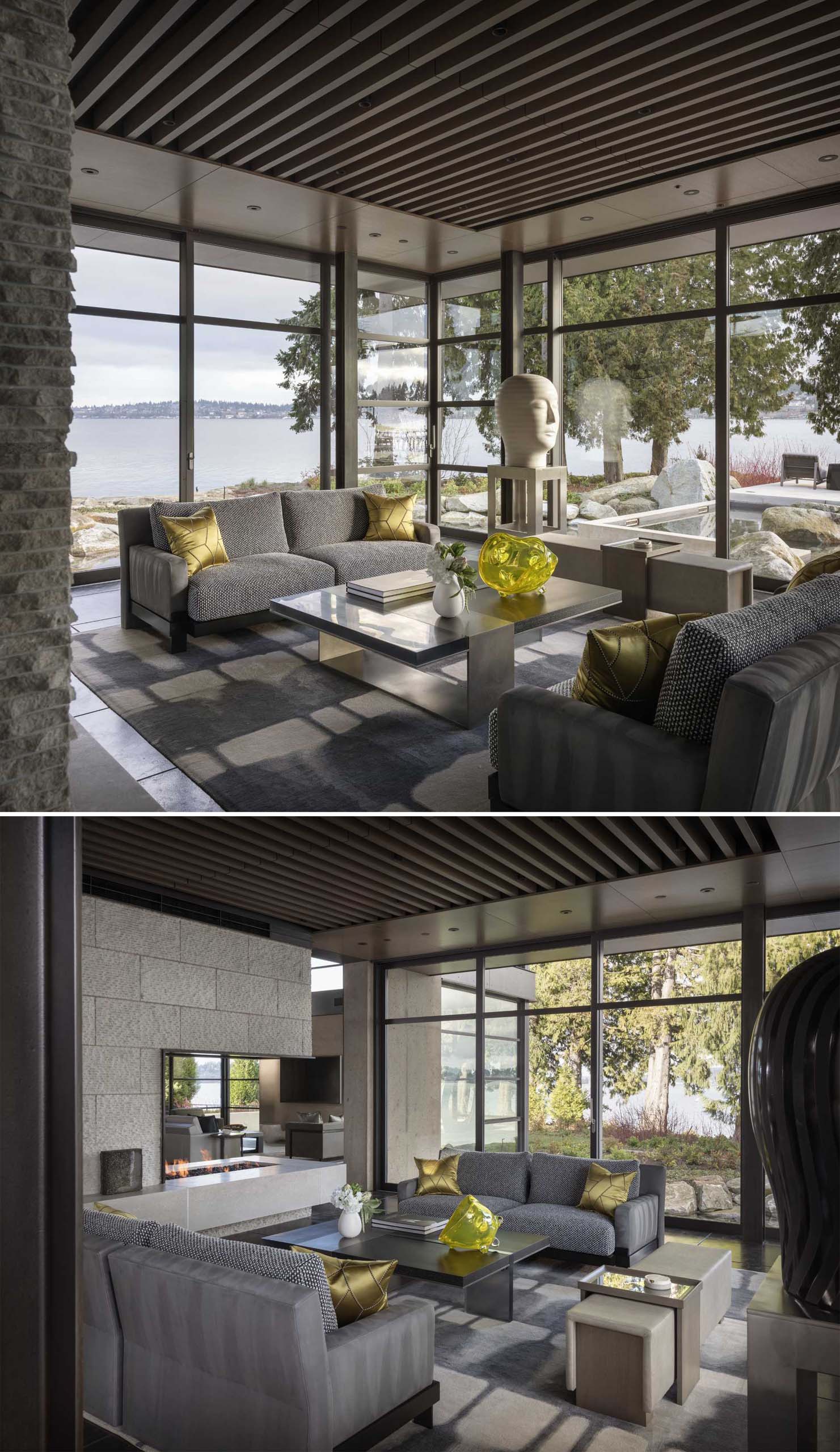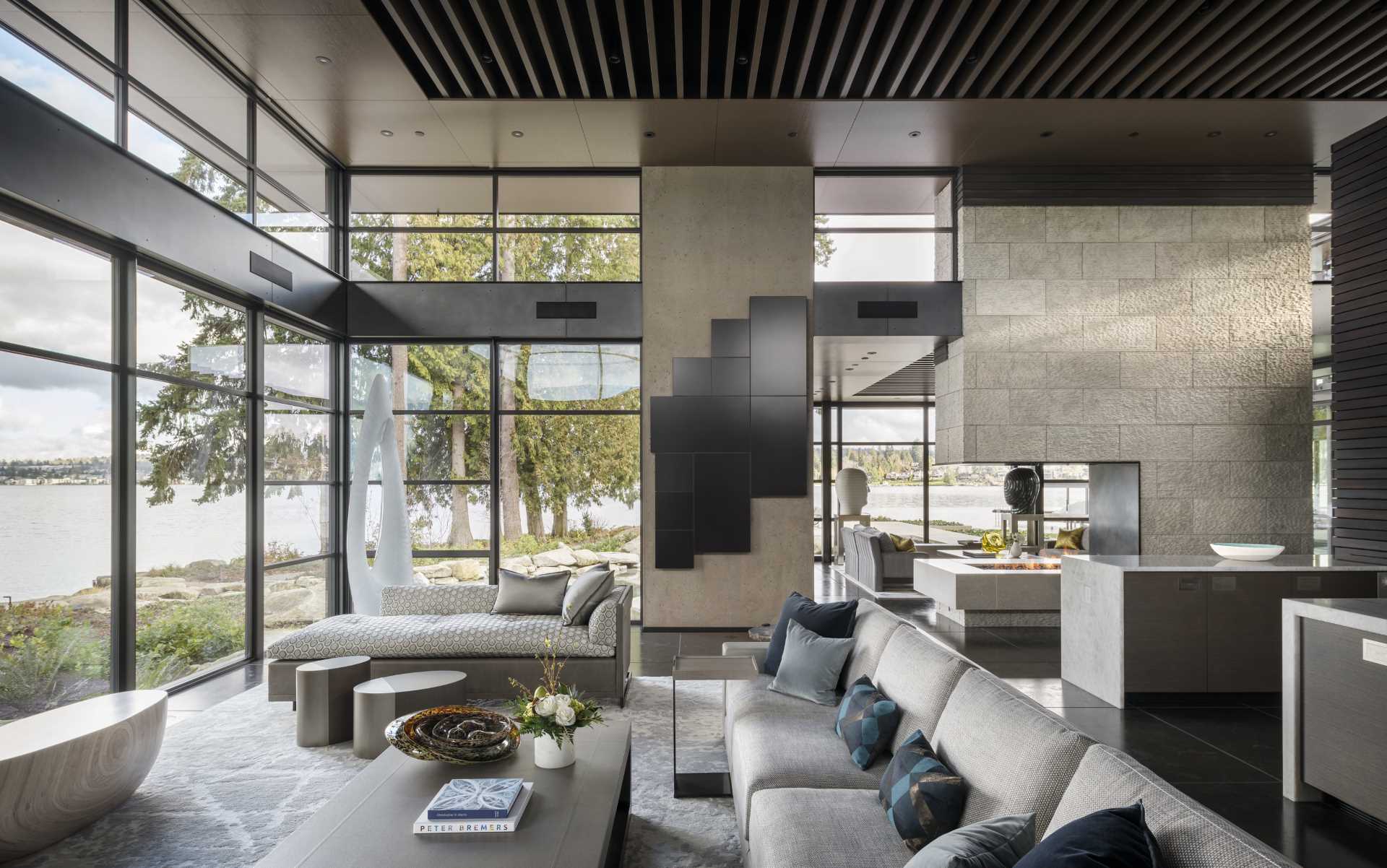 Also sharing the warmth of the fireplace is the kitchen, where there's a large island and a dark wall accent wall that continues into the dining room.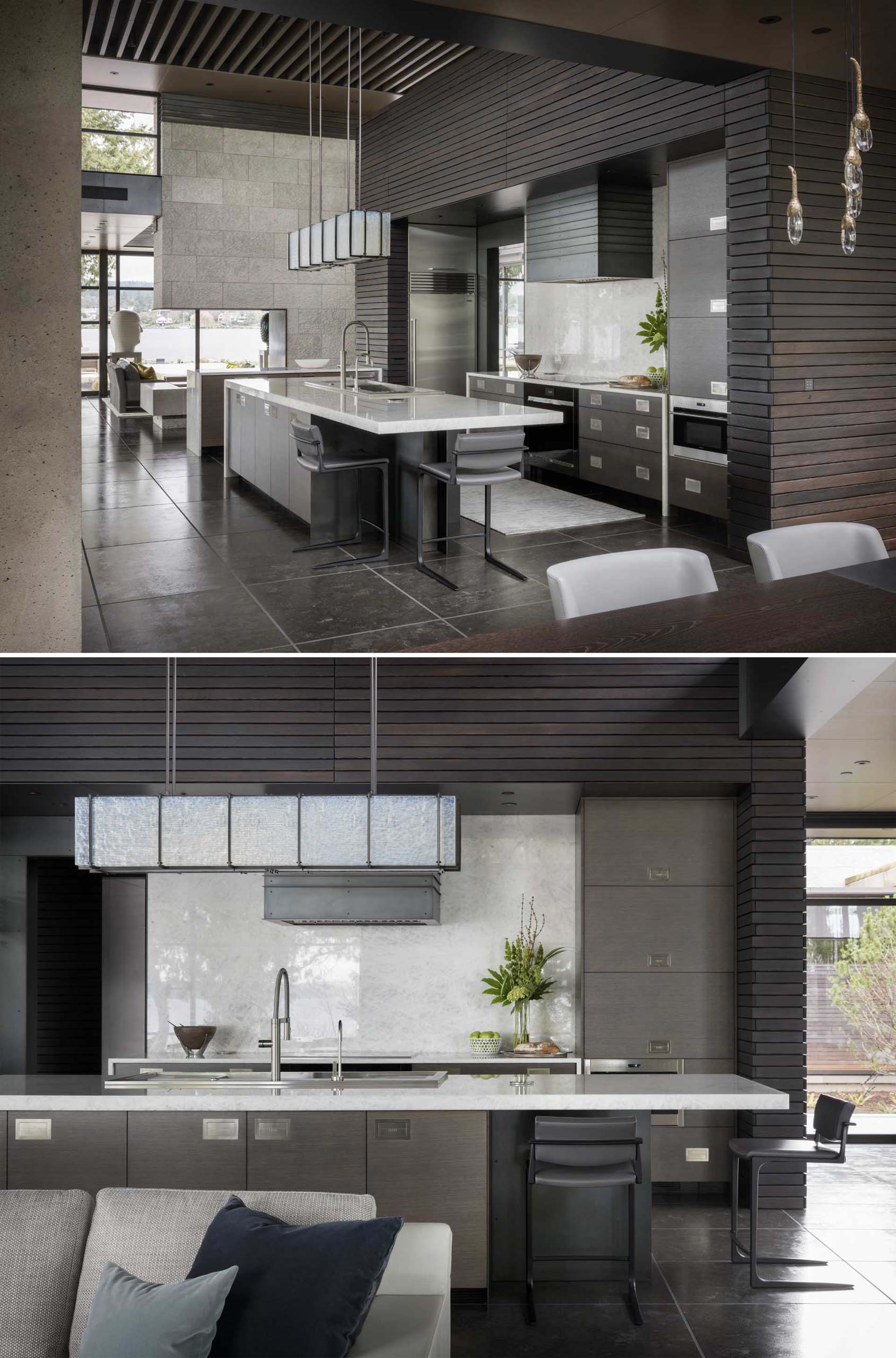 In the adjacent dining room, there's an oversized dining table with a collection of individual pendant lights that make up a light sculpture. Outside, there's an additional covered dining area.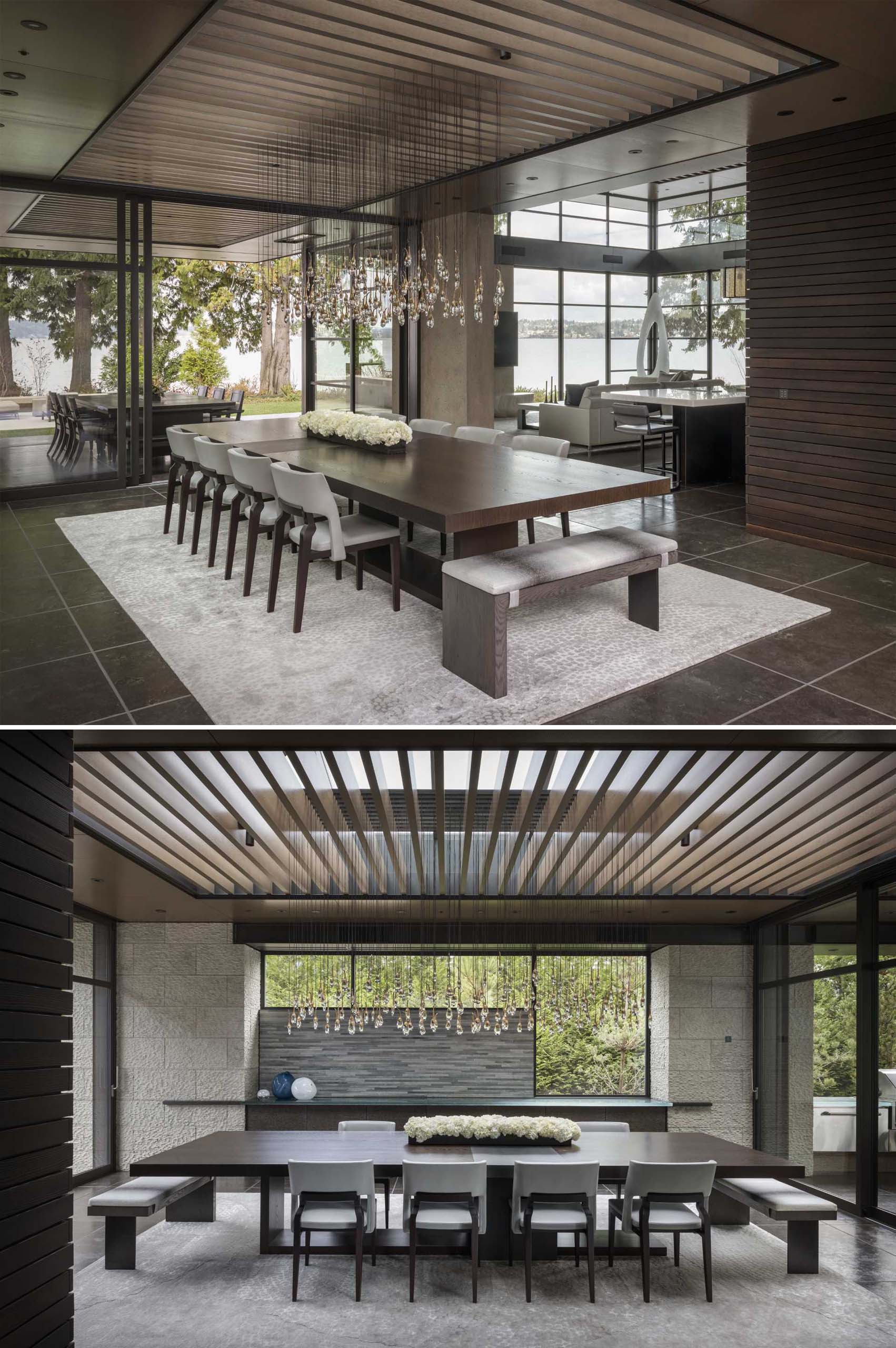 Stone walls flank the stairs which lead to the upper floor of the home.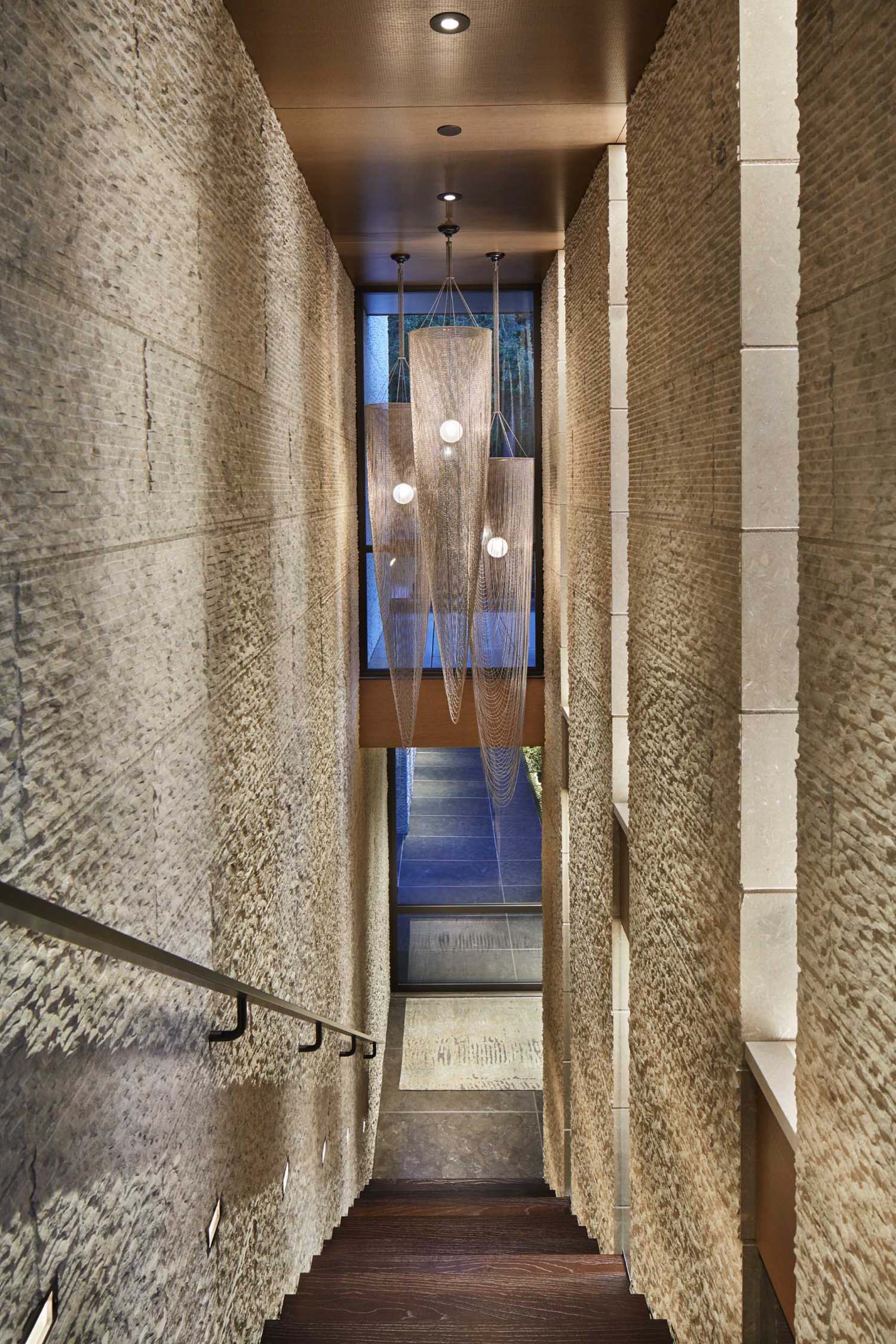 In one of the bedrooms, a steel and wood accent wall acts as a backdrop for the bed.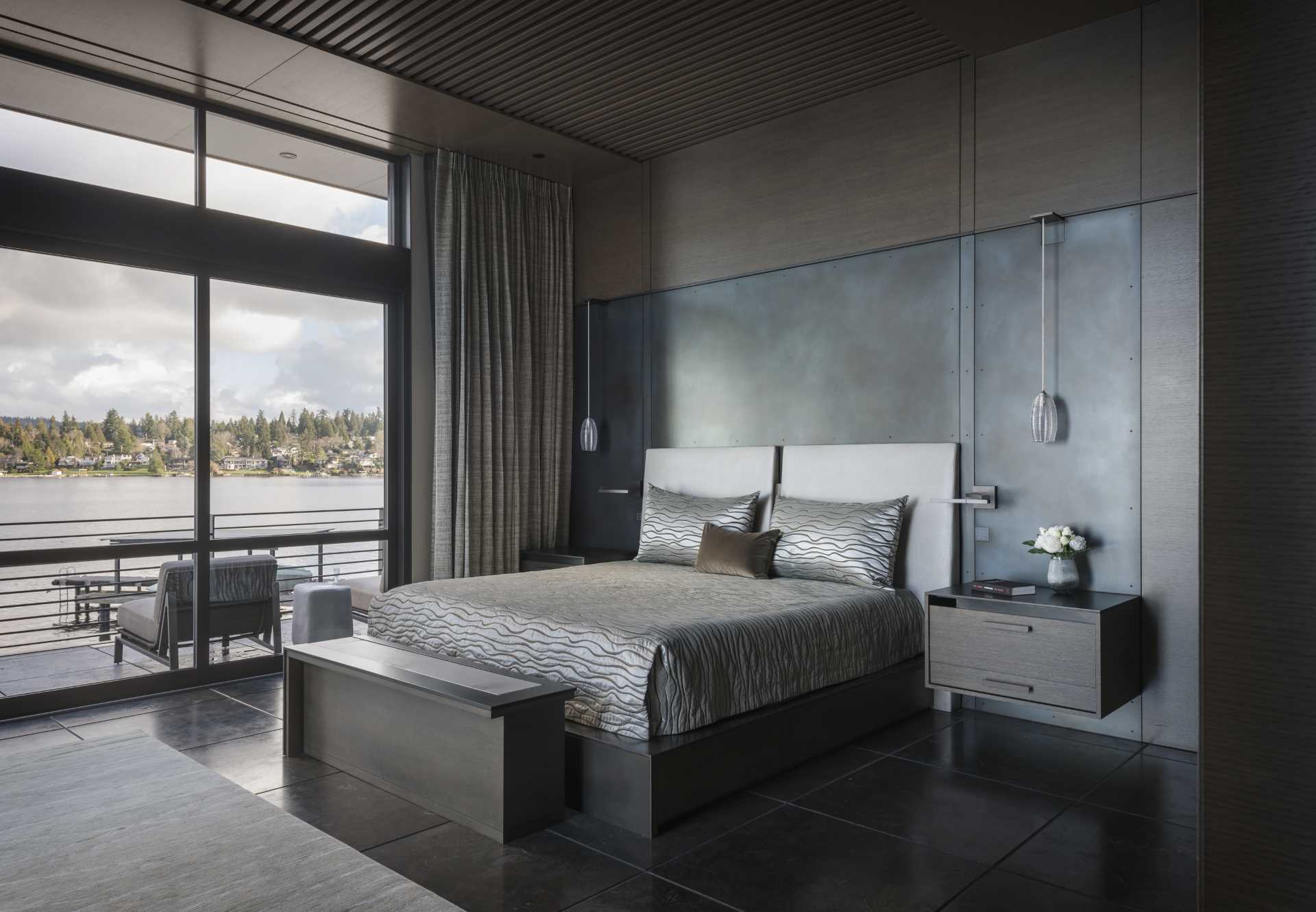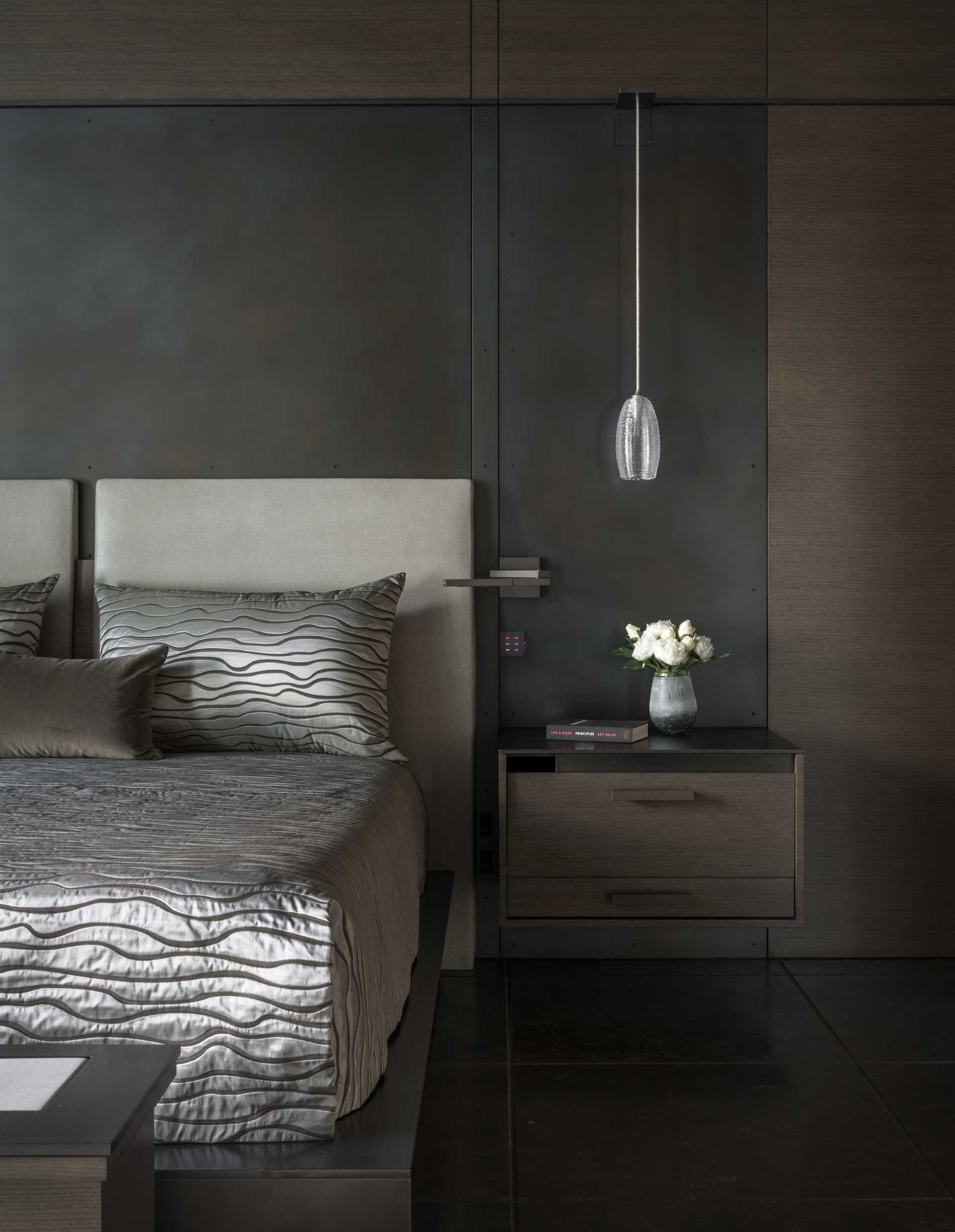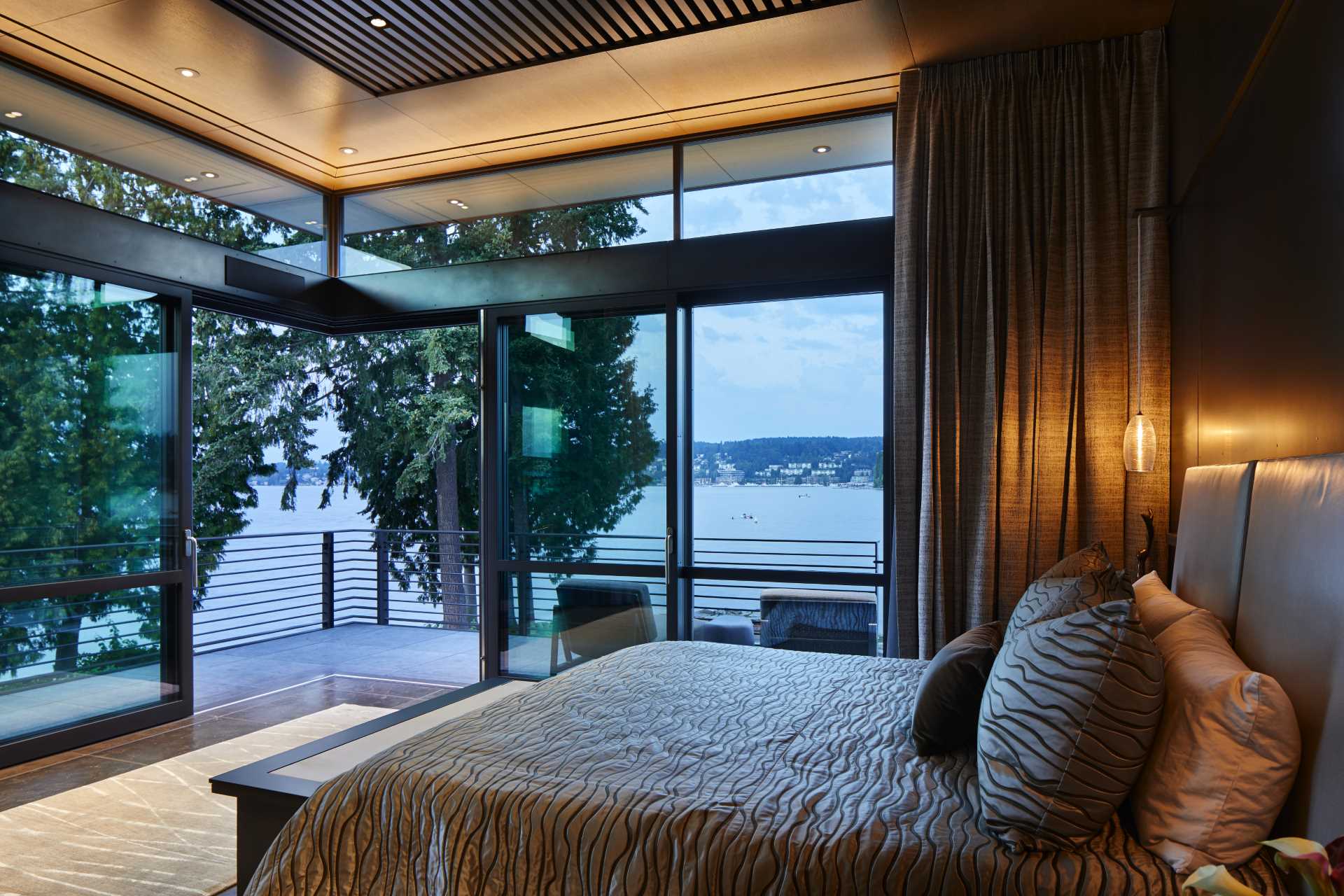 In another bedroom, the wood bed frame has been designed to include a couch.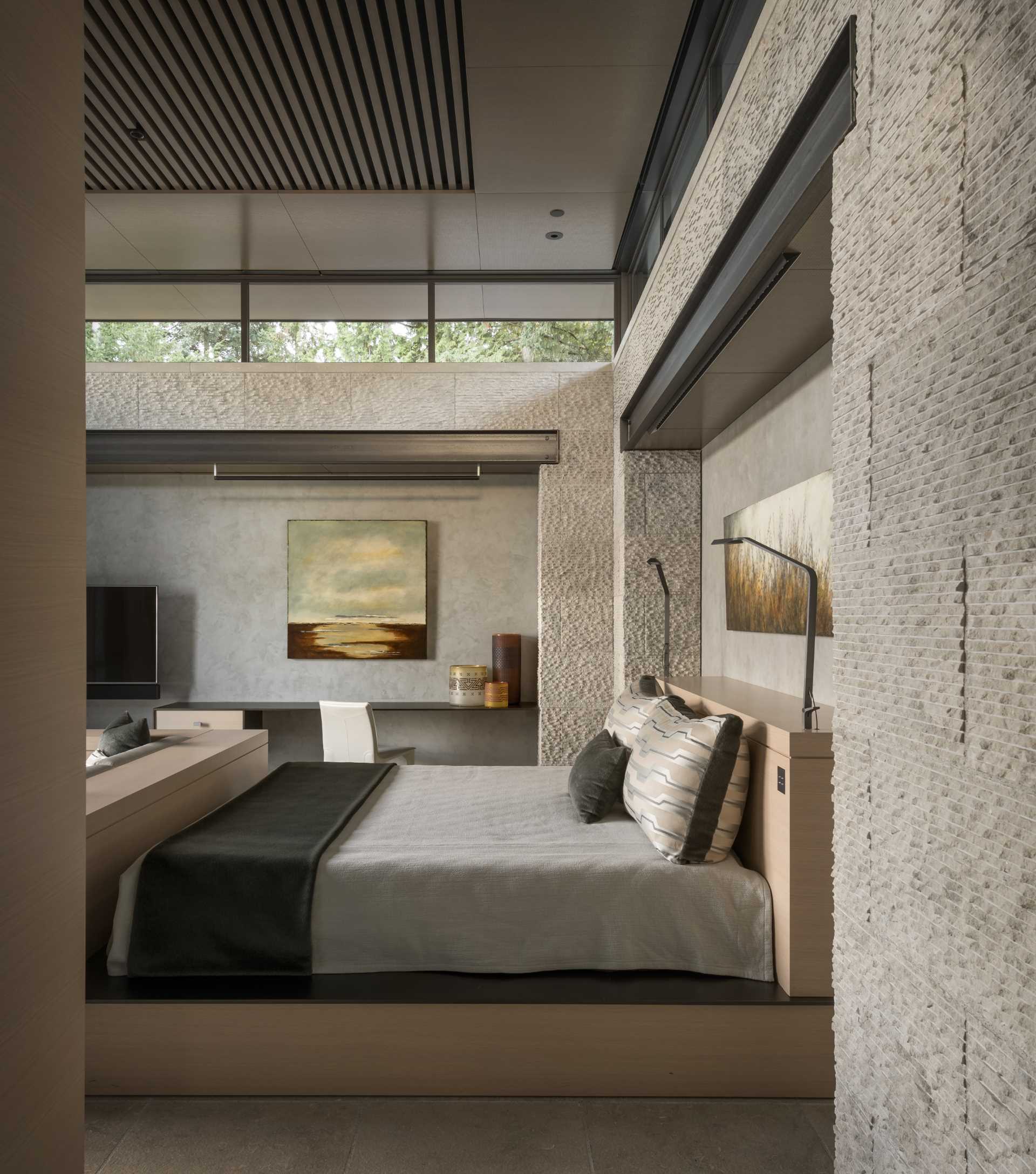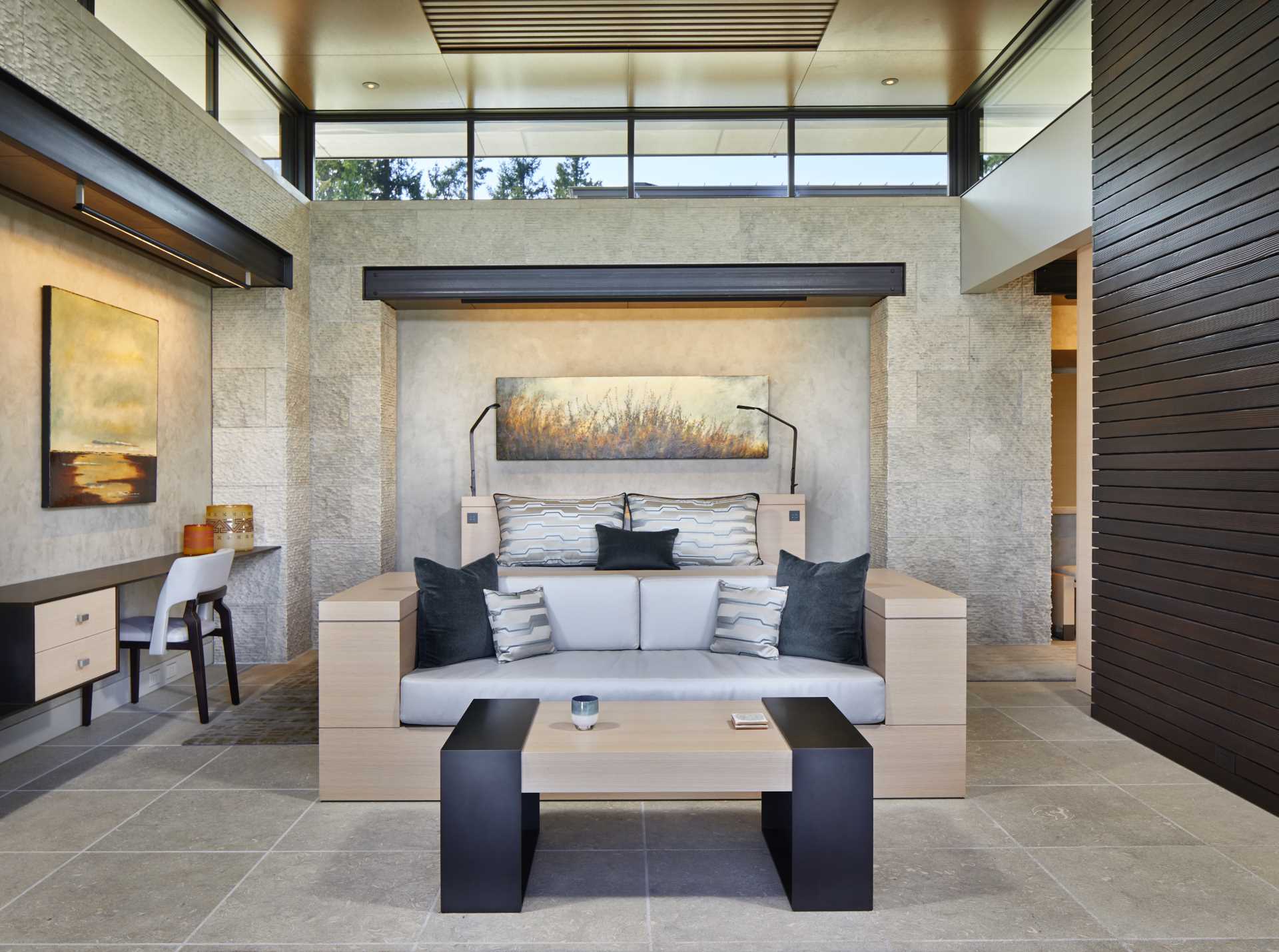 In one of the bathrooms, the walls are lined with textured tiles, while the double vanity has plenty of counter space. At the end of the vanity, there's a freestanding bathtub with views of the lake.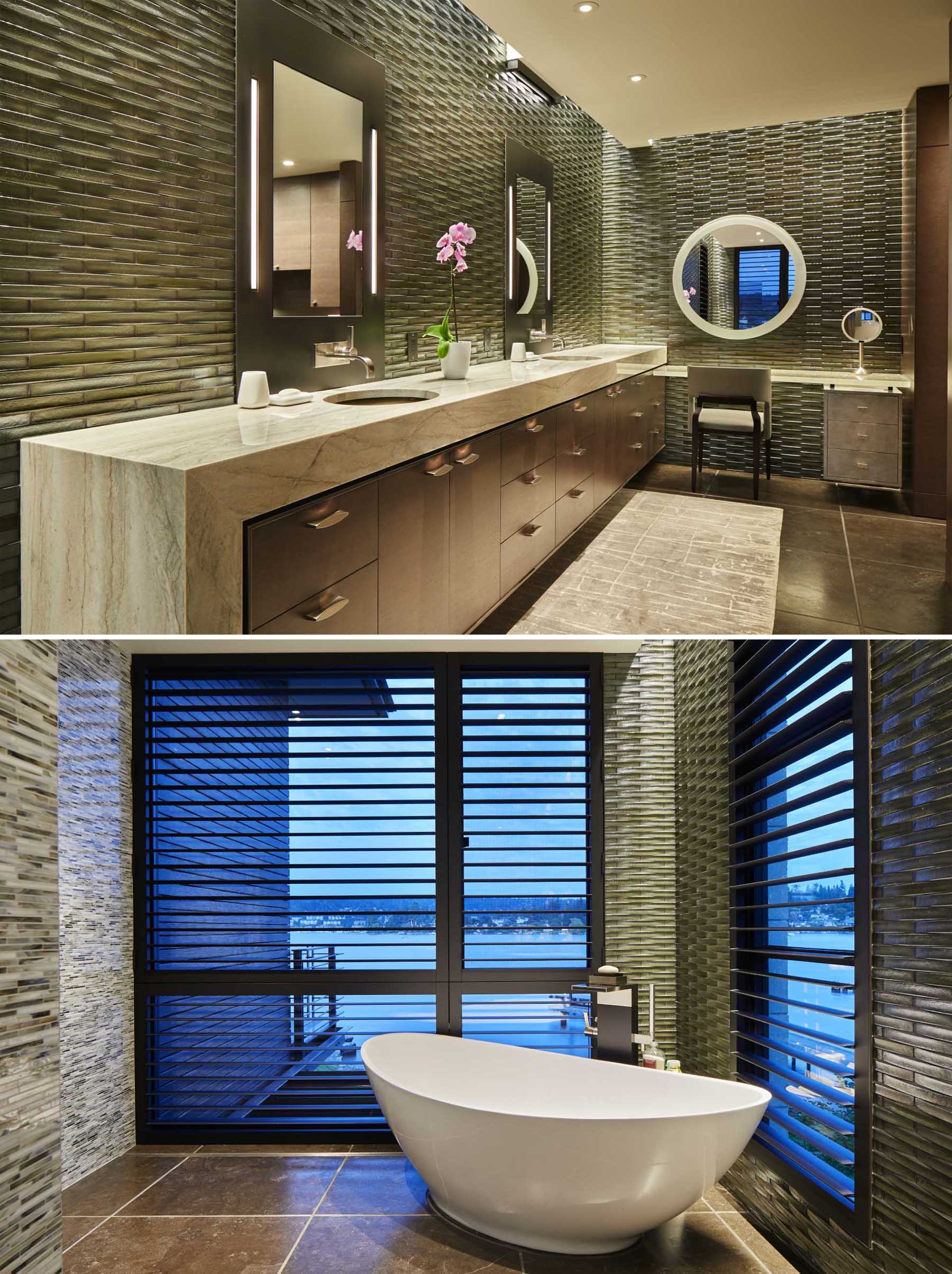 There's also another freestanding bathtub in a different bathroom that has a high ceiling and a wall of tiles.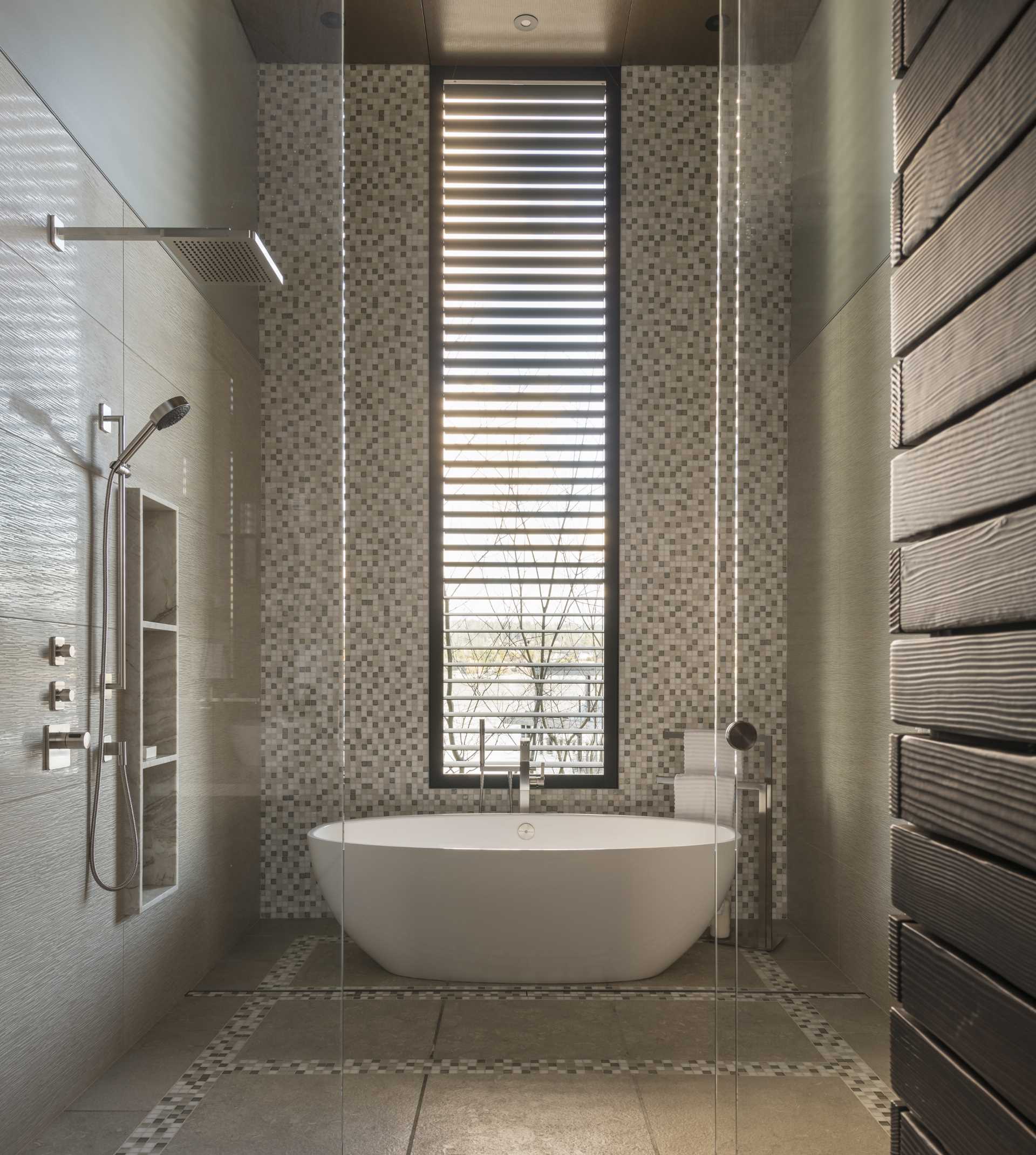 Photography by Aaron Leitz | Architecture: Kor Architects | Design team: Matthew Kent AIA (Principal), Michael Conover (Project Architect) | Interior Design: Barbara Leland Interior Design | Contractor: TOTH Construction | Civil Engineer: Coterra Engineering | Structural Engineer: RSE Associates | Mechanical Engineer: Franklin Engineering | Geotechnical Engineer: PanGeo | Landscape: Ohashi Landscape Services | Lighting: DePelecyn Studio | Acoustical Engineer: Sparling | Building Envelope Consultant: RDH Building Sciences