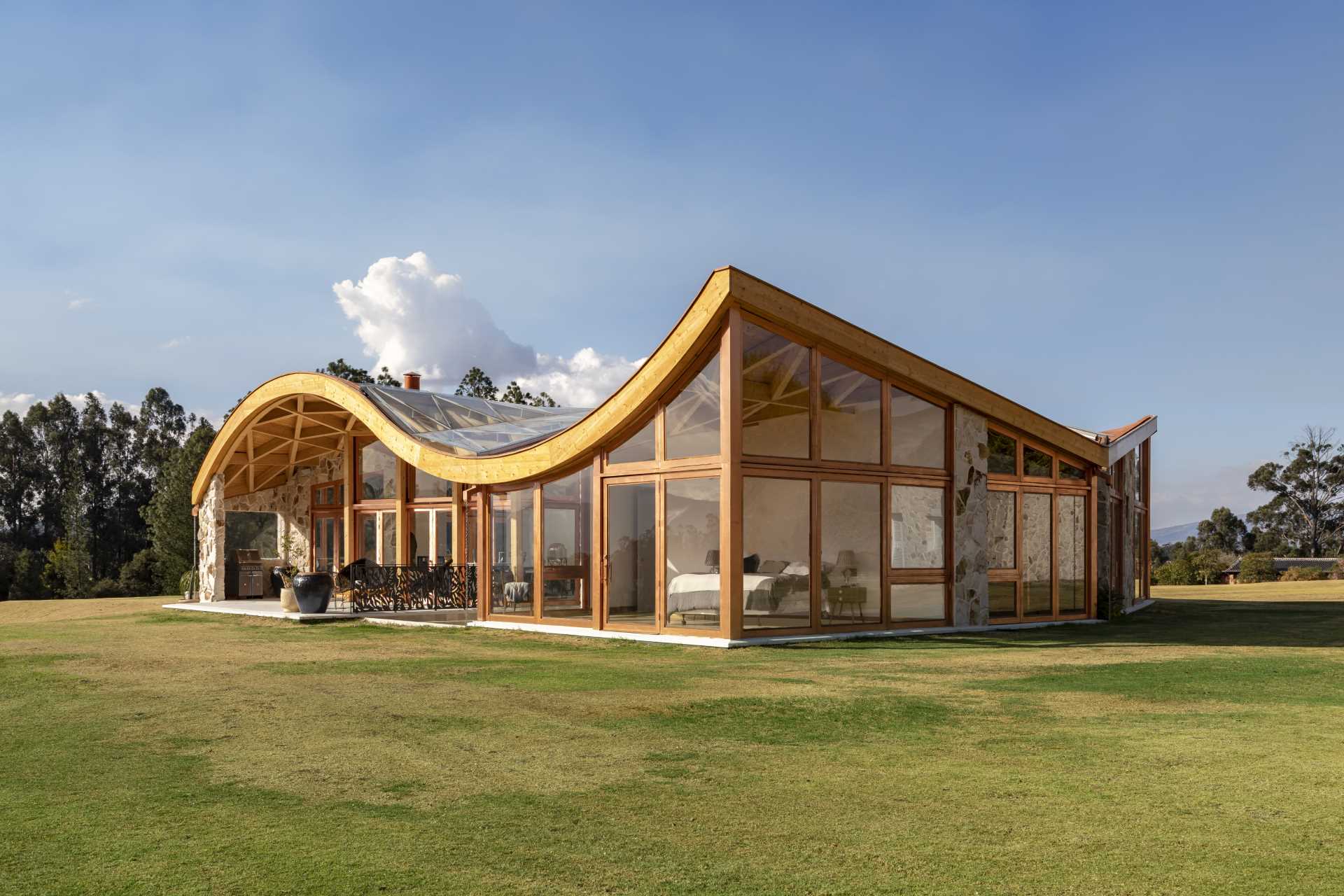 Leppanen Anker Arquitectura has completed a new house in Los Chillos, Ecuador, that takes inspiration from the surrounding environment.
The architects decided to bring back the use of wood, stone, and clay but with a contemporary mindset, resulting in a home that would feel light and airy. This strategy resulted conceptually in a continuous wavy blanket that gently protects the interior below it.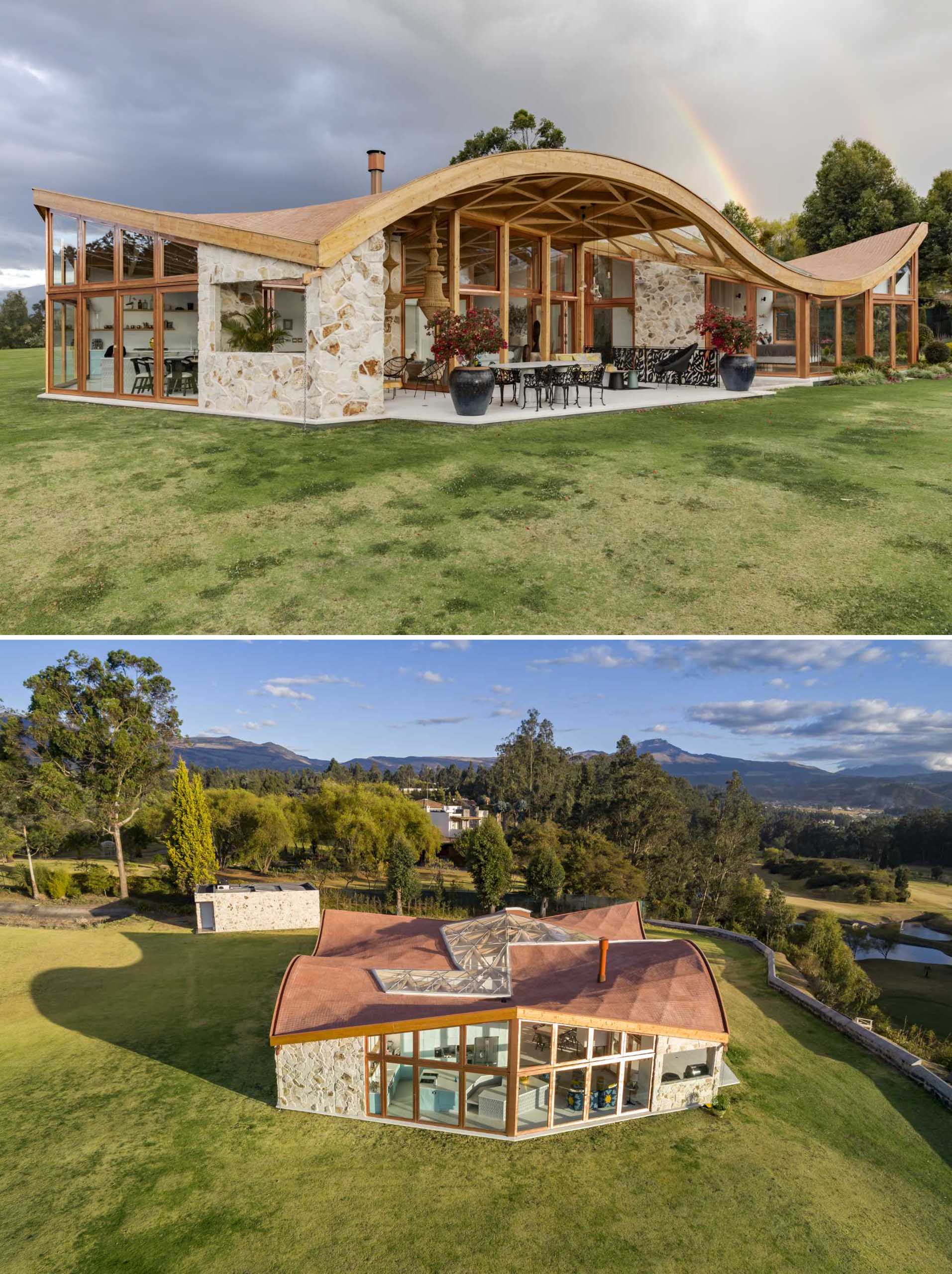 A sustainable laminated wood construction system is used for the structure which was completely pre-manufactured in Europe, for subsequent assembly in Ecuador. Laminated wood was the architect's material of choice, both for its flexible properties as well as for the natural feeling that it adds to their design.
The computerized parametric model the architects used allowed the repetition of specific beams and a total constructability of the roof so that it would be efficient and affordable.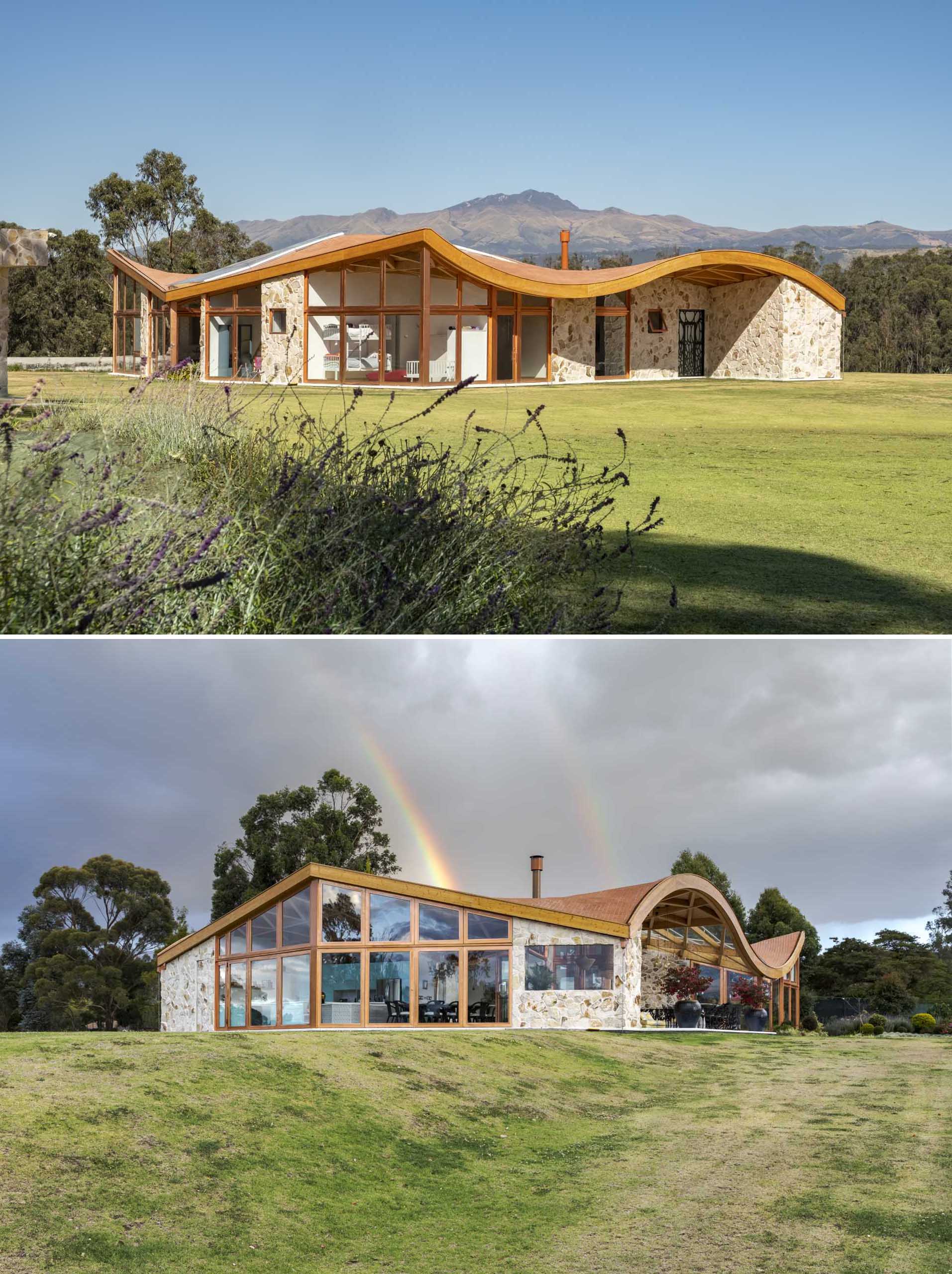 Automated machines were used to accurately cut and fabricate each piece of wood, creating a puzzle that fit perfectly when assembled. The laminated and curved beams are repeated with the same radius, which allows the different folds of the roof.
Other materials featured on the exterior of the home include stone, tile, and copper-colored coated steel.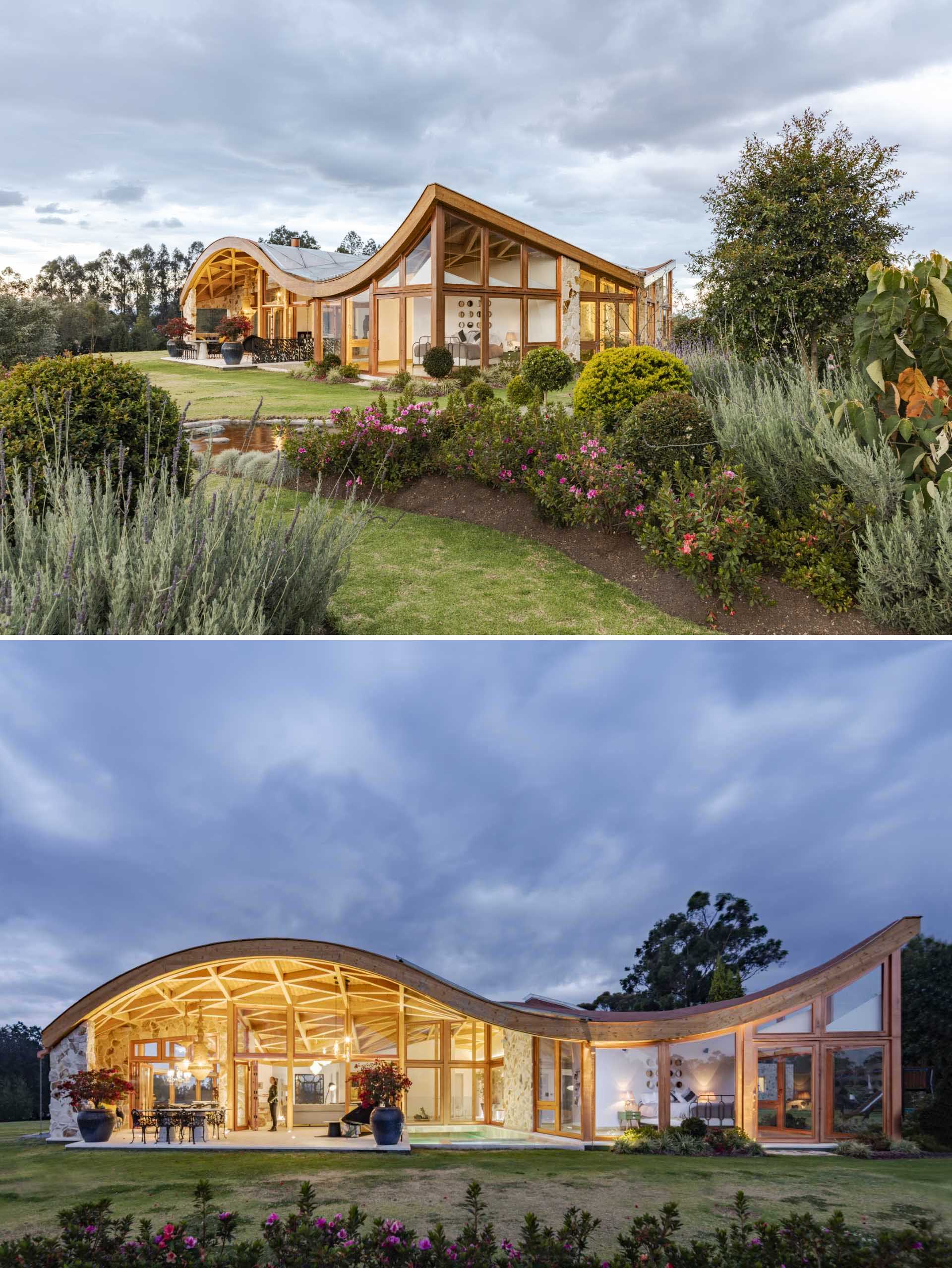 The triangulation of the structure, which can be seen inside the home, was designed in a way that would enable efficient assembly and also ease of transportation.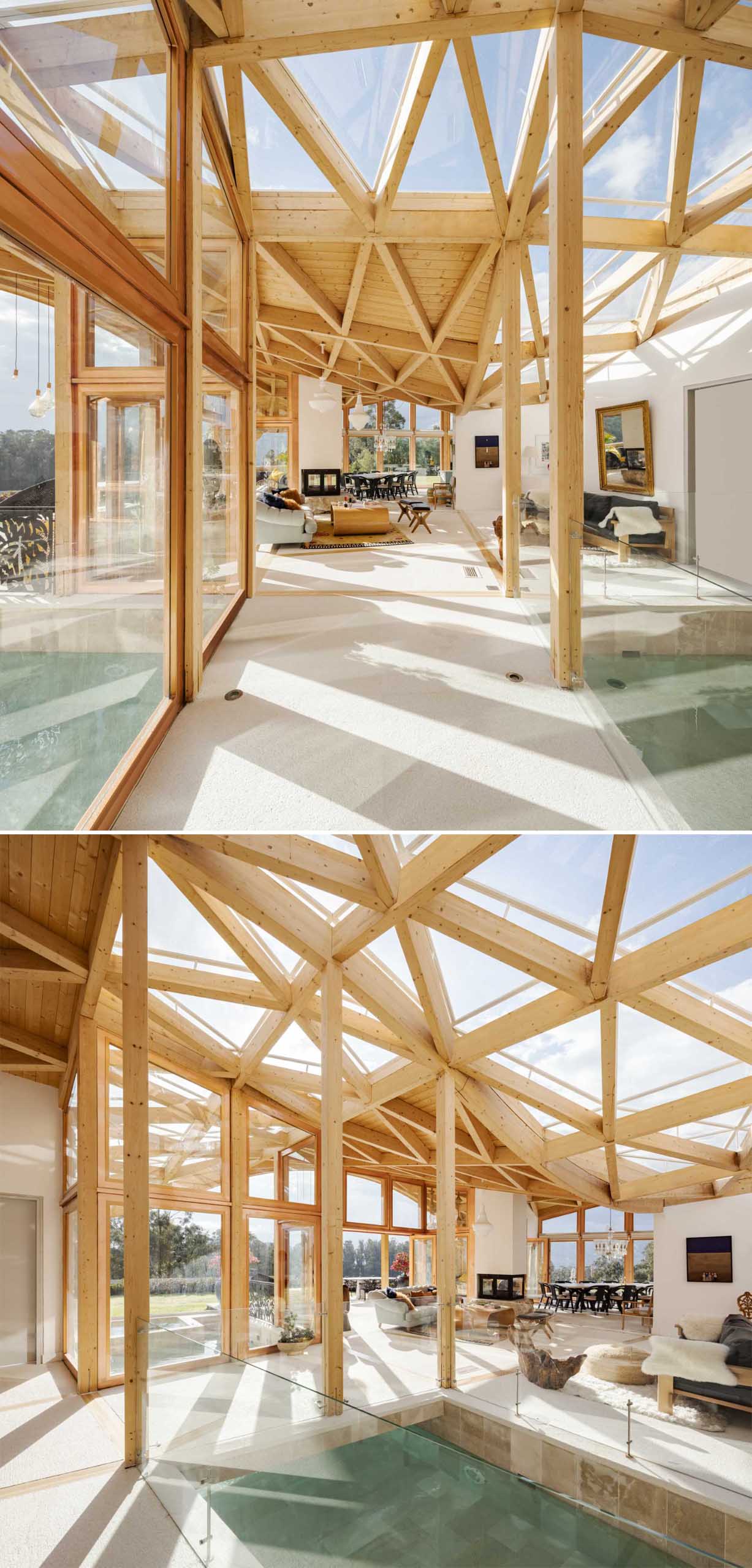 The interior of the home has been left as open as possible, resembling that of a typical "hacienda house" but with a modern twist.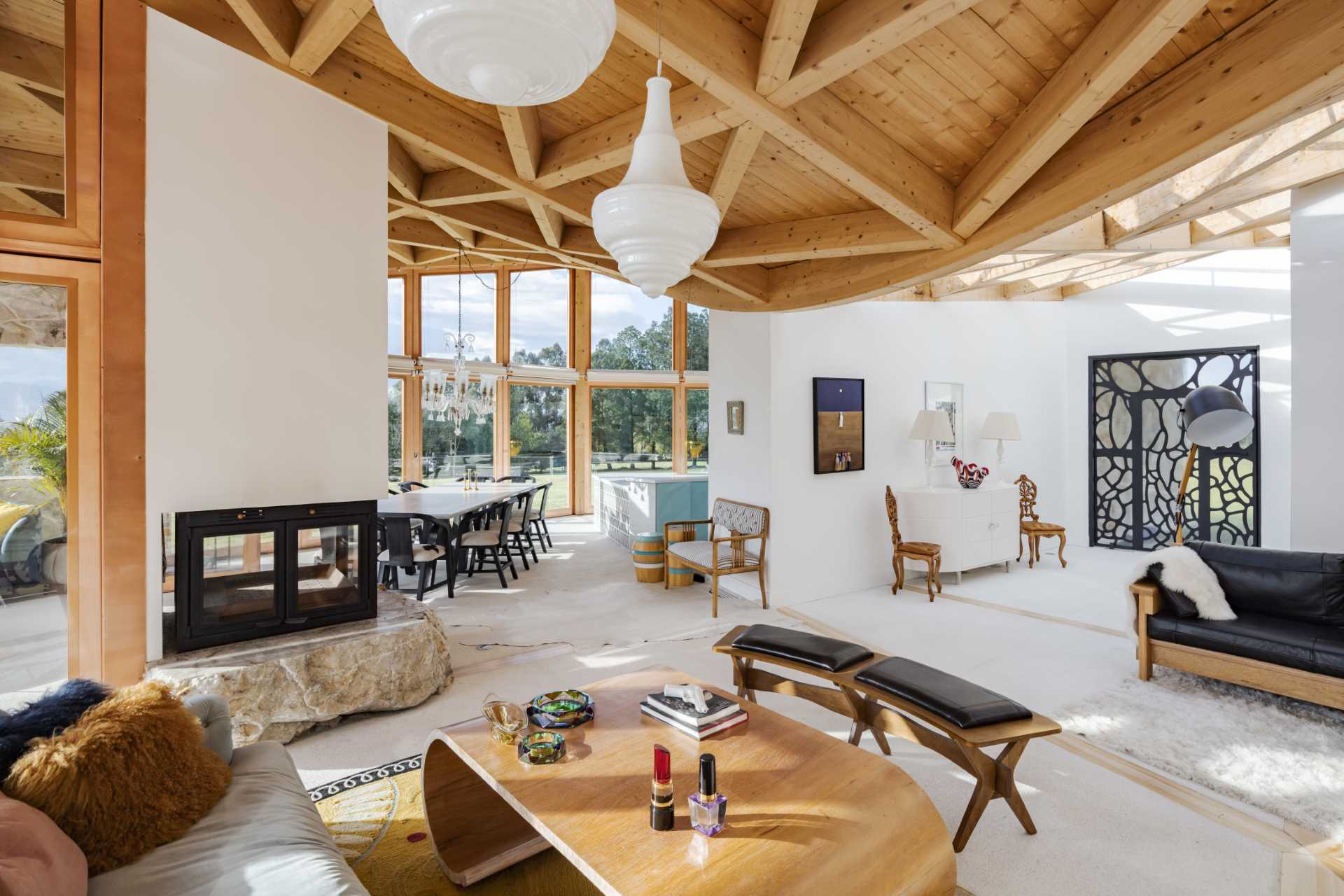 The living room showcases walls of glass that flood the interior with natural light.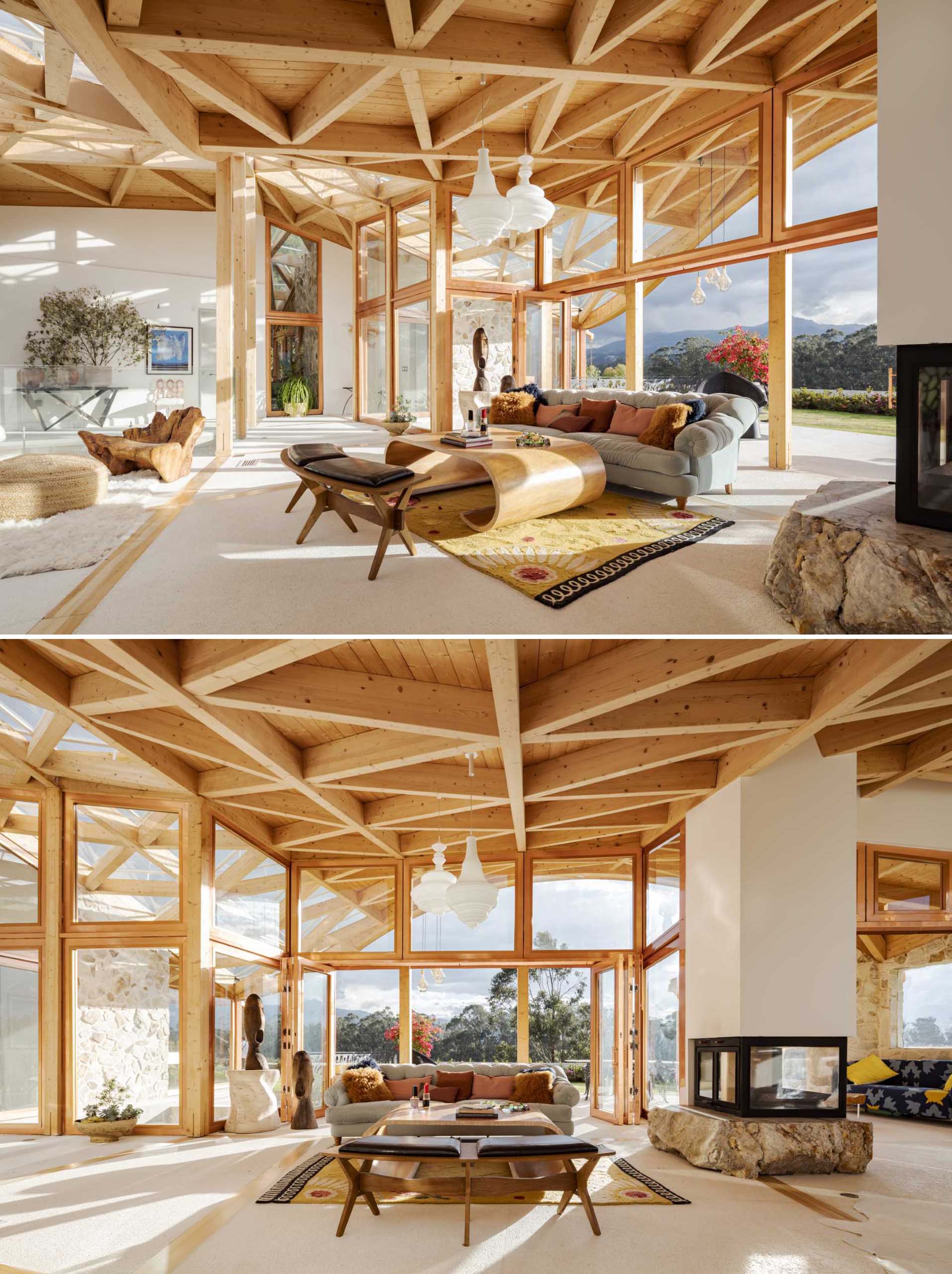 A fireplace can be enjoyed in both the living room and the dining room, while the dining room is open to the kitchen. Both of which have views of the lawn outside.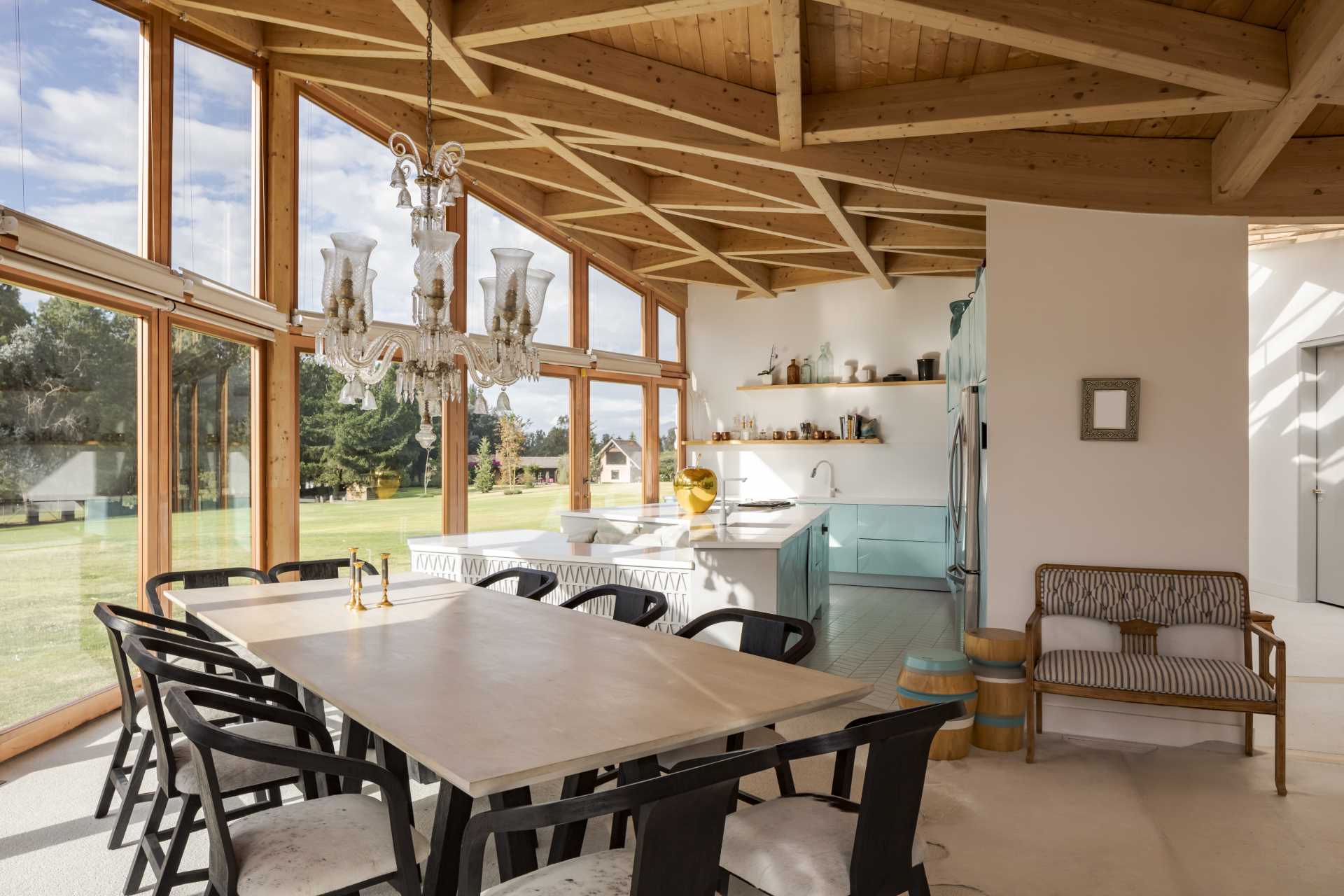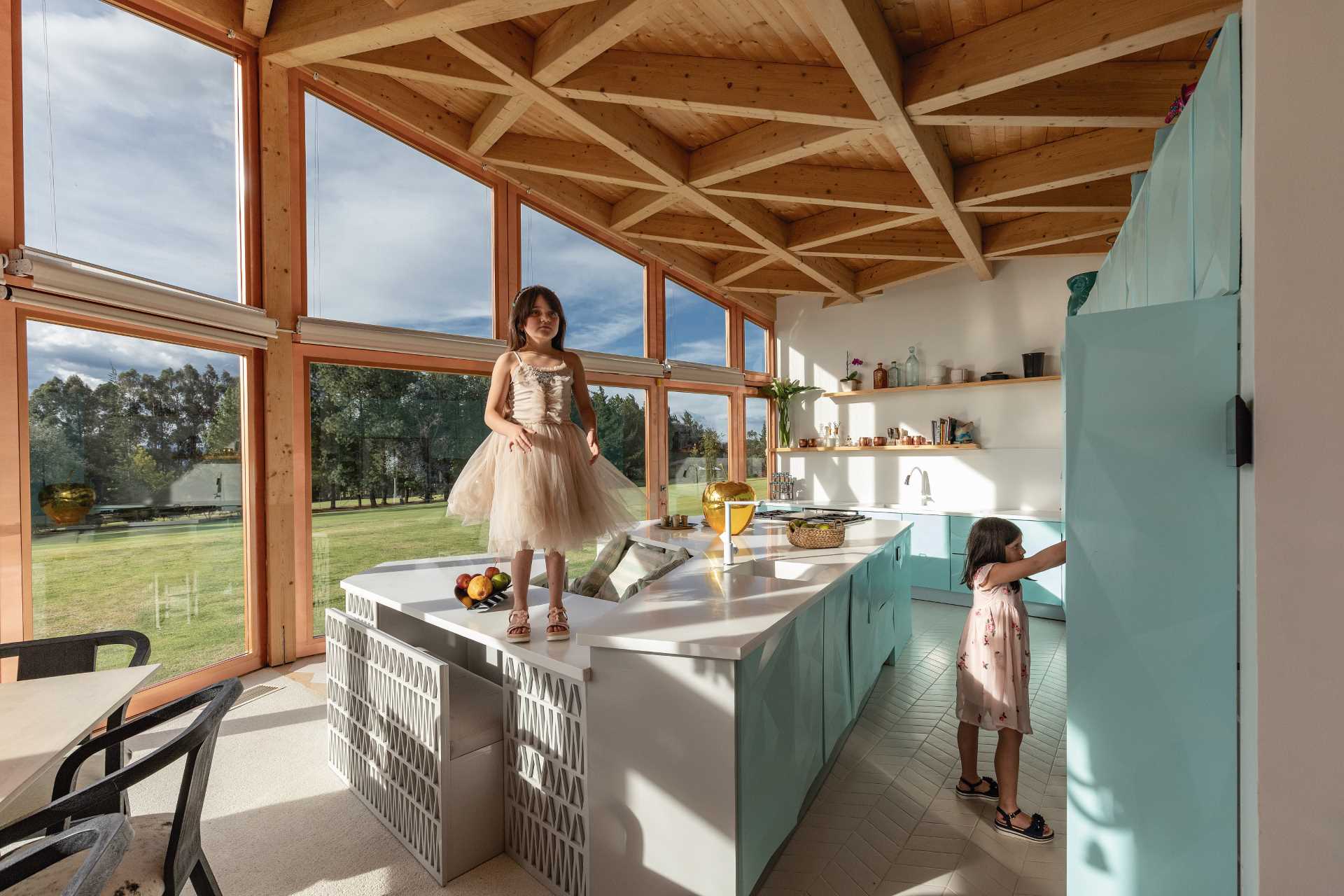 A unique design element is the indoor swimming pool that has windows in the roof structure above it, making it feel like it's outdoors.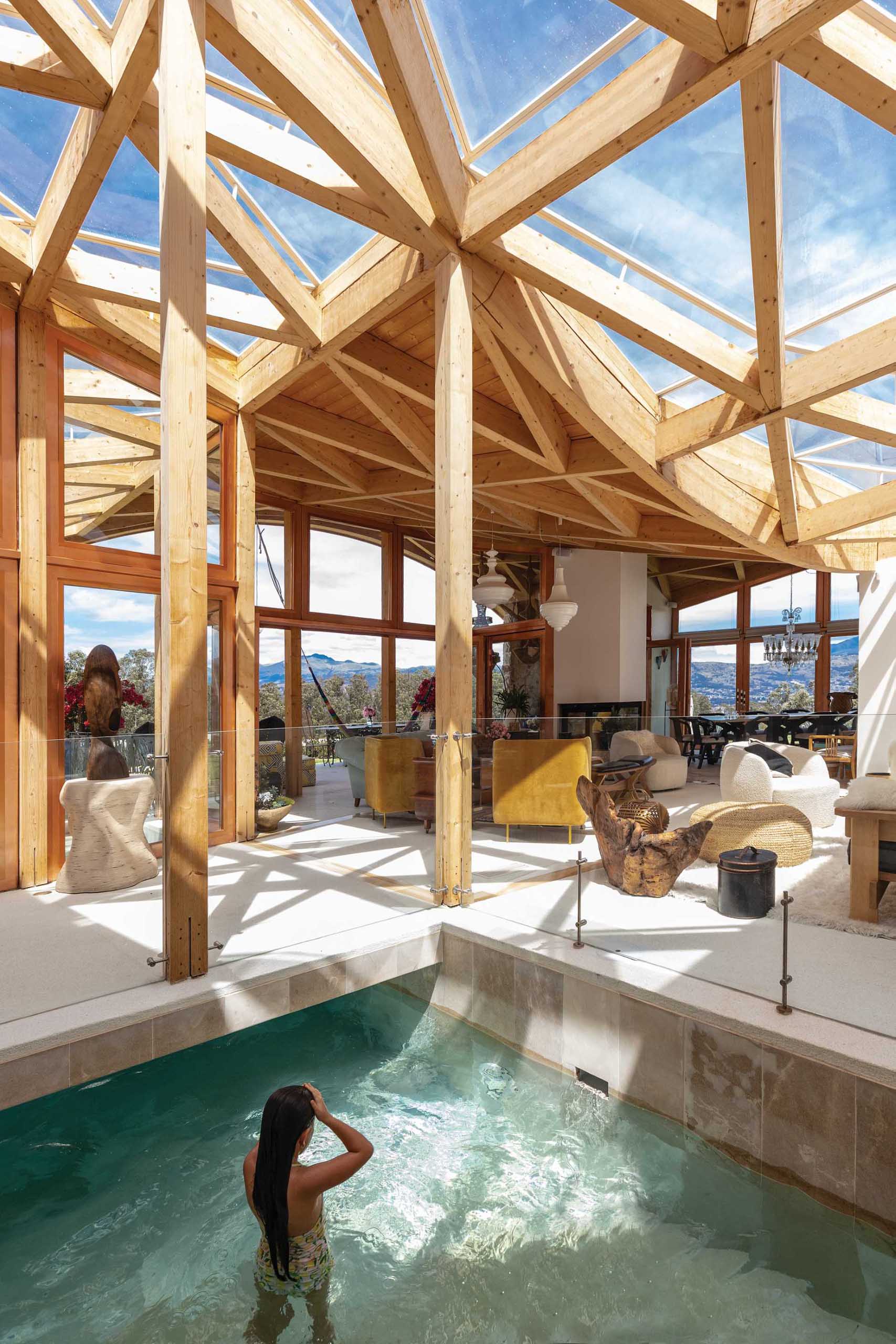 A walkway passes over the swimming pool, linking the social areas of the house to the bedroom and bathroom.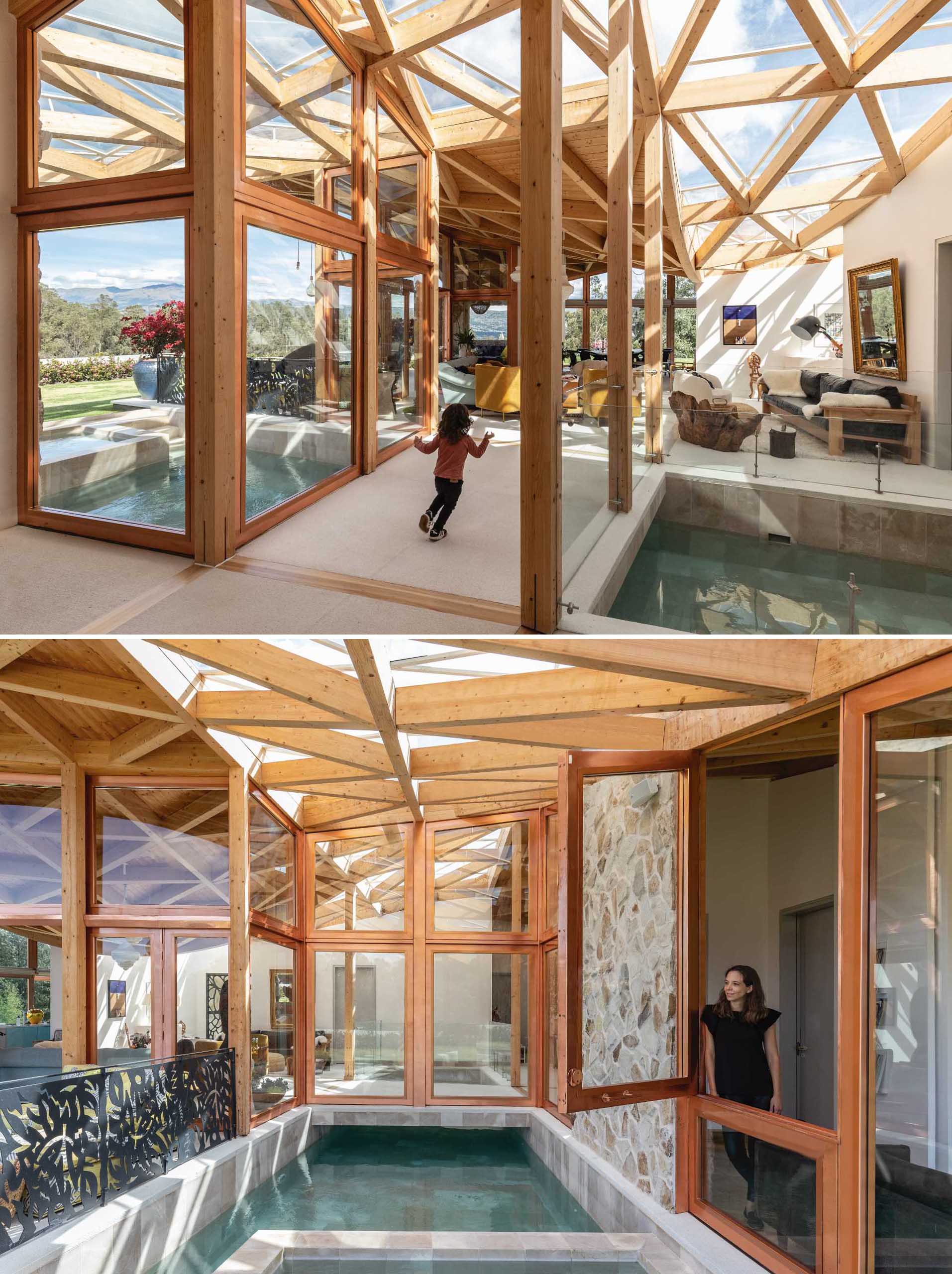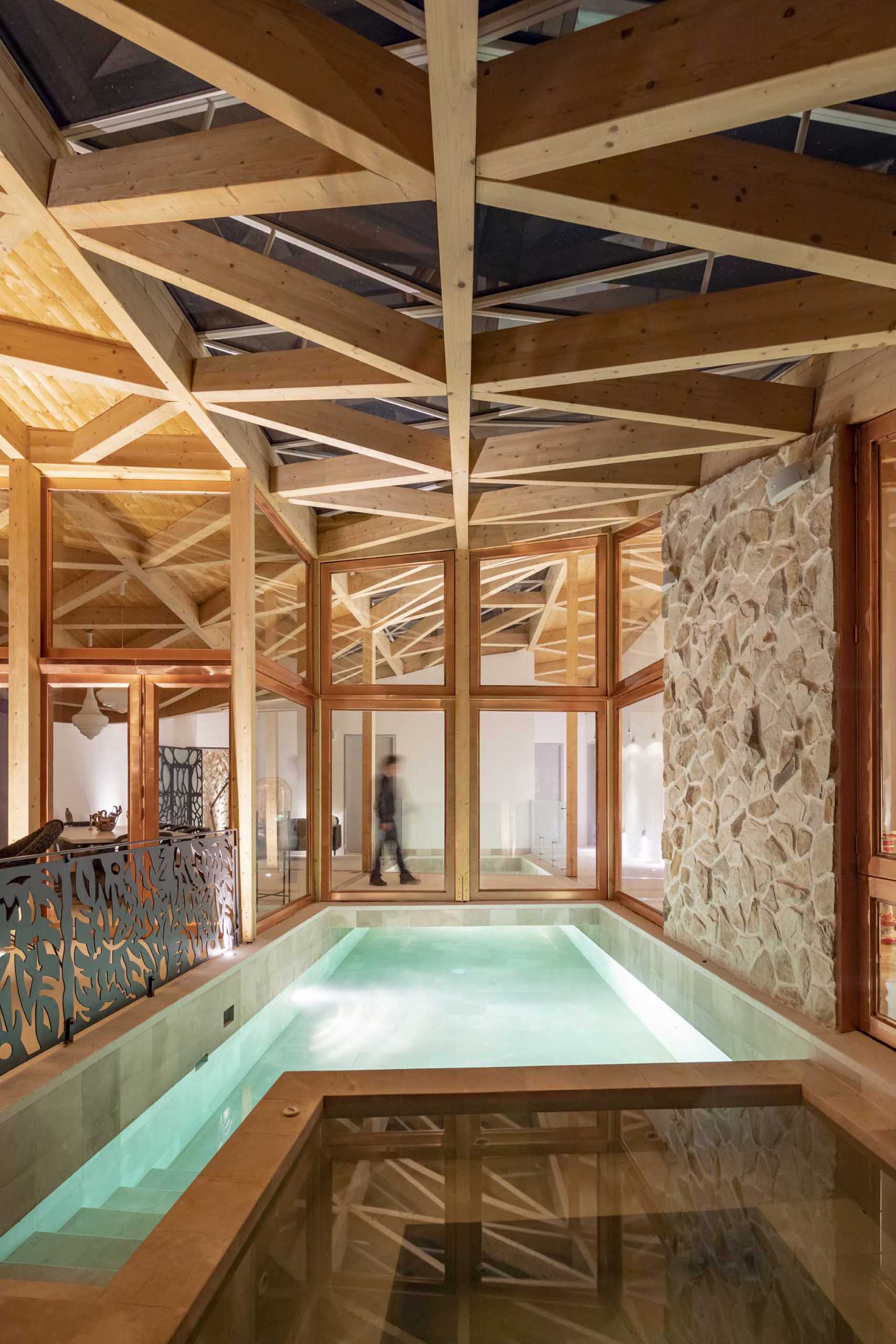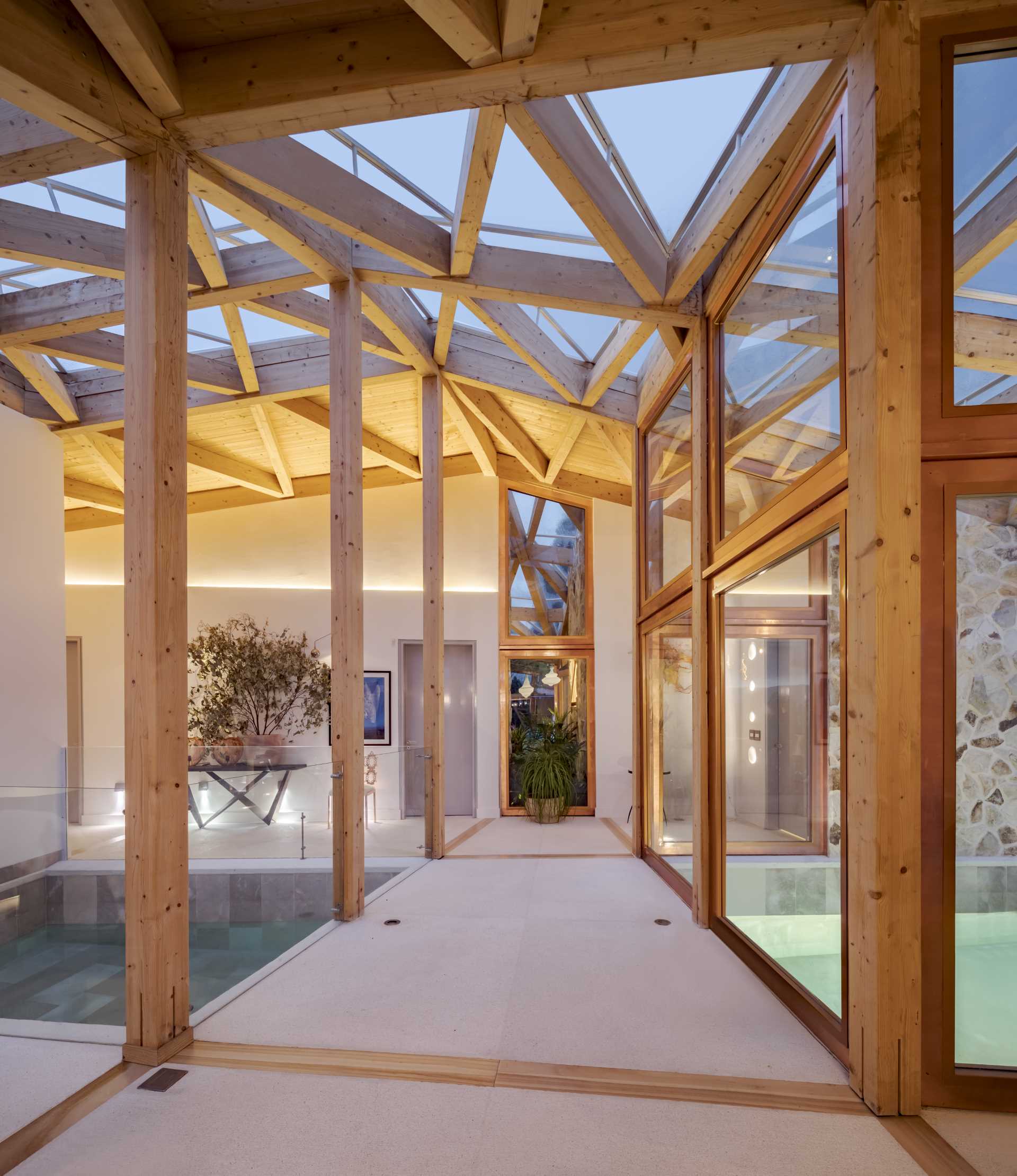 Each of the bedrooms has large floor-to-ceiling windows, and glass doors that open to the outdoors.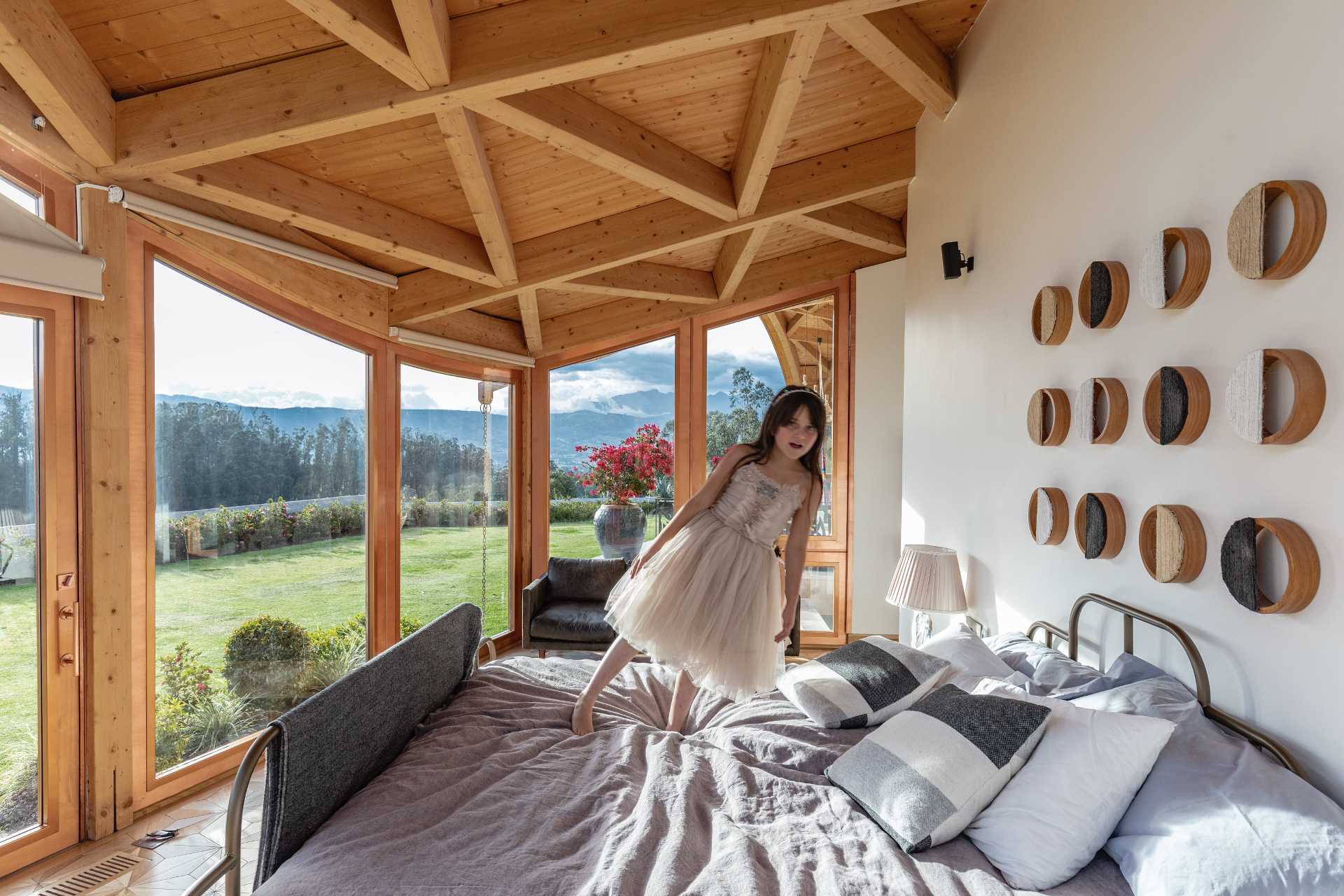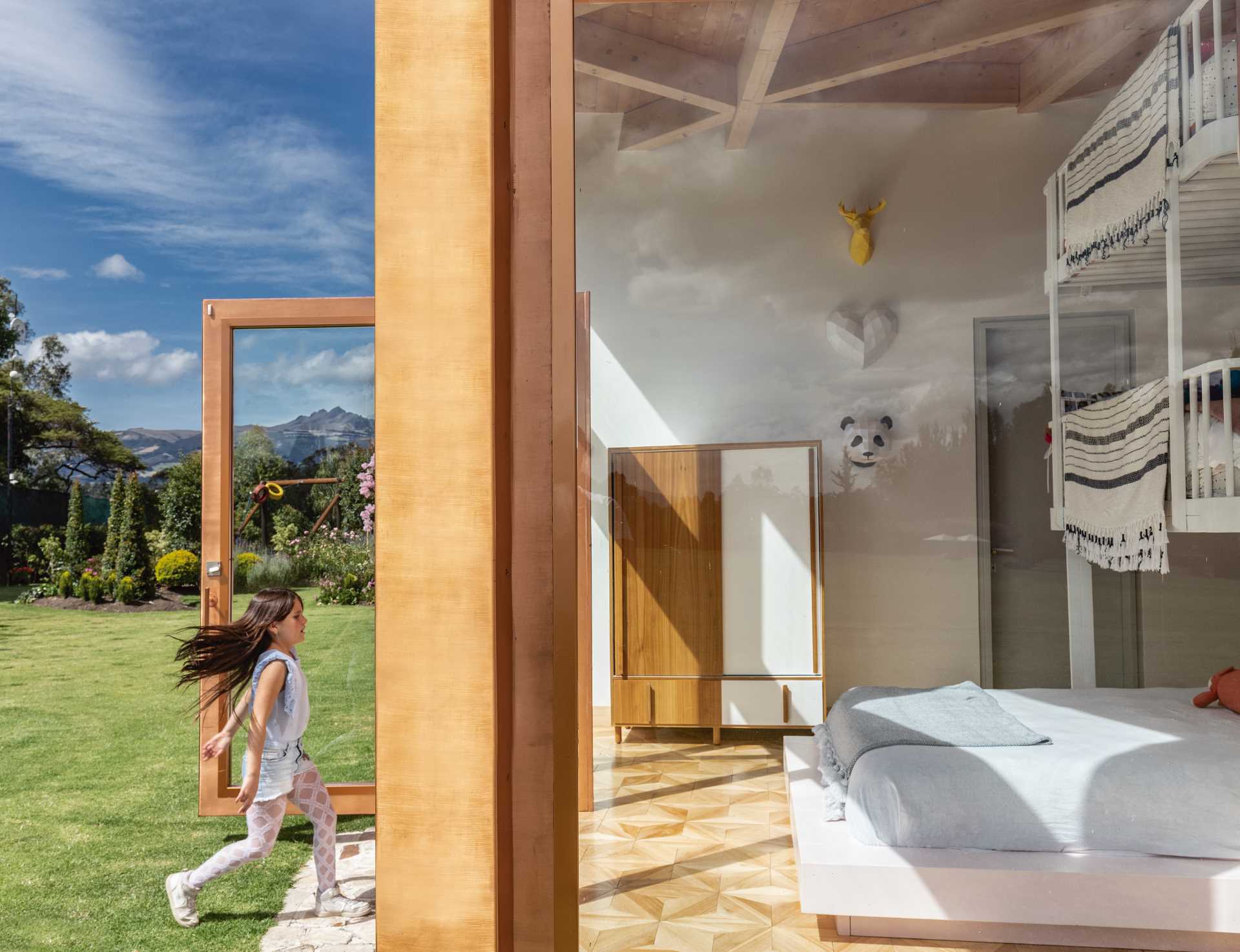 In the bathroom, there's an accent wall made from hexagonal tiles that creates texture, a dual shower, and an in-ground bathtub.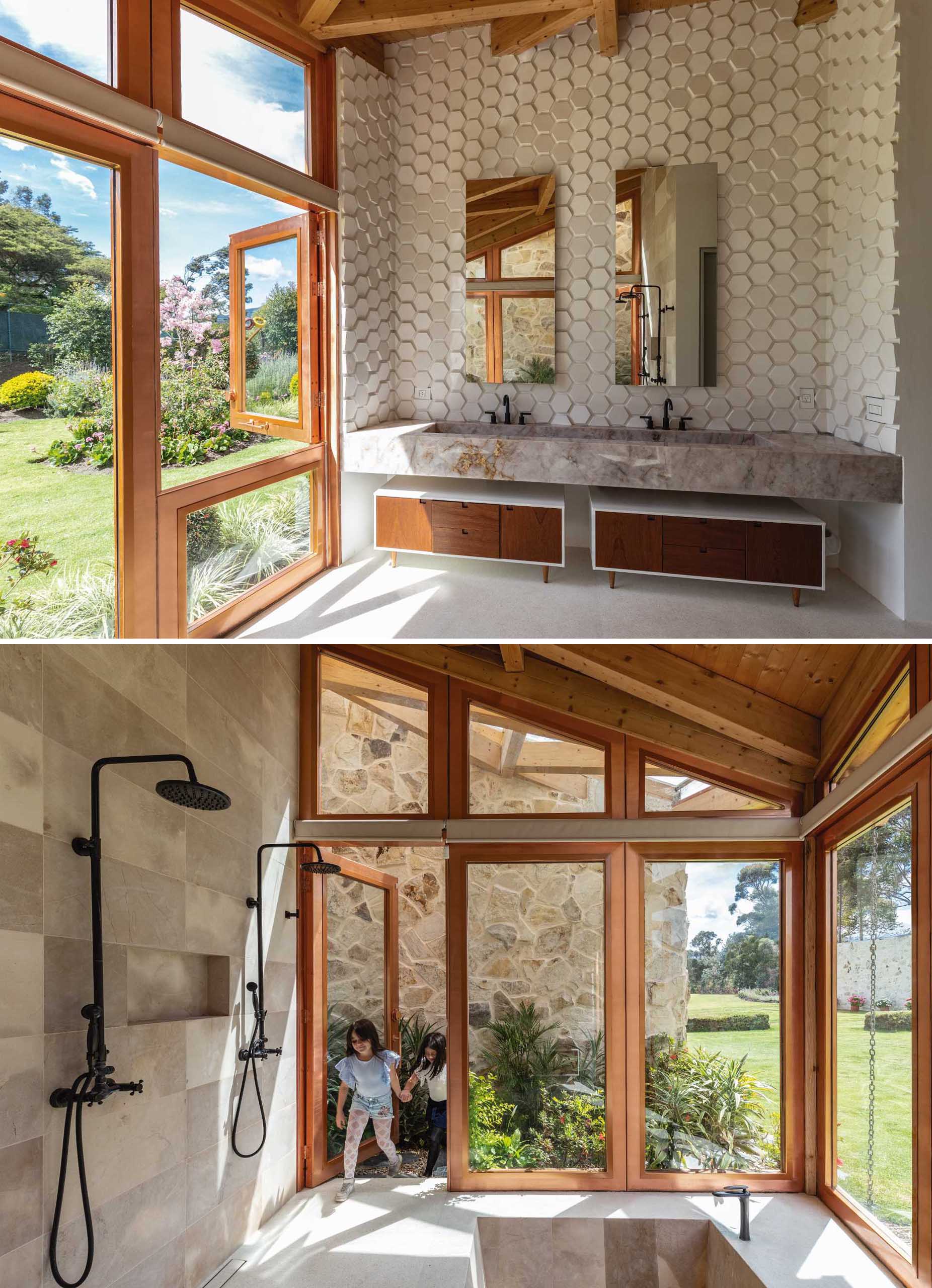 Here's a look at the diagrams and plans of the home.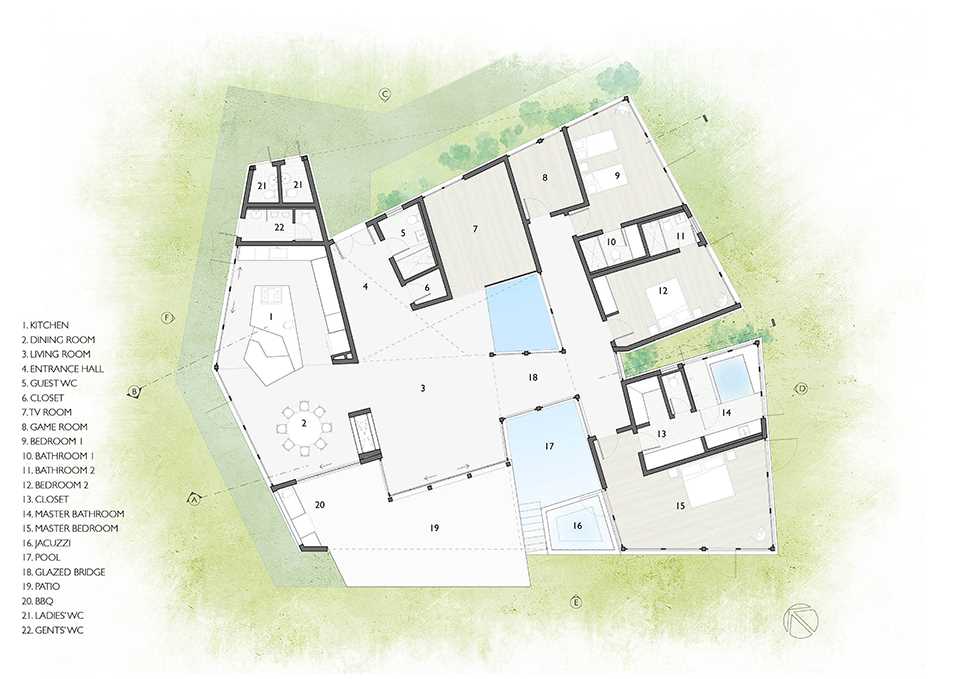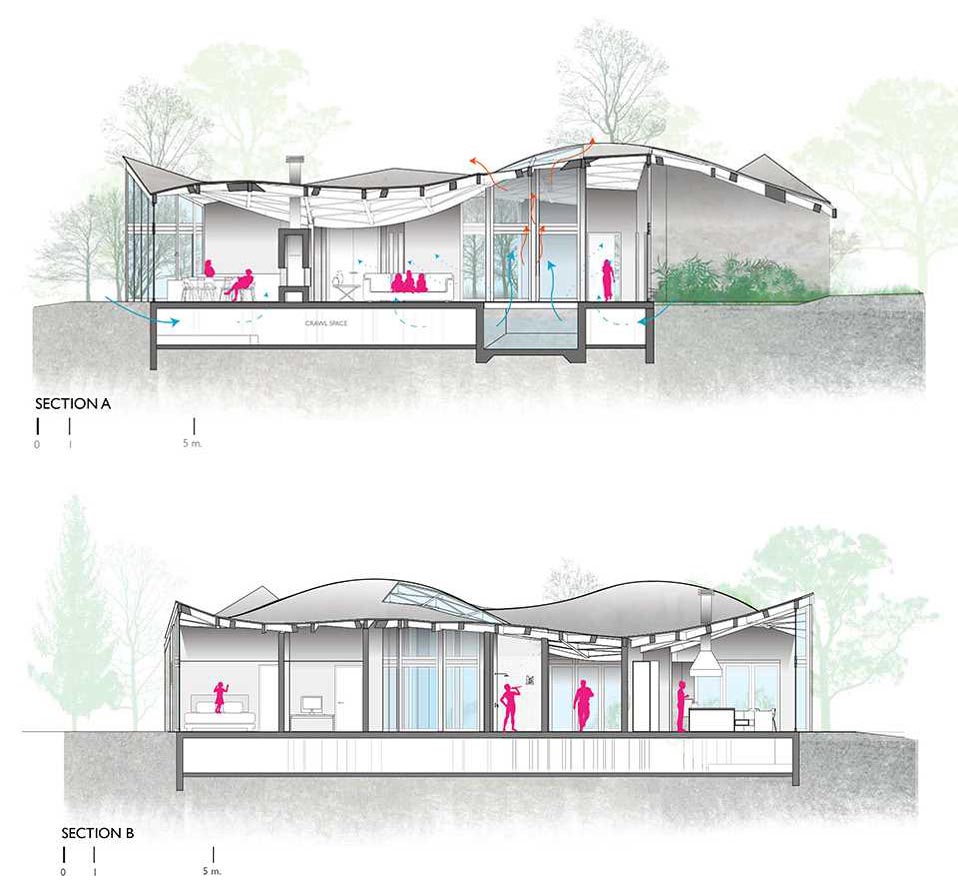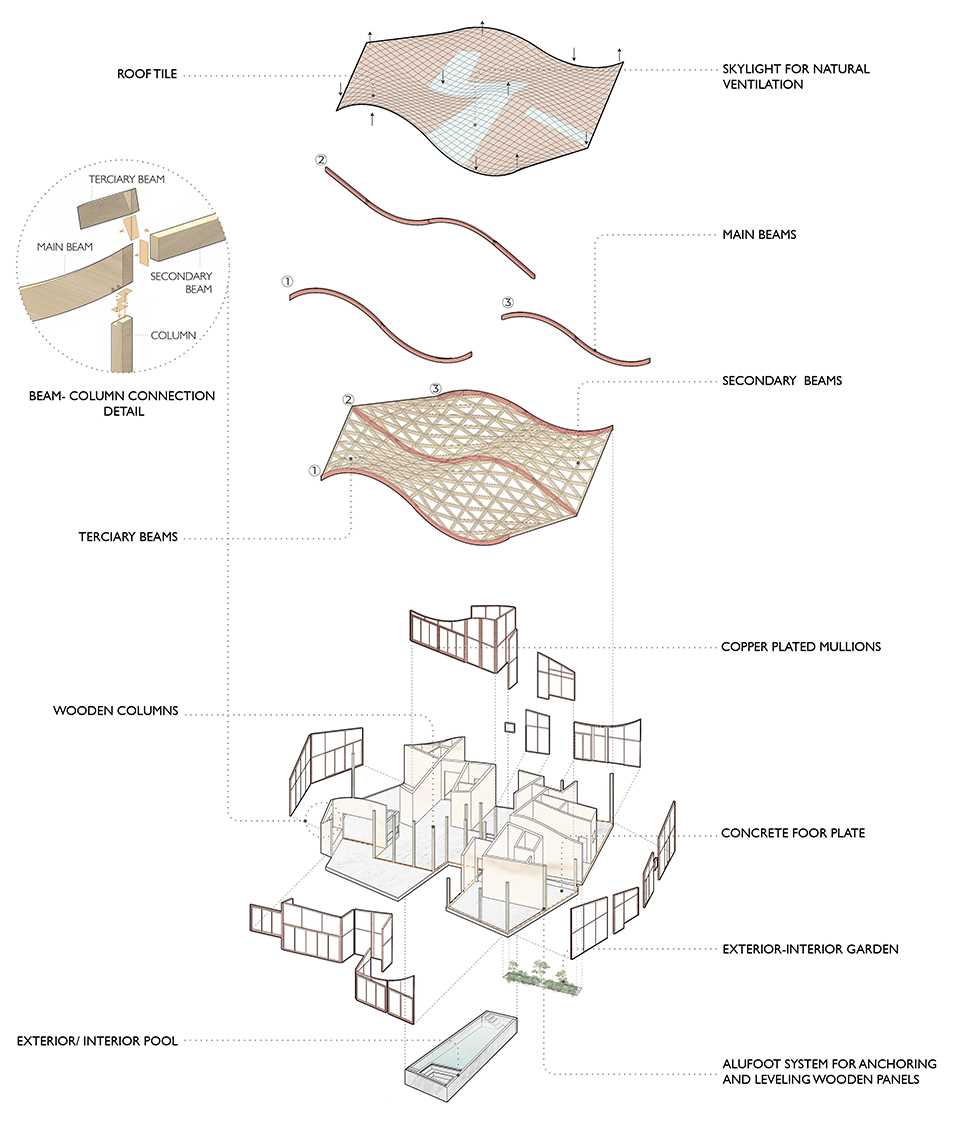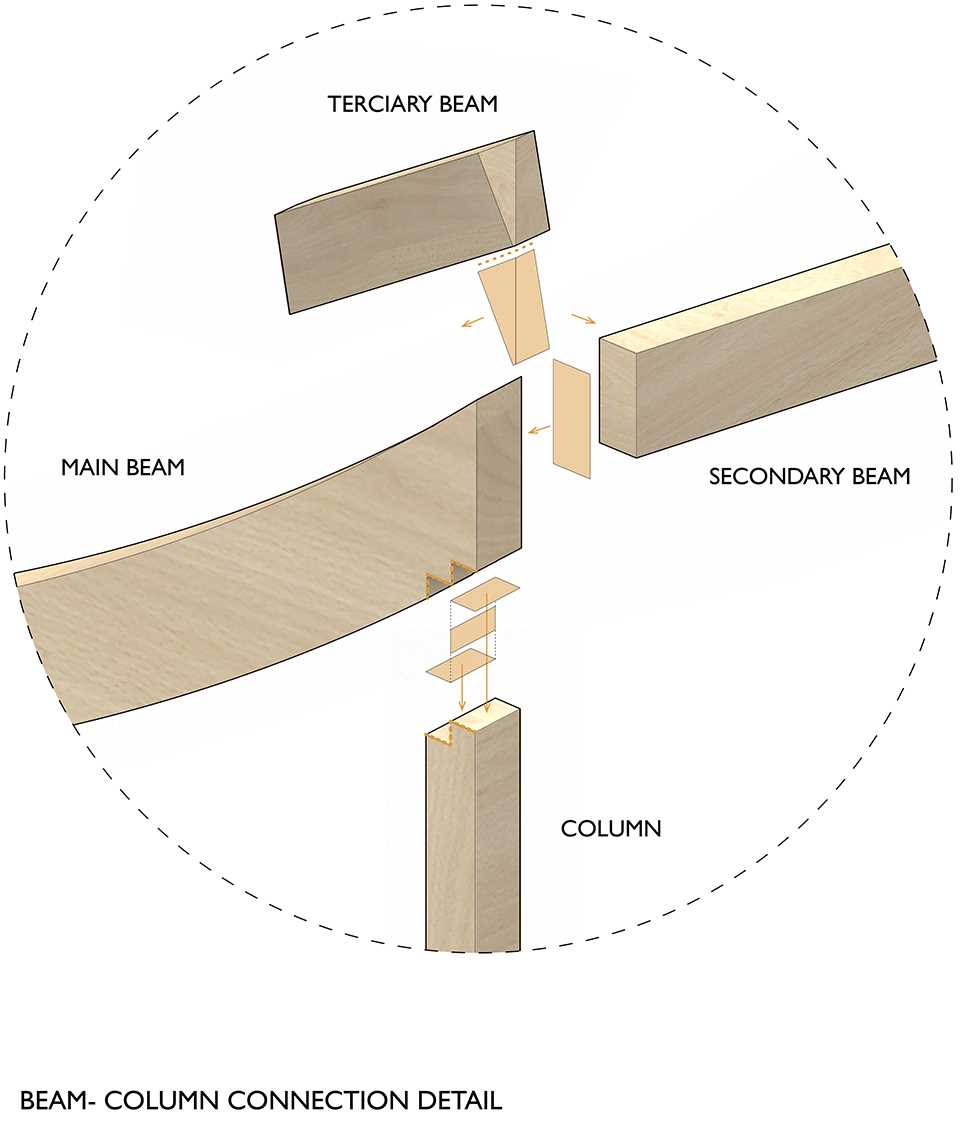 And here's a few photos of the construction process…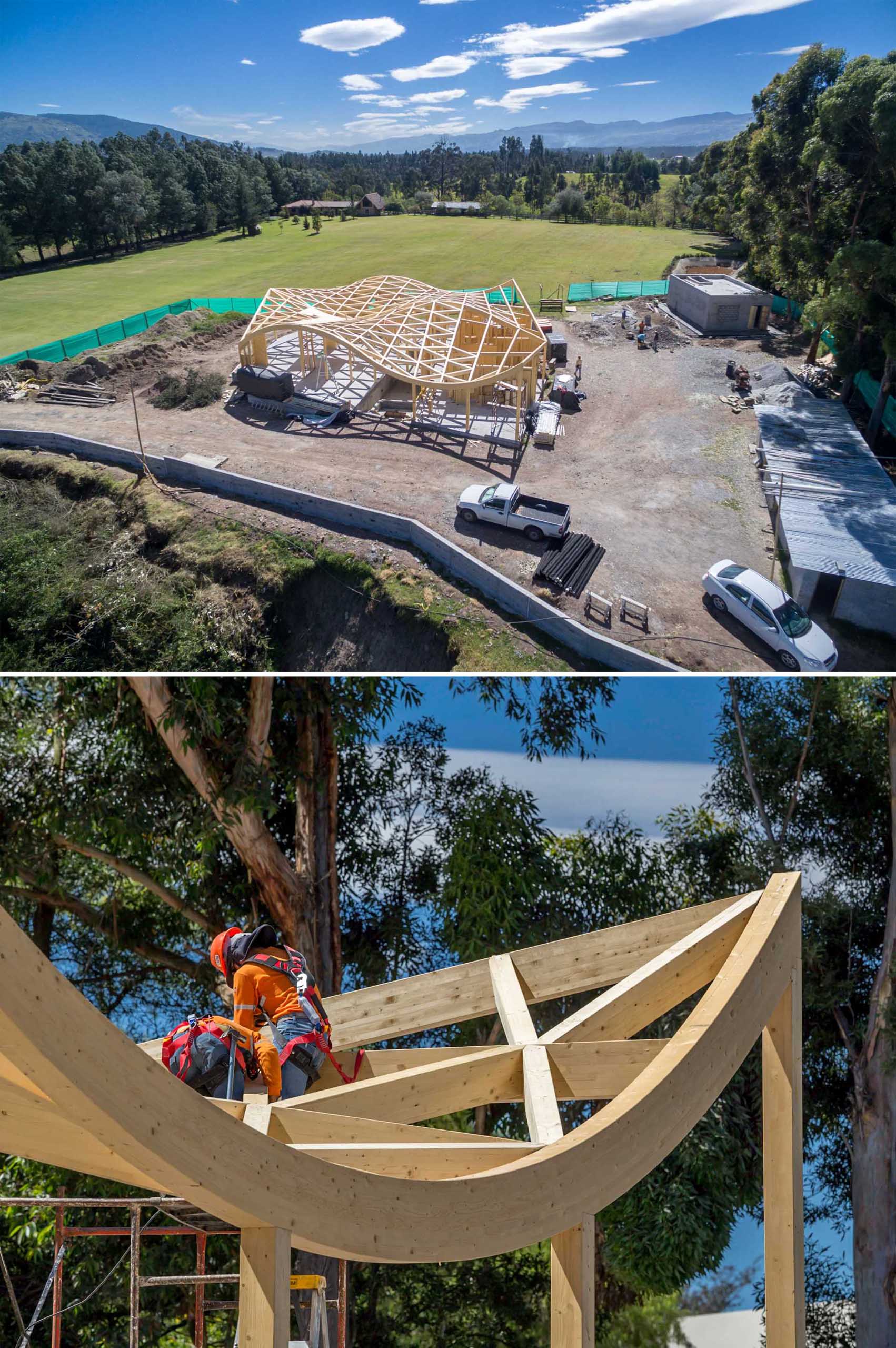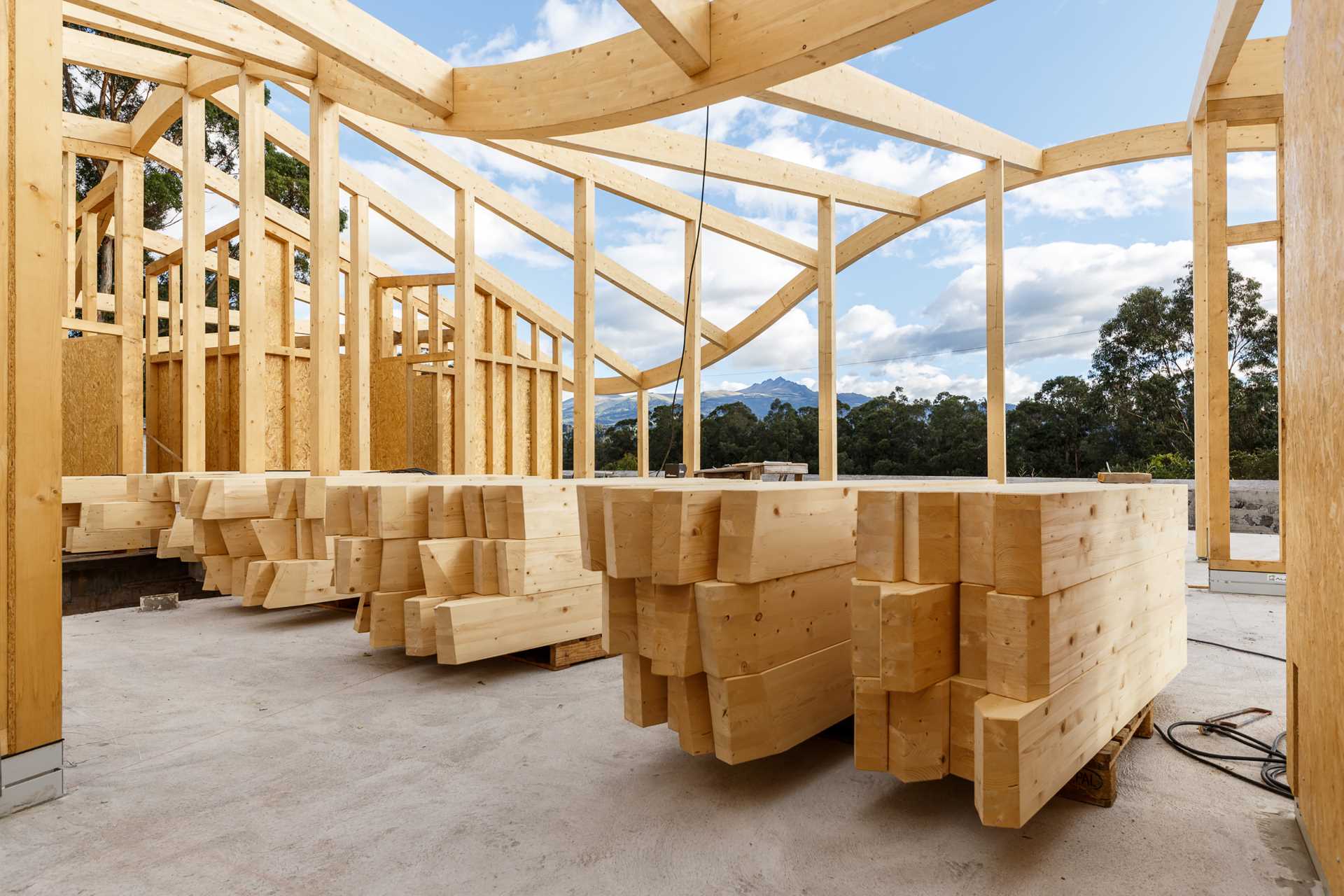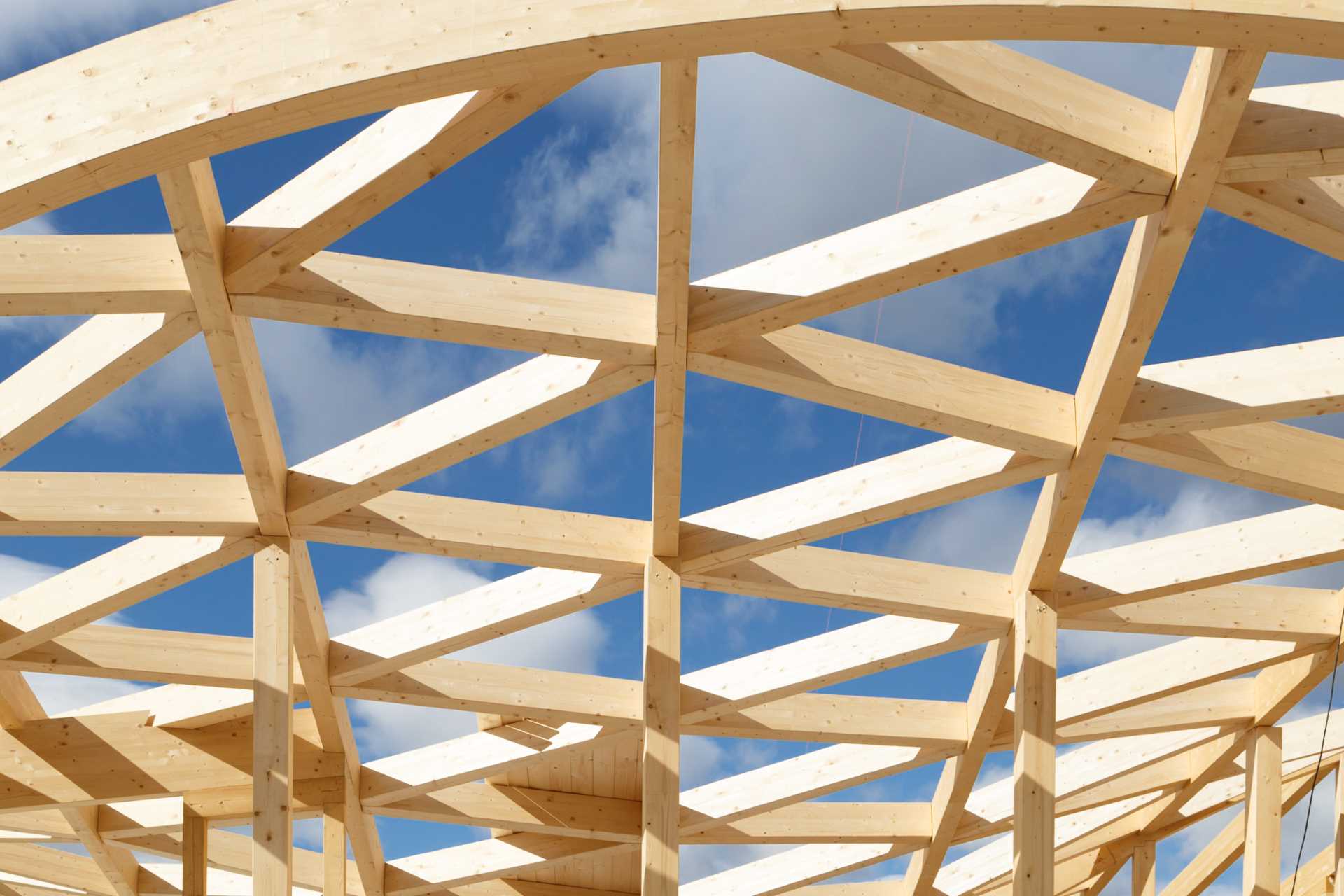 Architecture Firm: Leppanen Anker Arquitectura | Lead Architects: Aaron Leppanen, Gabriela Anker | Design team: Aaron Leppanen, Gabriela Anker, Veronica Burbano, Camila Burbano, Sofía Chávez, Ana Belén Acurio, Carolina Rodriguez, Janina Sánchez, Kevin Aragón, Gabriela Valdez, Caroline Dieden | Interior Design Firm: Insólito |Interior Designers: Verónica Burbano, Camila Burbano | Structural Design: EDIMCA – Rubechi Wood Technology | Construction & Engineering: Miguel Angel Salazar, Francisco Velez, Fabian Mino, Milton Perugachi, Rodrigo Lalaguana, Alberto Dionicio | Landscape: Monica Bodenhorst | Lightning: Highlights