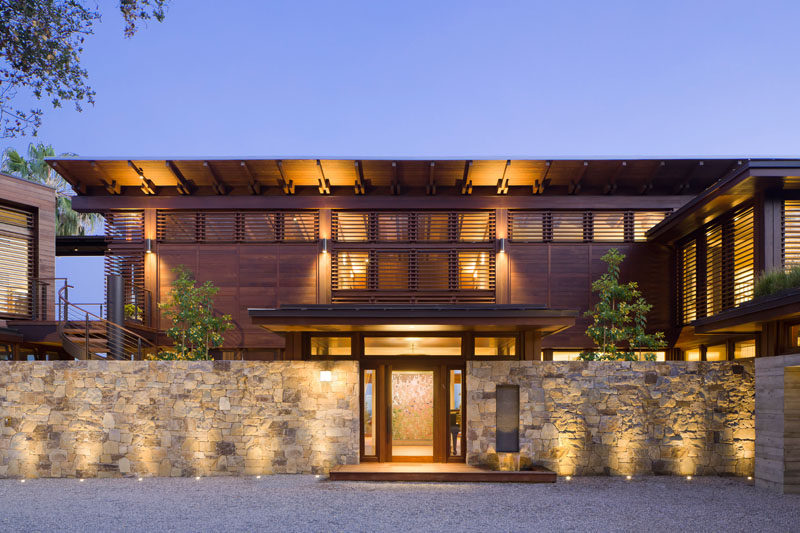 Architecture firm KAA Design, have completed a new modern hillside house in California, that sits on a southern flank of the Santa Monica Mountains, surrounded by trees.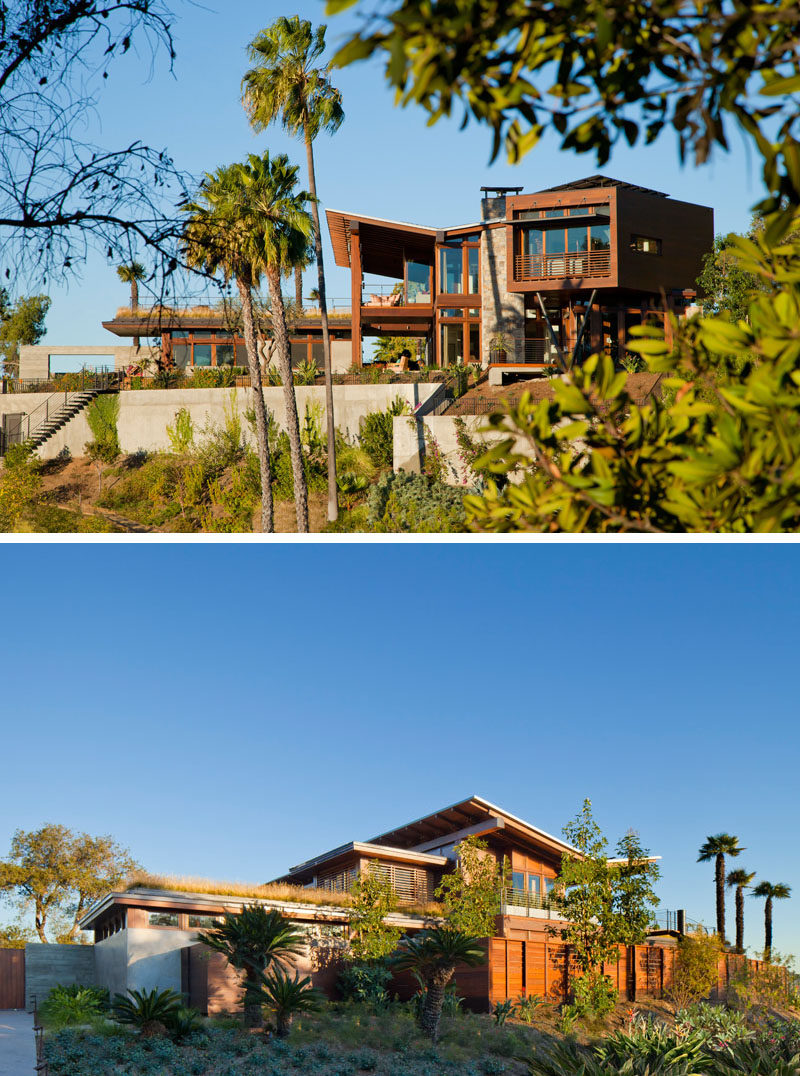 ---
The Tower Grove Drive residence was designed as a hillside retreat for the home owners. Upon arriving at the home, you are greeted by a circular driveway with a central highlighted tree and a stone wall.
---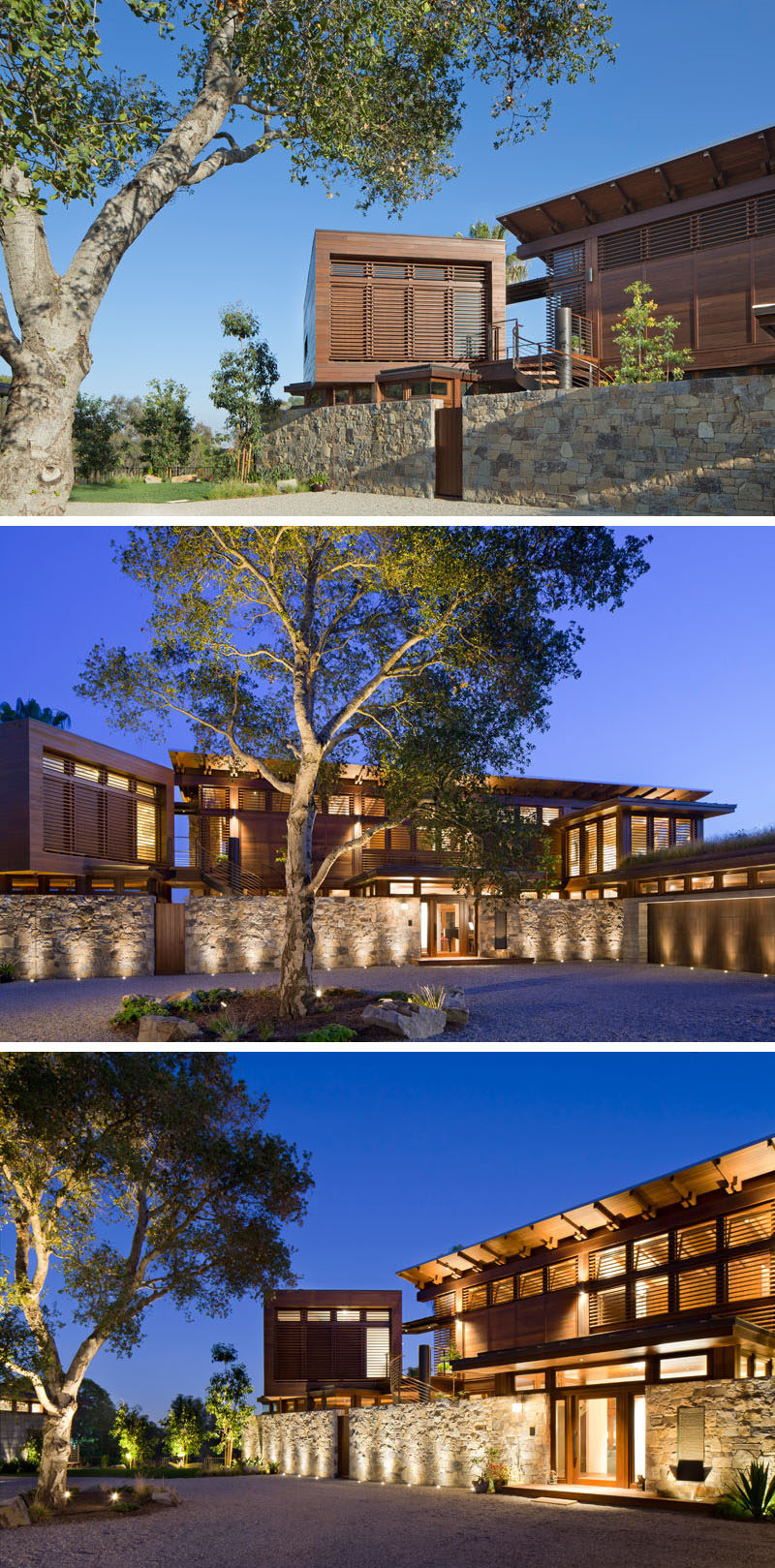 ---
Here are some other views of the architecture that shows supported overhangs and expansive roof lines.
---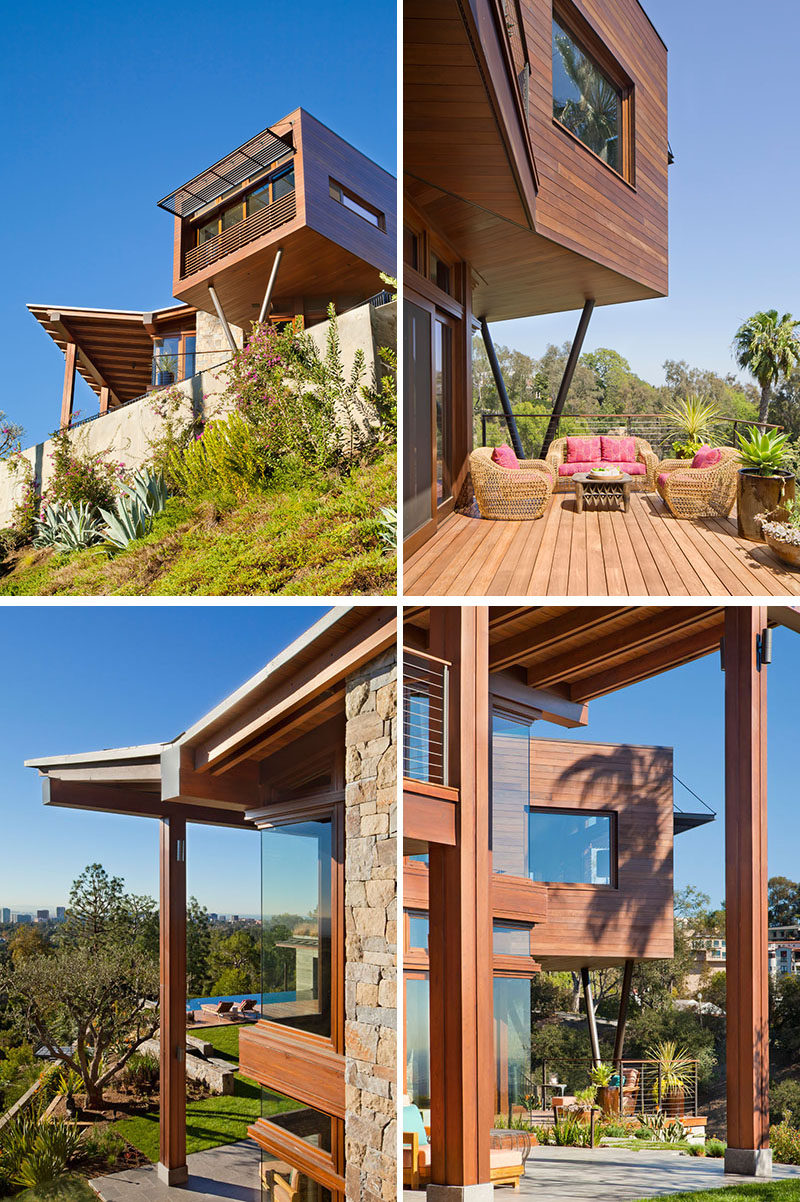 ---
Inside, floor-to-ceiling windows have been used to add an abundance of natural light, while a fireplace with a stone surround and the use of wood, adds a sense of warmth to the living room.
---

---
Between the living room and the kitchen is the dining area, that's been defined by the use of a colored rug.
---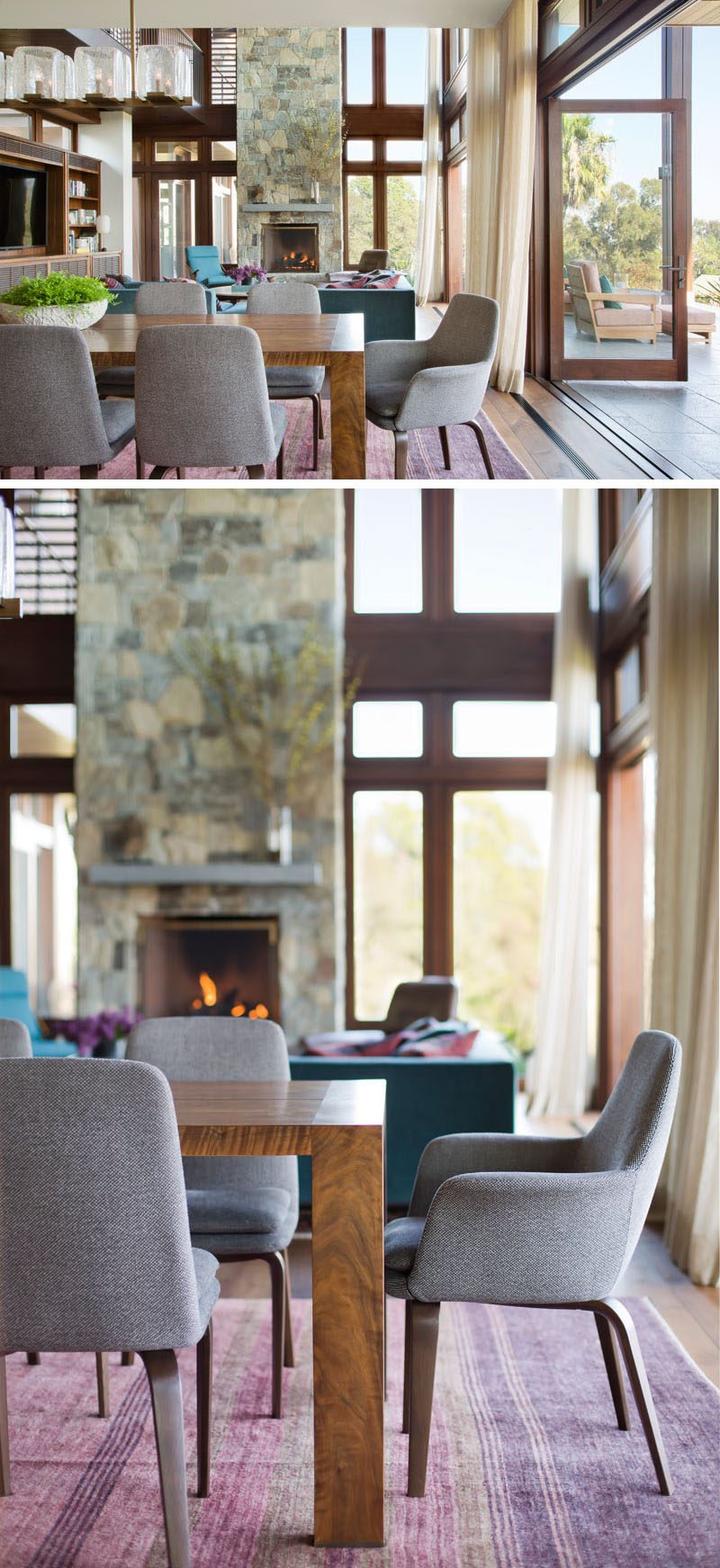 ---
In the kitchen, there are two islands and walls of wood cabinets, creating plenty of counterspace and storage.
---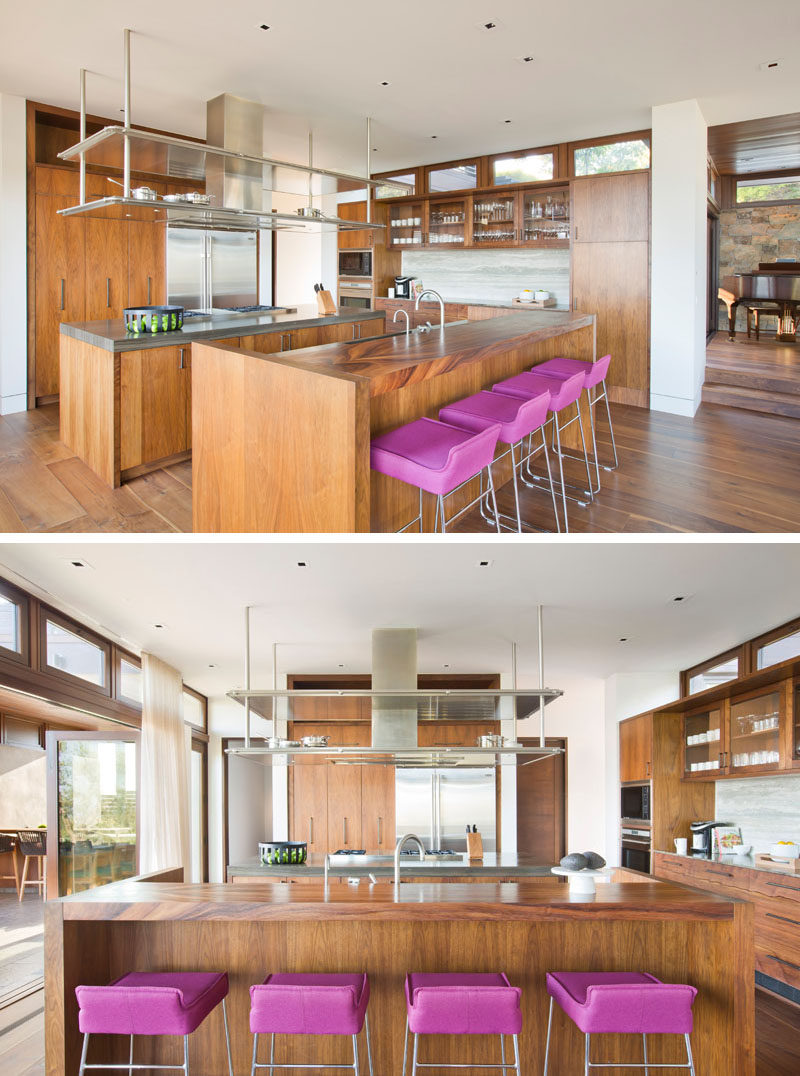 ---
Wood framed doors open the main living area to the backyard, where there's a lawn, a wood deck and a swimming pool, all with views of Los Angeles and the Pacific Ocean beyond.
---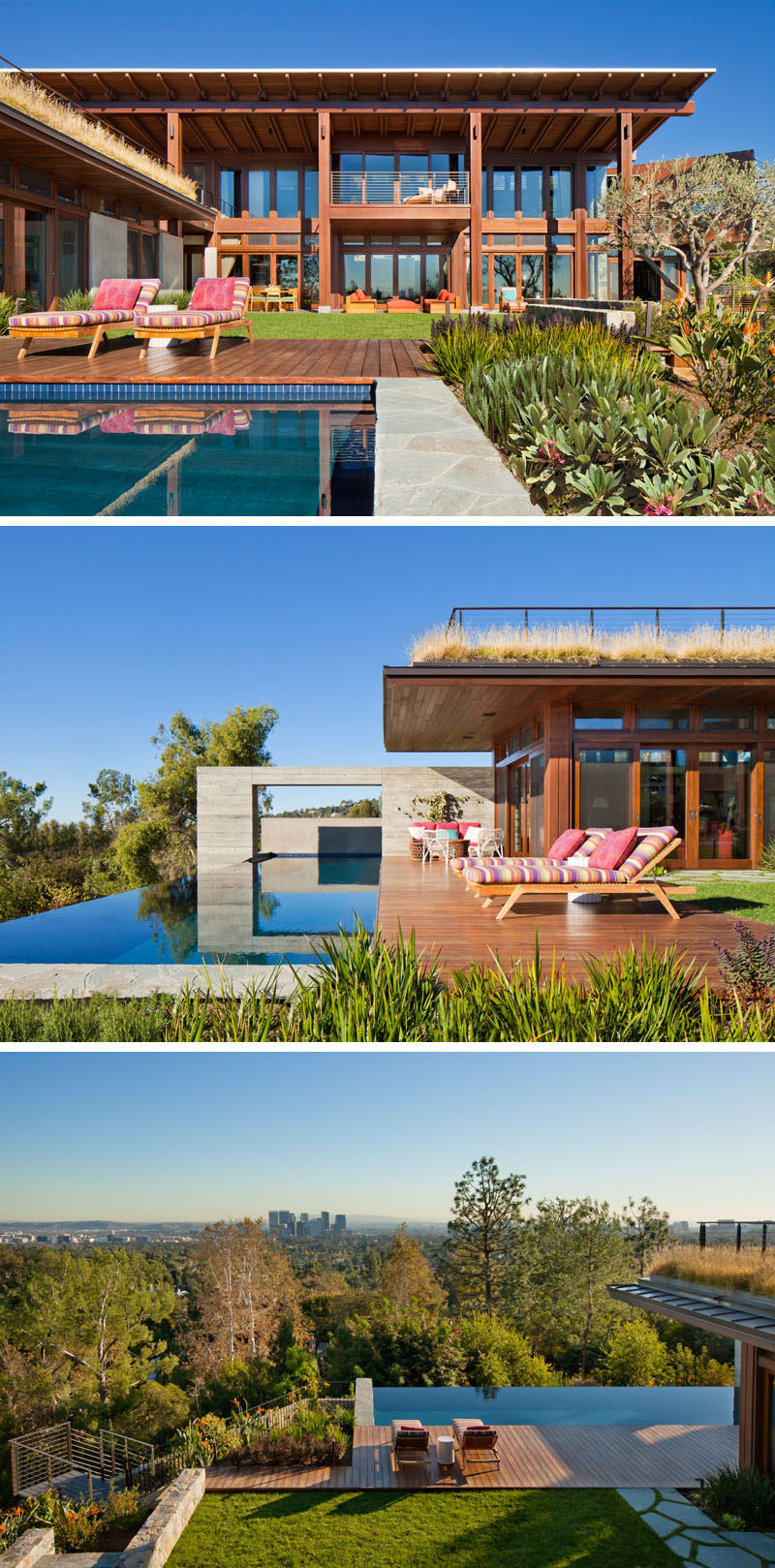 ---
An arch over the swimming pool is part of the wall that continues through to the interior of the home.
---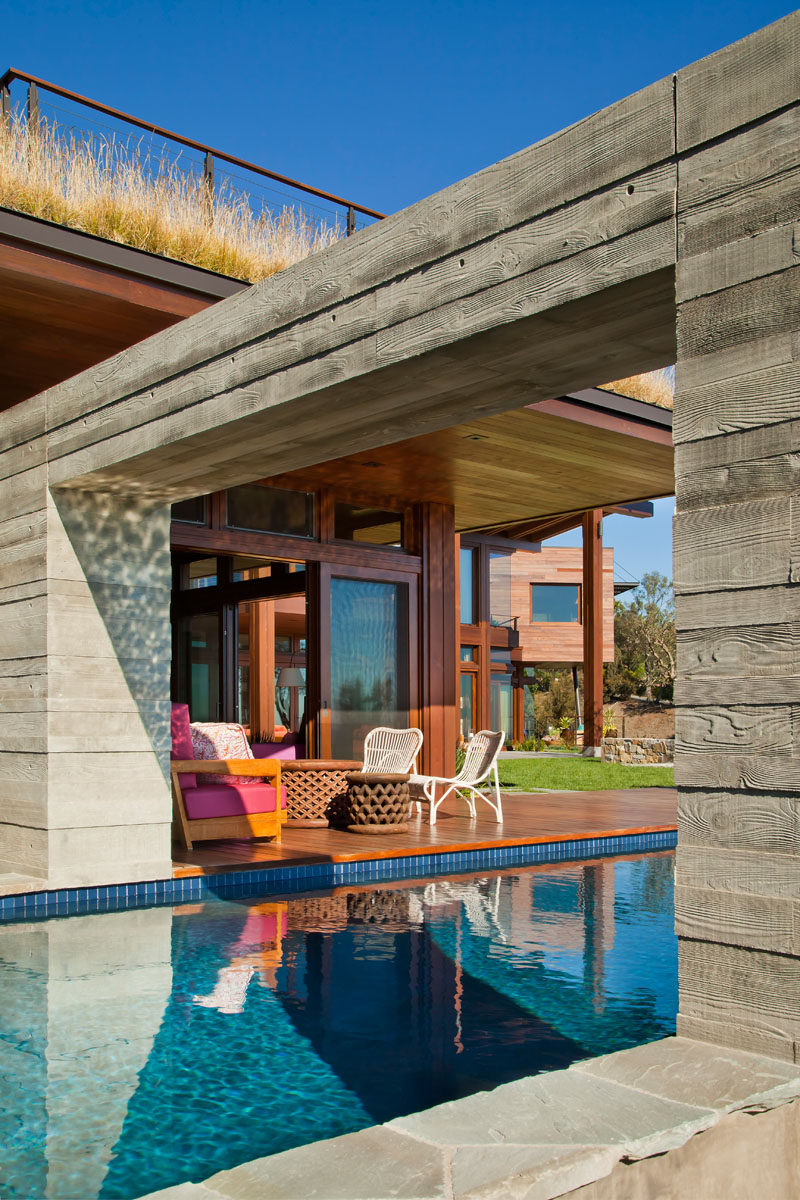 ---
The house also has other outdoor spaces, like this one below, that features a small garden with a cheerful sculpture.
---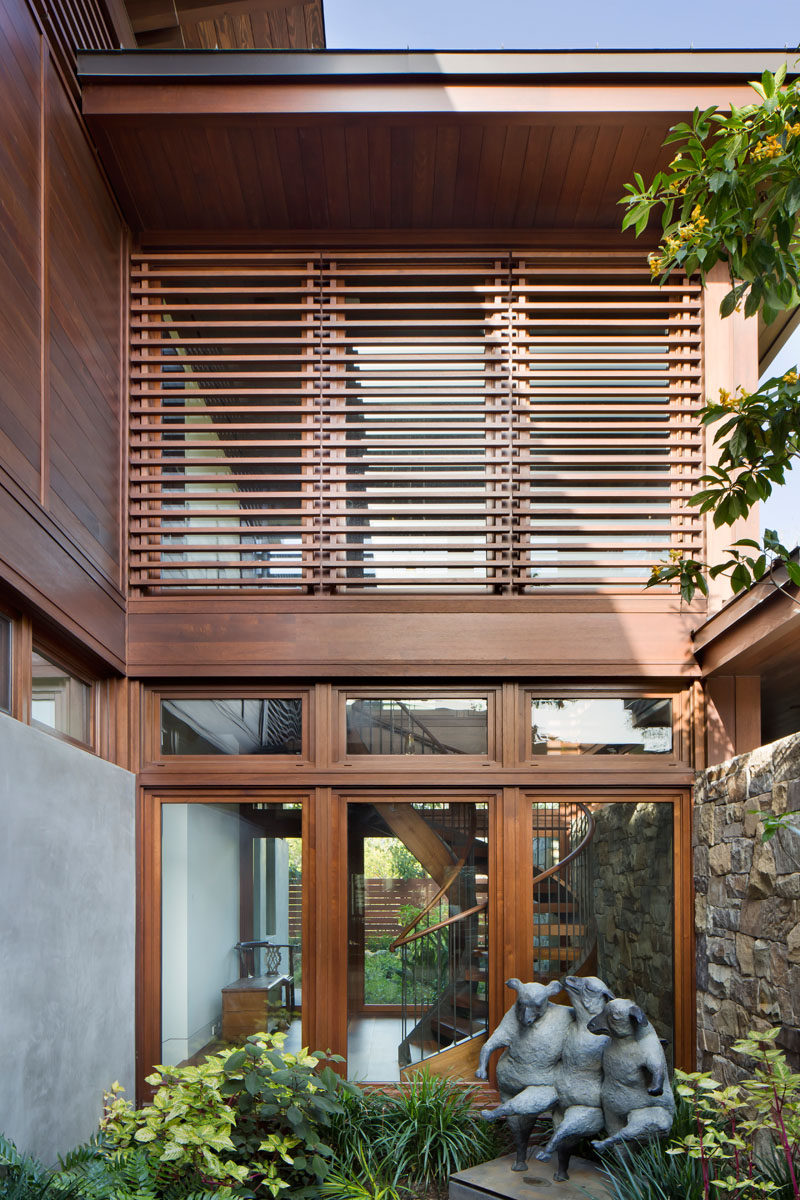 ---
Heading back inside, there's a wood and metal spiral staircase that leads up to the upper floor of the home.
---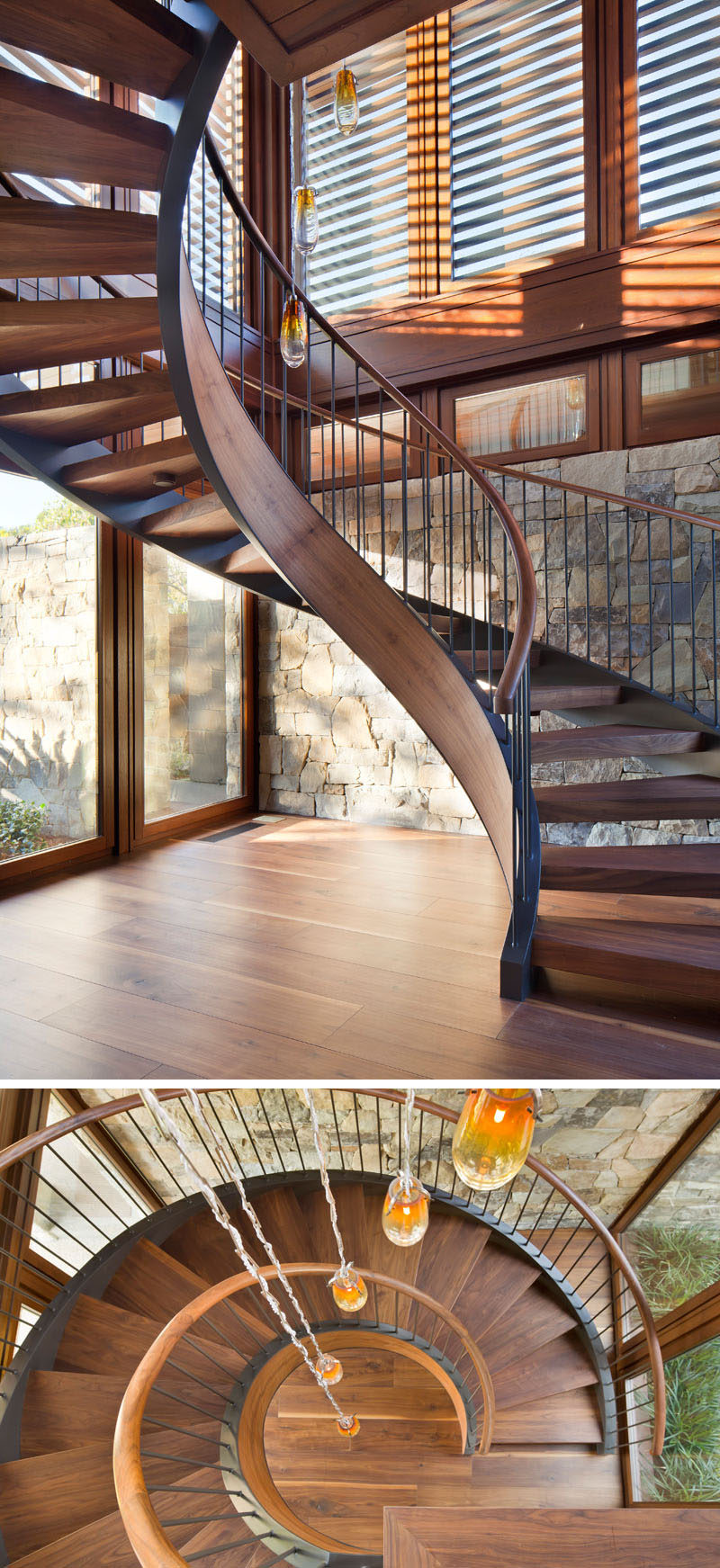 ---
At the top of the stairs is a walkway that connects to the sleeping areas of the home. A large wood bookshelf lines one side of the walkway, while the other looks over the living room and dining area below.
---

---
In the bedroom, a wood headboard has built-in bedside tables and open shelving for displaying personal items.
---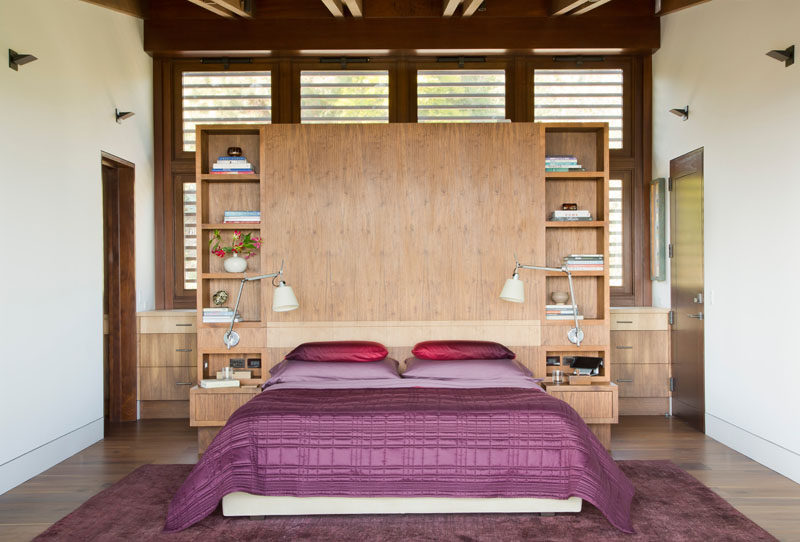 ---
In the bathroom, there's a freestanding bathtub that sits in front of the windows, a make-up vanity and a large two-person walk-in shower with a wood bench.
---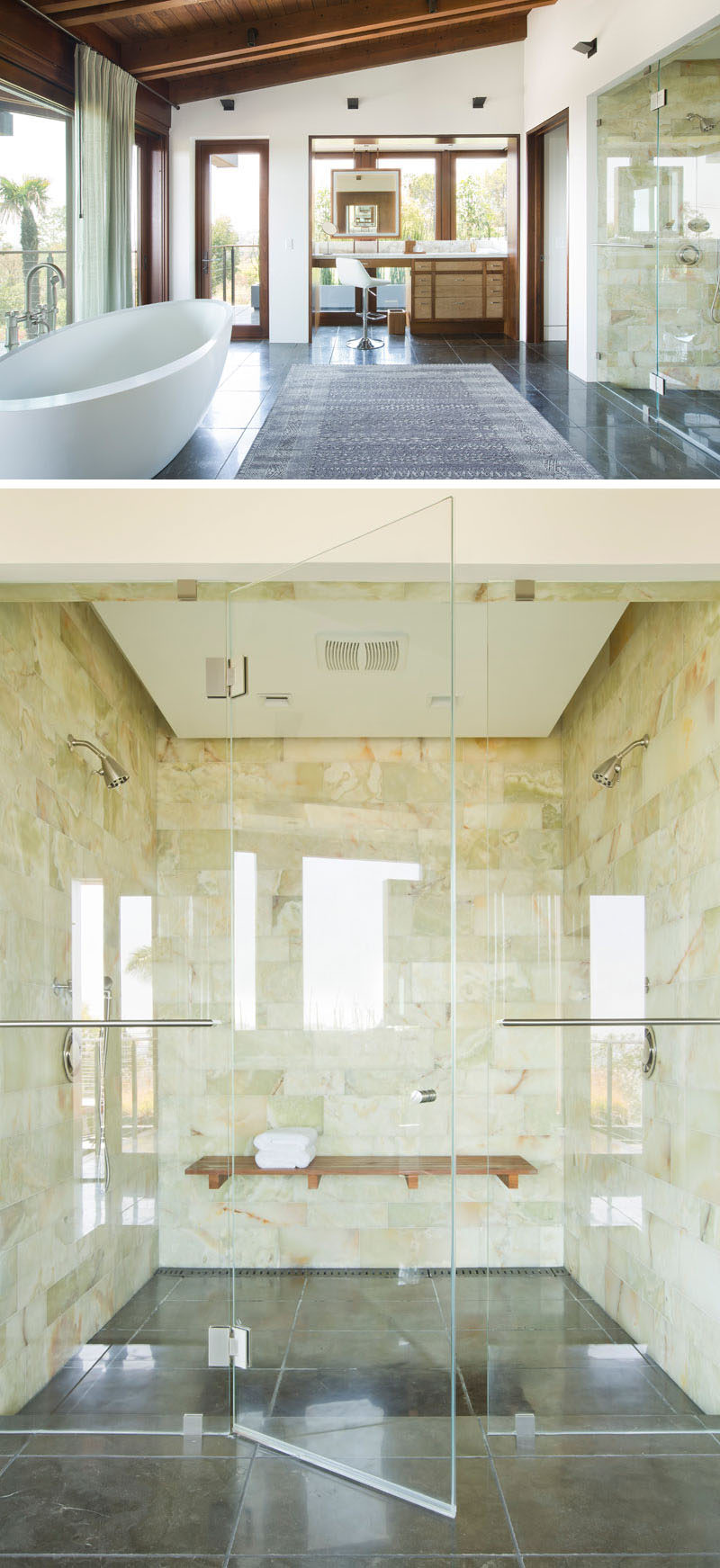 ---
Also on the upper floor of the home is access to a green roof where there's a small deck set up with lounge chairs and a firebowl, that overlooks the neighborhood.
---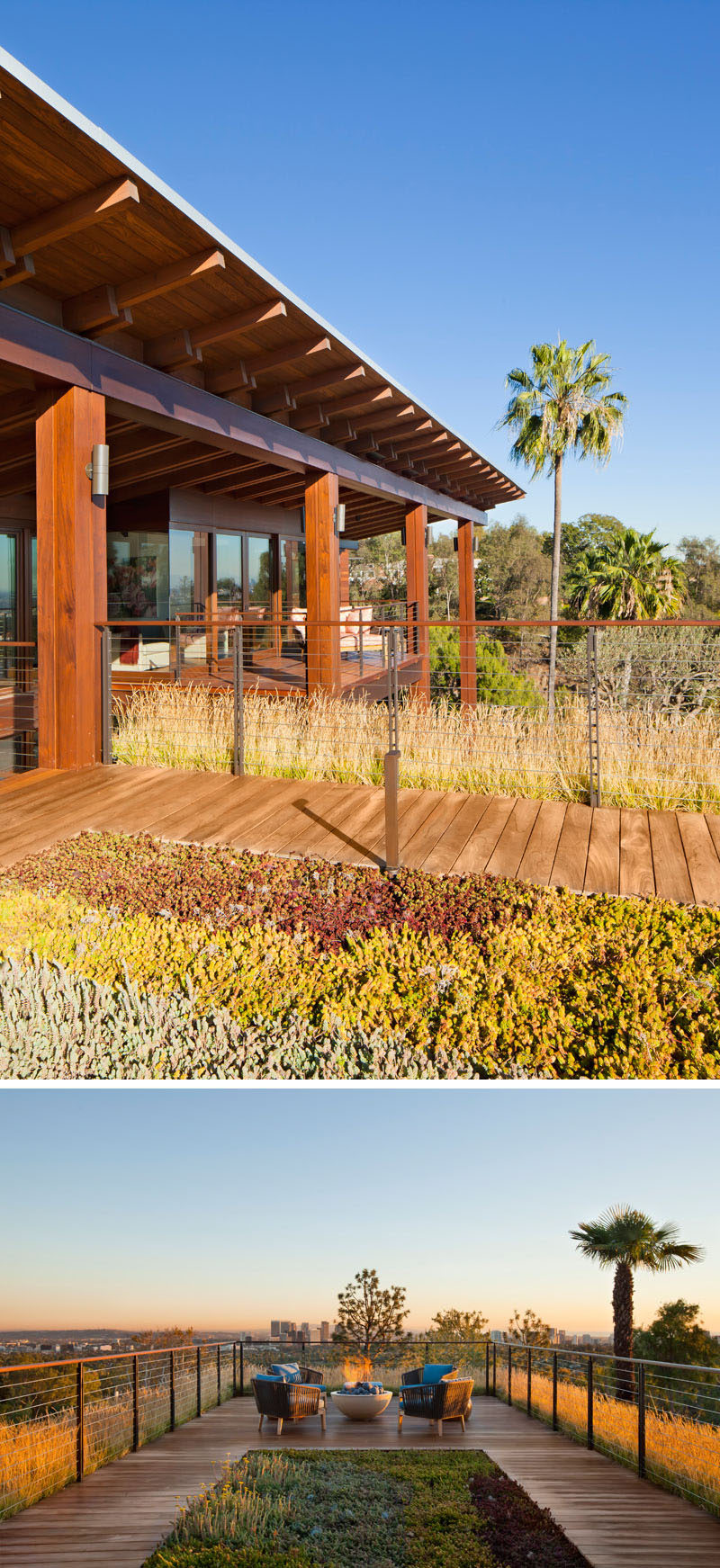 Photography by Manolo Langis | Interiors: Tim Clarke | Landscape: EPT Design and KAA Design Group | Construction: Jim Davis Development | Lighting Design: The Ruzika Company
---