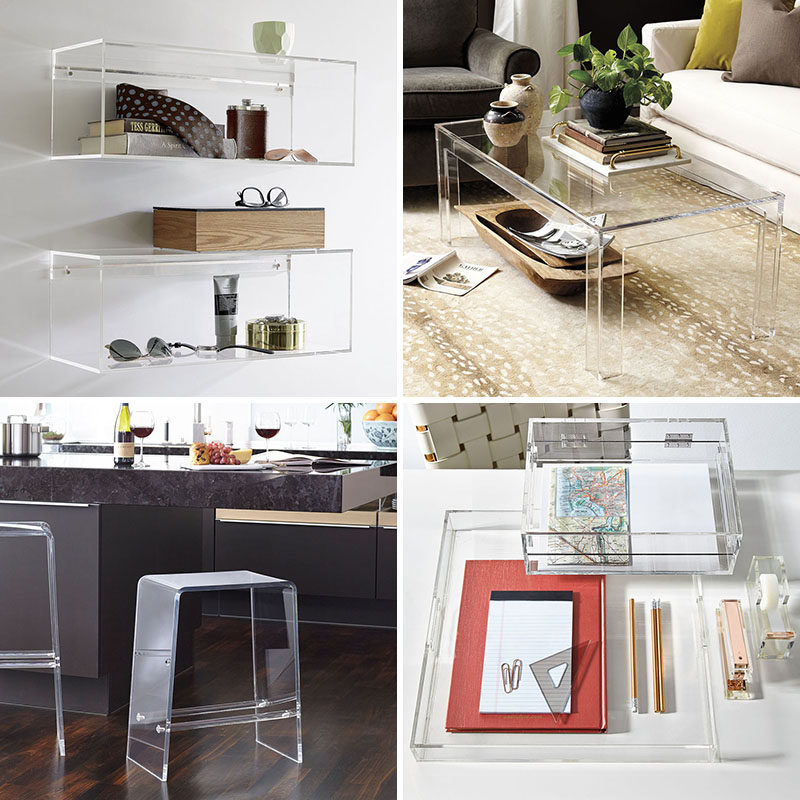 If you're tight on space or just prefer a more open and airy look acrylic decor is a great option. It's as clear as glass so it allows plenty of light to pass through it and makes your things appear to float. Here are 5 ways you can include acrylic decor in every room of your house.
---
1. Living Room
Using acrylic decor in the living room opens up the space, helps it feel bright, and lets your favorite objects be the focus of everyone's attention.
An acrylic and brass bar cart lets guests know you're all about having a good time in style.
---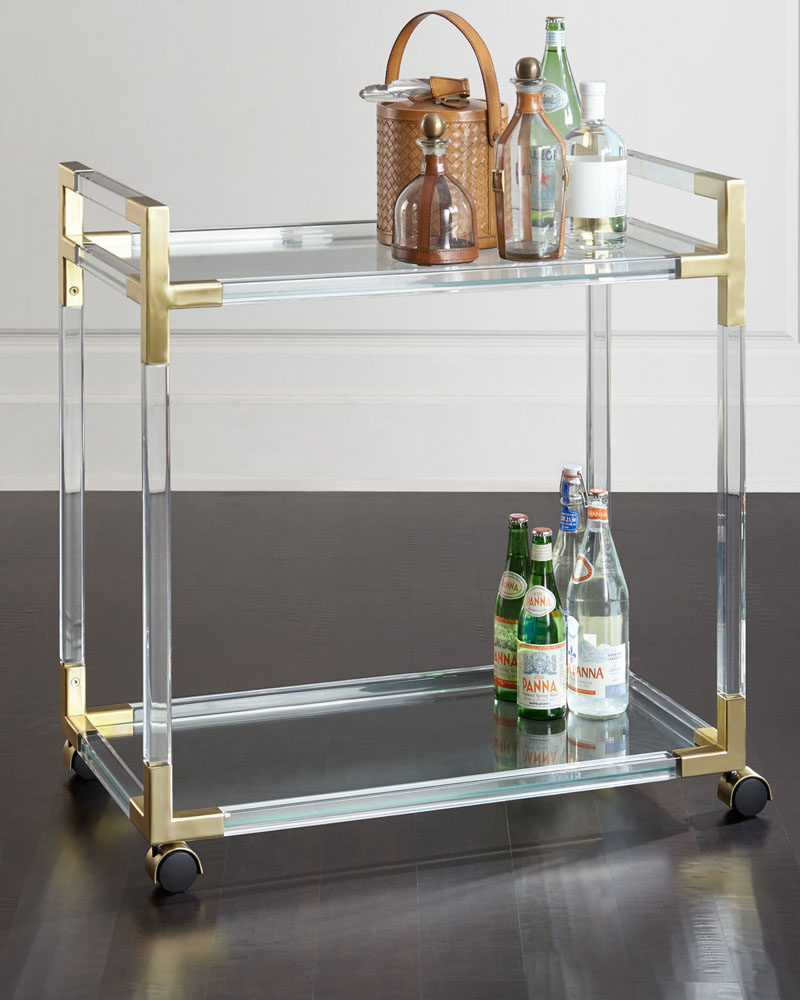 ---
Acrylic picture frames let your photos do all the talking and prevent the frame from stealing the show.
---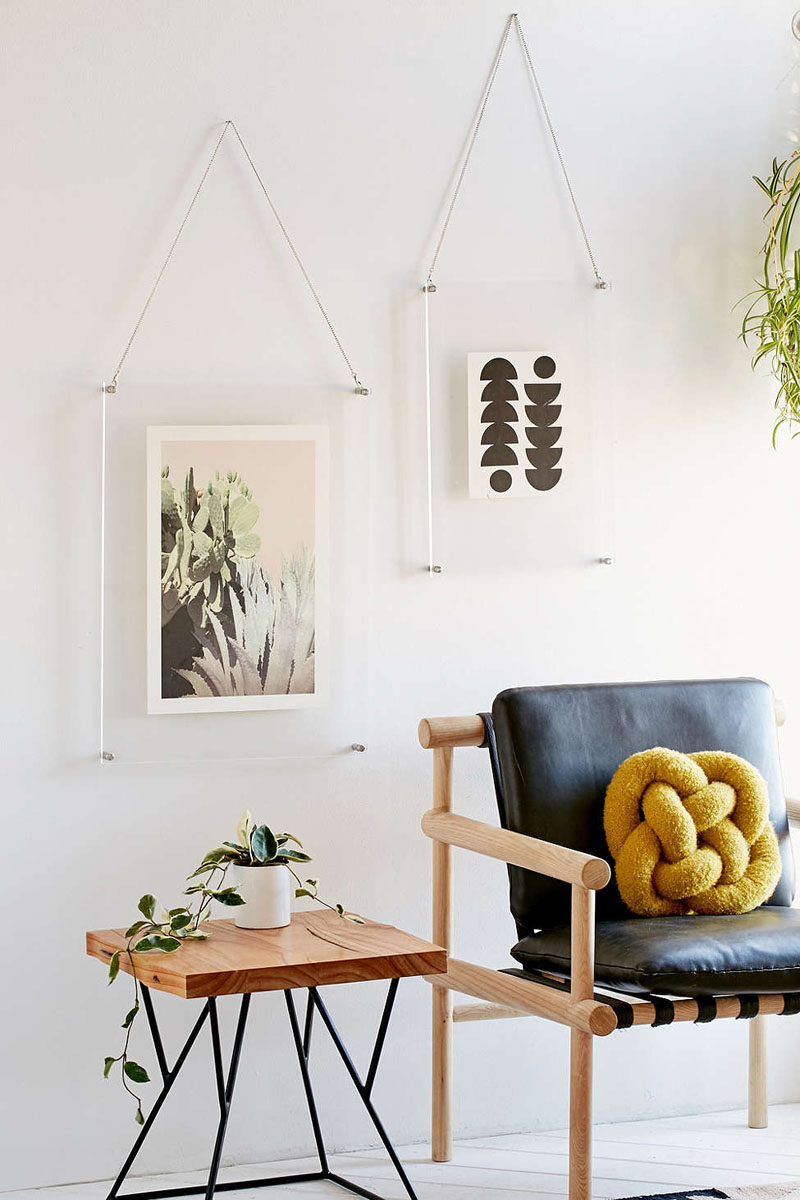 Acrylic Hanging Display Frame from Urban Outfitters
---
An acrylic coffee table is one of the best things to include in an interior that's small or dark. It lets in as much light as possible and almost disappears into the rest of the decor to help the room feel bigger and more open than it actually is.
---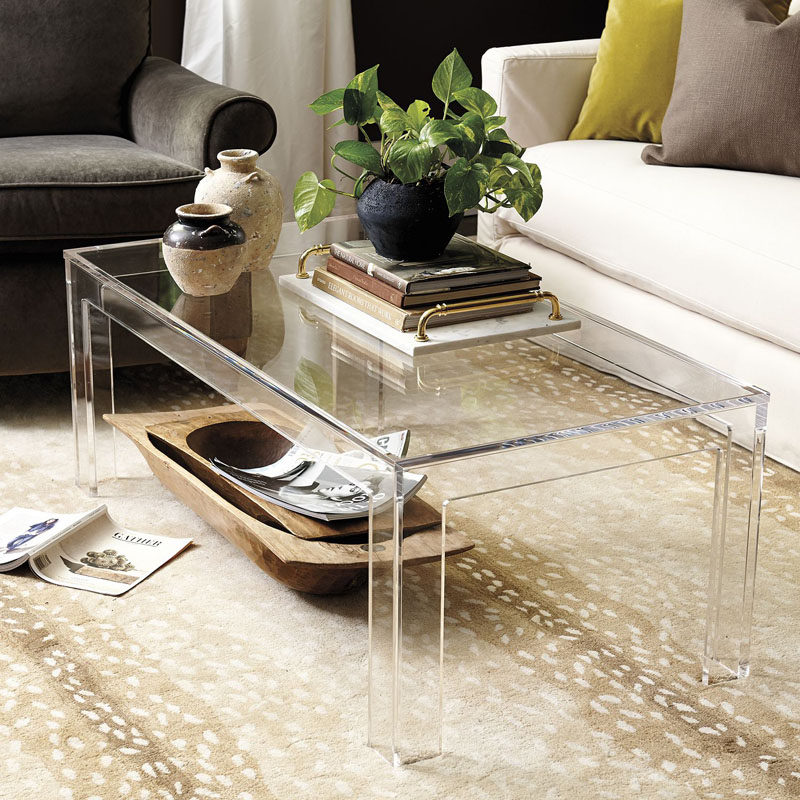 Felicity Acrylic Coffee Table from Ballard Designs
---
Keep your magazines organized in this acrylic magazine rack that makes it easy to see all your issues at a quick glance.
---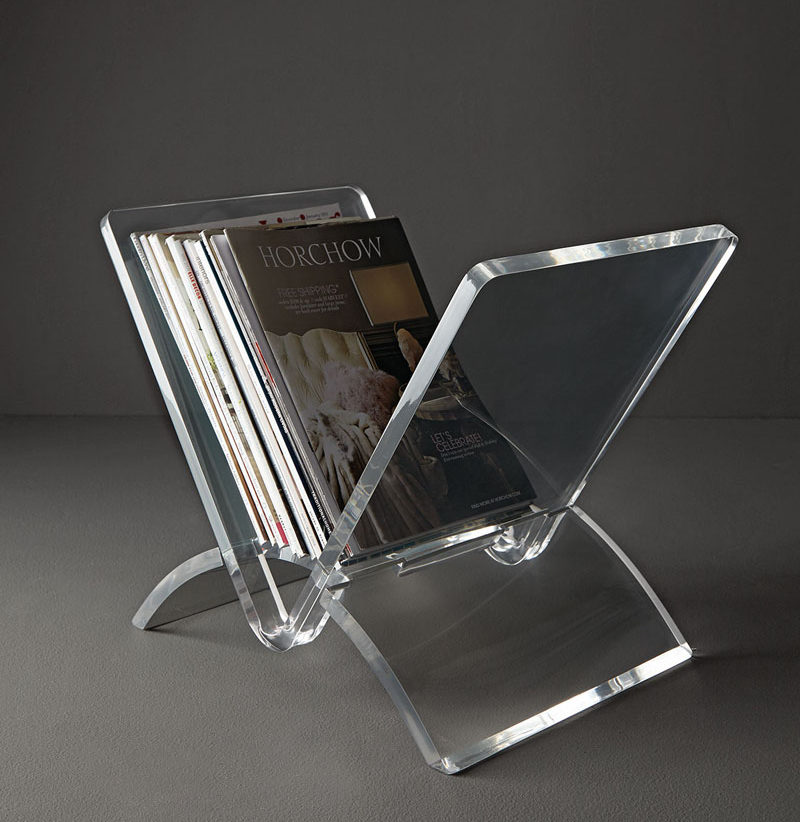 Versa Acrylic Magazine Rack from Neiman Marcus
---
2. Kitchen
Acrylic decor can even be used in the kitchen to keep things looking bright and modern.
Bar stools typically don't take up much space but when they're made from acrylic, they appear to take up even less space.
---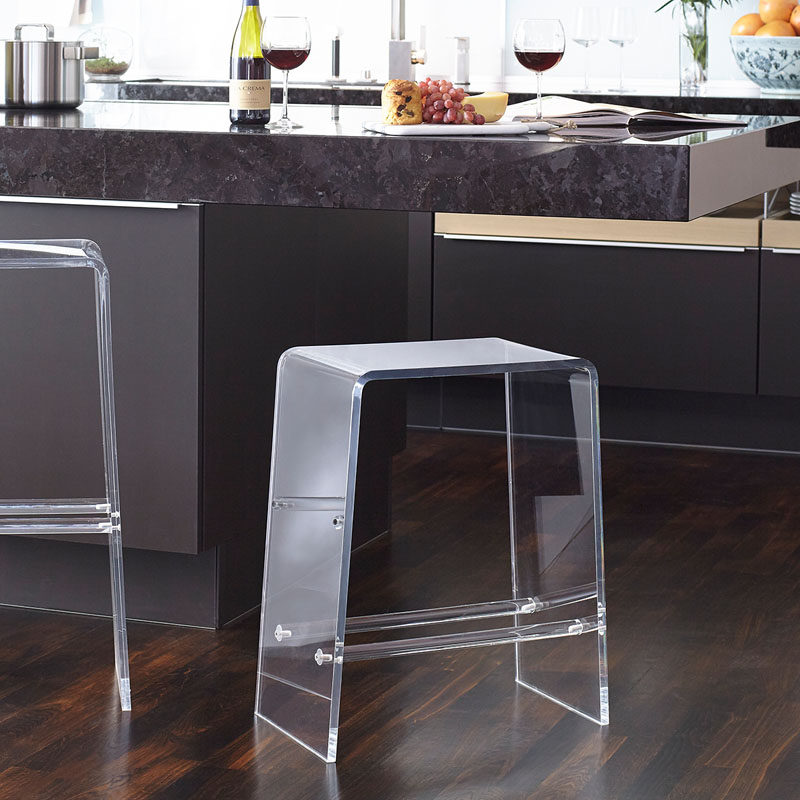 Acrylic Counter Stool from Wisteria
---
This acrylic knife block is double sided to give you even more knife storage and keeps the blades safely out of drawers.
---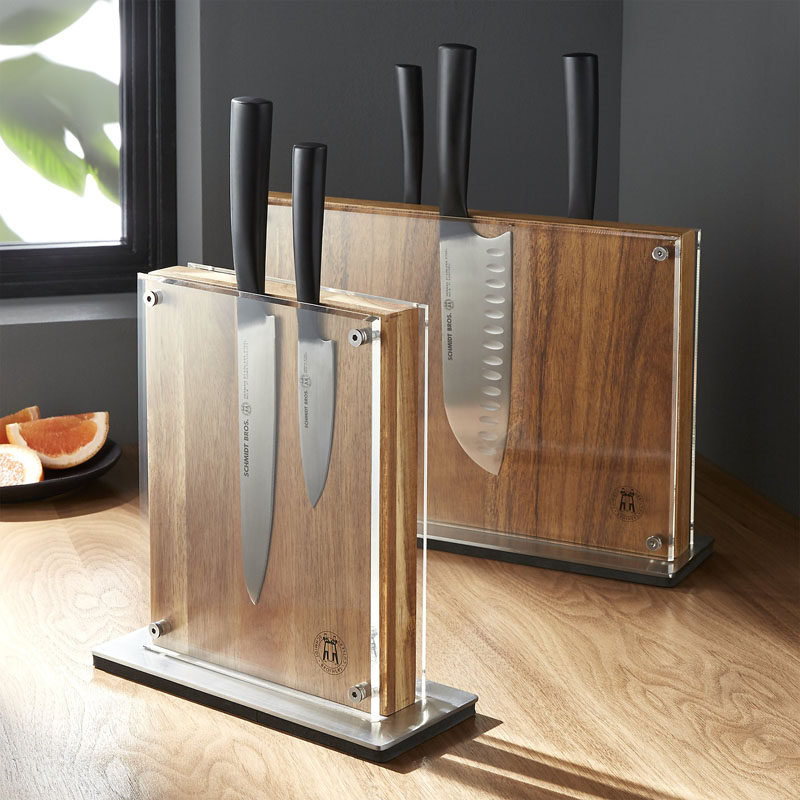 Schmidt Brothers ® Acacia Downtown Knife Block from Crate&Barrel
---
A simple acrylic wine rack keeps your wine close by makes it easy to see exactly what you've got.
---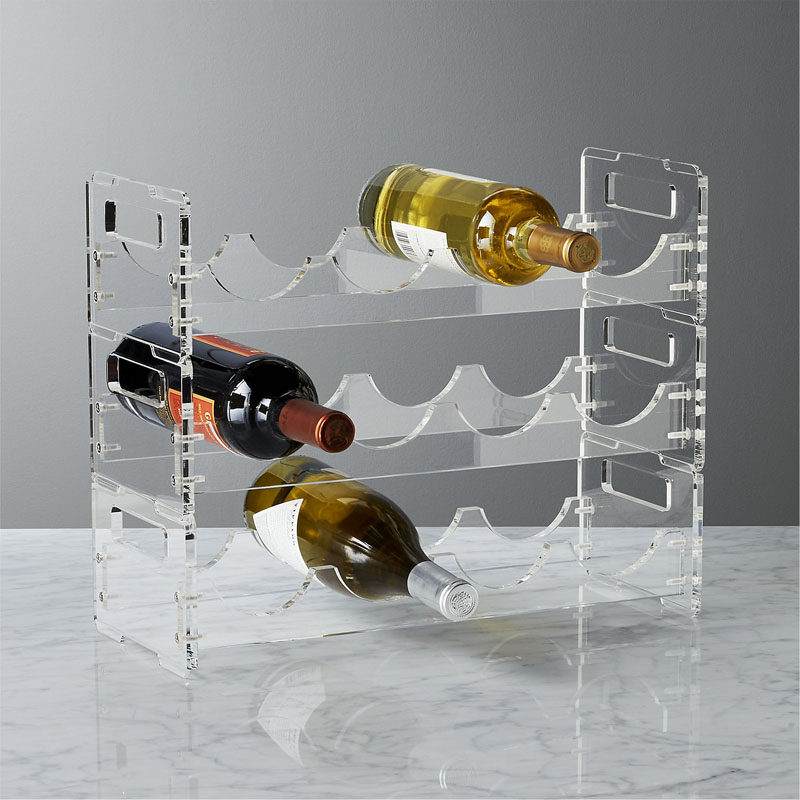 Clear Wine Rack from CB2
---
3. Home Office
Including acrylic decor in your home office can be a great way to help you stay organized. It makes it easier to find things, and keeps the room bright and open.
If you only have a little bit of space to create your home office an acrylic desk is a great solution as it will help keep your space feeling and looking open but give you the functionality of a full desk.
---
Peekaboo Acrylic Console Table from CB2
---
Get organized with a acrylic calendar that can be reused every year.
---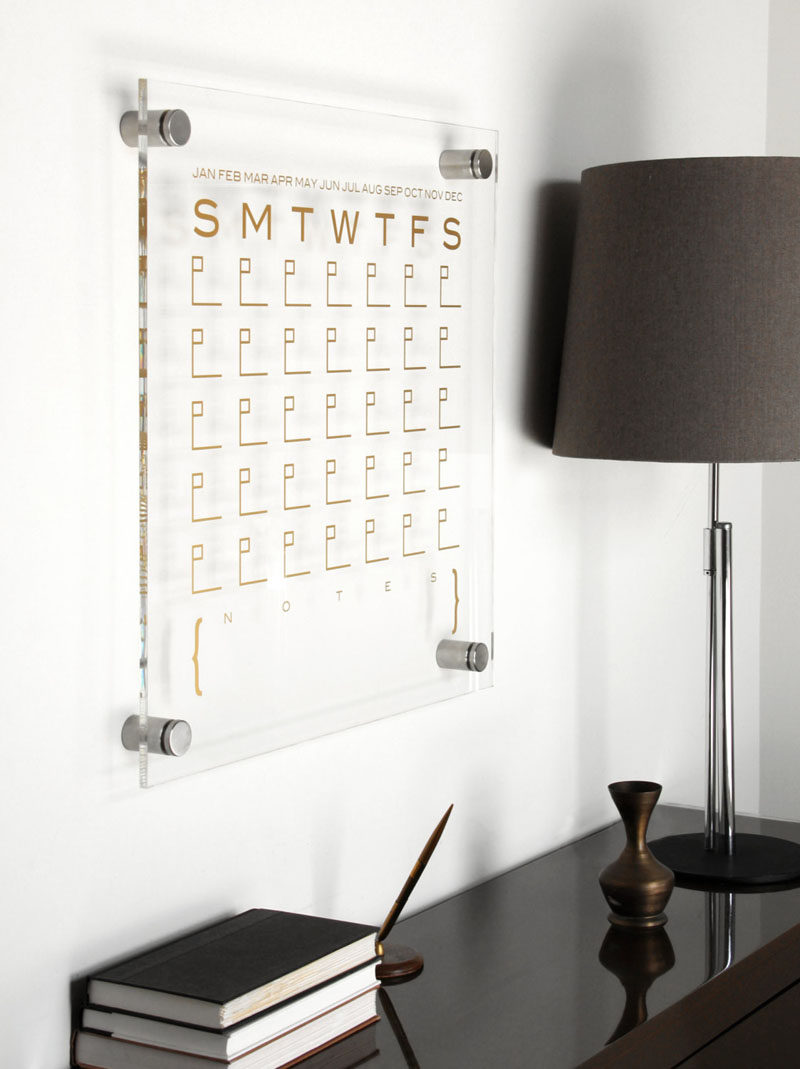 ---
See where all your papers and pens are with acrylic desk storage solutions.
---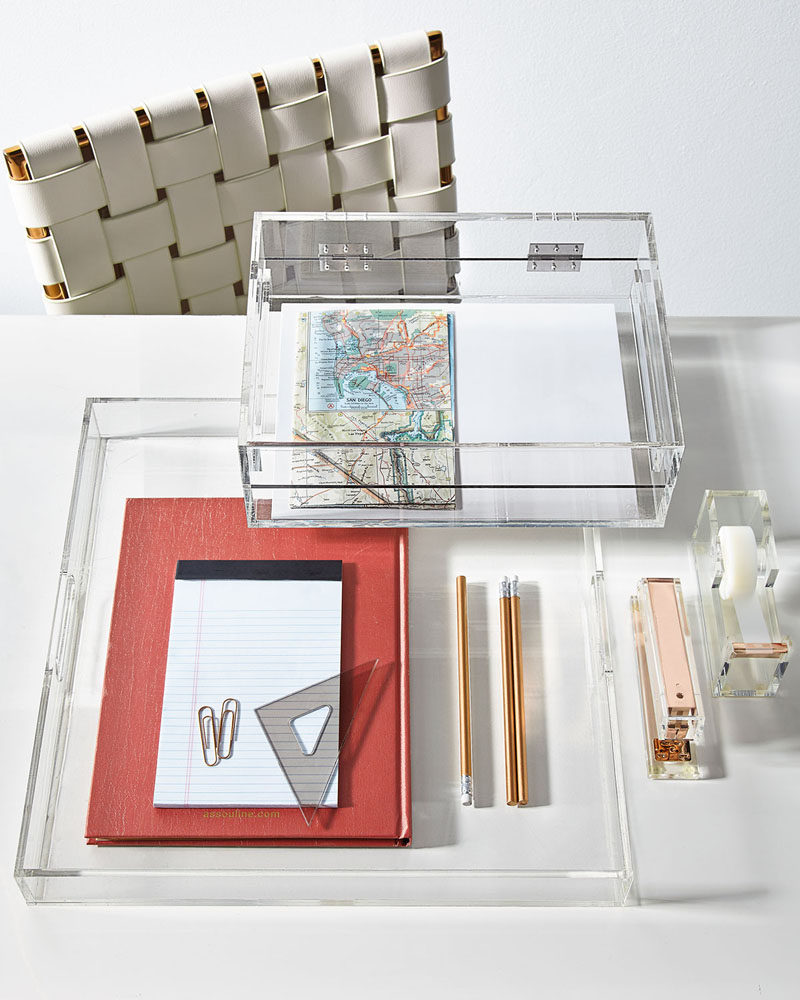 Acrylic Desk Accessories from Neiman Marcus
---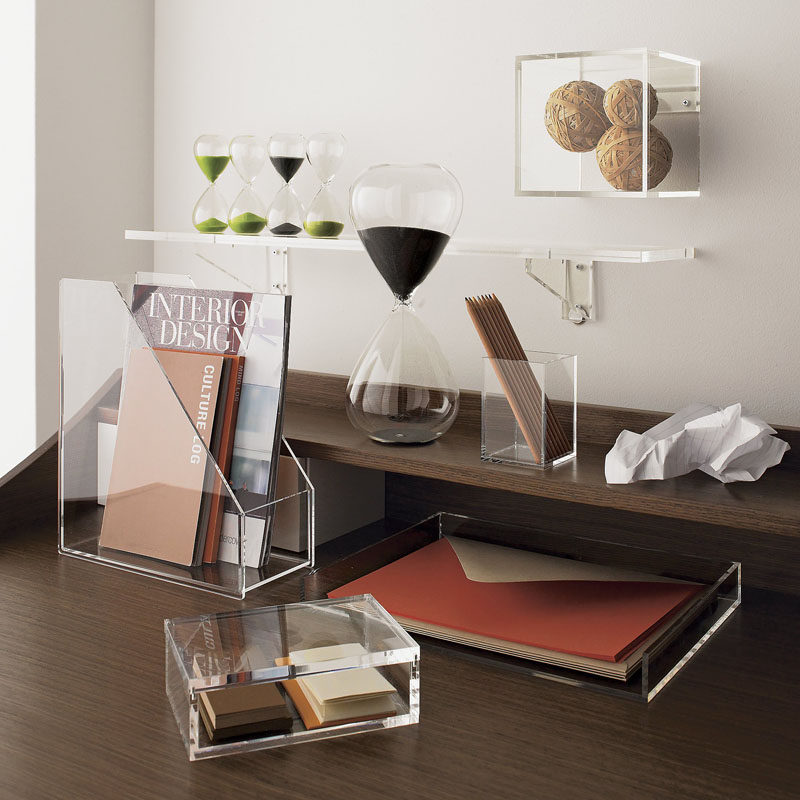 Format Desk Accessories from CB2
---
An acrylic desk chair gives your office a minimal and stylish look.
---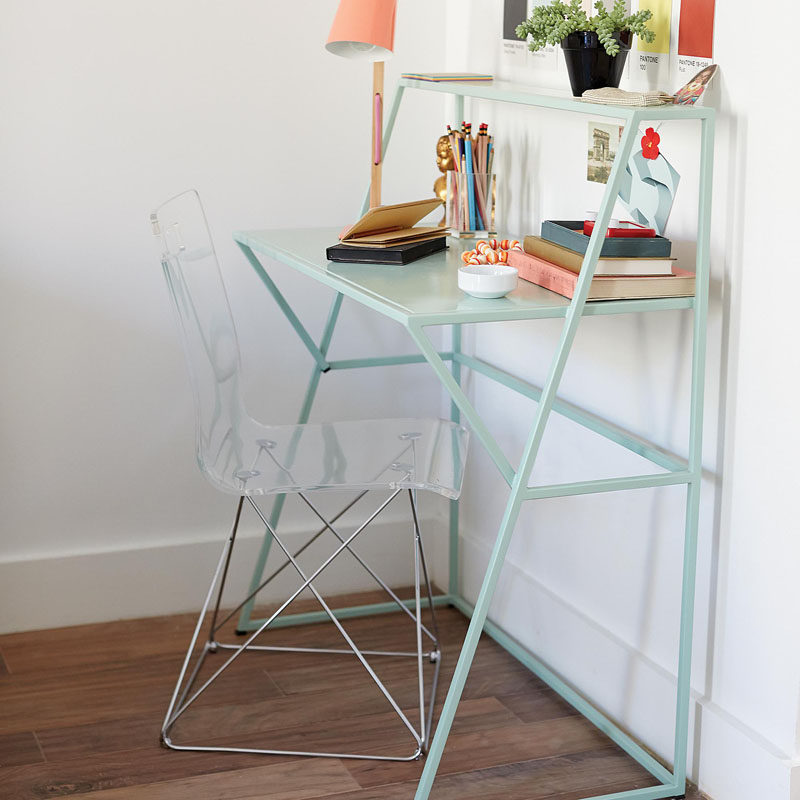 Now You See It Acrylic Desk Chair from The Land of Nod
---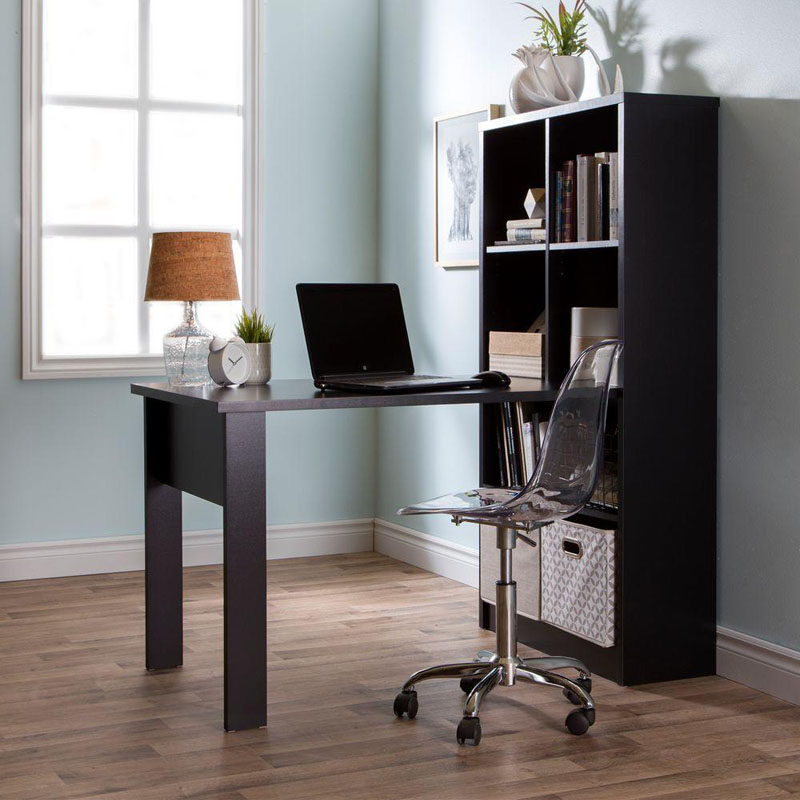 Clear Office Chair from South Shore.
---
This acrylic desk lamp will keep your work area bright no matter what time of the day it is.
---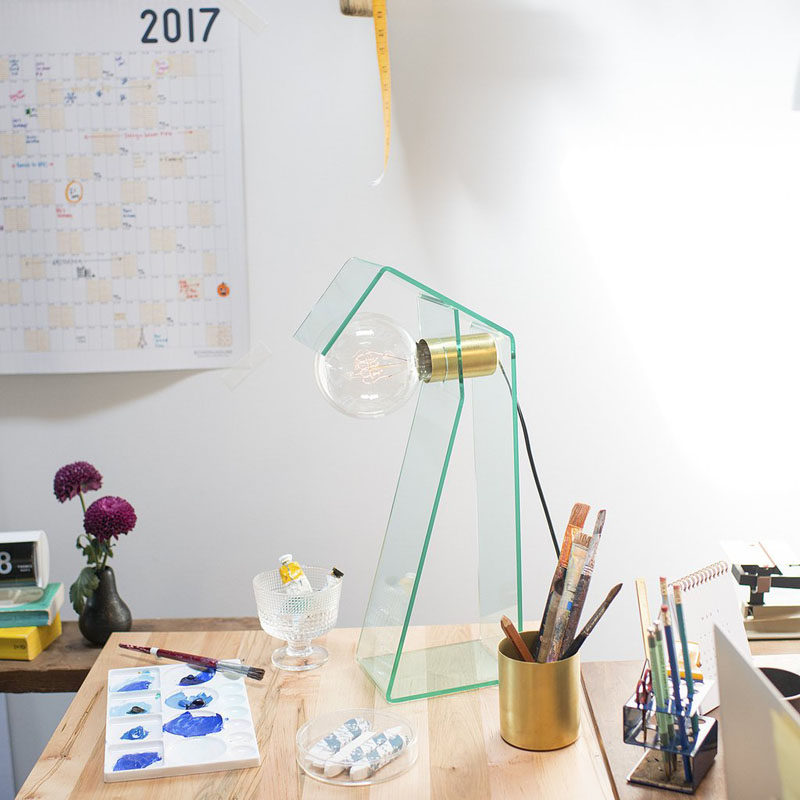 ---
4. Bedroom
Including acrylic decor in your bedroom keeps the space feeling open and airy even if it's small and dark. A clear nightstand keeps the spot next to your bed bright and an acrylic bedside lamp keeps the room bright in more ways than one.
This C-shaped acrylic bedside table lets tons of light through and is on wheels to make it easy to move around the room.
---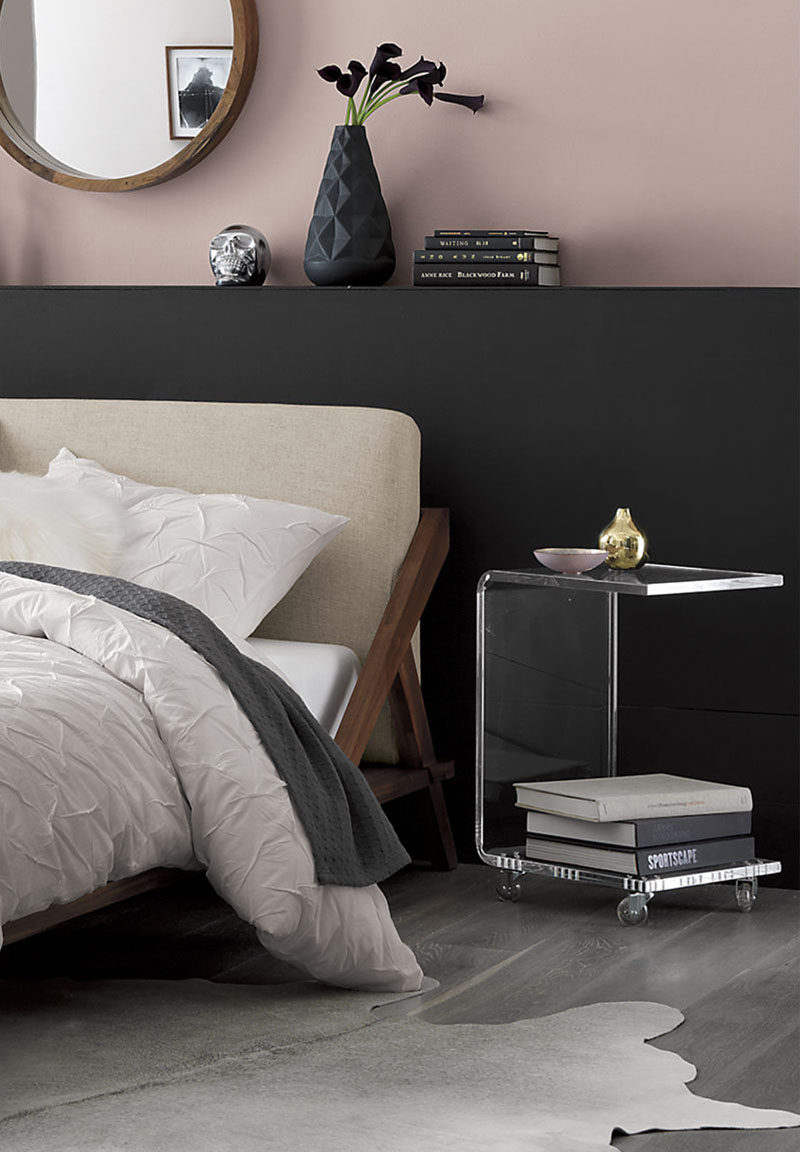 Peekaboo Acrylic C Table from CB2.
---
Brass details on the sides and bottom of this bedside table give it a more industrial look while still allowing it to keep the room feel airy.
---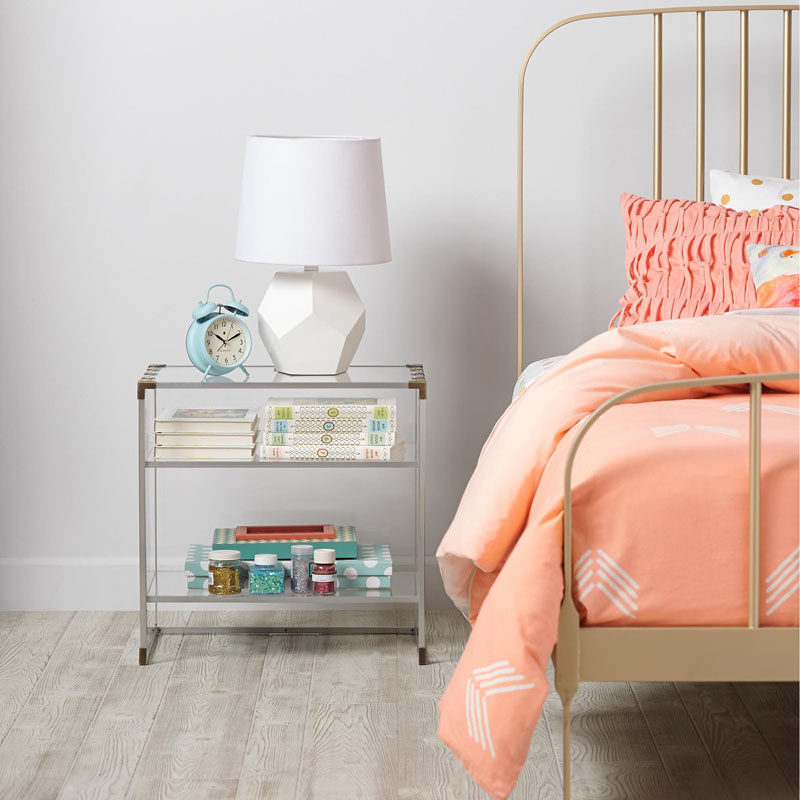 ---
This lamp will brighten your room at night and won't block any natural light that comes through during the day.
---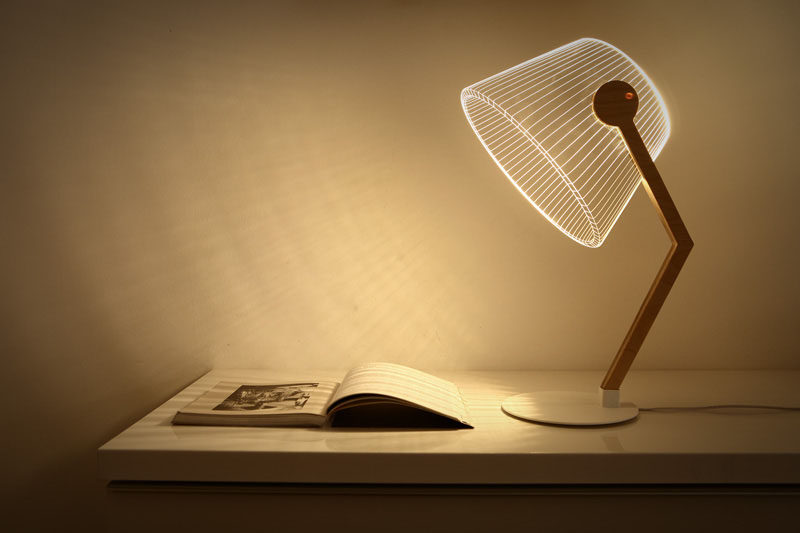 ---
5. Bathroom
Acrylic decor in the bathroom is perfect for both small spaces and elegant ones. When used on its own, acrylic in the bathroom creates the ultimate minimalist look and makes the space feel larger by letting all the light through. When partnered with metallic details, acrylic takes on a whole new look, one of elegance and sophistication.
A gold bottom on this acrylic wall bin gives it an elegant look while still keeping it simple and stylish.
---
These clear acrylic shelves make your bathroom essentials appear to float.
---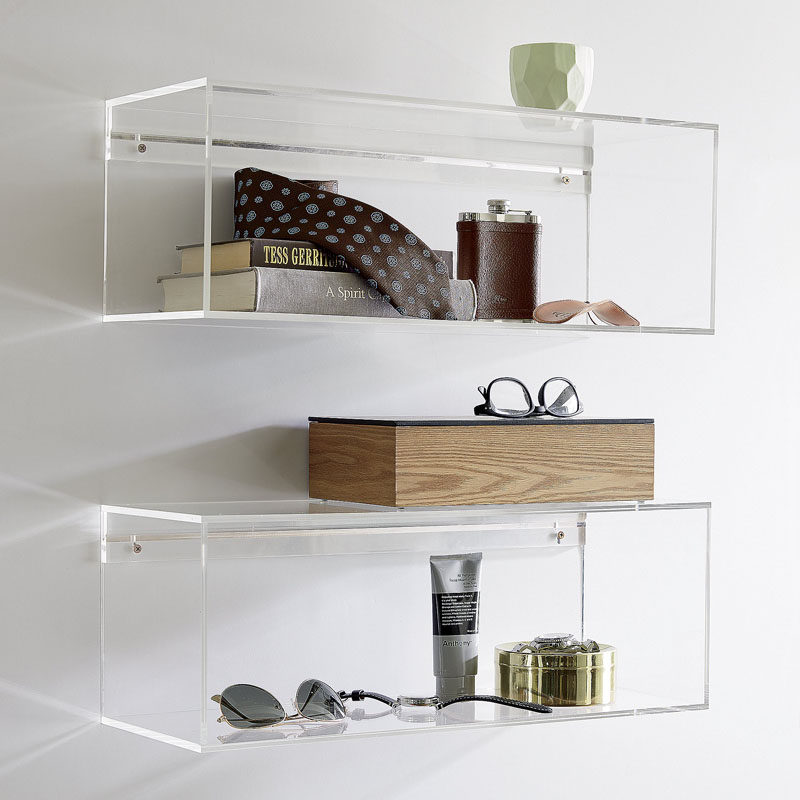 Format Storage Shelf from CB2
---