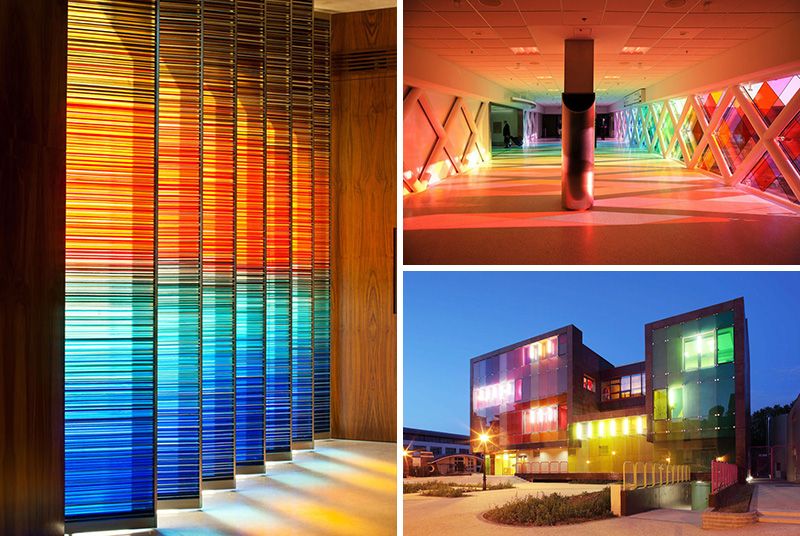 Colored glass is often found in older buildings with stained glass windows, but these 10 examples show that colored glass can also be used as a decorative element in a modern interior or building.
---
1. In this home, warm decorative glass accents create colorful patterns throughout the hallway that complement the wood used in the interior.
---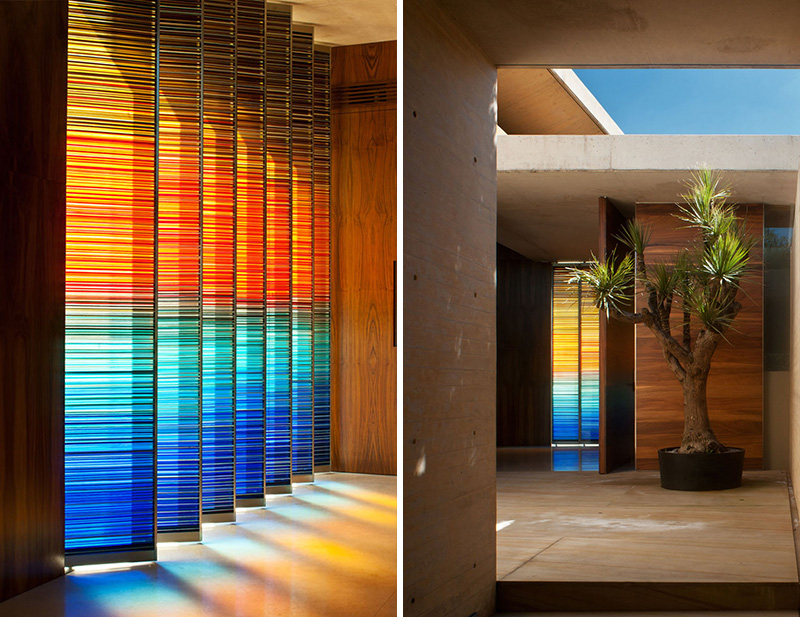 Gantous Arquitectos designed this home in Mexico. Photography by Michael Calderwood.
---
2. The front facade of this resort is covered in colored rectangular windows that add a pop of color to the street.
---
DM2 Architecture designed the Seahaven Resort in Australia.
---
3. Strips of translucent and colored glass windows make this church radiate with mosaic patterned colors on the outside, and inside.
---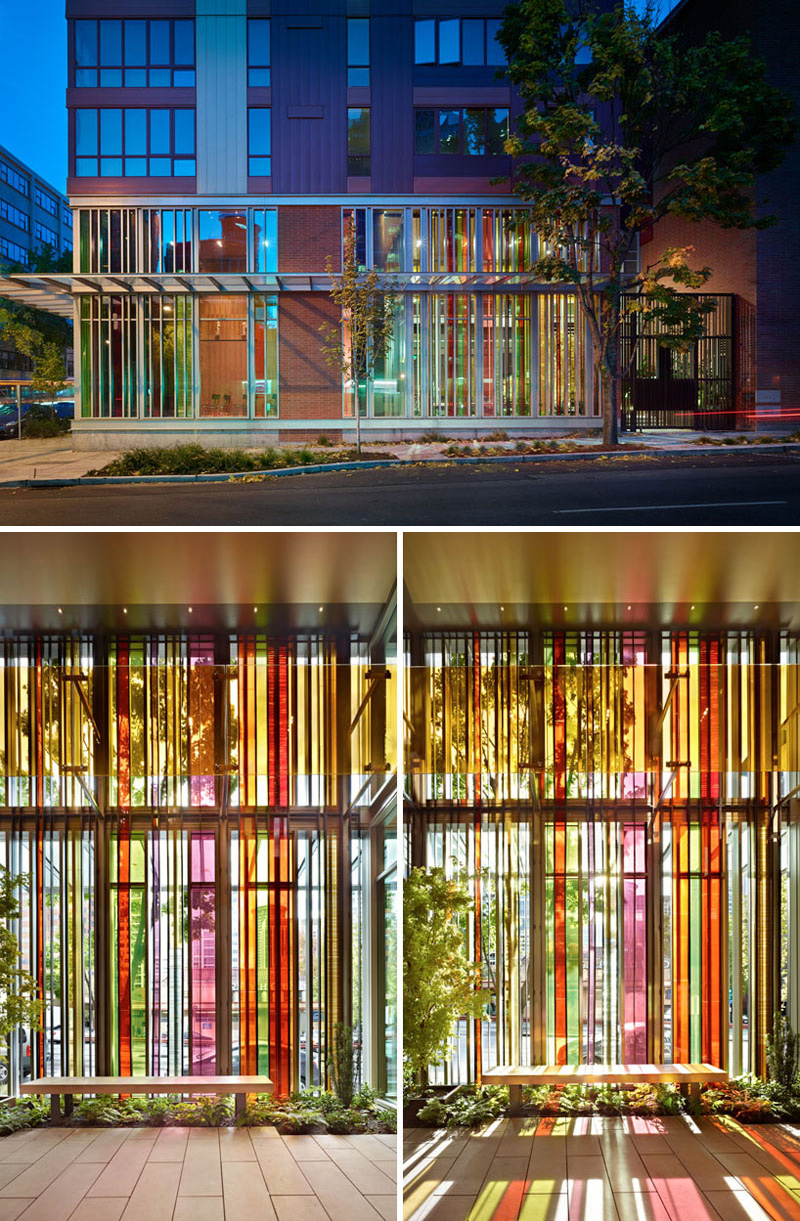 Olson Kundig Architects remodelled an existing 1950s building in downtown seattle into the Gesthemane Lutheran Church. Photography by Benjamin Benschneider.
---
4. The yellow, blue, and pink glass windows throughout this modern house make it glow from the outside, and break up the white space on the inside.
---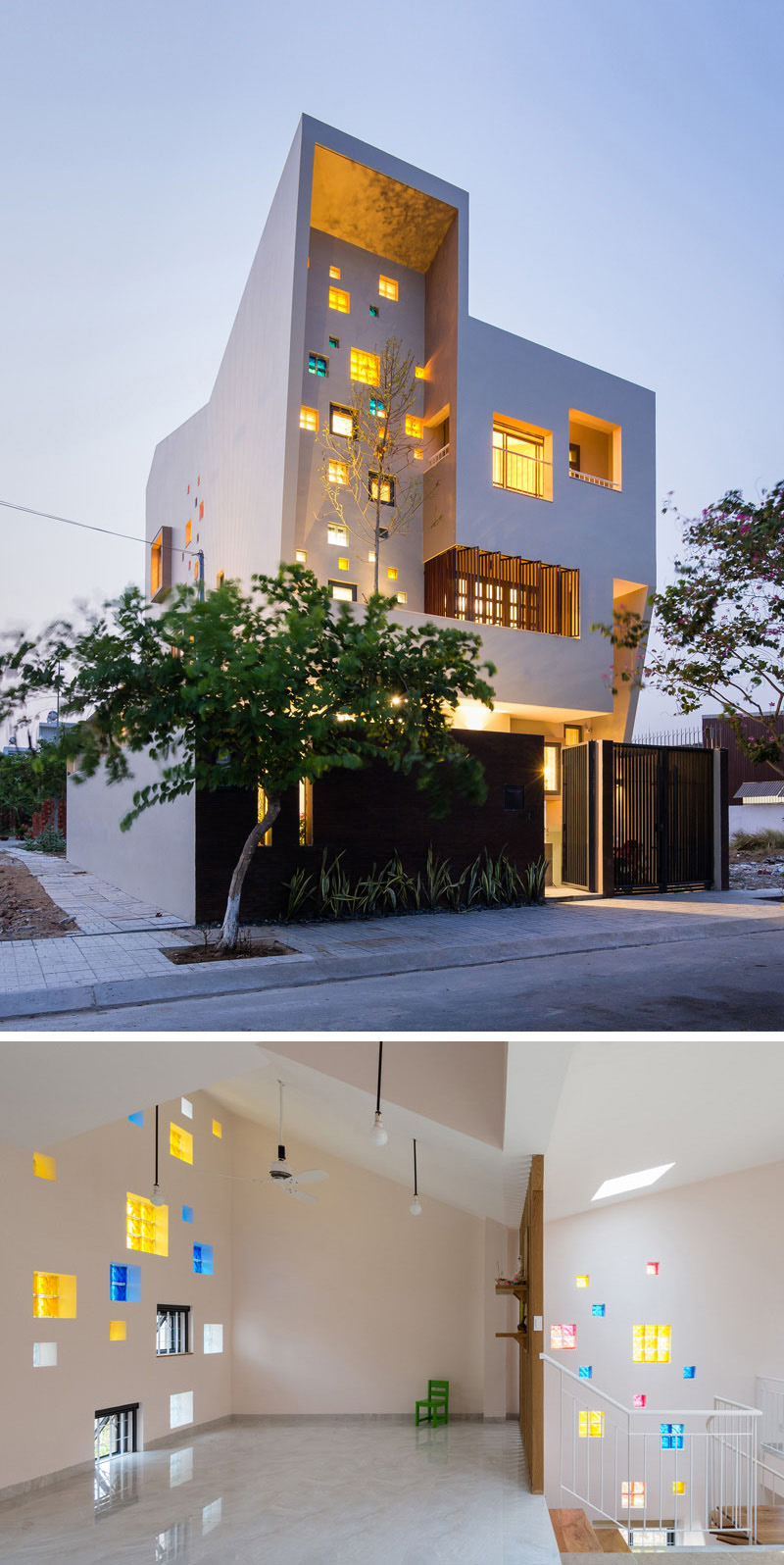 Truong An Architecture together with 23°5 Studio, have designed this modern house in Ho Chi Minh City, Vietnam. Photography by Quang Tran.
---
5. Textured colored glass is used for this bathroom wall which creates privacy, but also brightens up the room with rich colors.
---

Widawscy Studio Architektury designed this modern home in Myslowice, Poland. Photography by Widawscy Studio Architektury.
---
6. The colored glass paneled wall in this cafe-bakery creates a unique feature that matches the rest of the decor.
---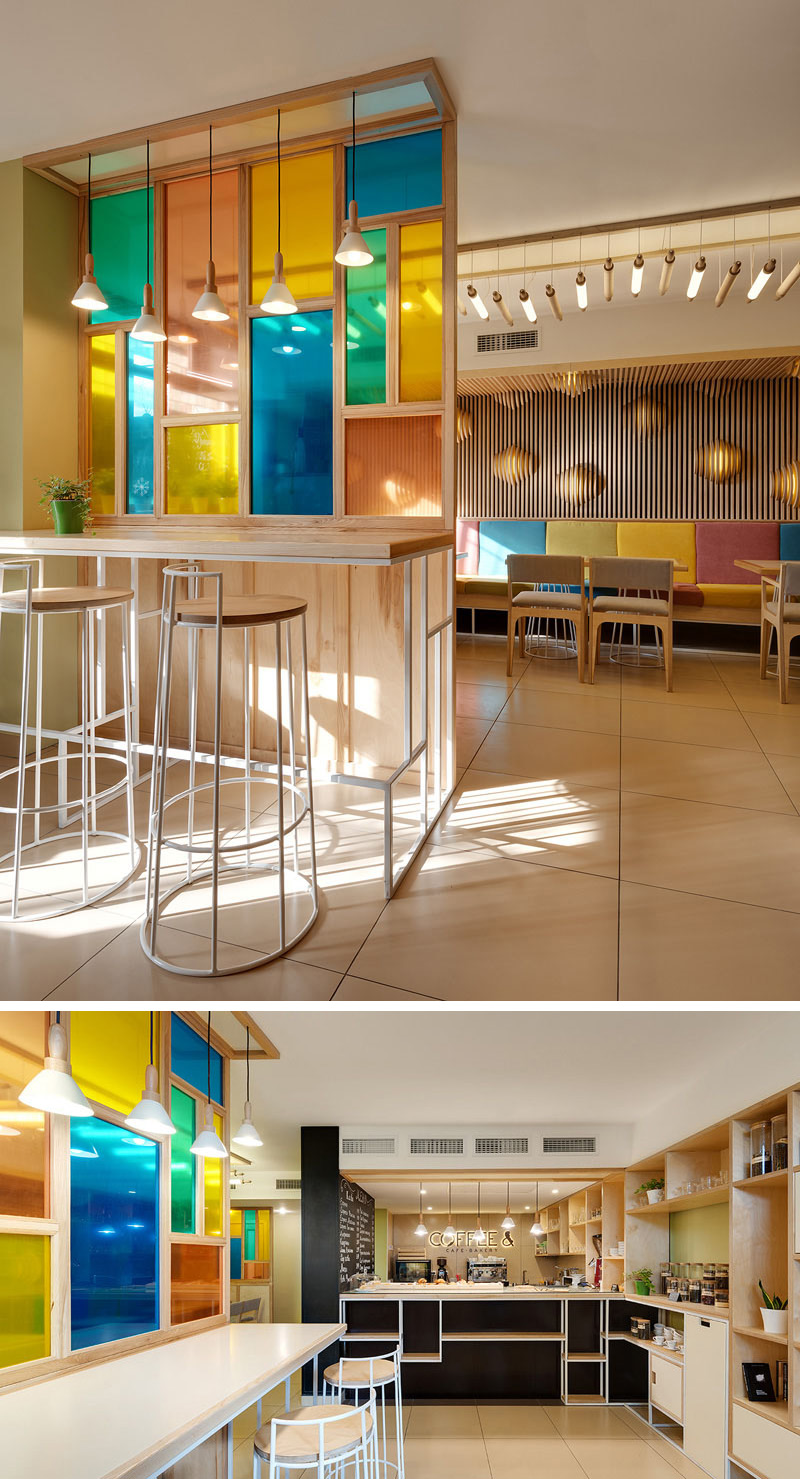 YUDIN Design have designed this cafe-bakery located in Kiev, Ukraine. Photography by Sergey Savchenko.
---
7. Large panels of colored windows line one side of this airport walkway, making it feel as though a person is walking through a rainbow.
---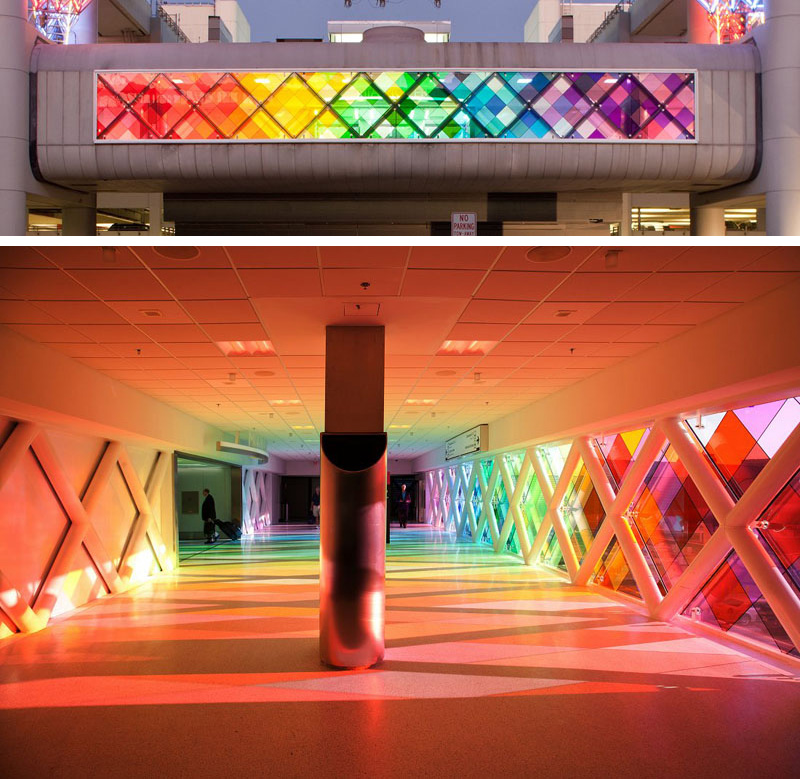 Janney Sound designed 'Harmonic Convergence'.
---
8. This building is a sports and leisure centre for kids that was created with cheerfulness in mind. The colored glass on the exterior continues thematically on the inside of the building, where rooms are divided by color.
---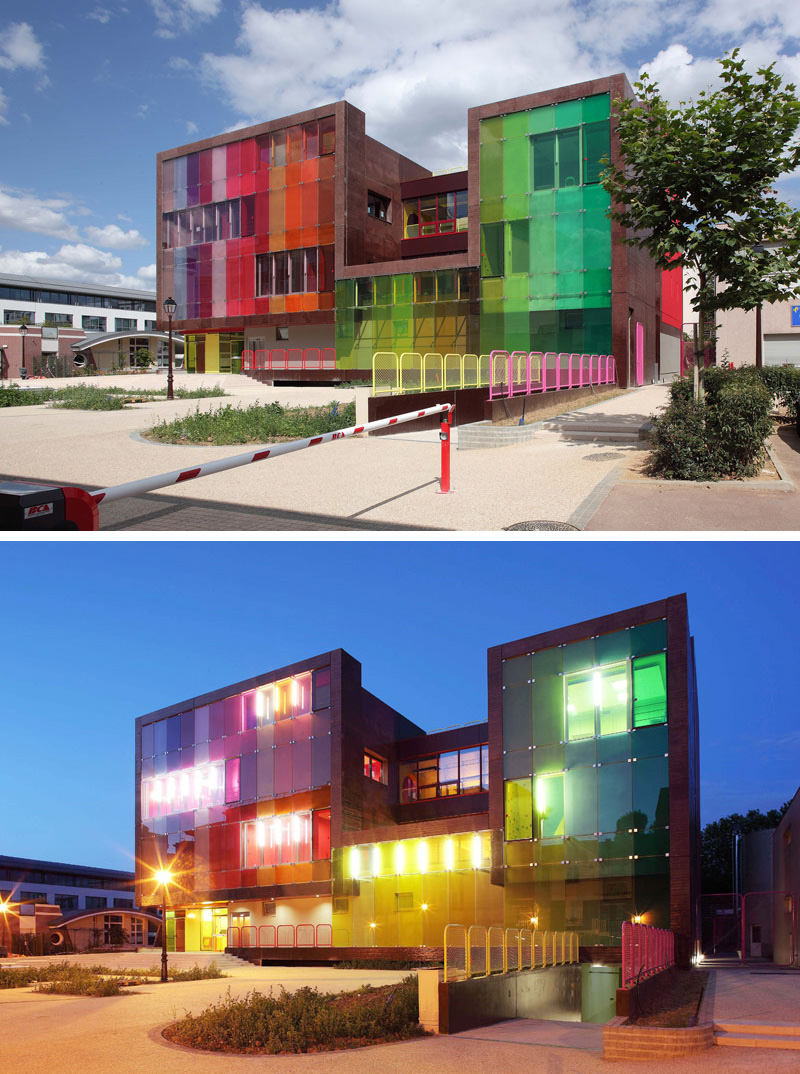 KOZ architectes designed the Saint-Exupéry Sports and Leisure Centre in Saint-Cloud, France. Photography by Stephan Lucas.
---
9. These vibrant colored glass balconies appear as if they have no logical or repetitive shapes, making them intriguing to look at.
---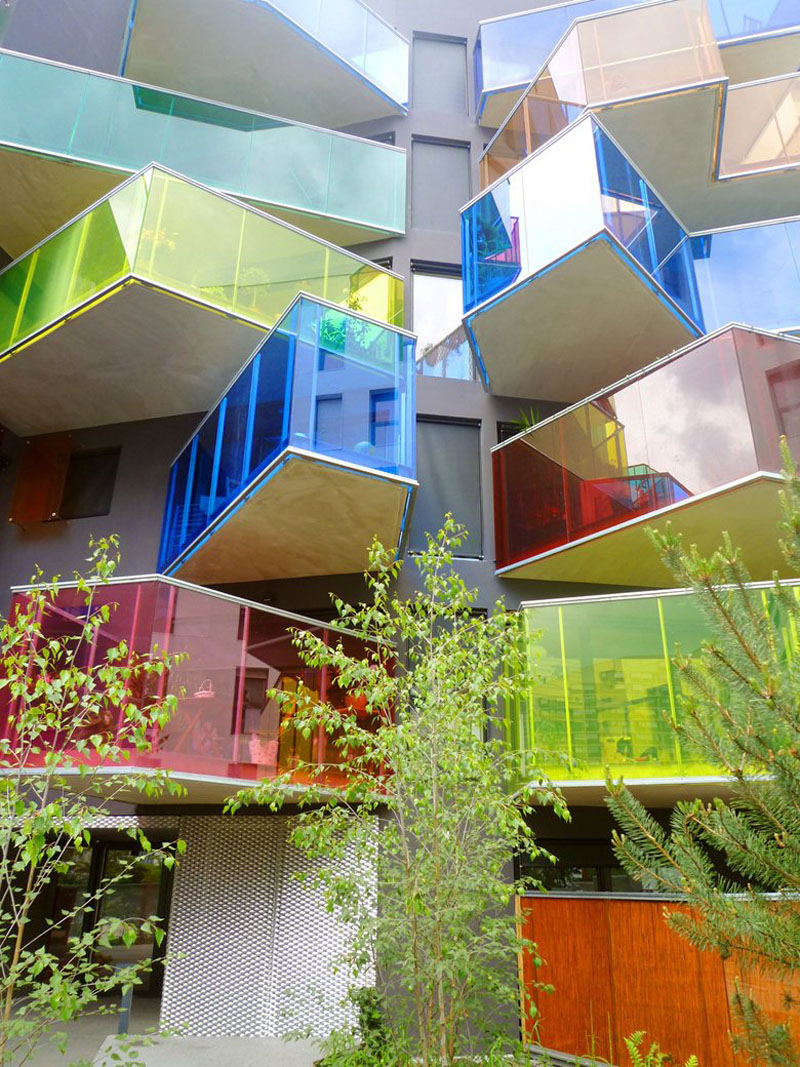 ---
10. The glass colored windows make this white hallway even brighter, with colors dancing on the wall as light hits the glass.
---

---