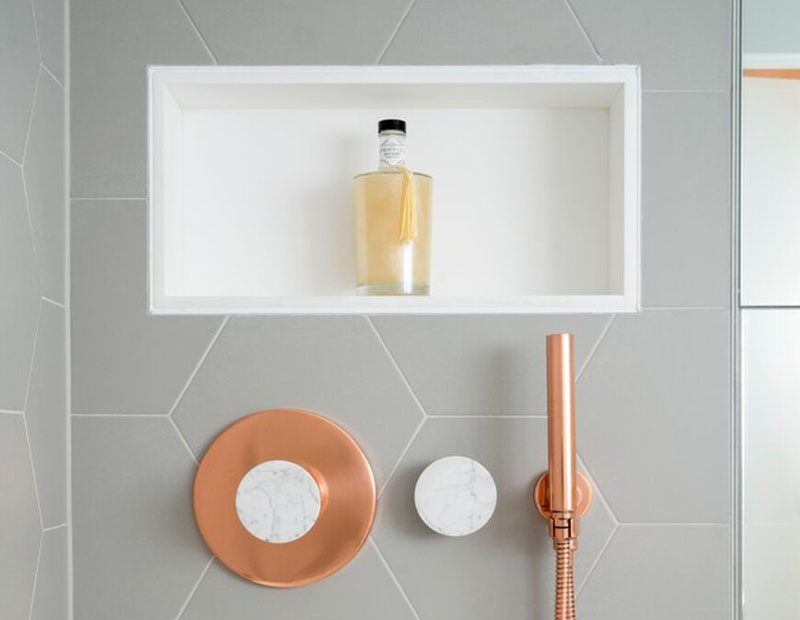 See more photos of this modern grey and white bathroom – here. Designed by Amberth Interiors.
A great way to add storage and style to a bathroom is by including a shower niche. A shower niche replaces the need for a corner shelf or a hanging caddy and adds a luxurious touch to the bathroom.
Let's take a look at the two main types of shower niches and how to install them.
Pre-Made Shower Niche – A pre-made product that you can buy at hardware stores, which can be placed between the studs in the shower wall to create the niche. They're waterproof and ready to tile. They also take the guesswork out of measuring to make sure they'll fit between the studs as they're often available in a variety sizes.
You can watch a video showing how to install a pre-made product – here. Basically, you locate the studs, draw an outline, cut the drywall, screw in the pre-made insert, add a waterproof membrane around it, then it's ready to tile.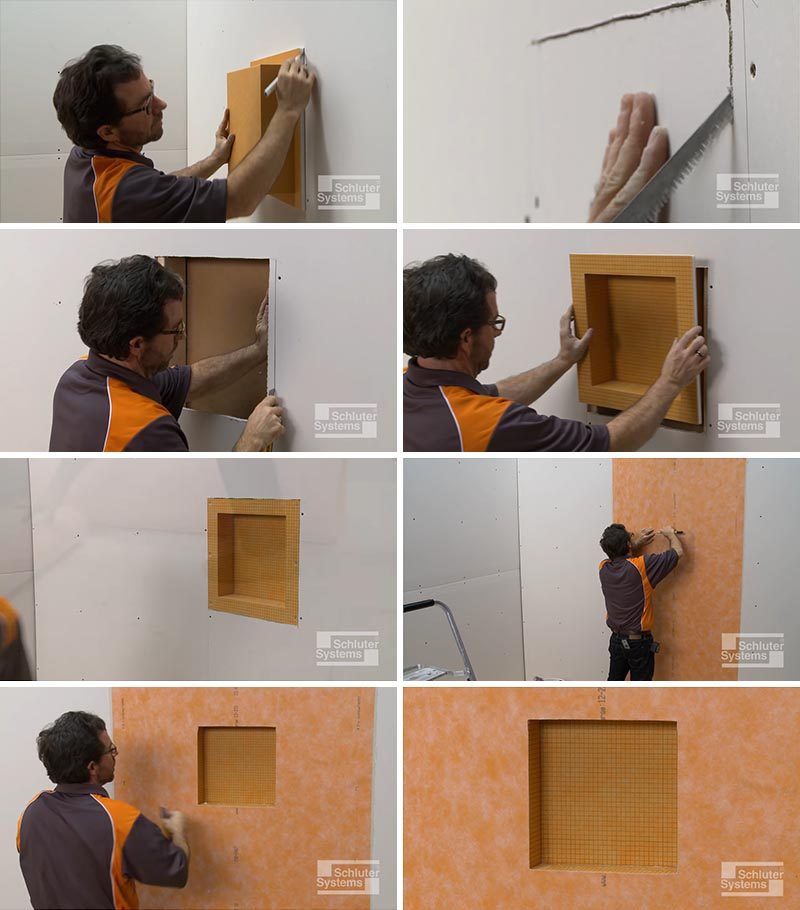 There's a variety of places where you can buy pre-made shower niches (also known as a pre-fab shower niche), and a few of them include:
– Dukliner
– Lowes
– Schluter Systems
– The Home Depot
---
Custom Built Shower Niche – This is a box built between the studs in the wall when the shower is being built. The box is then waterproofed and tiled at the same time as the shower. This is a good option if you want a unique size or shape.
You can watch a video on how to build a custom niche – here. The steps required include measuring out the niche, building the frame between the studs, adding drywall, sealing, and waterproofing. Once waterproofed, the niche is then ready to tile.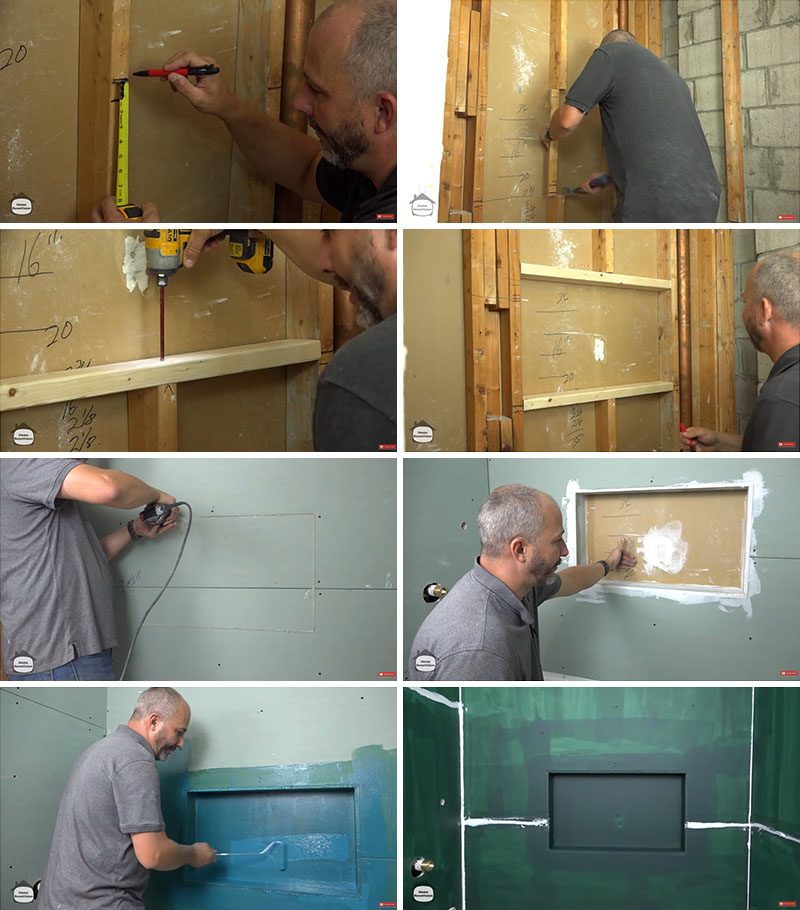 ---
Now that you have a general understanding of how to build a shower niche, there are a few other topics you should think about.
---
What Depth Should A Shower Niche Be?
The depth of most shower niches are typically about 3.5 inches (9cm) deep, allowing enough room to house your bathroom products.

Tip – The bottom shelf of your shower niche should slope ever so slightly away from the wall to help with water drainage. This is something that's already included in the design of most pre-made shower niches.
---
What Size And Layout Do You Want Your Shower Niche To Be
Shower niches can really be any size that you want, however, you should make sure the height of the niche is tall enough to house your largest shampoo bottles. You can choose a vertical niche, a horizontal niche, multiple niches, and a variety of other styles, depending on your needs and bathroom design.
---
Make Sure To Choose The Correct Wall For A Shower Niche Installation
If you want to be able to reach your bathroom products, without interrupting the water spray, it's best if the shower niche is installed on the wall opposite or adjacent to the showerhead.

One thing to keep in mind is that you may not be able to install a shower niche on an exterior wall. So it's best to ask your bathroom contractor for further details about your specific layout.
---
Shower Niche Ideas To Inspire You
Here are some finished examples to give you inspiration for your own shower niche.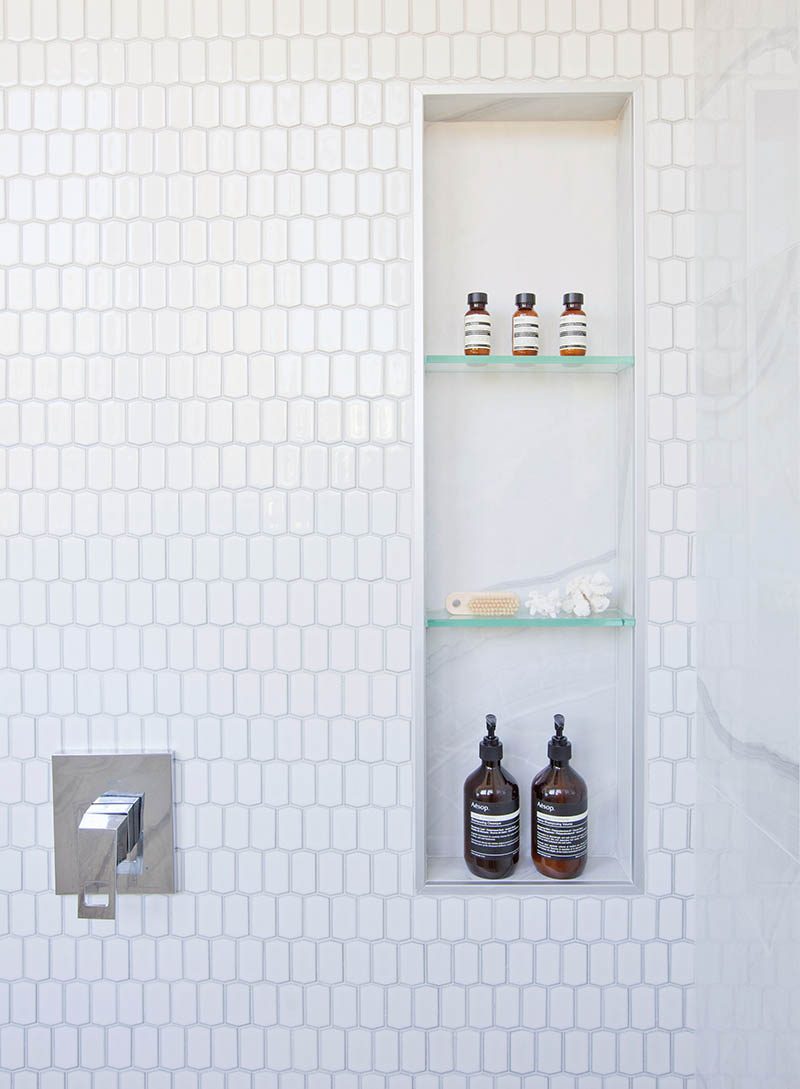 ---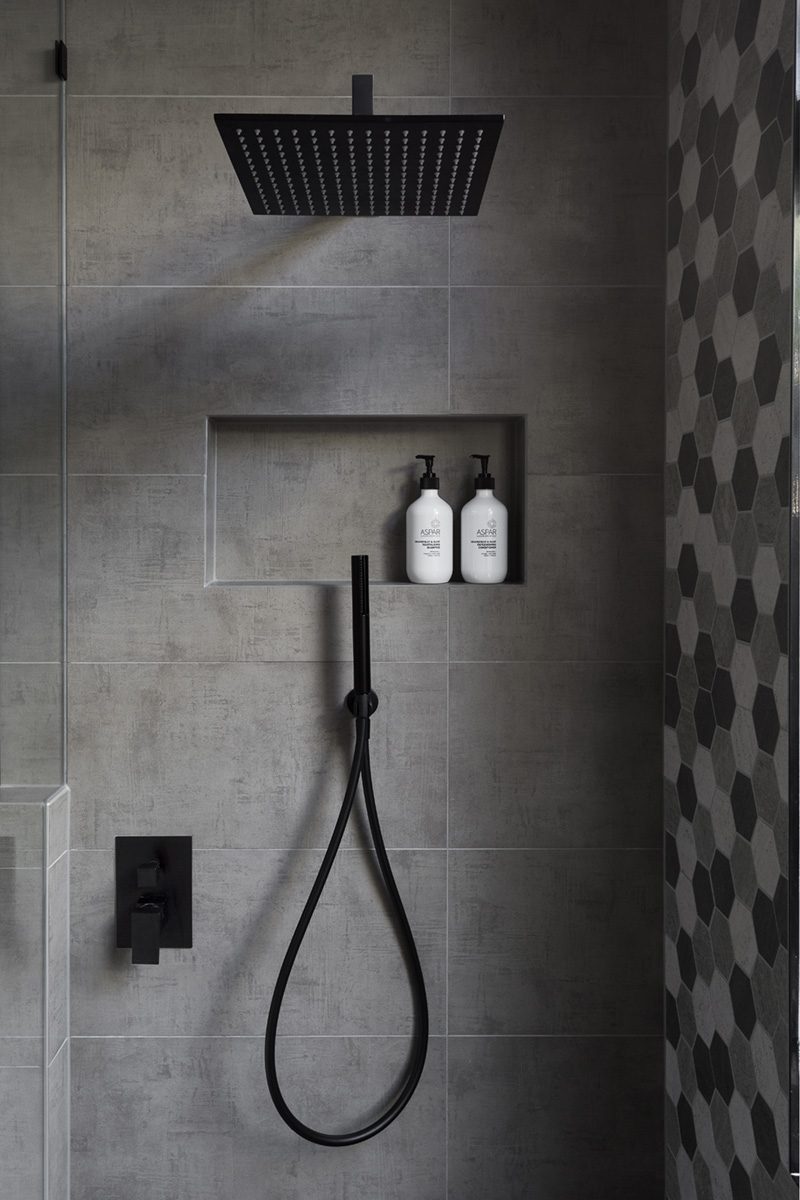 See more photos of this grey and white bathroom – here. Designed by GIA renovations. Photography by Martina Gemmola.
---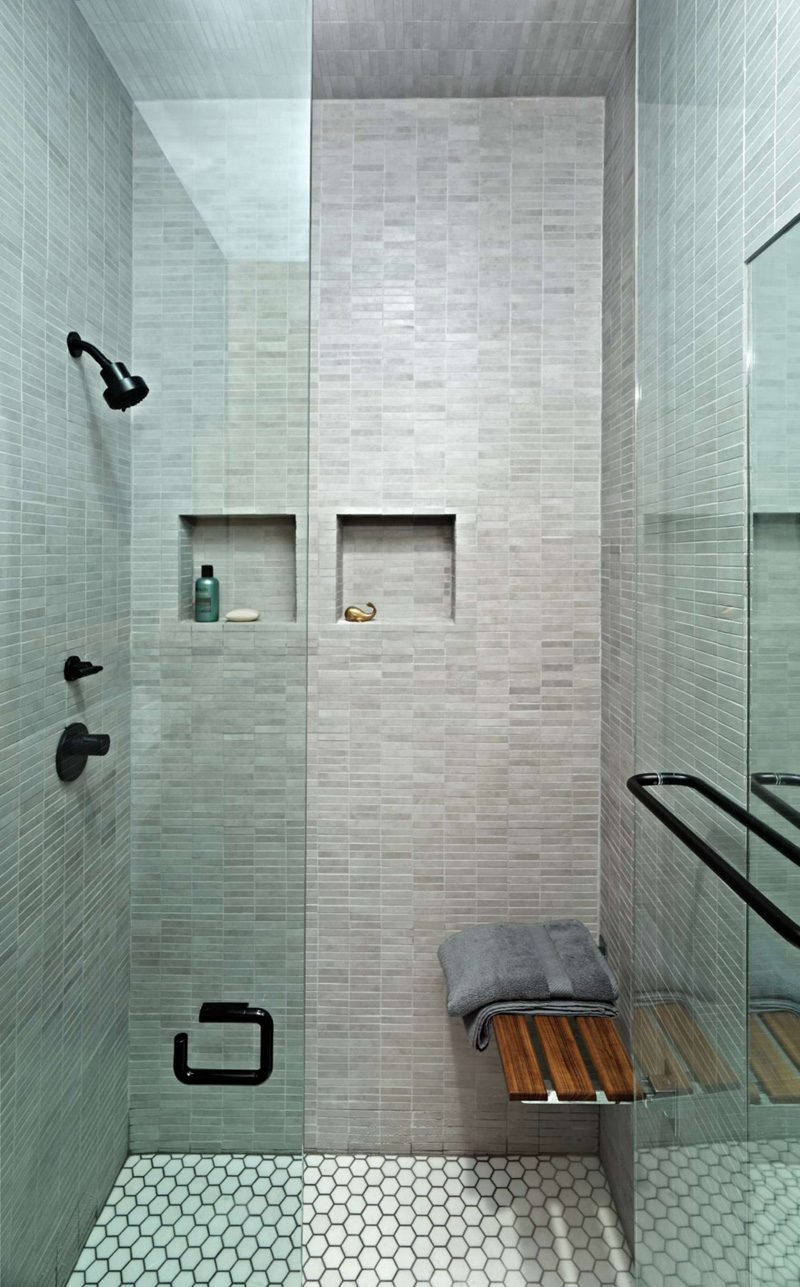 ---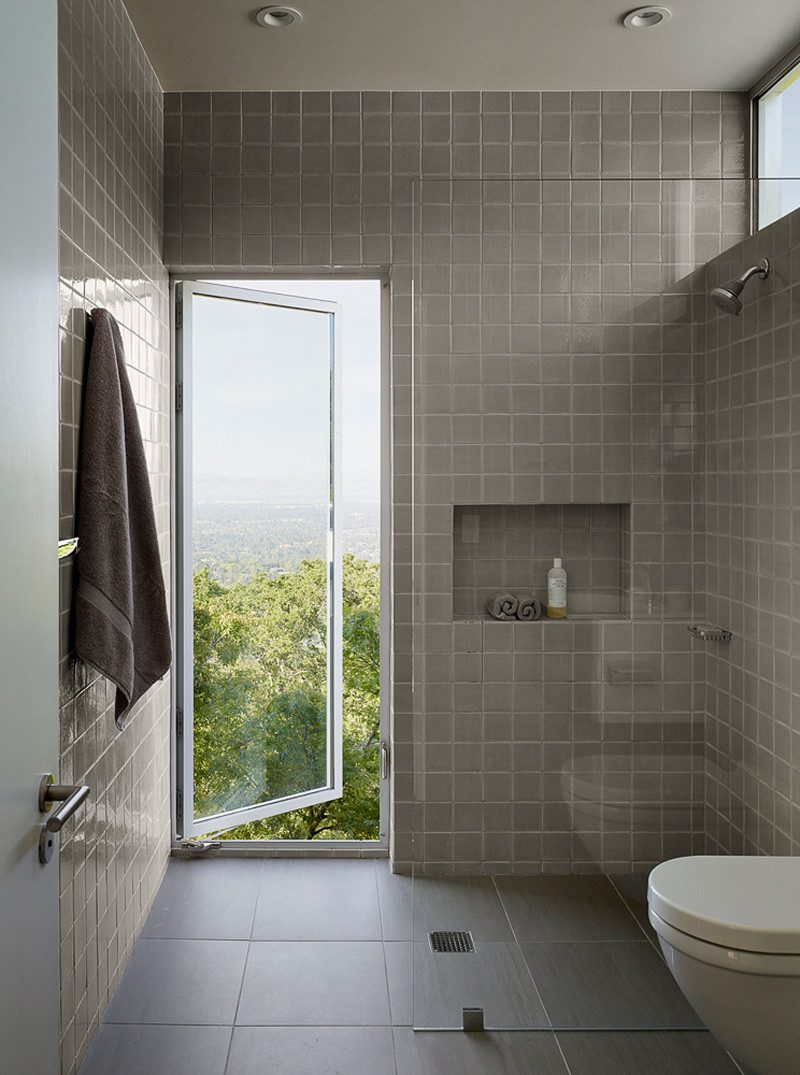 ---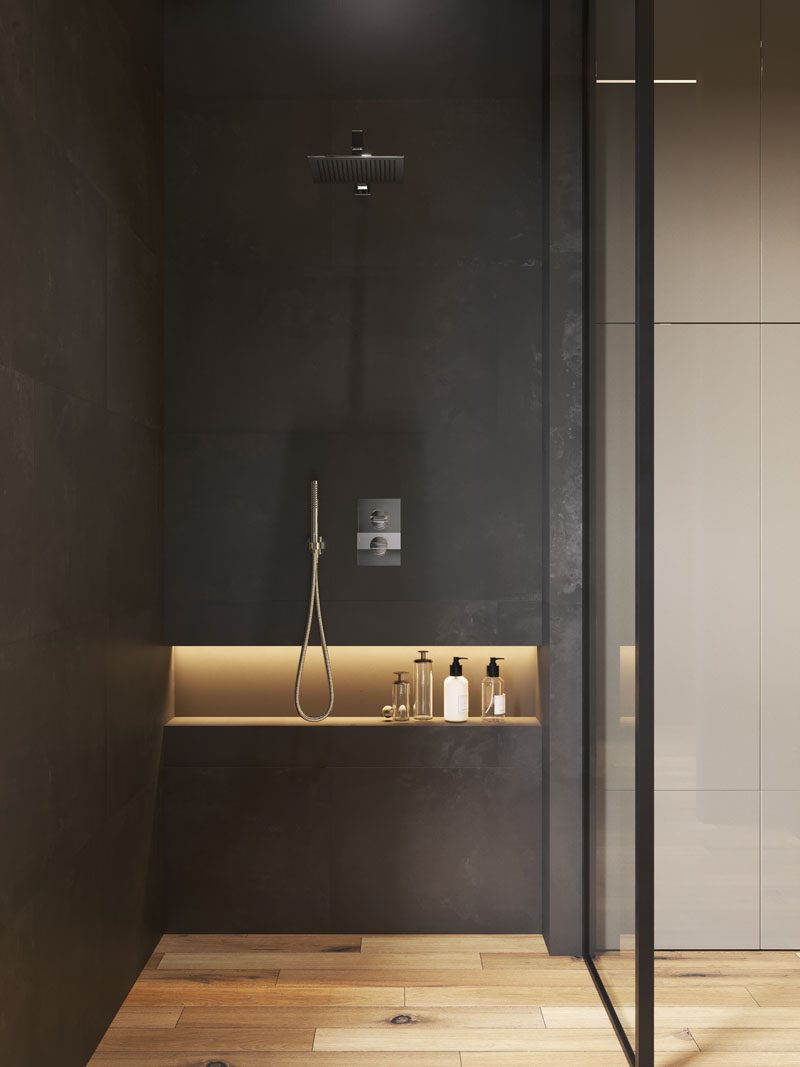 See more photos of this apartment – here. Designed by Cartelle Design.
---
Learn more about shower niches here:
9 Shower Niche Ideas To Create The Perfect Bathroom
What Is The Standard Height For A Shower Niche?
---
Get the contemporist daily email newsletter – sign up here