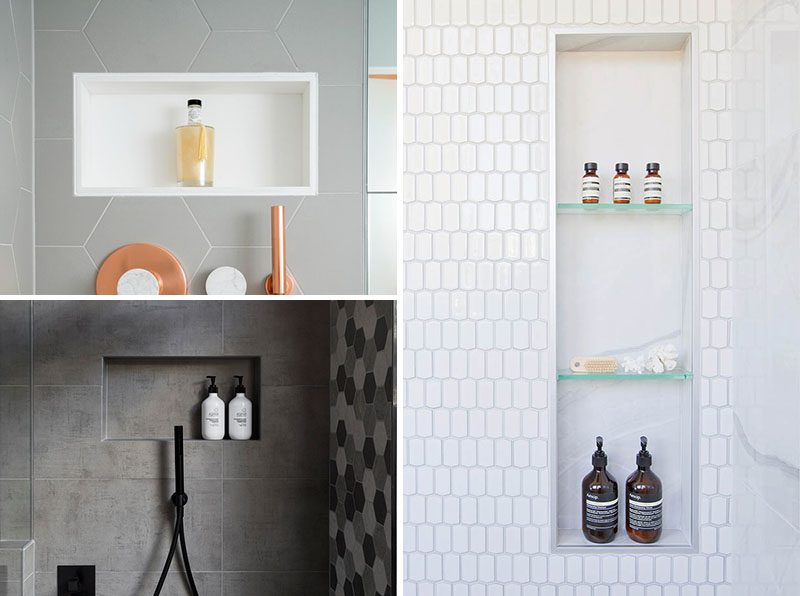 If you want your shower to look more like a spa than a storage place for various shampoo bottles and soaps, then consider installing a shower niche in your bathroom.
A shower niche is a built-in shelf that's recessed into the wall of the shower to provide storage space for bathroom products. It replaces the need for a caddy hanging from the showerhead, a corner shelf that's hard to clean, or bottles sitting on the shower floor. It allows you to keep your shower looking clean and organized, and provides a more luxurious appearance.
Now it's time for some design inspiration. Below, you'll find examples that show a variety of ways that shower niches can be designed, from almost completely blending in, to standing out with hidden lighting, to multiple niches, as well as ones with glass shelves inside them.
---
1. Horizontal Shower Niche
A horizontal shower niche is one that's longer than it is higher. This is ideal if you have a larger shower and want to take advantage of the wall space.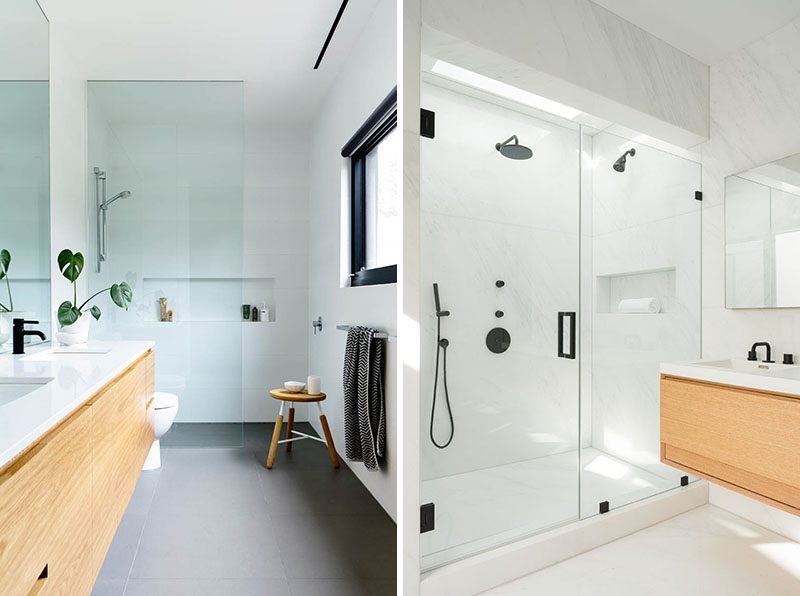 LEFT – See more photos of this modern wood house – here. Designed by InForm Design. // RIGHT – See more photos of this West Hollywood house – here. Designed by AUX Architecture. Photo by Hunter Kerhart.
---
2. Vertical Shower Niche
Taller than it is wide, a vertical shower niche is often a good choice when there's a smaller shower stall.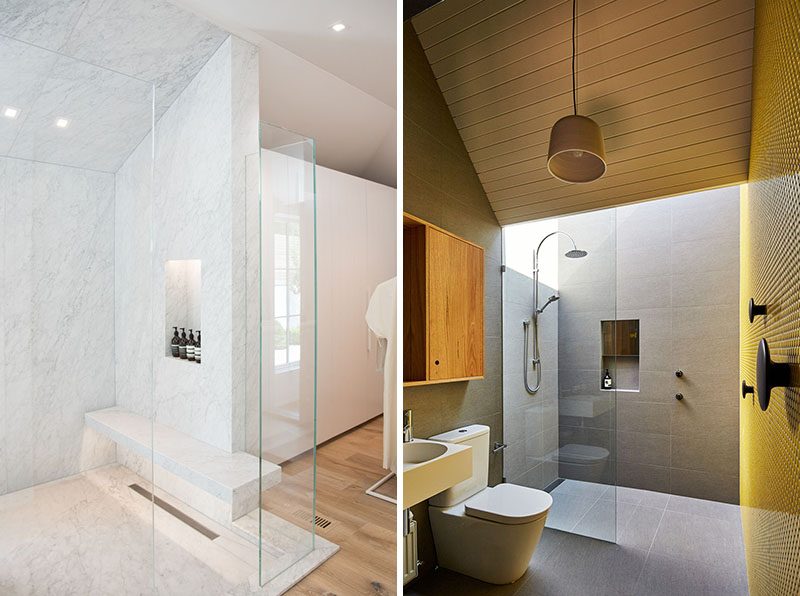 LEFT – See more photos of this open plan bathroom and walk-in closet – here. Design by LA Closet Design. // RIGHT – See more photos of this house in Australia – here. Designed by MAKE Architecture. Photo by Peter Bennetts.
---
3. Shower Niches That Blend In
If you want your shower niche to have a seamless finish, consider using the exact same tile that you have on the walls that surround it. This way the shower niche will blend in, and not draw attention away from other focal points, like the hexagonal tile accent wall or the vertical window in the bathroom photos below.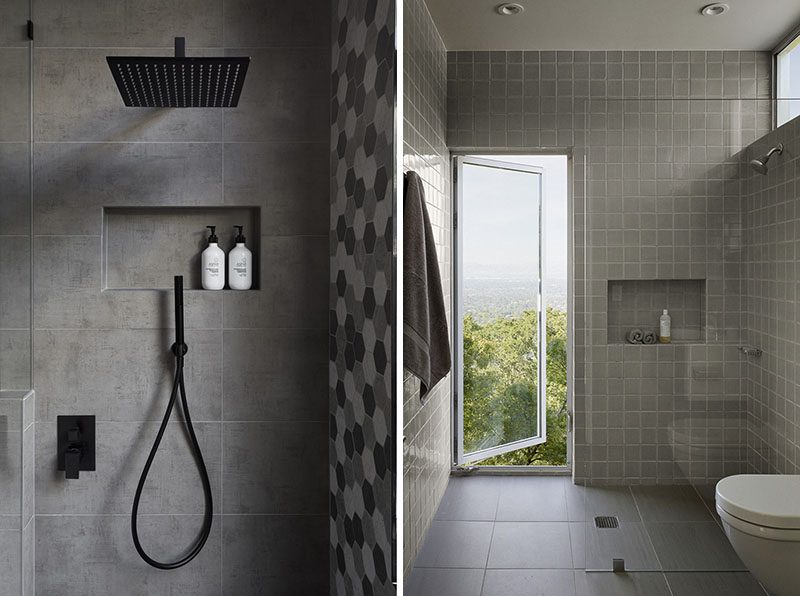 ---
4. Contrasting Shower Niche
A shower niche that's lined with contrasting material or color draws attention to the shower. To create a contrasting look, choose the opposite color. For example, if you have lighter shower walls, line your shower niche with a darker material, alternatively, if you have darker shower walls, use lighter materials.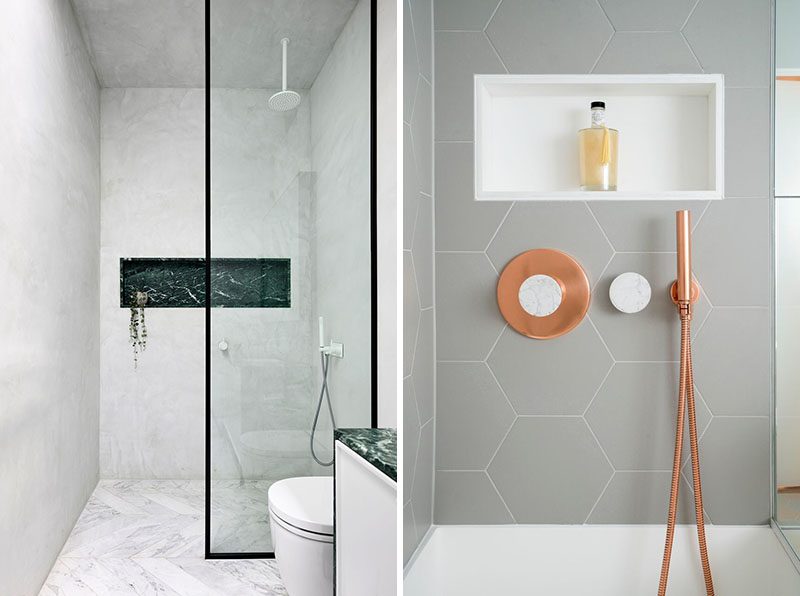 LEFT – See more photos of this modern bathroom – here. Designed by Biasol. Photo by Derek Swalwell. // RIGHT – See more photos of this modern grey and white bathroom – here. Designed by Amberth Interiors.
---
5. Shower Niche With Hidden Lighting
Lighting in the shower is a design choice that is often overlooked. If you want to add lighting to your shower, but also want to highlight your shower niche, you can install waterproof LED lighting. By installing a strip of LED lights, the shower niche becomes a focal point in the bathroom, and adds a warm relaxing glow, helping to achieve a spa-like bathroom experience.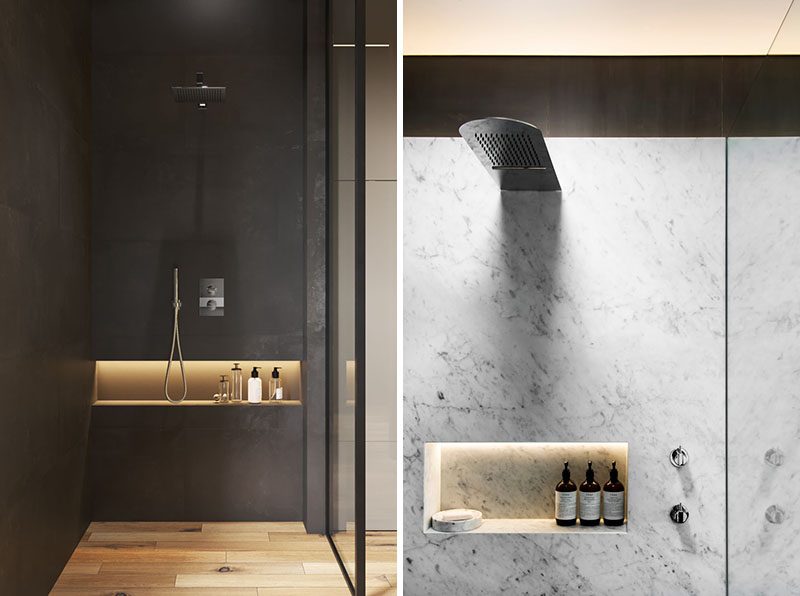 LEFT – See more photos of this apartment – here. Designed by Cartelle Design. // RIGHT – See more photos of this monochromatic bathroom – here. Designed by Minosa Design.
---
6. Framed Shower Niche
One way to make your shower niche stand out is to frame it. In the example below, the niche has been highlighted with a black frame that complements other black details, like the shower frame and shower wand.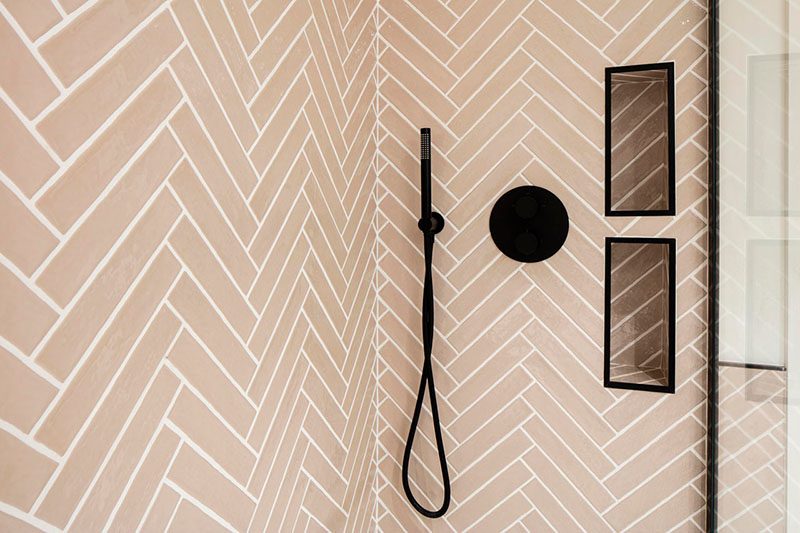 ---
7. Multiple Shower Niches
Why have just one, when you can have two? Having multiple shower niches allows for more storage, and if you share a bathroom, each person can have their own shelf. Multiple shower niches positioned vertically can also solve the problem of having shelves at different heights for taller and shorter family members.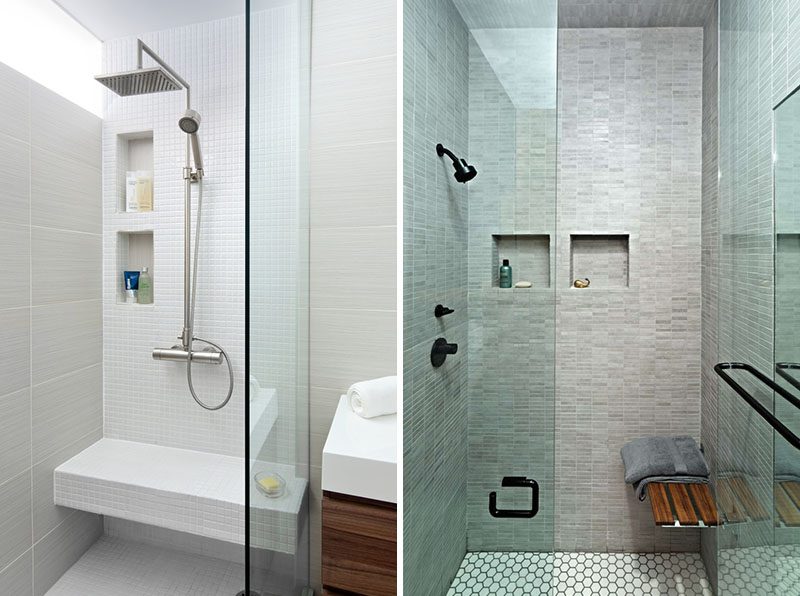 ---
8. Shower Niche Designs With Shelves
If you do decide to go with a vertical shower niche, and you want to make the most of the available height, consider including shelves. These can be made from the same material that you're covering your shower niche with, or you can have glass shelves installed.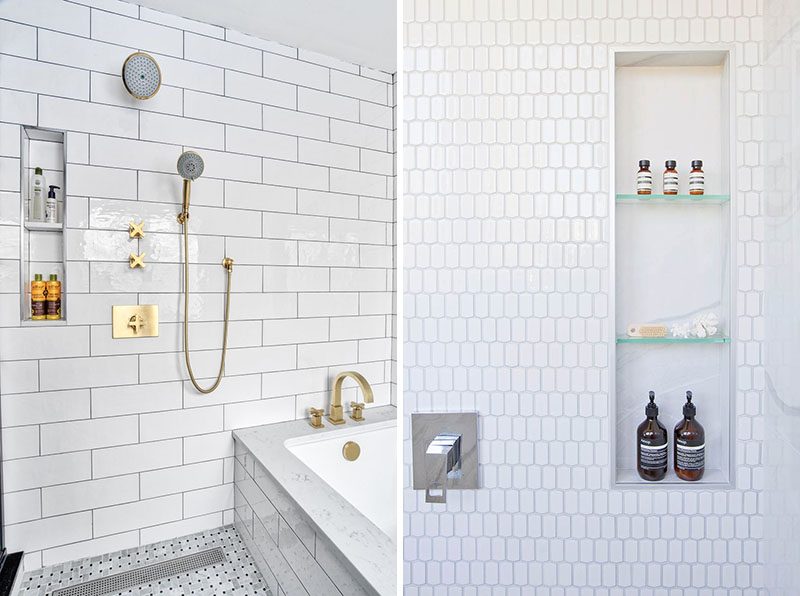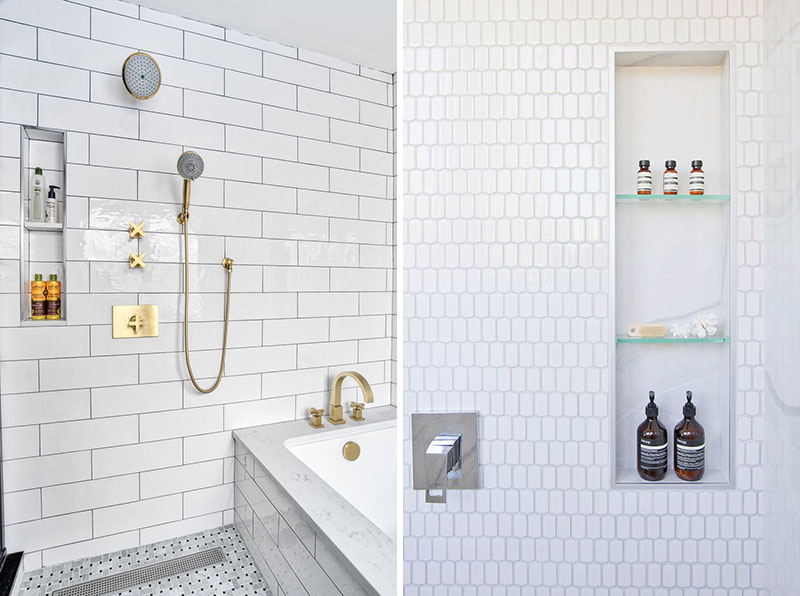 ---
9. Multi-Height Shower Niche
To accommodate multiple height bottles, you might want to think about a niche that combines both a vertical and horizontal design. This allows taller bottles to have plenty of height, while smaller bottles and soaps can be placed on the smaller shelf.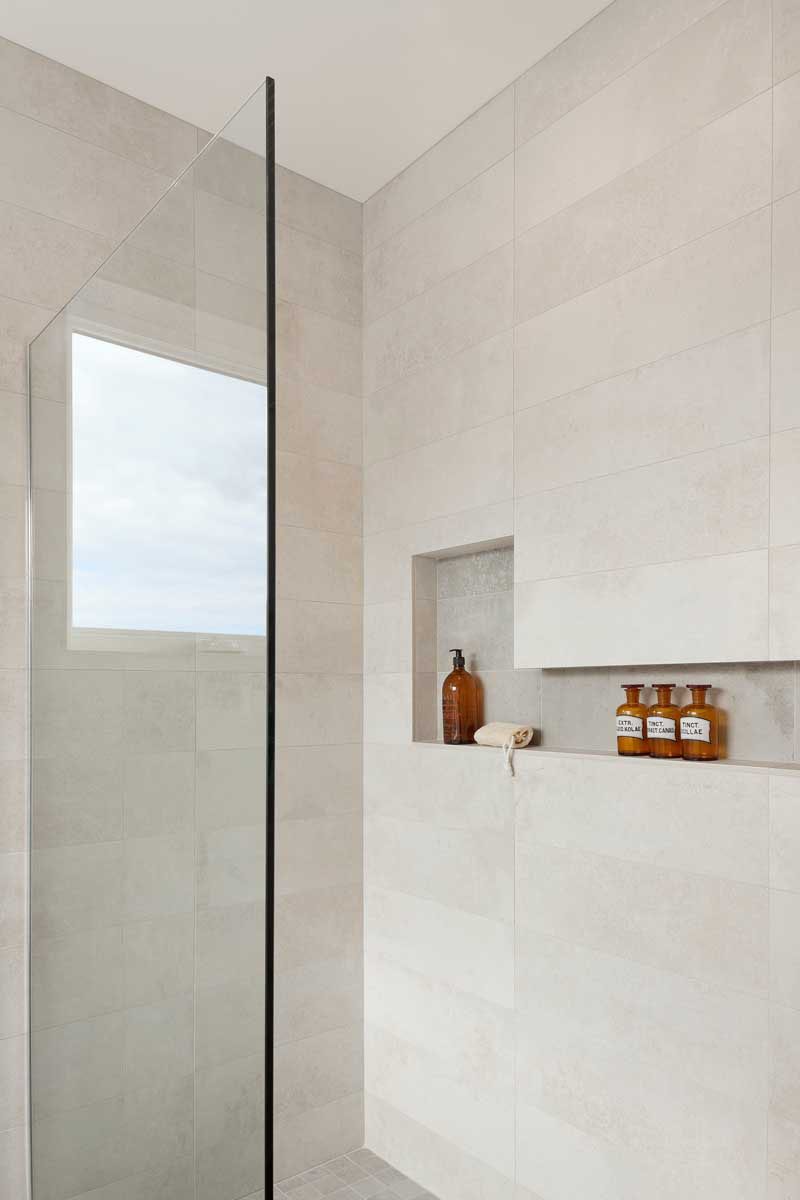 See more photos of this modern wood house in Seattle – here. Designed by First Lamp. Photo by Tim Bies Photography.
---
Learn more about shower niches here:
How To Build A Shower Niche
What Is The Standard Height For A Shower Niche?