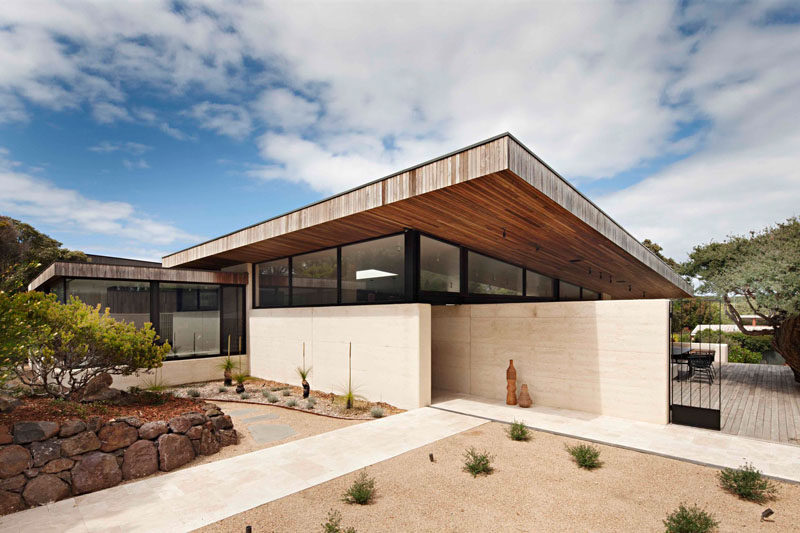 Robson Rak Architects and Interior Designers have recently completed the Layer House, a home in Victoria, Australia, built using rammed earth and timber.
---
Local materials and techniques were used when building the home, with the sand component of the rammed earth being locally sourced and built by local artisans.
---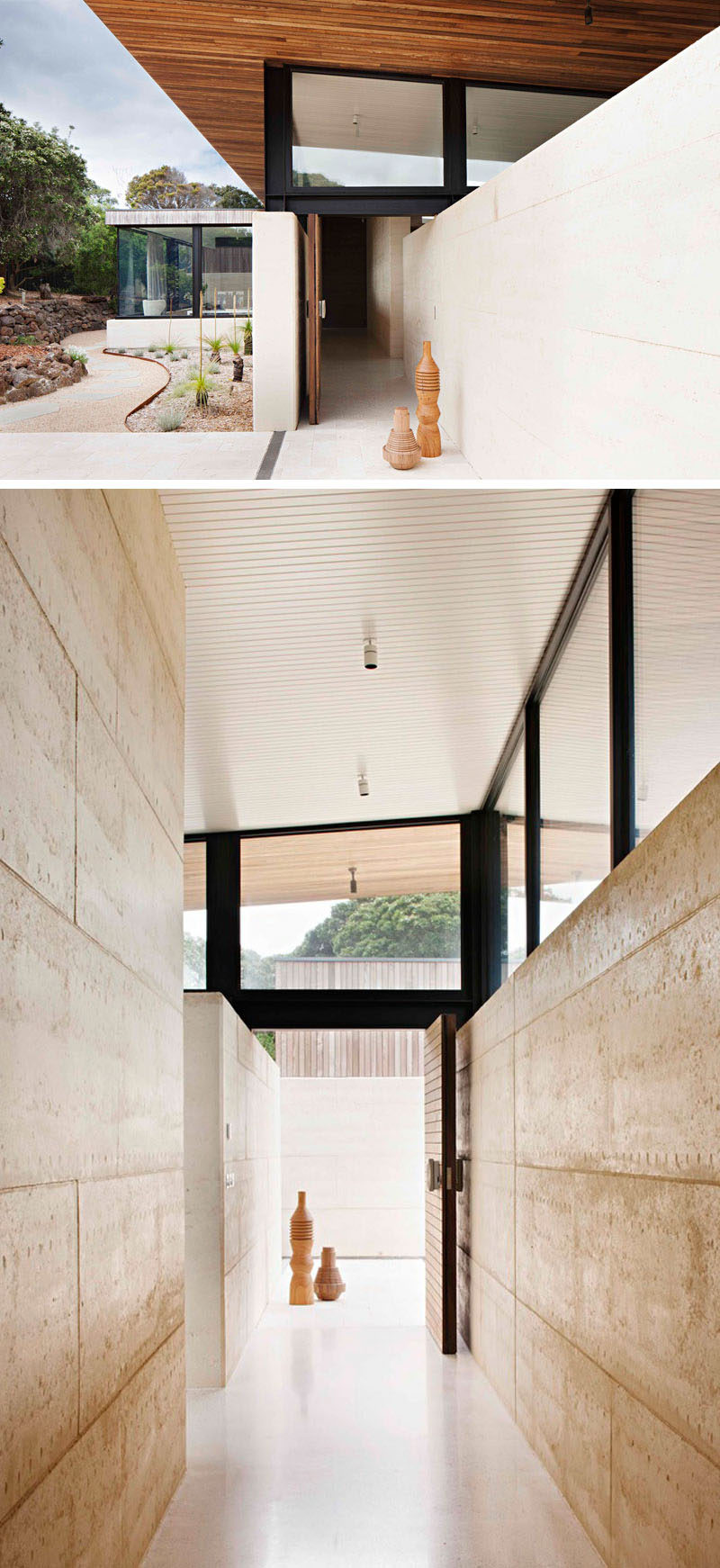 ---
Heading inside the home, you can see the rammed earth walls throughout, like in the study that's located off the main entrance hallway. Large windows provide views of the garden outside, while on the opposite wall, a black built-in bookshelf is surrounded by dark wood.
---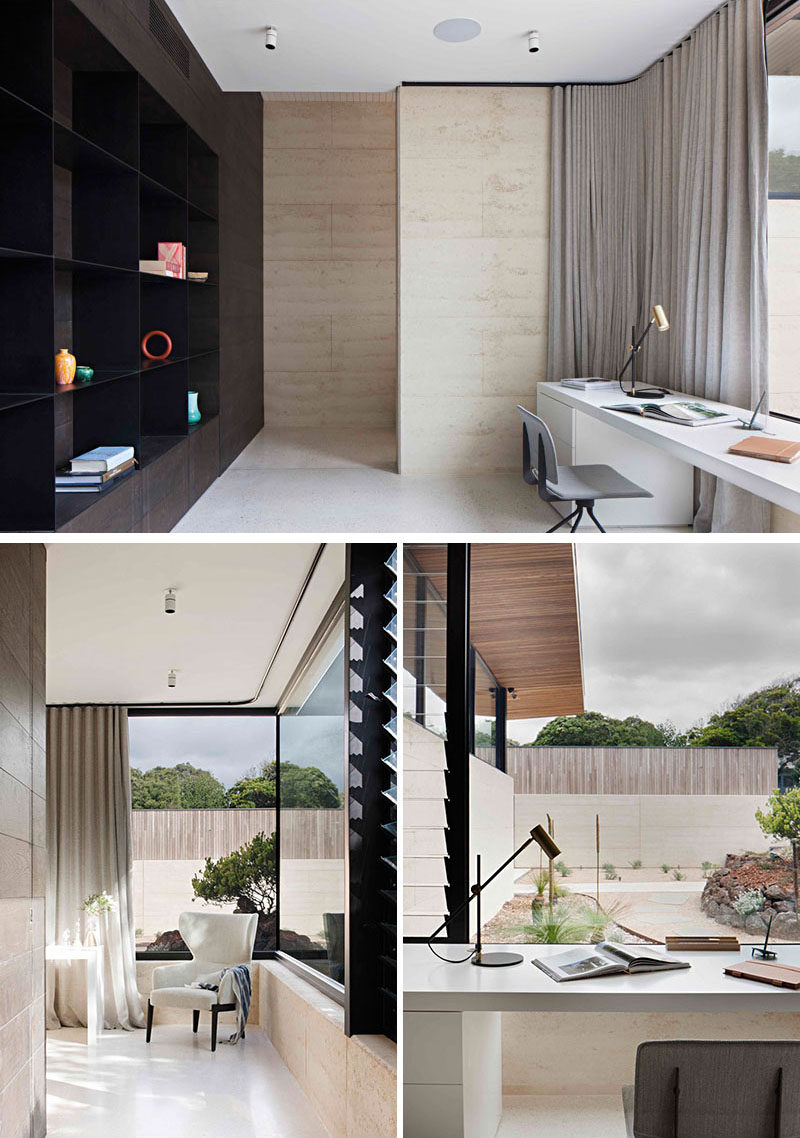 ---
Around the corner from the study is a bedroom. It too looks out to the garden and a wall of dark cabinetry lines the wall. Shelving above the bed provides a place to store favorite books and decorative elements.
---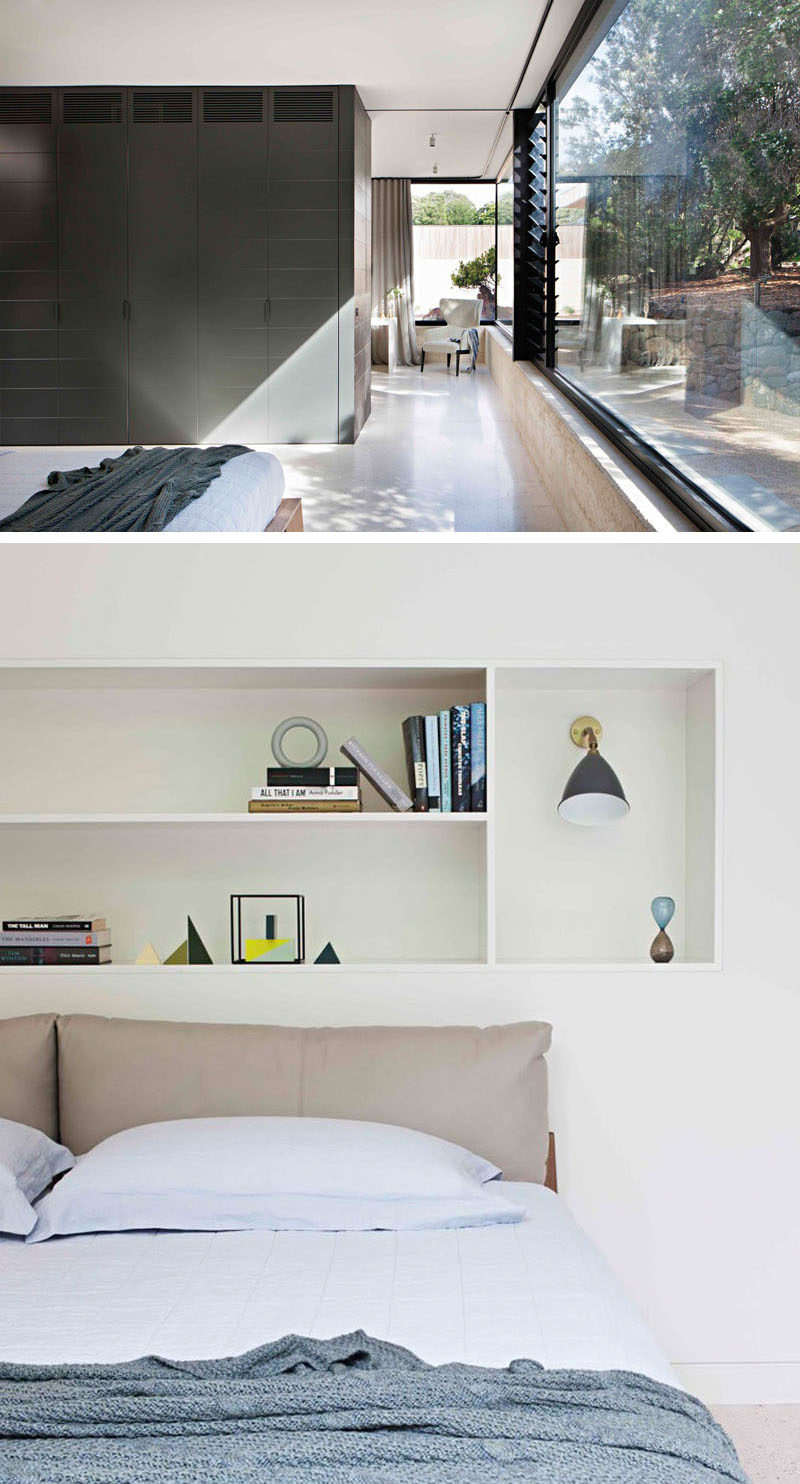 ---
Tucked in behind the bedroom is an ensuite bathroom. A skylight and louver windows provide natural light, and the large round mirror reflects the light throughout the space.
---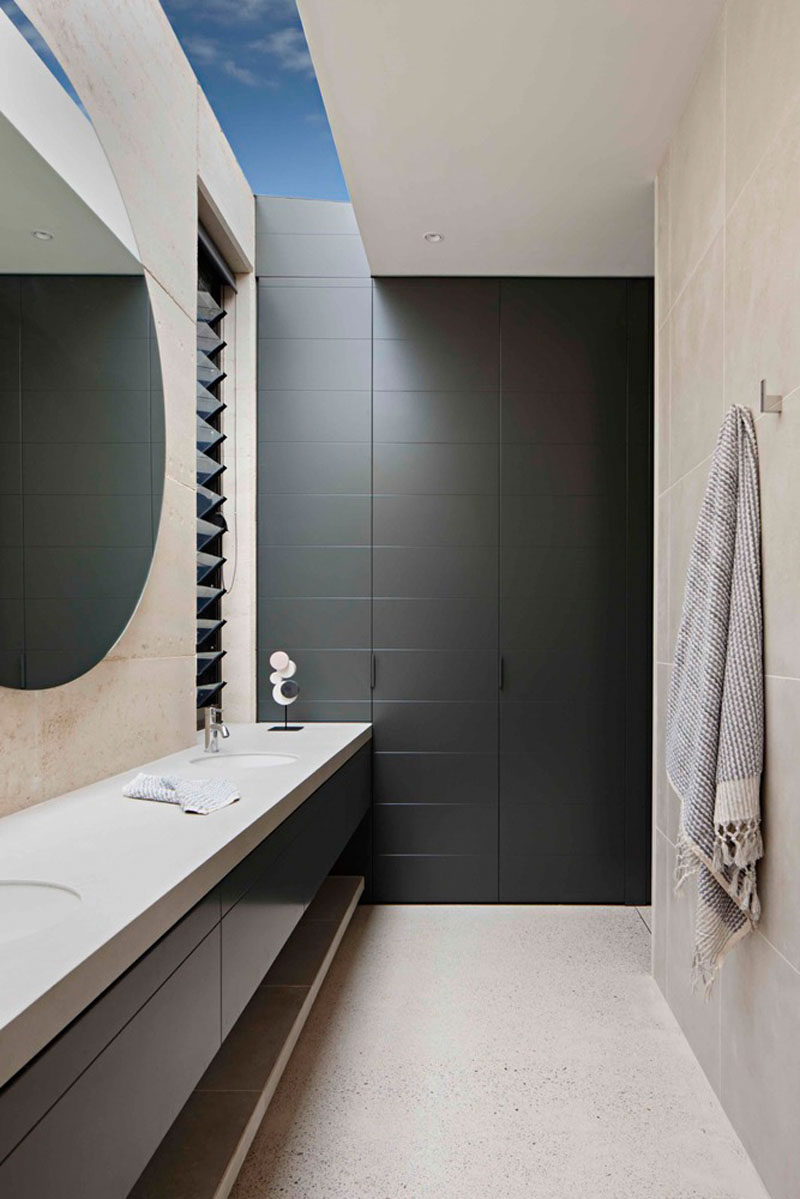 ---
On the other side of the entrance hallway is the main living area that's home to the living room, dining room and kitchen.
---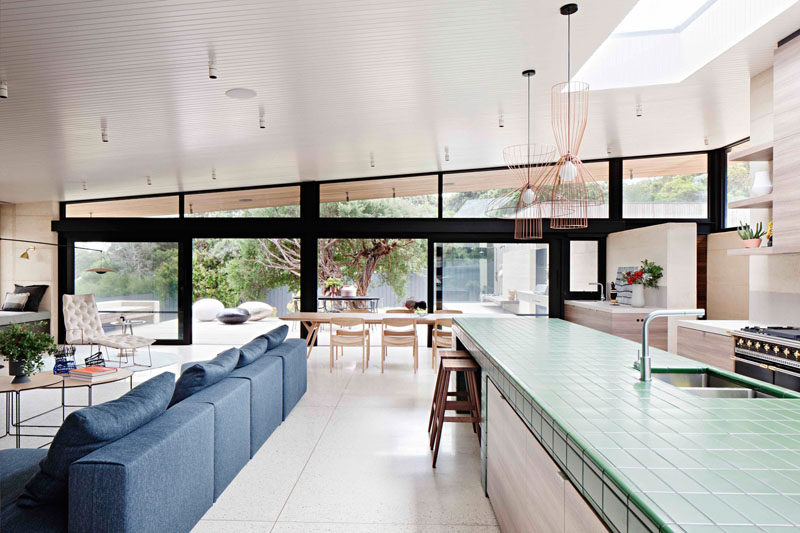 ---
The living room is focused on a fireplace, while the dark blue couch is adds a touch of color to the interior. Black framed aluminium doors and windows fill the open room with plenty of natural light.
---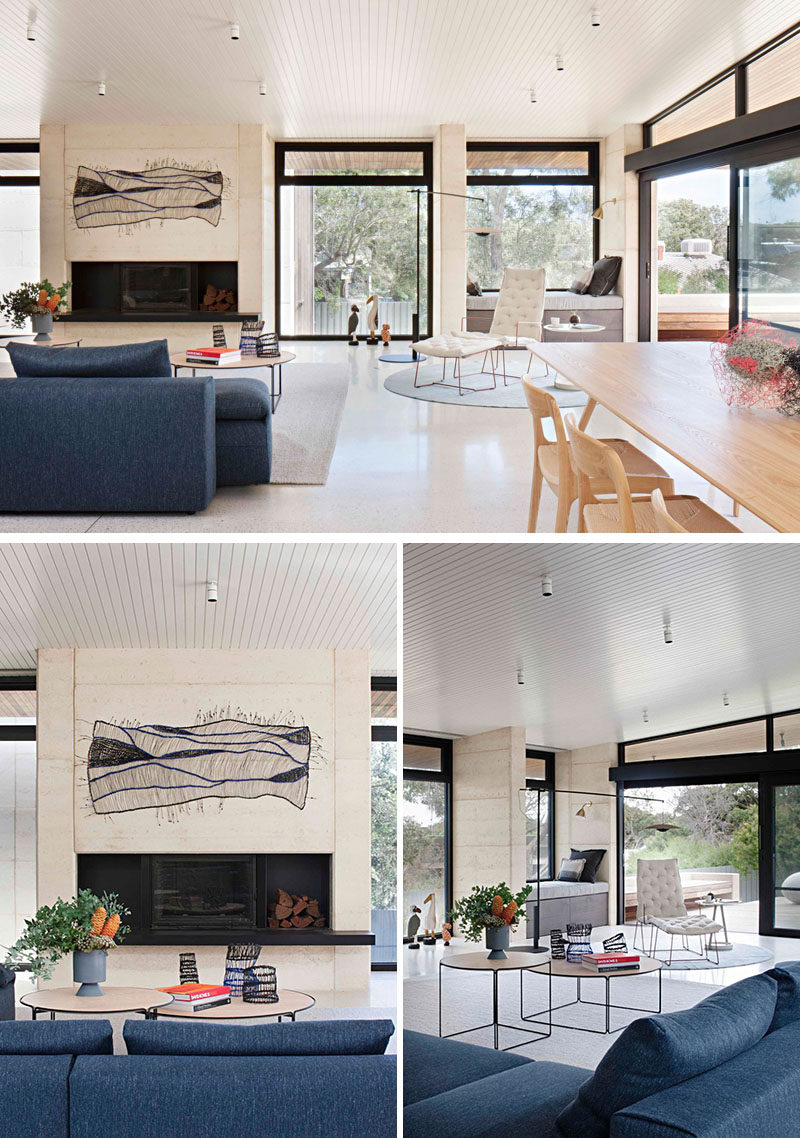 ---
Next to one of the windows is a built-in window seat with a wall light, allowing for nighttime reading.
---

---
Also in the living area is a large black bookshelf with dark wood, similar to the bookshelf in the study.
---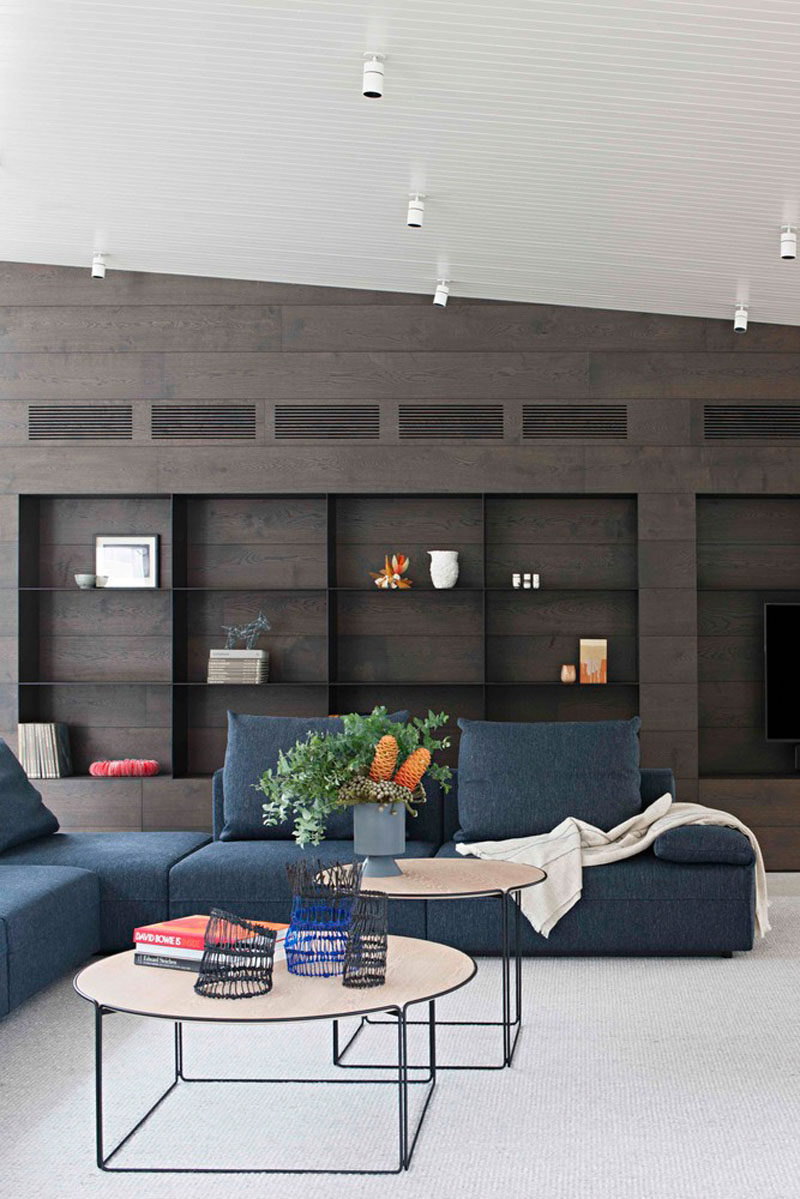 ---
Next to the living area is the kitchen. A large green-tiled island adds a pop of color and helps to connect the landscaping with the interiors. Light wood cabinets run along the wall with open shelves flanking each side of the exhaust fan.
---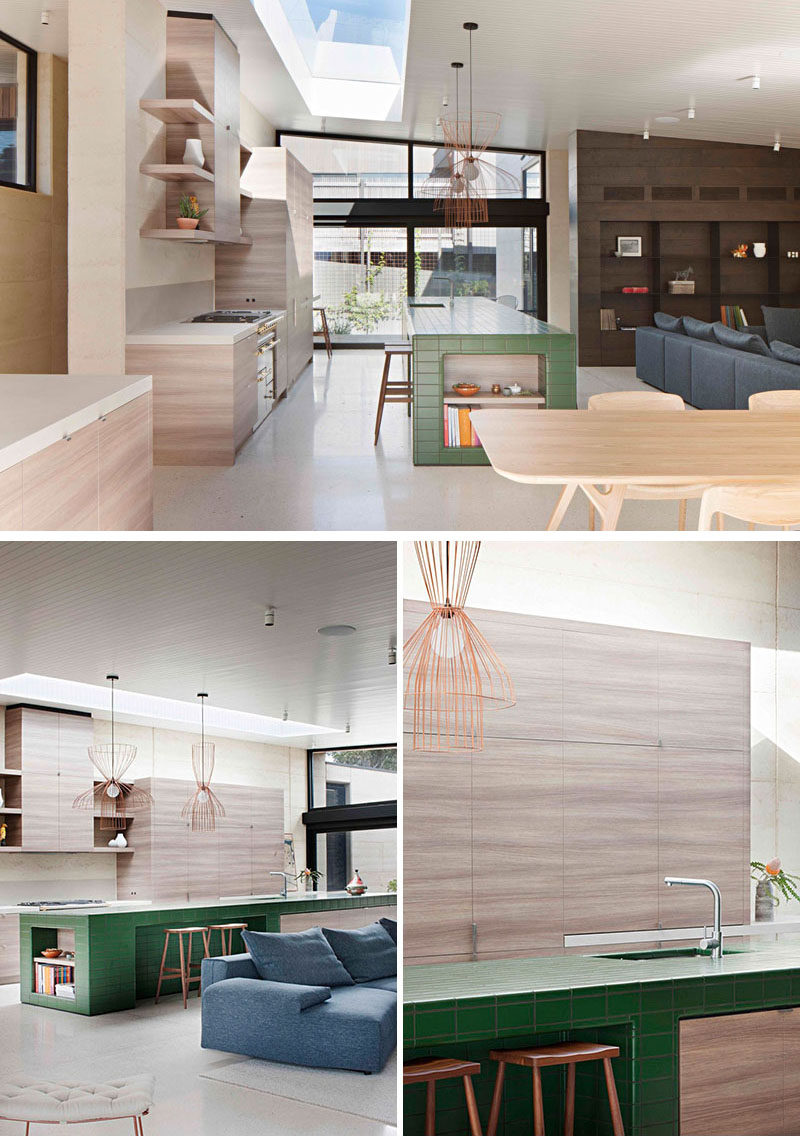 ---
On the other end of the kitchen cabinets is a small built-in desk. A large sliding door opens to reveal a small patio area.
---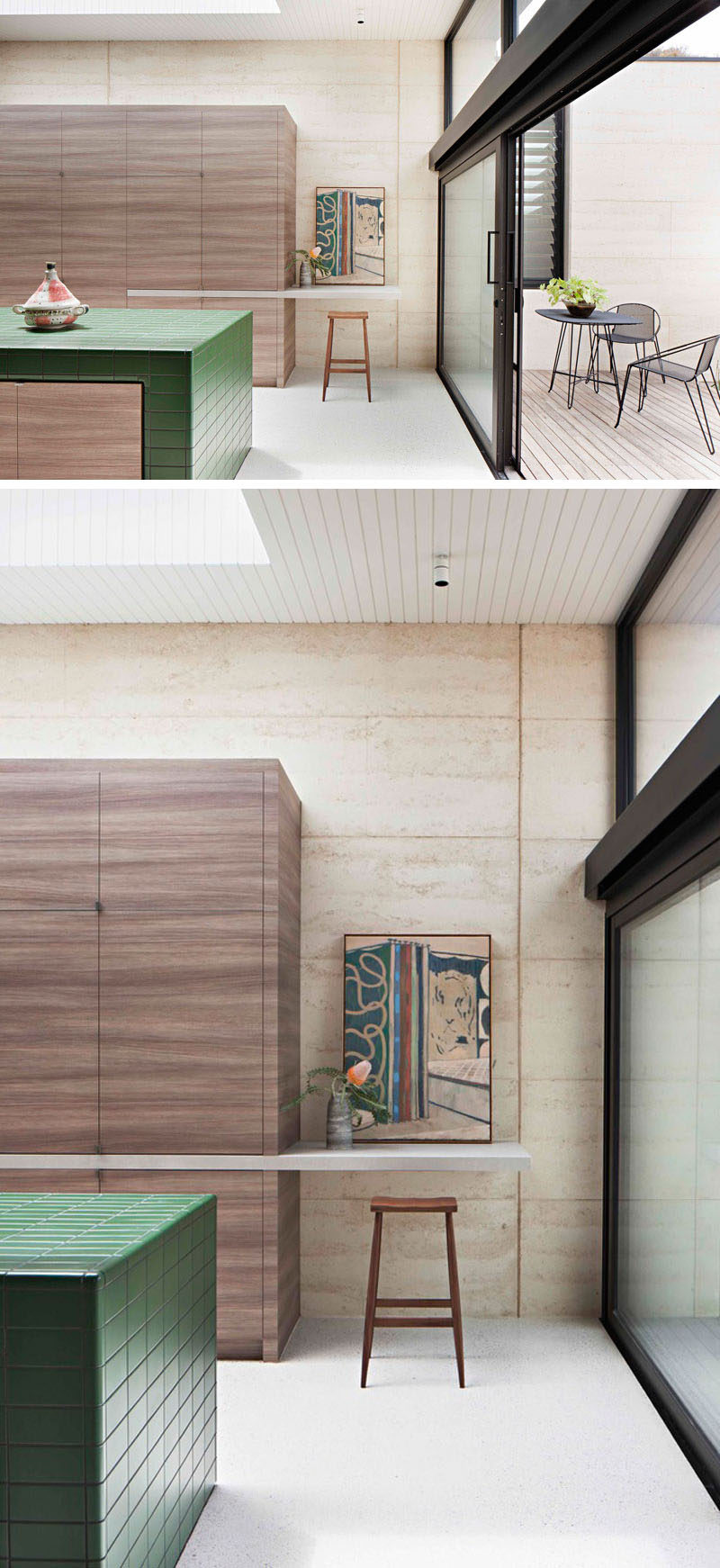 ---
At the other end of the kitchen is the dining area. A bar area with a sink matches the kitchen cabinets, and the light wood dining set and pale concrete floor helps to keep the interior bright.
---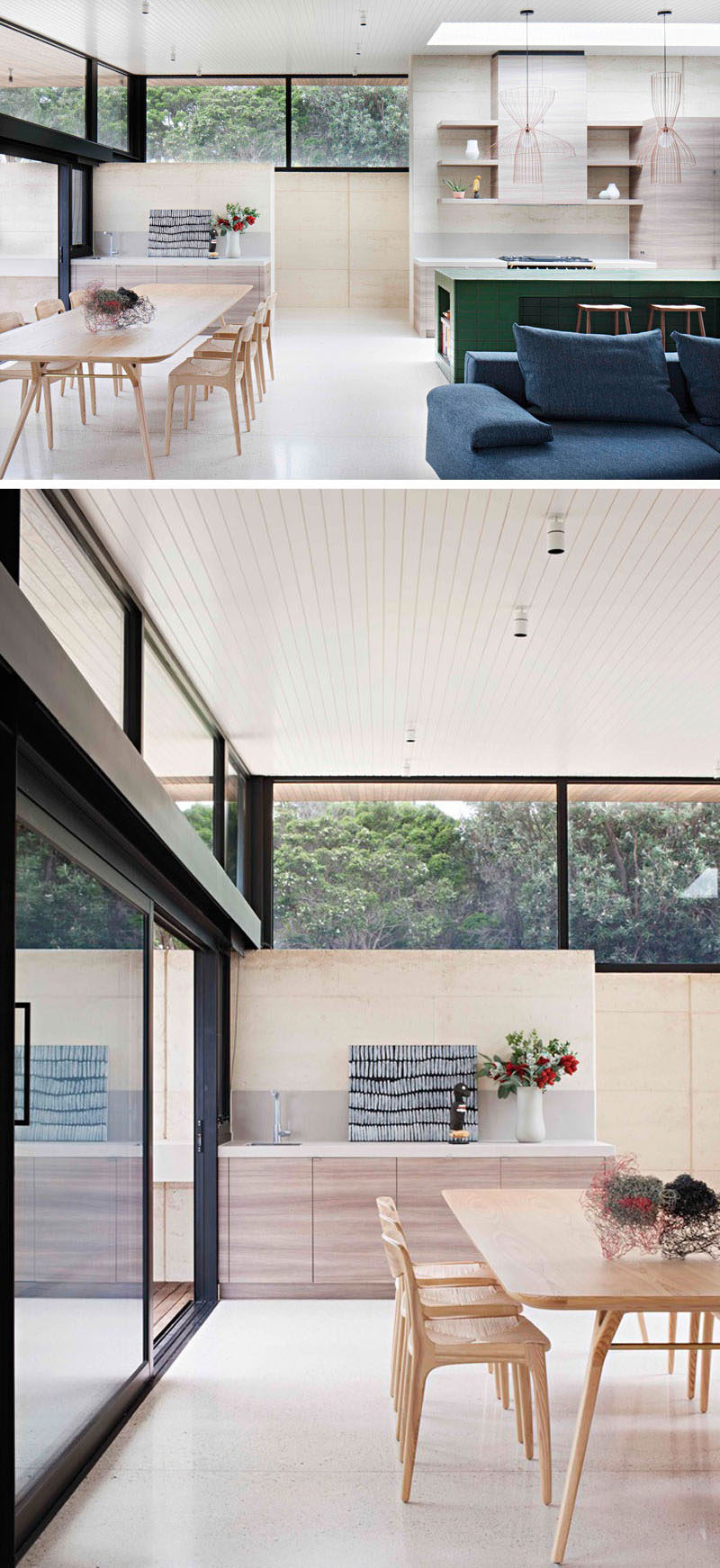 ---
Through the sliding doors next to the living and dining area is a large partially covered outdoor terrace. Wood has been used for the flooring and the ceiling, while built-in elements like an outdoor bbq area and bench seating have been added.
---

---
Next to the terrace and alongside the back wall of the garage is a built-in bench, wall hooks and an outdoor shower.
---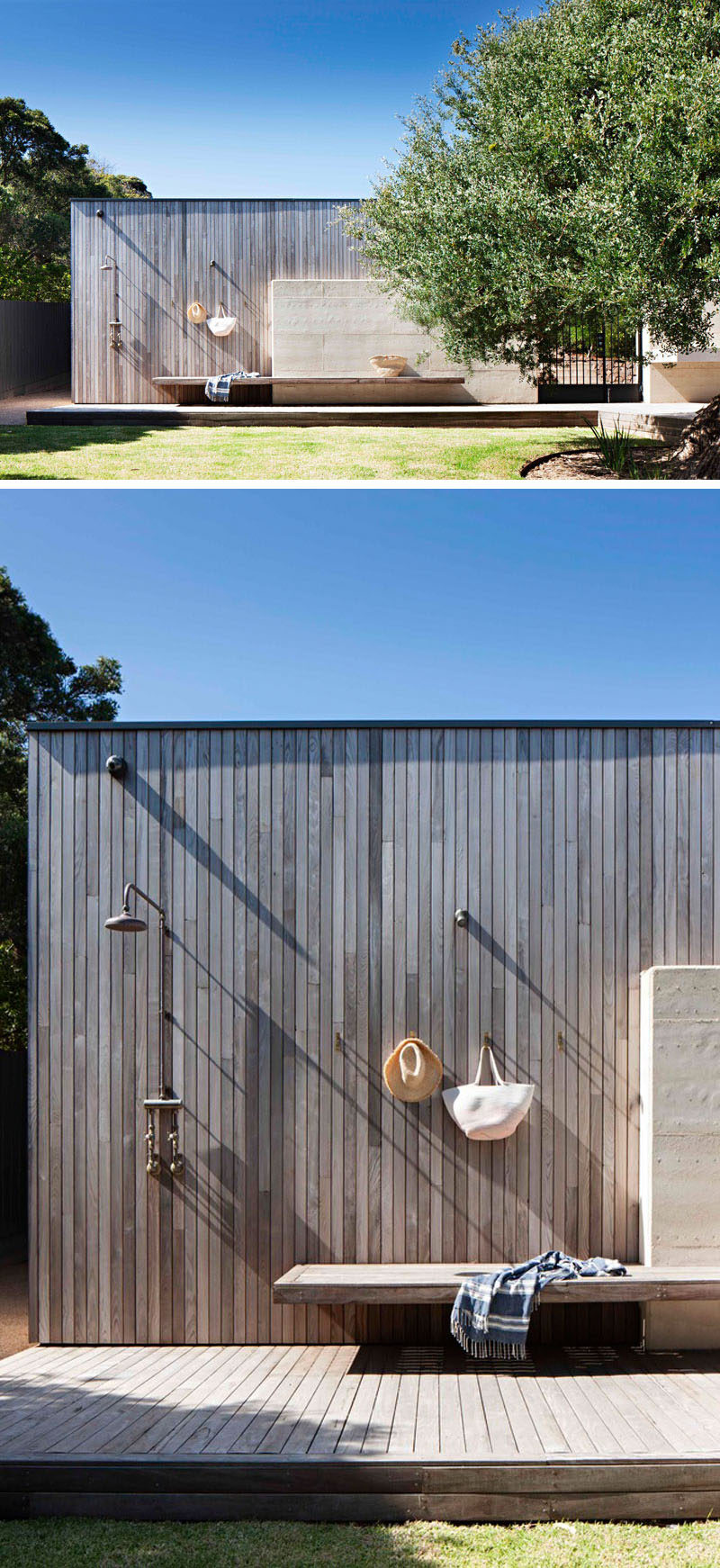 ---
The terrace also provides views and access to the landscaped backyard, where rusted steel as been used as a decorative element.
---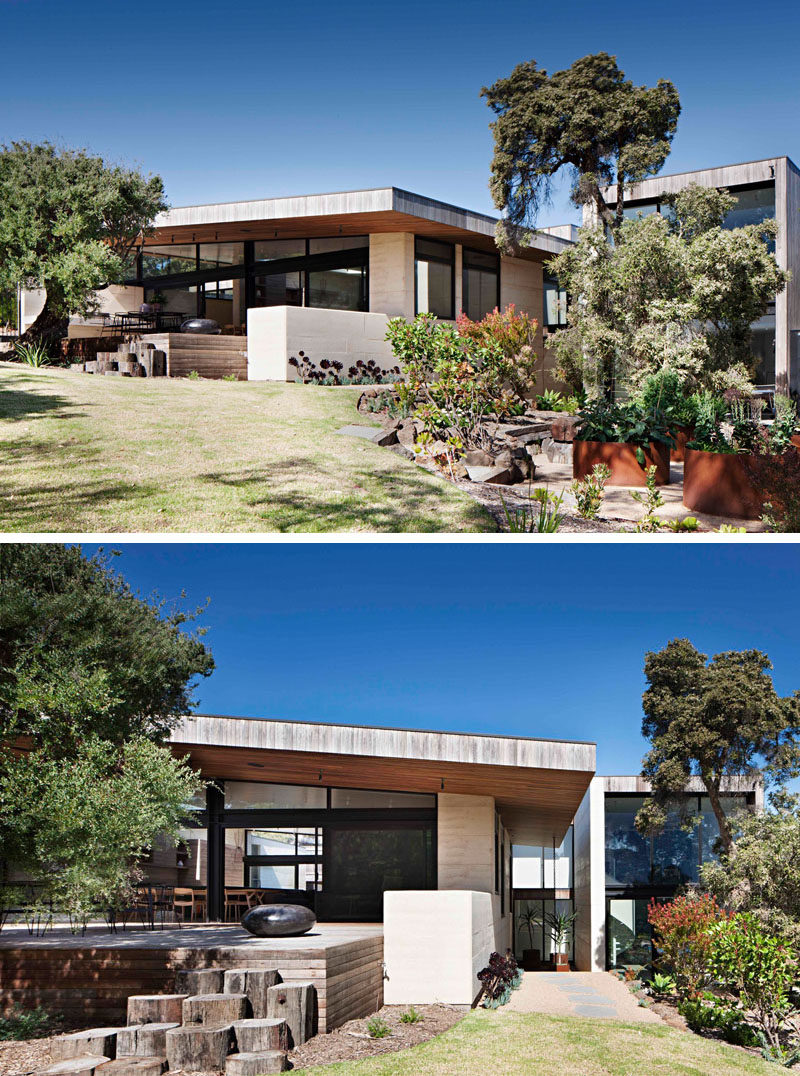 ---
Here you can see the two main building materials of the house, the rammed earth for the walls, and the timber used for the overhanging roof.
---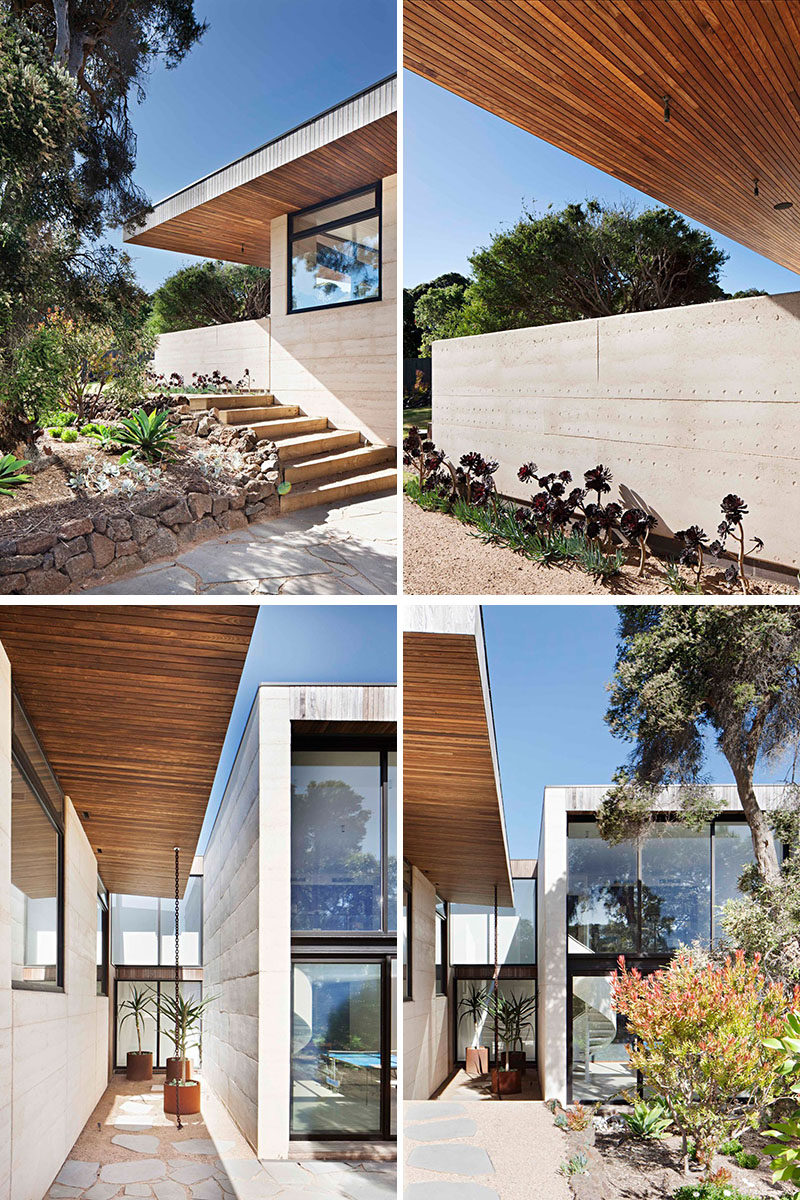 Photography by Shannon McGrath. Styling by Swee Lim.
---