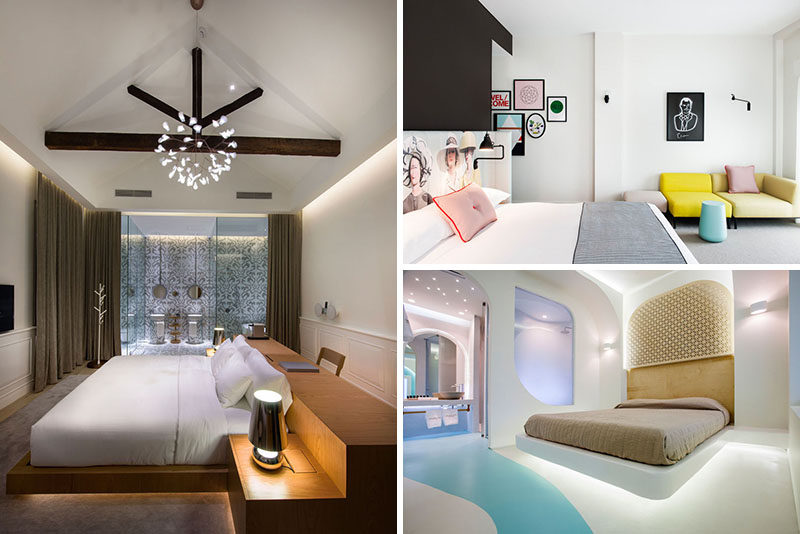 It's always fun to stay at a hotel. The beds are usually super comfy, you don't have to clean up after yourself, and as long as you're staying at a nice one, the design is usually beautiful. The design details included in hotels are often what make them stand out, but they're often not that difficult to replicate in your own home.
Here are 10 design ideas used in hotel rooms that you can create in your own bedroom.
---
1. Define the sleeping space with a wrap around headboard.
Wrap around headboards are an effective way to define your sleeping space, as well as add texture and color to a room. There are a number of ways to do it and style them, but no matter how you do it, a wrap around headboard makes a unique design detail in your bedroom.
---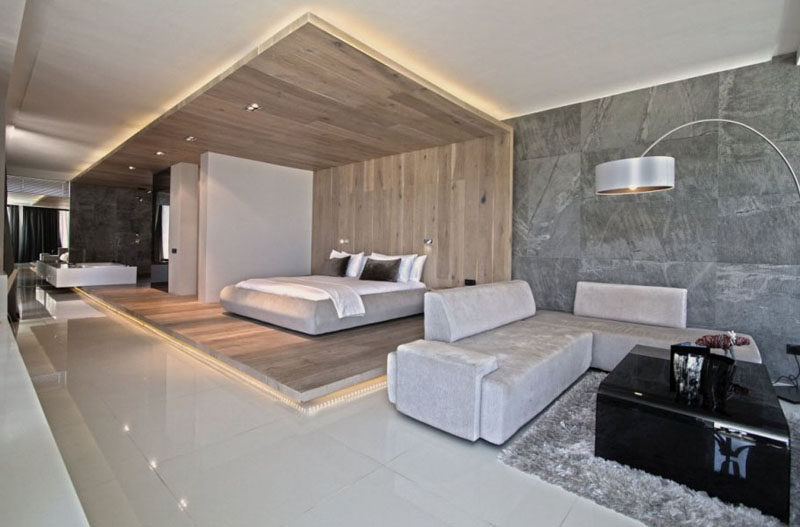 ---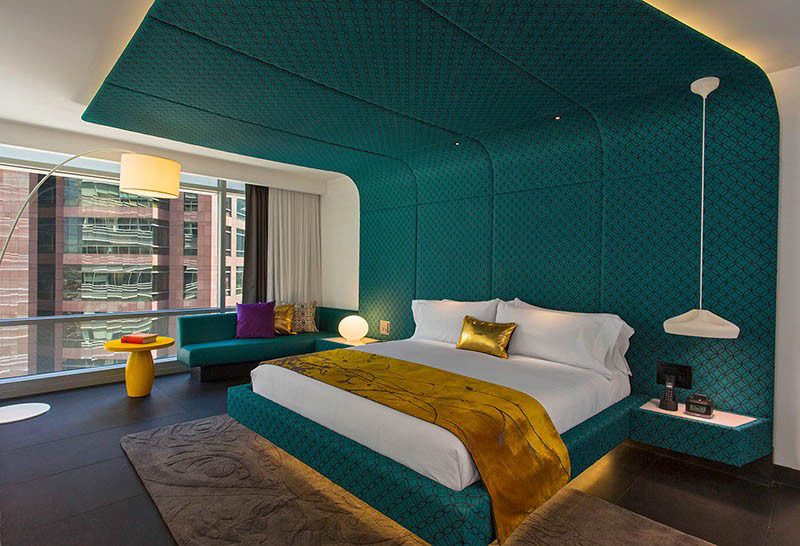 ---
2. Include a lounge area
Hotel rooms often include a lounge or seating area in the room to provide a place for guests to sit or relax that isn't on the bed. Doing the same in your bedroom creates the perfect spot for reading, relaxing, or enjoying your morning coffee, and is as simple as including a comfy chair or cozy couch and a small table.
---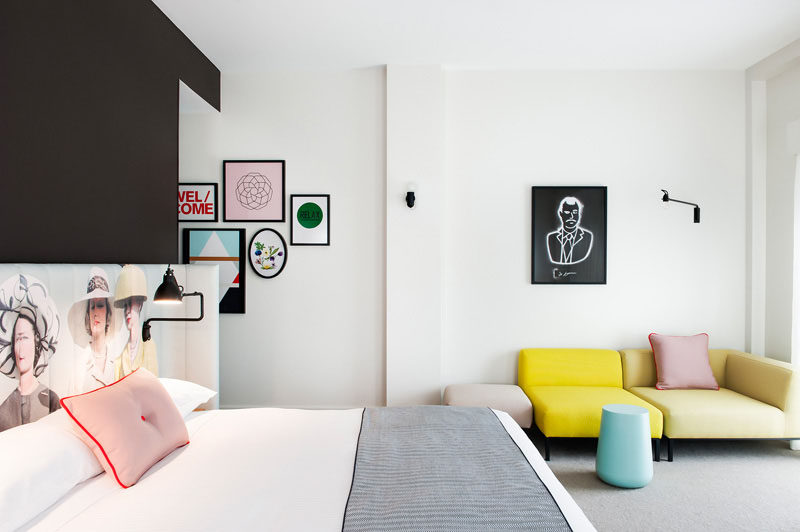 ---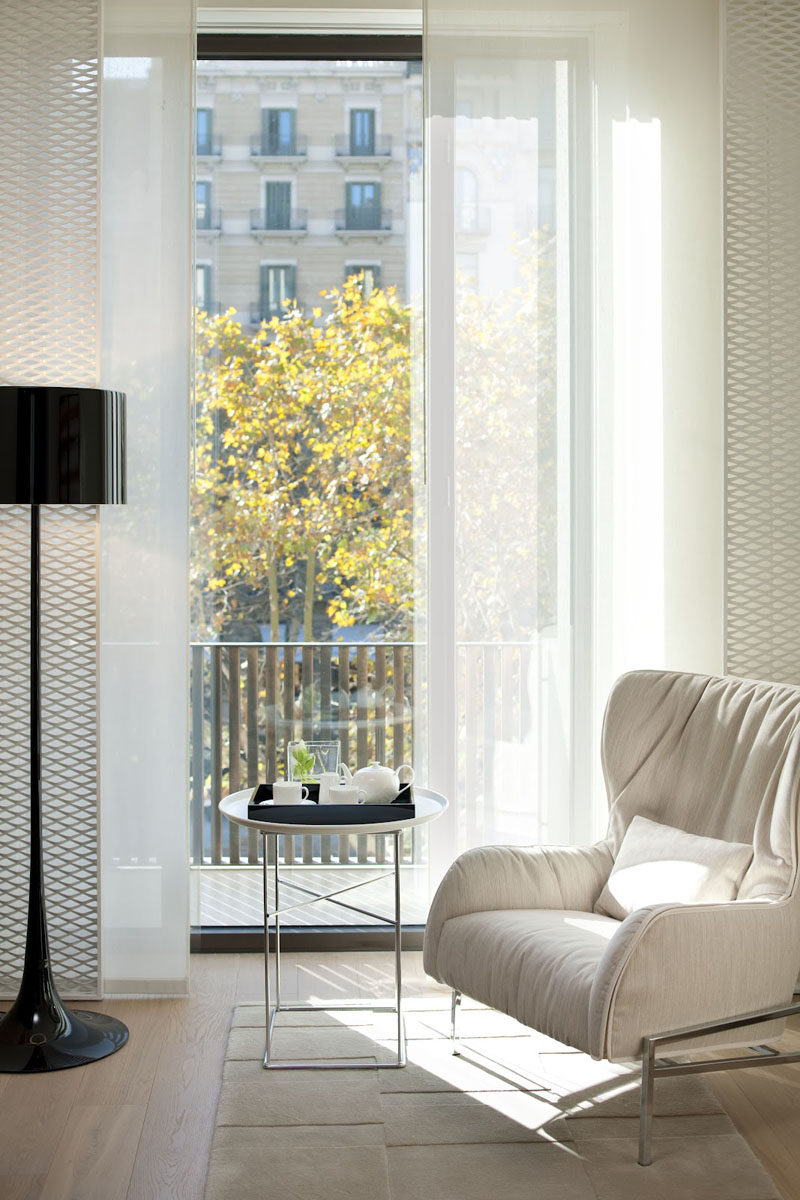 ---
3. Place your bed in the middle of the room and put a desk behind it.
If you'd like to include a desk in your room but don't feel like you have enough space for it, consider using a less traditional bedroom arrangement and put your bed in the middle of the room and attach a desk to the back of it. This is a trend we've been seeing in hotel rooms and it would be an easy thing to do in your own bedroom to get more functionality out of the space.
---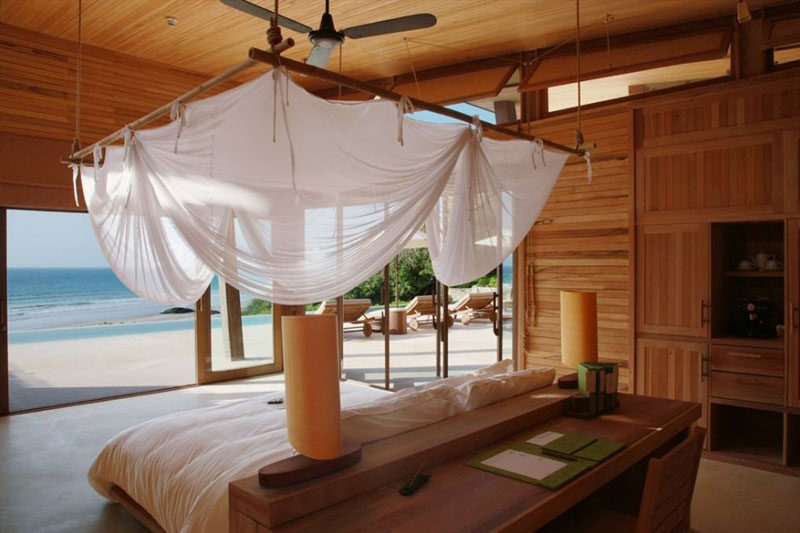 ---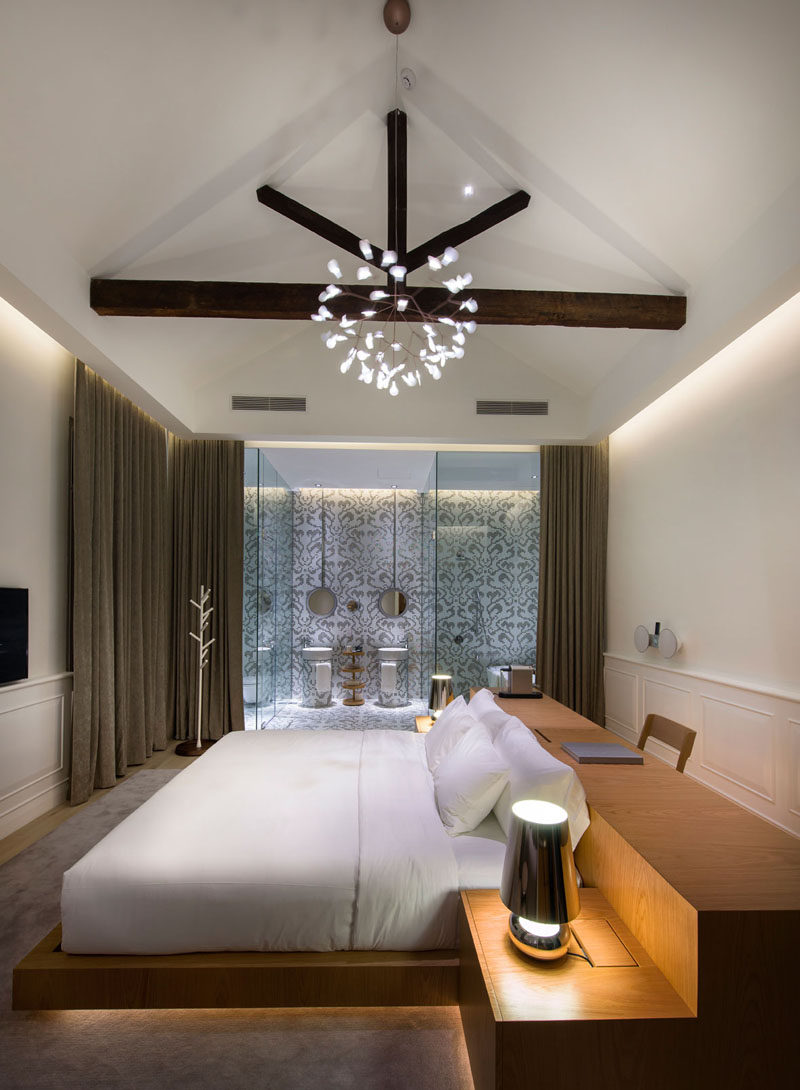 ---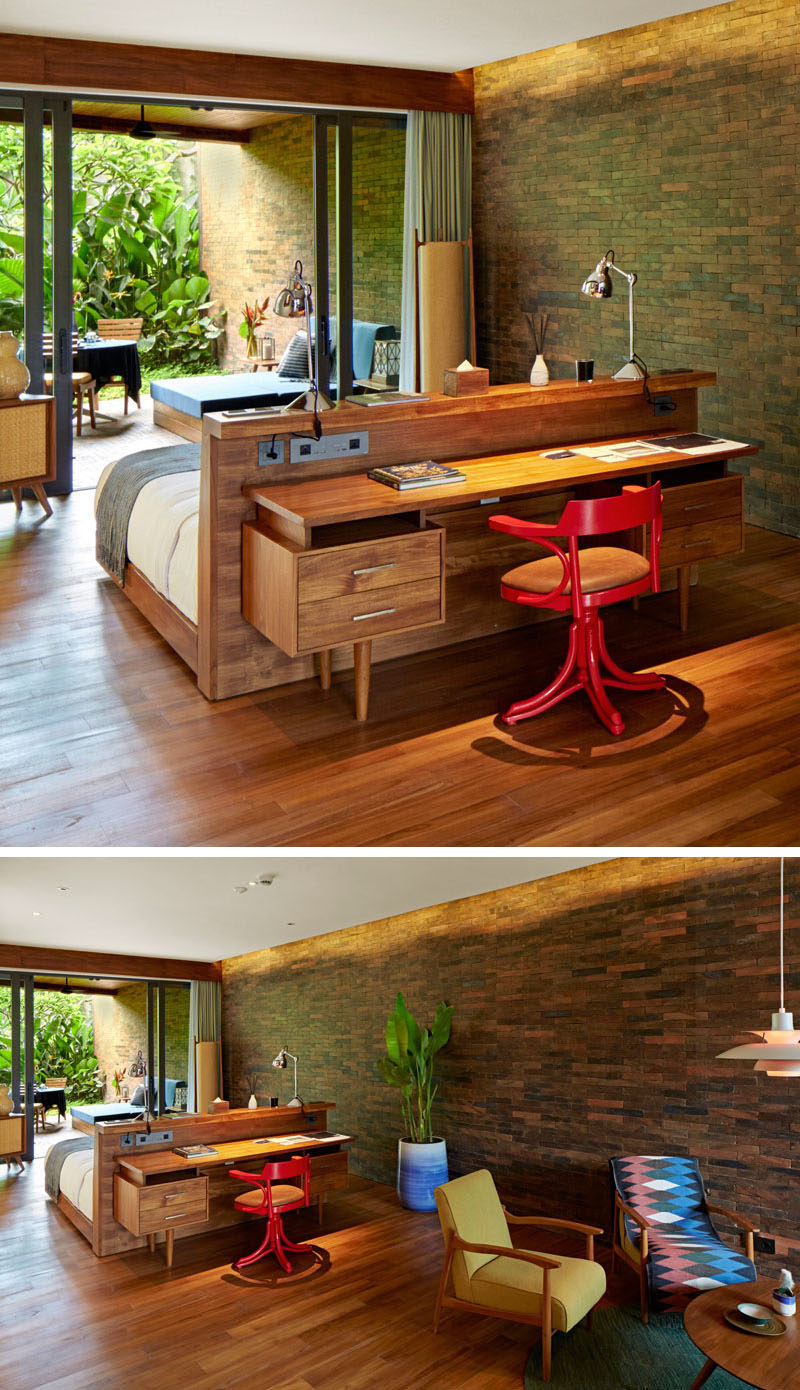 See more photos of this hotel, here. Katamama Suites designed by Andra Matin in partnership with interior designers Ronald Akili, the PTT Creative Team, and Takenouchi Webb.
---
4. Put your bed on a platform
Raising up your bed even just a few extra inches can create a whole new feel in your bedroom. Hotels do it to separate the sleeping and living areas, but in your bedroom this could also be done to separate the sleeping and relaxing areas so you have a space within a space, designated just for sleep.
---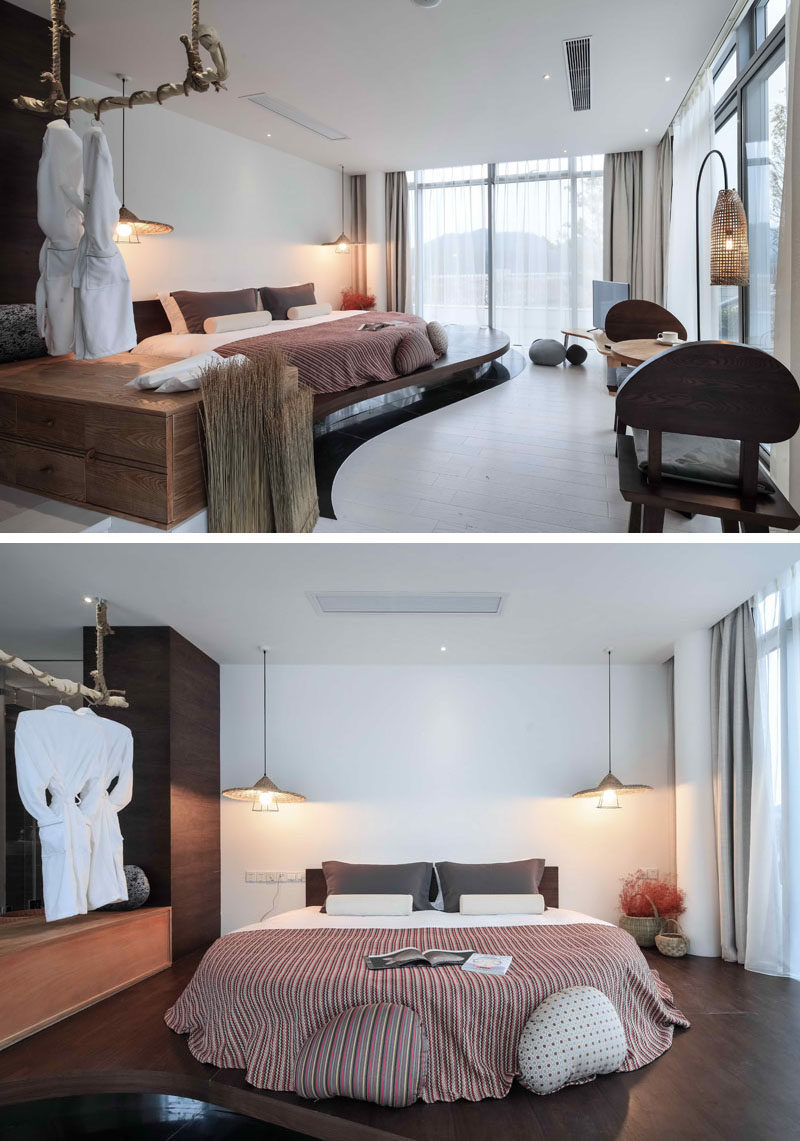 See more photos of this hotel, here. Ripple Hotel designed by XL-MUSE. Photography by Hu Yi-Jie.
---
5. Paint a mural on the wall behind your bed
Murals are a great way to personalize your space and add some life to your walls. Hotels usually have artists come in and do them professionally, but you could always try your own hand at it.
---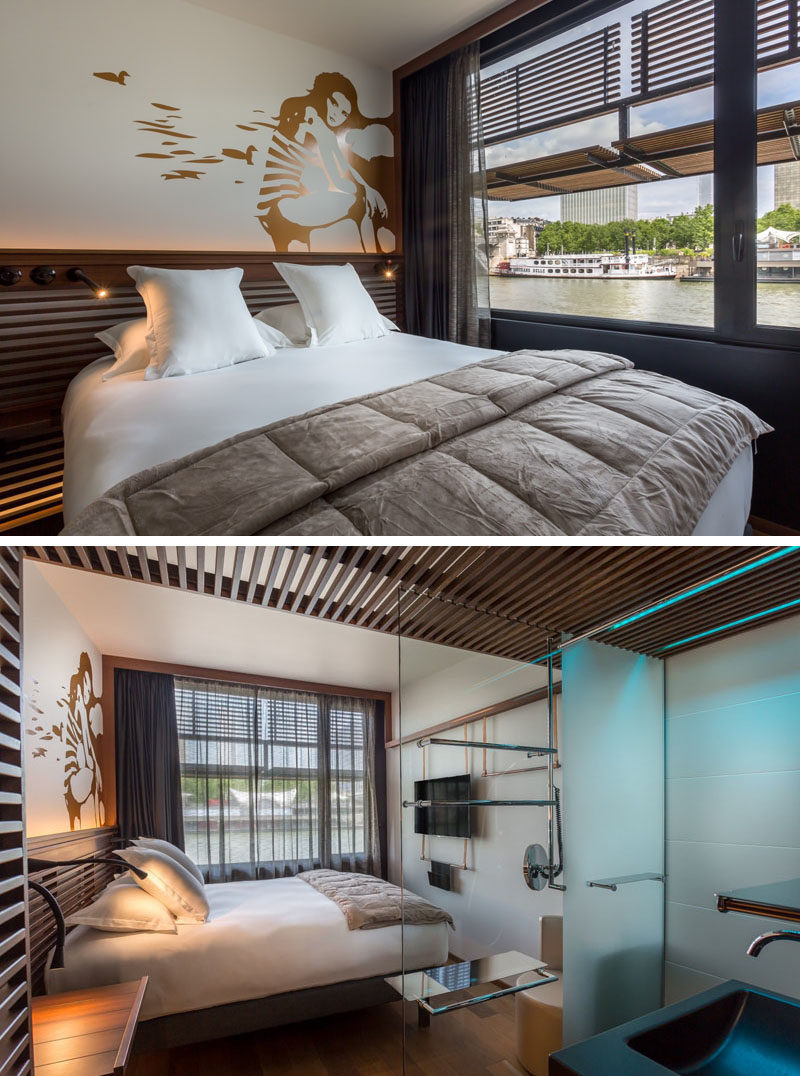 ---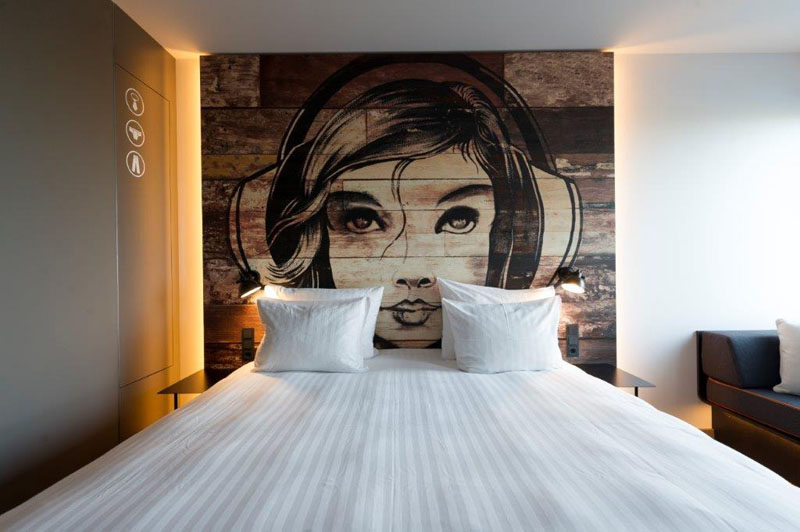 ---
6. Include a small writing desk
You never know when inspiration will strike and you just have to jot down some brilliant ideas. Hotel rooms are usually ready for those moments, so make sure your own room is too by including a small writing desk somewhere in the space.
---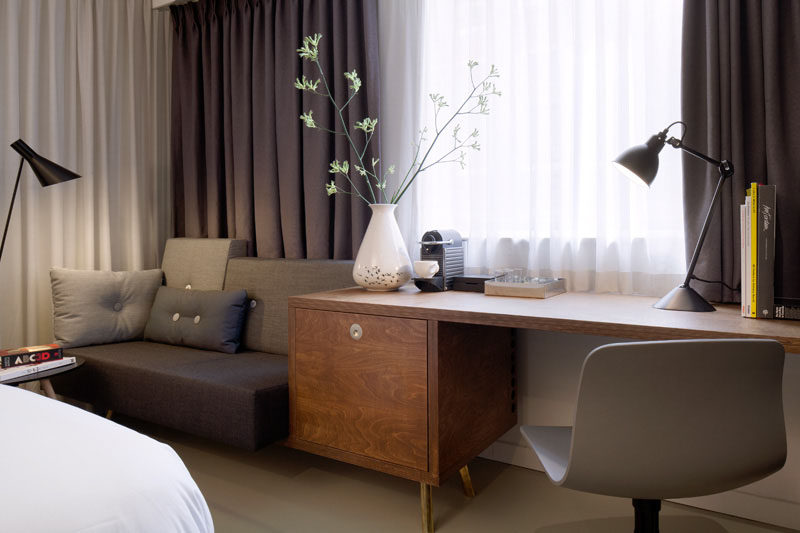 ---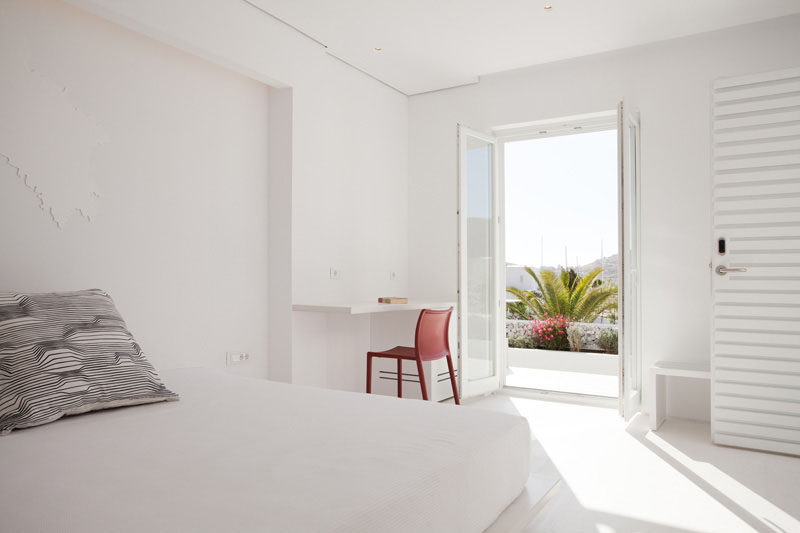 ---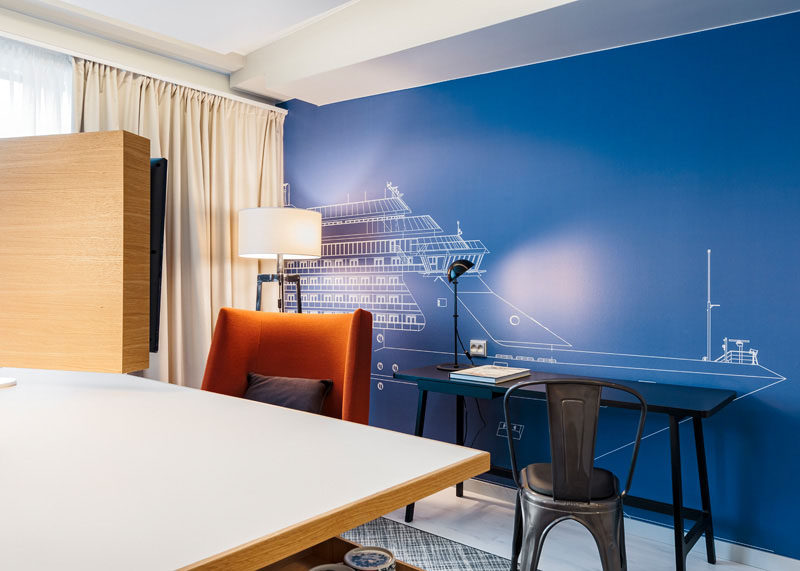 See more photos of hotel, here. Hotel Indigo Helsinki-Boulevard designed by Architects Soini & Horto and Markus Eskola. Photography by Tuomas Uusheimo.
---
7. Add a bench at the end of the bed
Hotel rooms often have benches for guests to put their luggage on for the duration of their stay. It's a convenient way to keep things easily at hand in hotels. In your home, a bench at the end of your bed would make the perfect spot for laying out clothes for the next day, or a nice place to sit while you put on your shoes in the morning.
---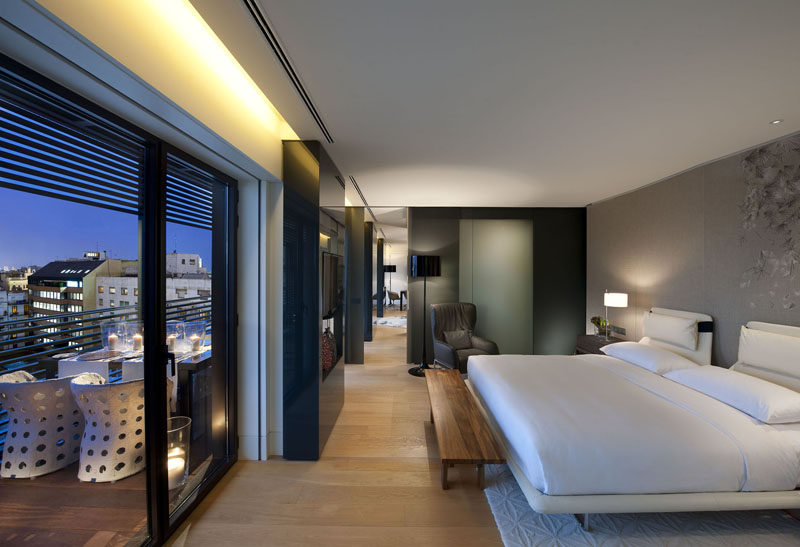 ---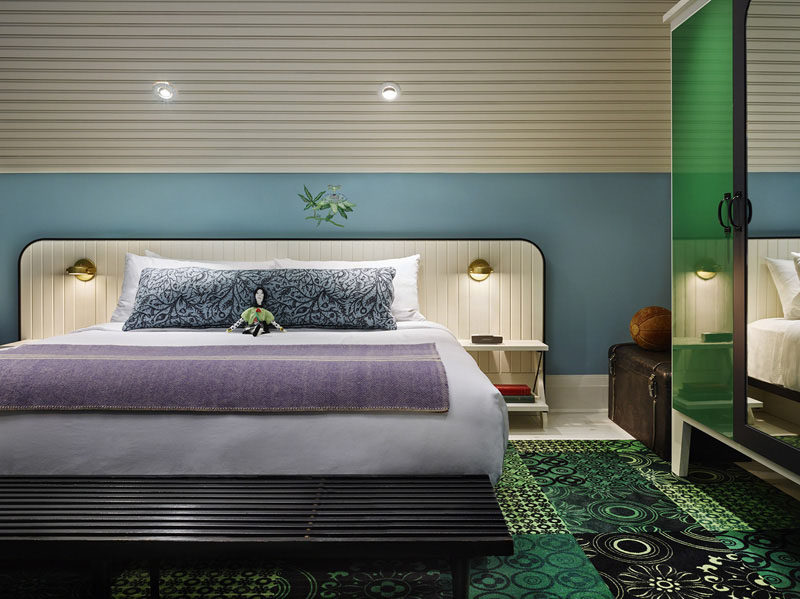 ---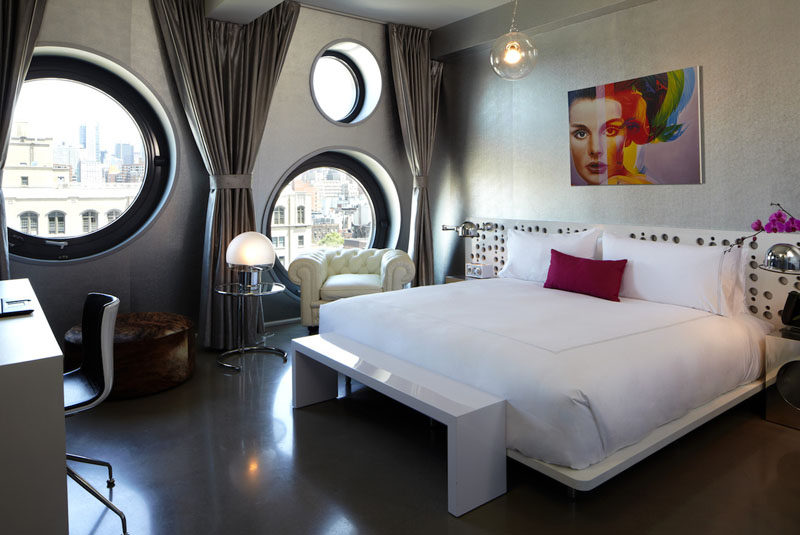 ---
8. Create the illusion of a floating bed
Give your room a more futuristic feel by including lights underneath your bed to create the illusion of a floating bed. This is a common feature in modern hotel rooms and is an easy addition to your own bedroom that would add both safety and style to your room.
---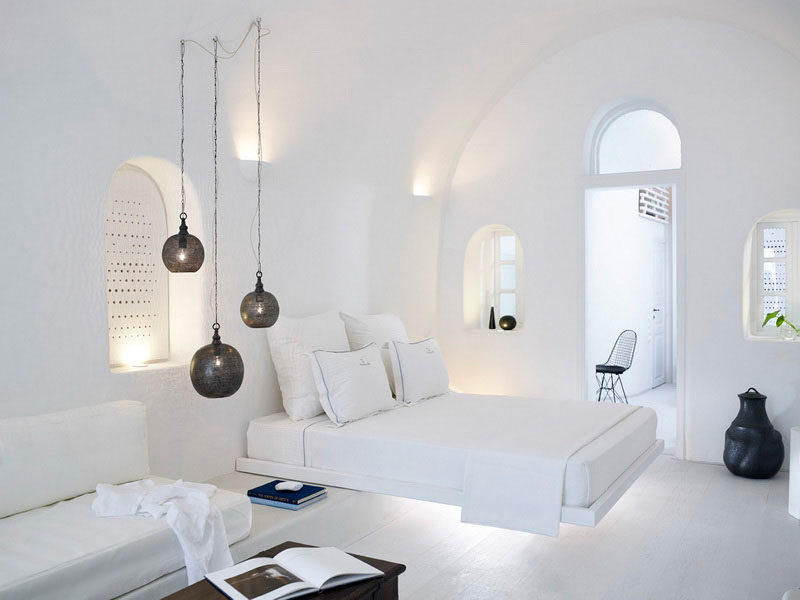 ---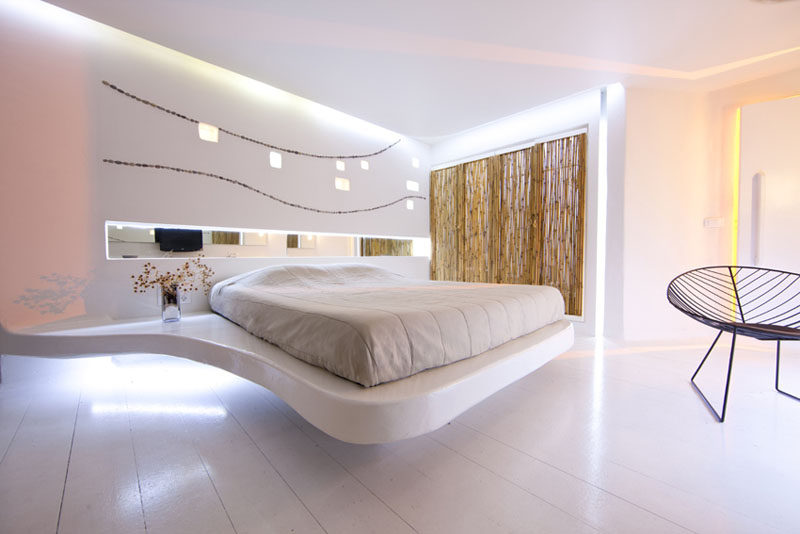 ---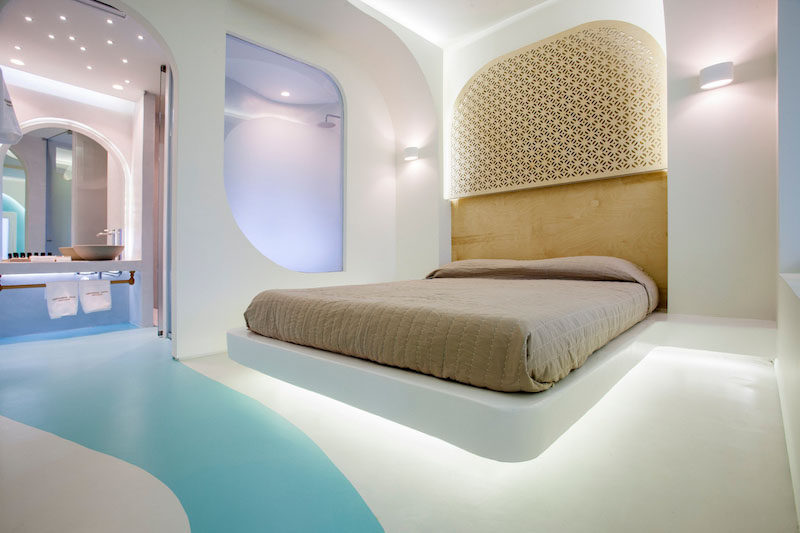 ---
9. Include a fold down bedside table
This fold down bedside table is a great way to save space throughout the day but creates a convenient spot to keep a glass of water or a book throughout the night. In the morning simply fold up the shelf and you've got extra space beside your bed and a cleaner design.
---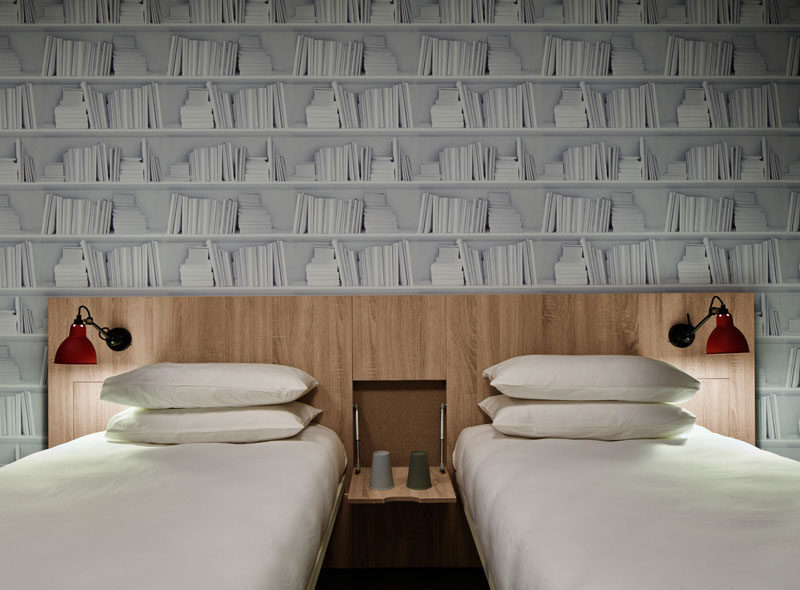 ---
10. Add elements of comfort
Things like sheep skins, extra blankets, and piles of pillows are common features in hotel rooms and they're easy elements to include in your own bedroom. They add texture, coziness, and warmth to your space and they're easy to change out when the seasons or your tastes change.
---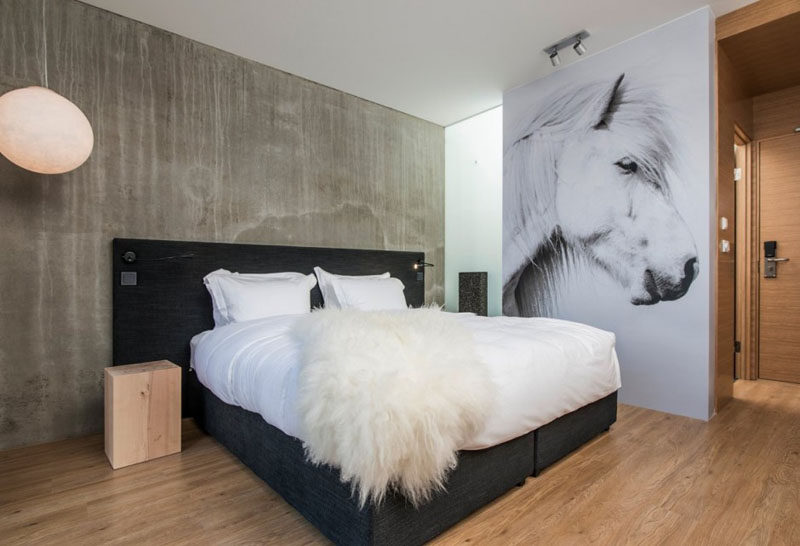 See more photos of this hotel, here. ION Hotel designed by Minarc. Photography by Art Gray and Torfi Agnarsson.
---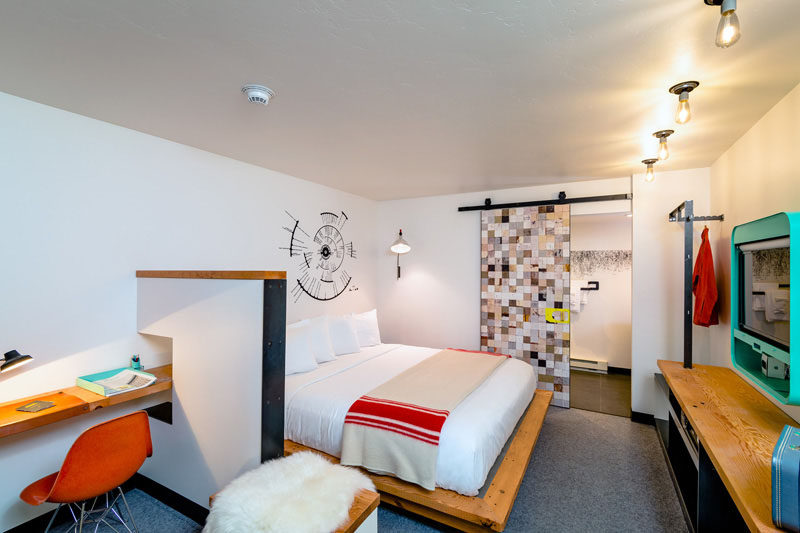 See more photos of this hotel, here. Lark hotel designed by Thinktank Design Group.
---