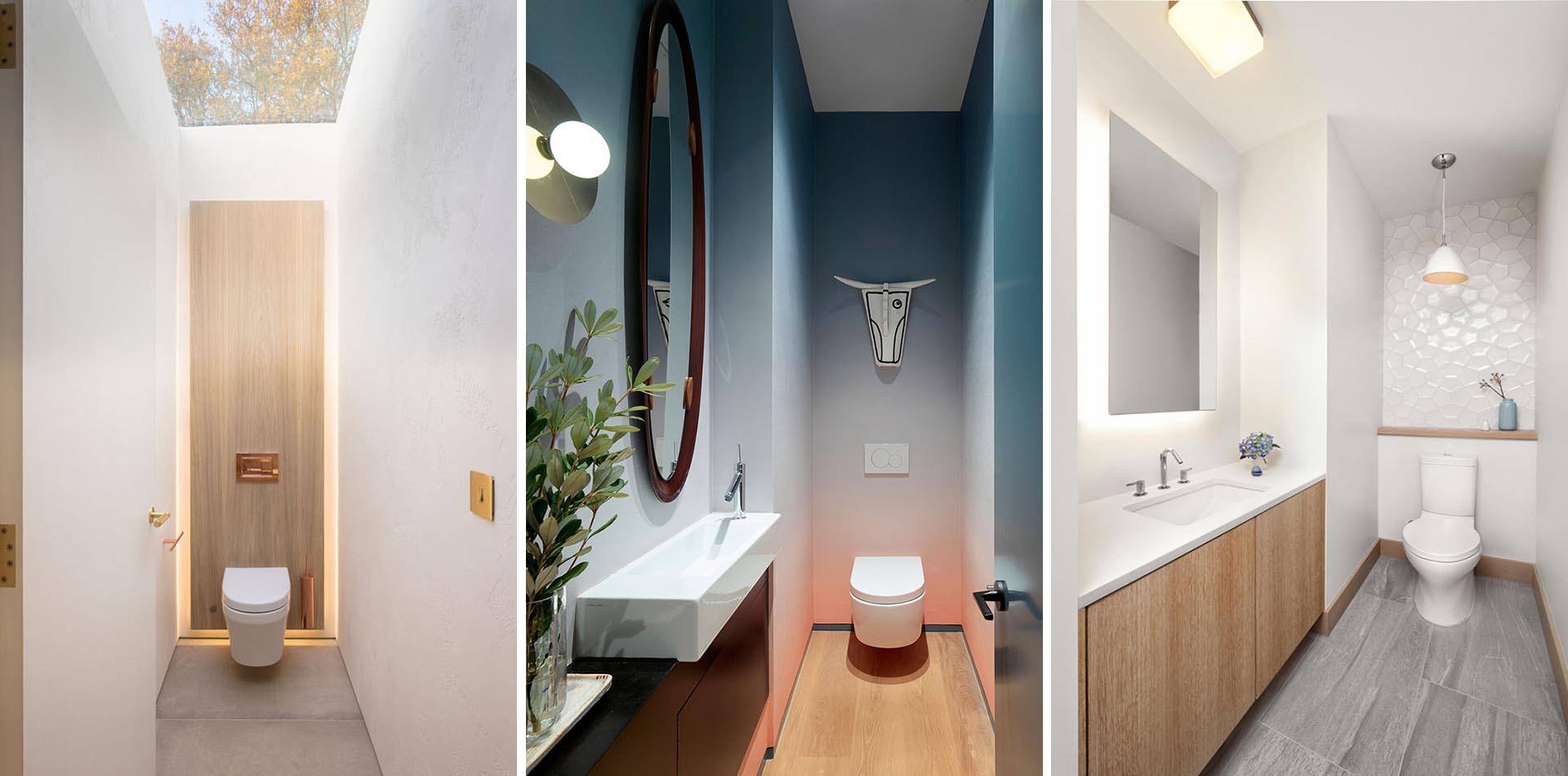 Powder rooms are one place in any interior where you can break the rules and have some fun with color, texture, and materials.
Here's a look at 14 different design ideas for powder rooms…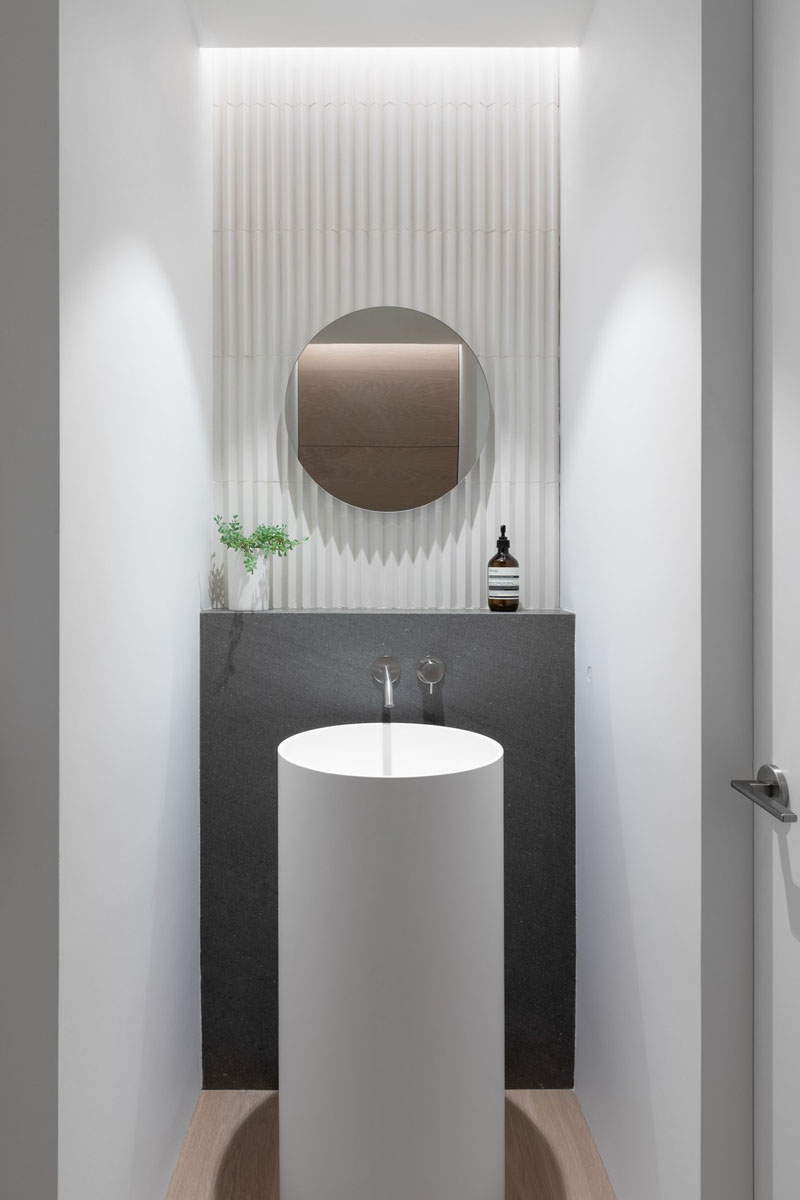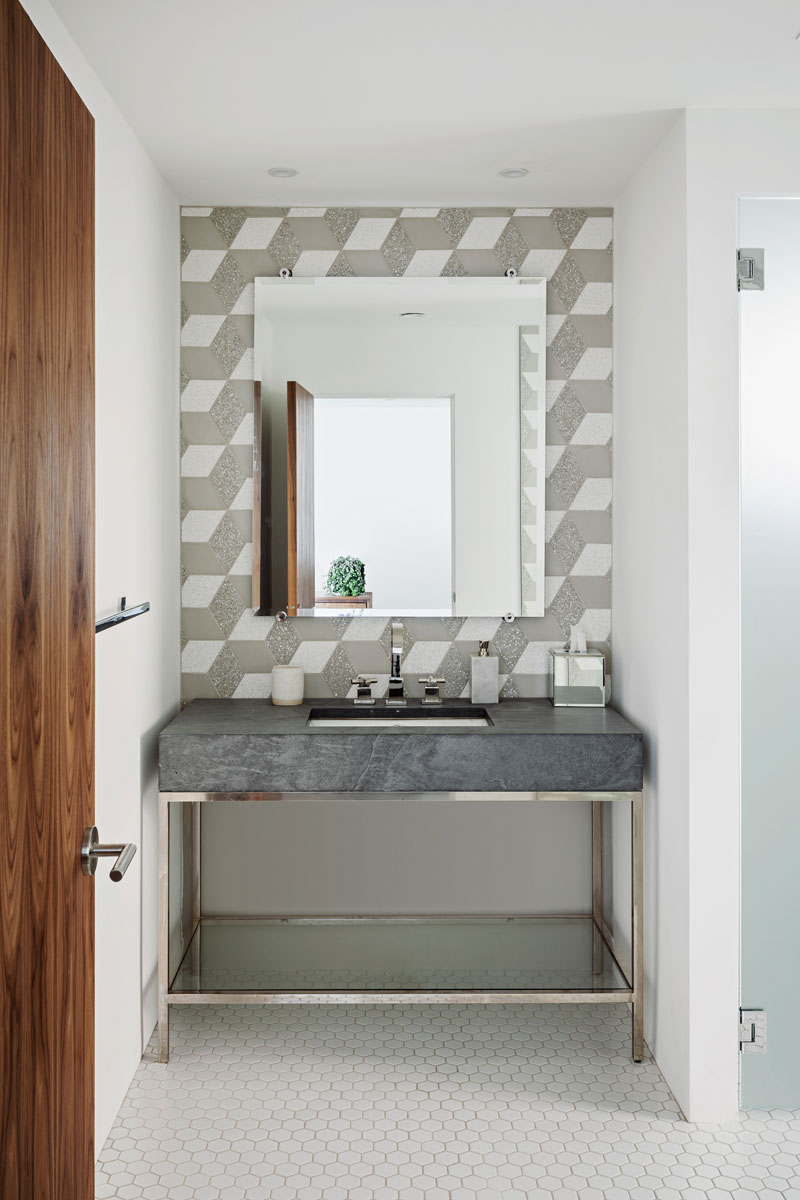 2. In the powder room of a remodeled house by The Ranch Mine, decorative geometric tiles cover the wall, while a simple vanity with chrome accents adds a touch of glamour. Photography by Roehner + Ryan.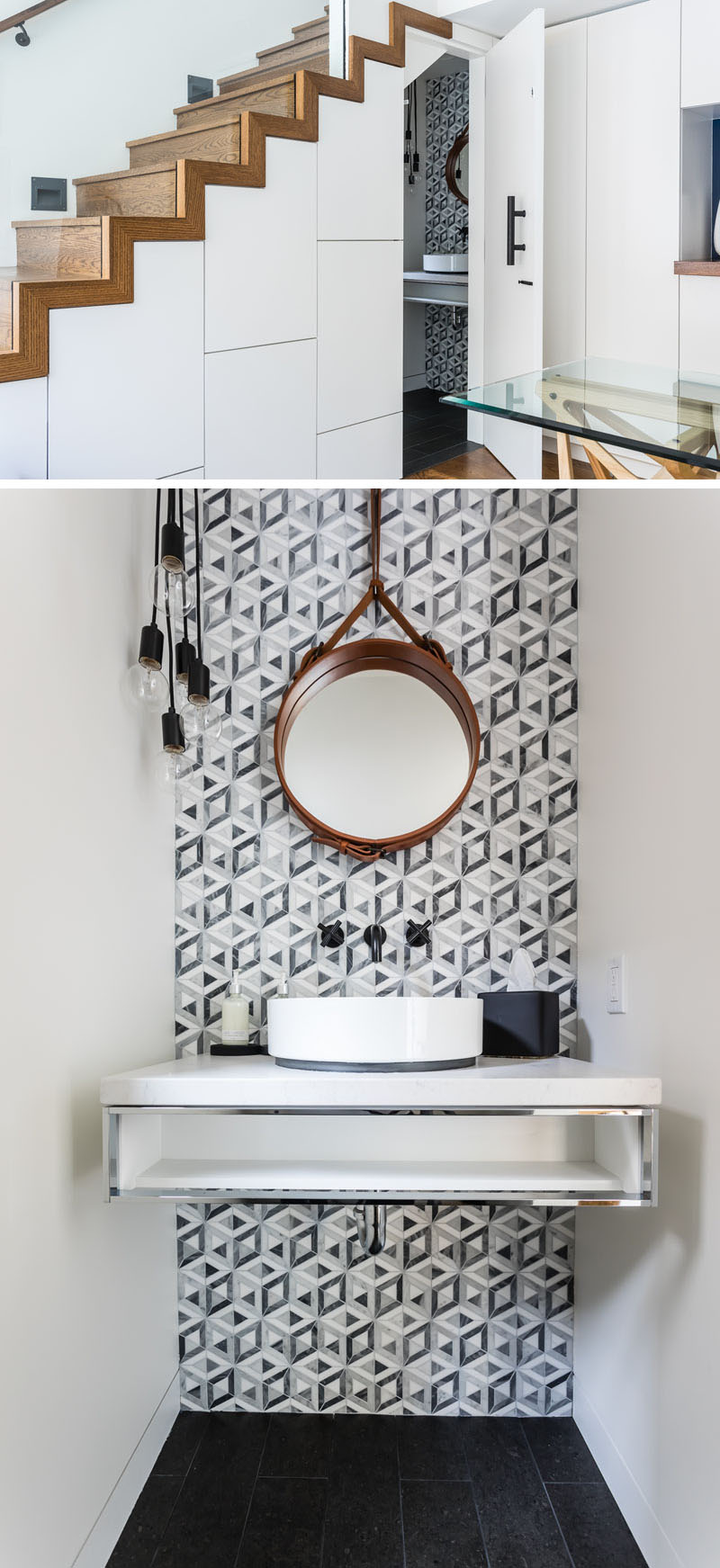 3. A small powder room designed by JMJ Studios, has a decorative tiled wall and a wall-mounted vanity. Photography by Catherine Nguyen Photography.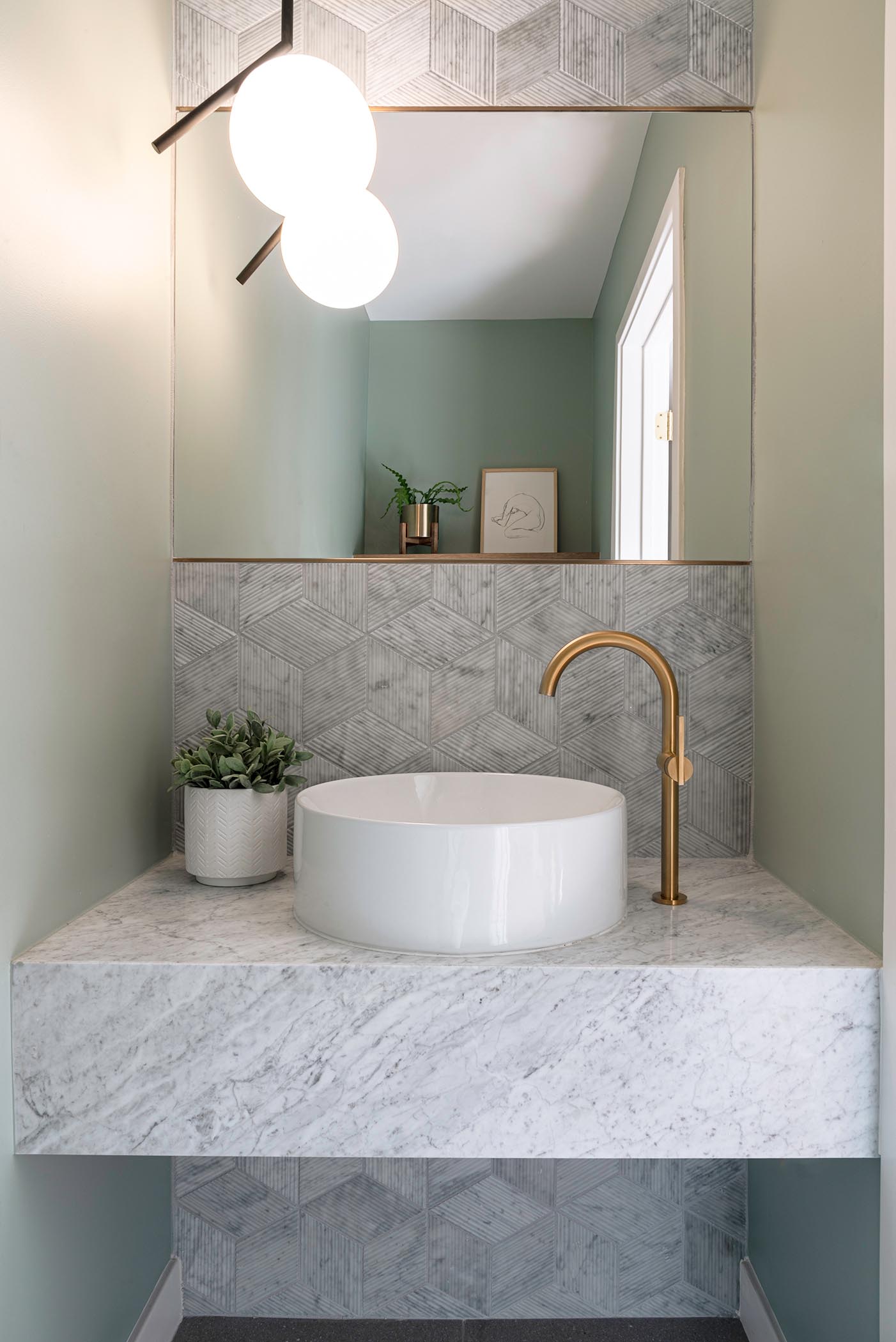 4. 3Angle Designs has completed the interior renovation of a home and included a powder room that showcases Salvatori Romboo tile with a textural bamboo-like finish, while a floating vanity is topped with a round white vessel sink from KOHLER and bronze accents from Newport Brass. Photography by Emilly Cate Rochon.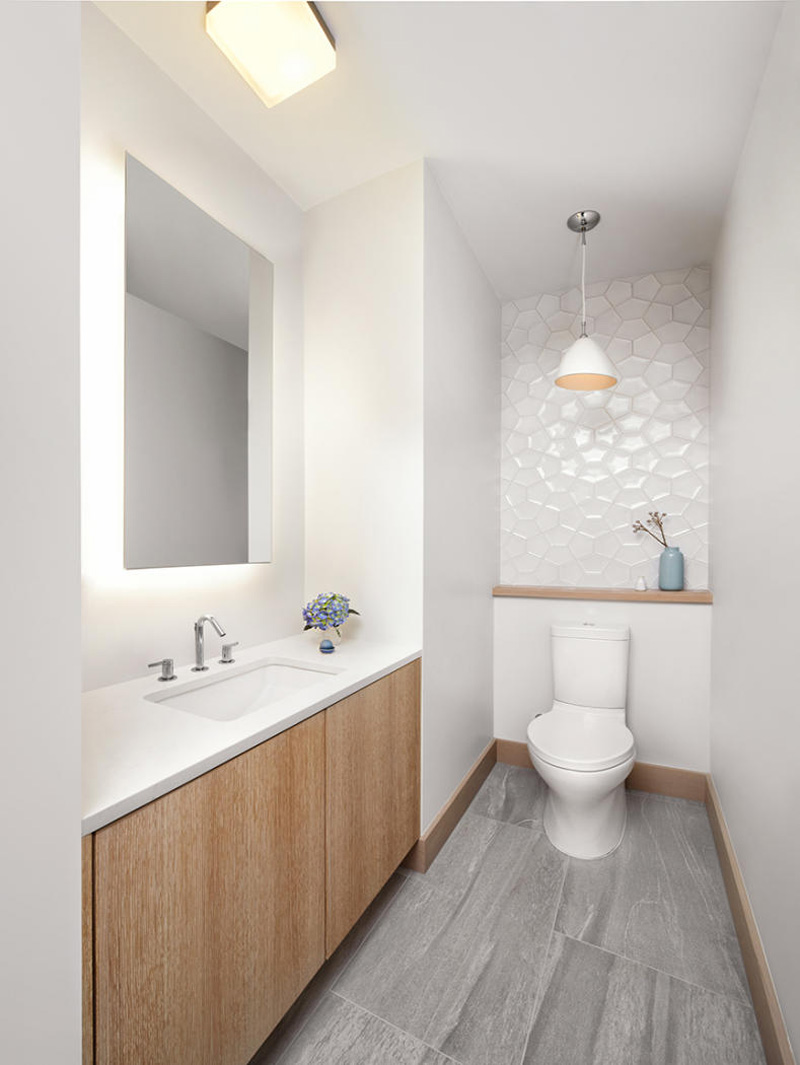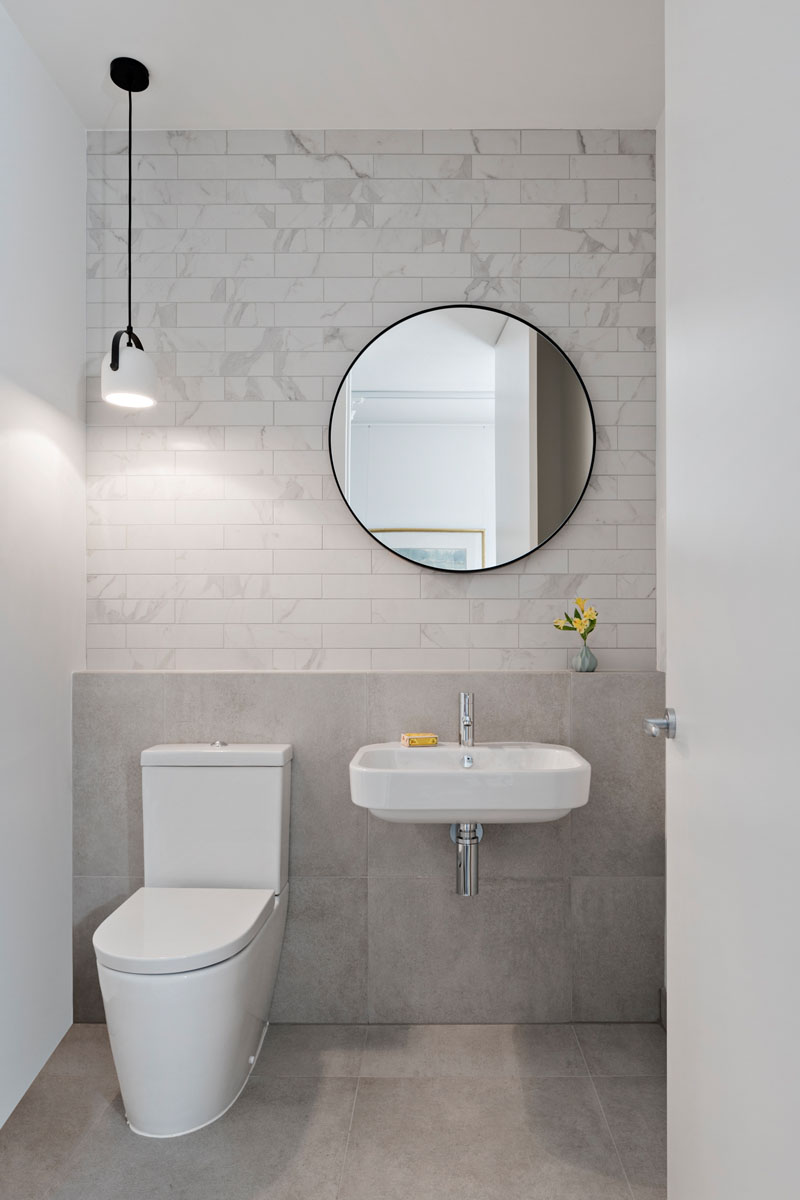 6. In a townhouse designed by Chan Architecture, the minimalist bathroom includes white and light grey tiles that line the back wall, while a single white and black pendant light hangs above the toilet. Photography by Tatjana Plitt.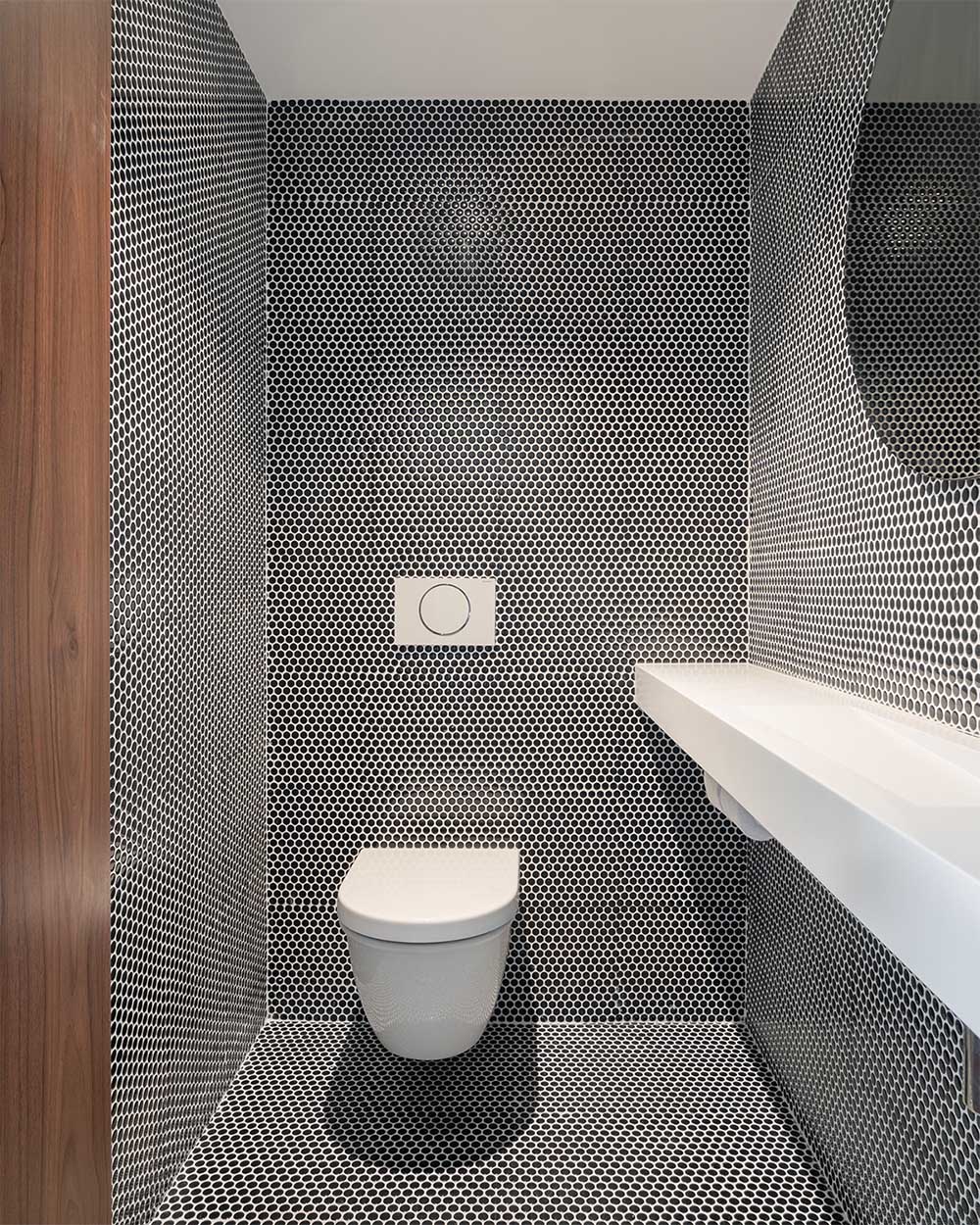 7. Architecture firm Studio ZADES designed a modern home with a powder room, where black penny tiles with white grout cover the walls and floor. Photography by Vladimir DMDJ.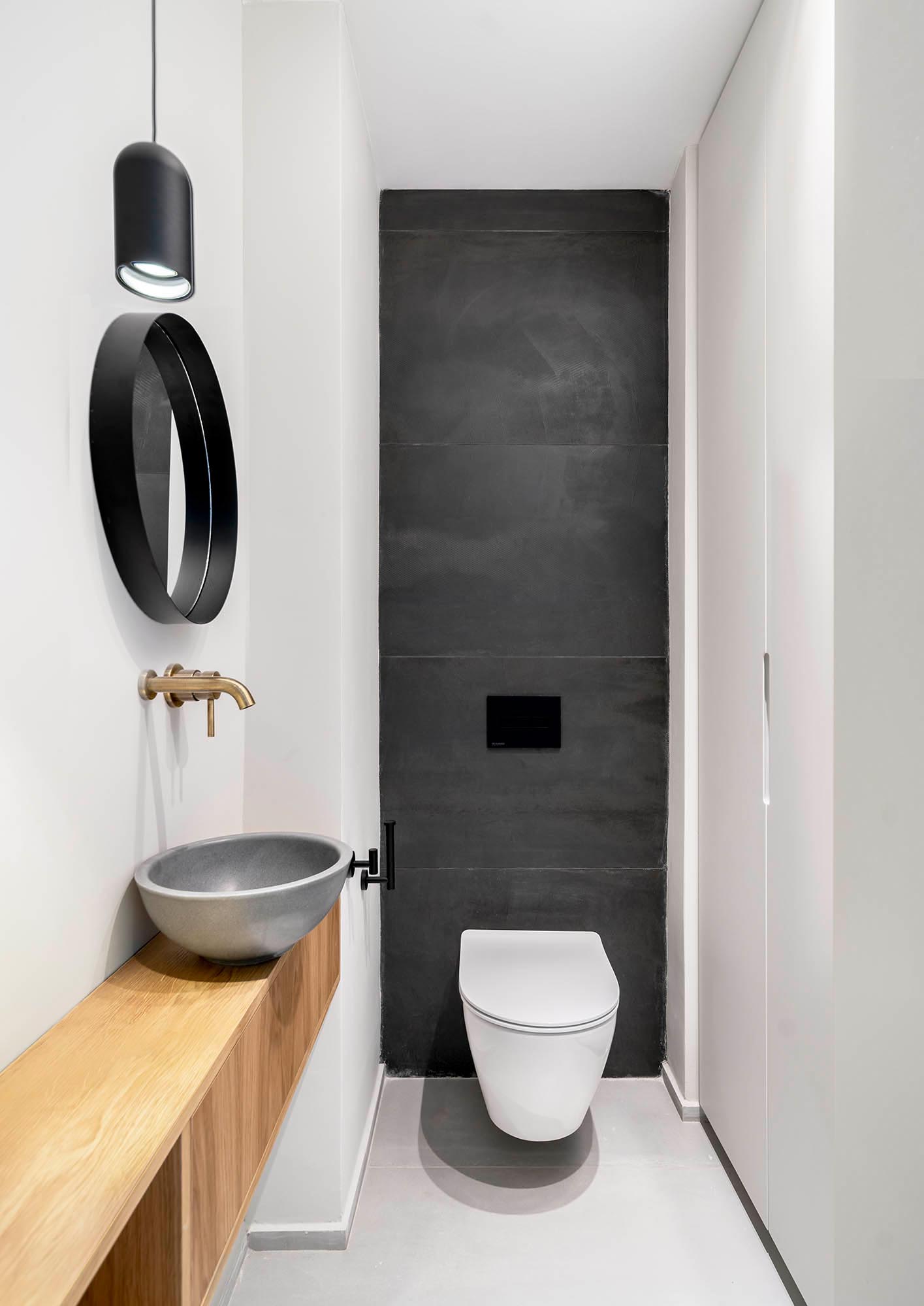 8. ON Studio has designed a modern home in the center of Israel, that includes a powder room with large format matte black tiles line the wall behind the toilet, a wood vanity topped with a gray vessel sink, and bronze hardware. Photography: Peled Studios and Yoav Peled Architecture Photography.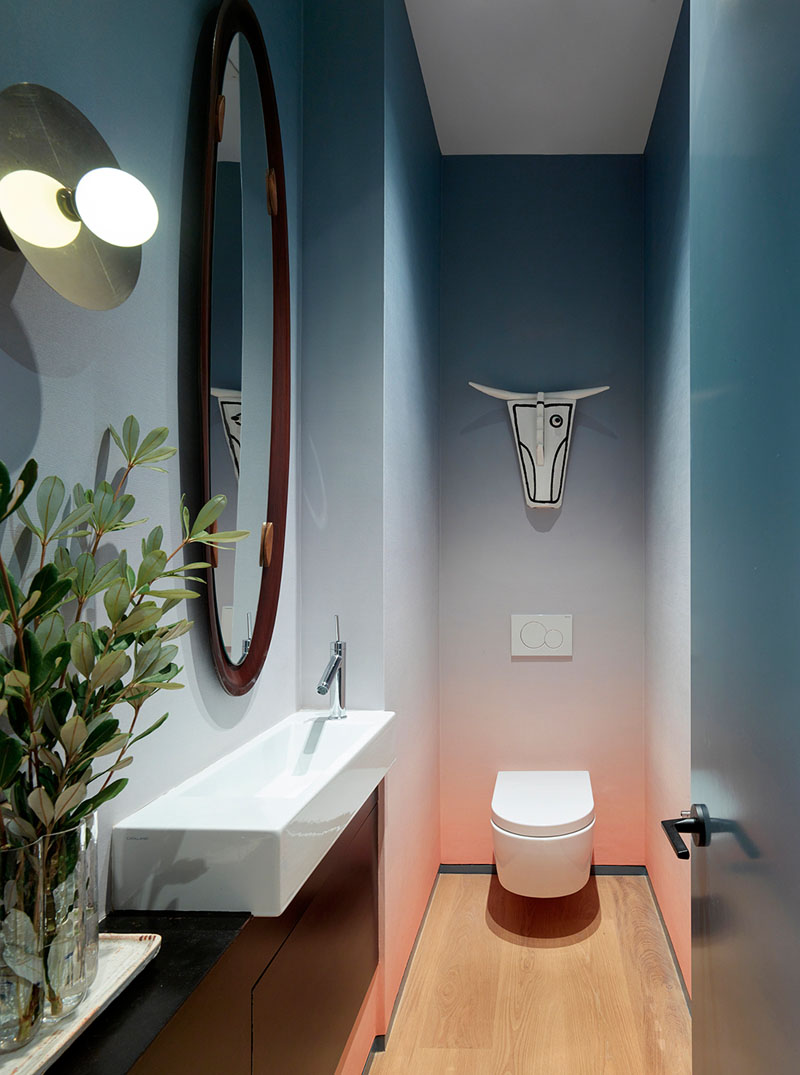 9. In a modern house designed by Jamie Bush & Co., there's a powder room that features an ombre wallpaper and an ox mask by Norwegian artist Arne Lindaas. Photography by Matthew Millman.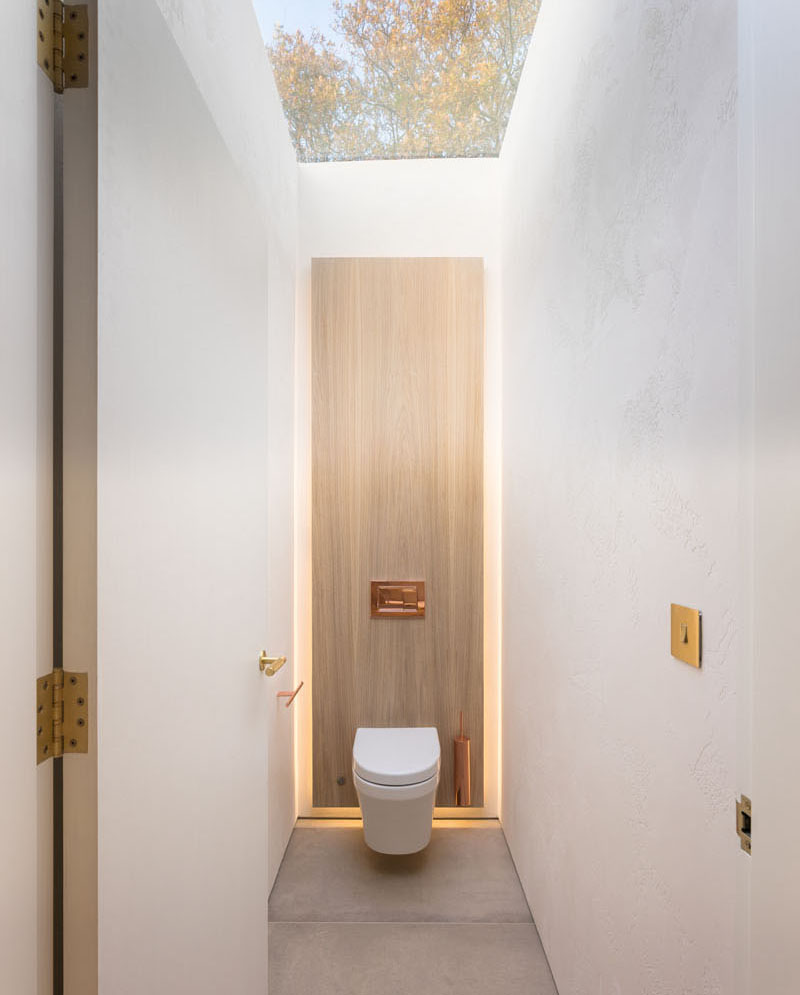 10. DLM Architects completed a new house on the island of Guernsey, that includes a small powder room with a wood accent wall and a skylight. Photography by Peter Landers Photography.
11. Strand Design completed a home in Minnesota, with a powder room that has a few brass accents and a tall mirror to brighten up the small space. Photography by Josh Grubbs.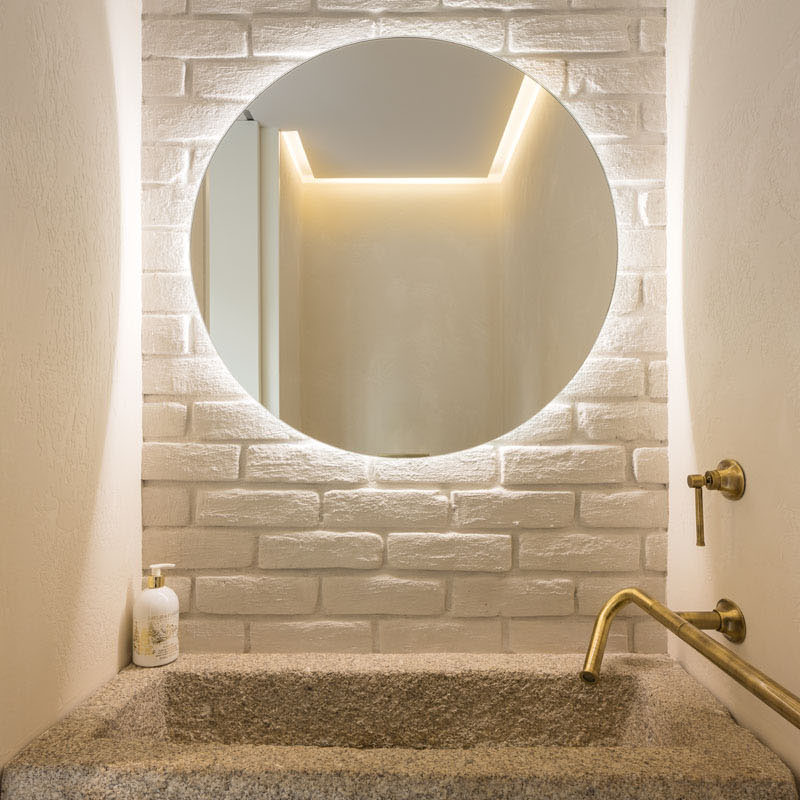 12. DLM Architects completed a new house on the island of Guernsey, that includes a small powder room with a reclaimed granite trough as the sink and a backlit mirror. Photography by Peter Landers Photography.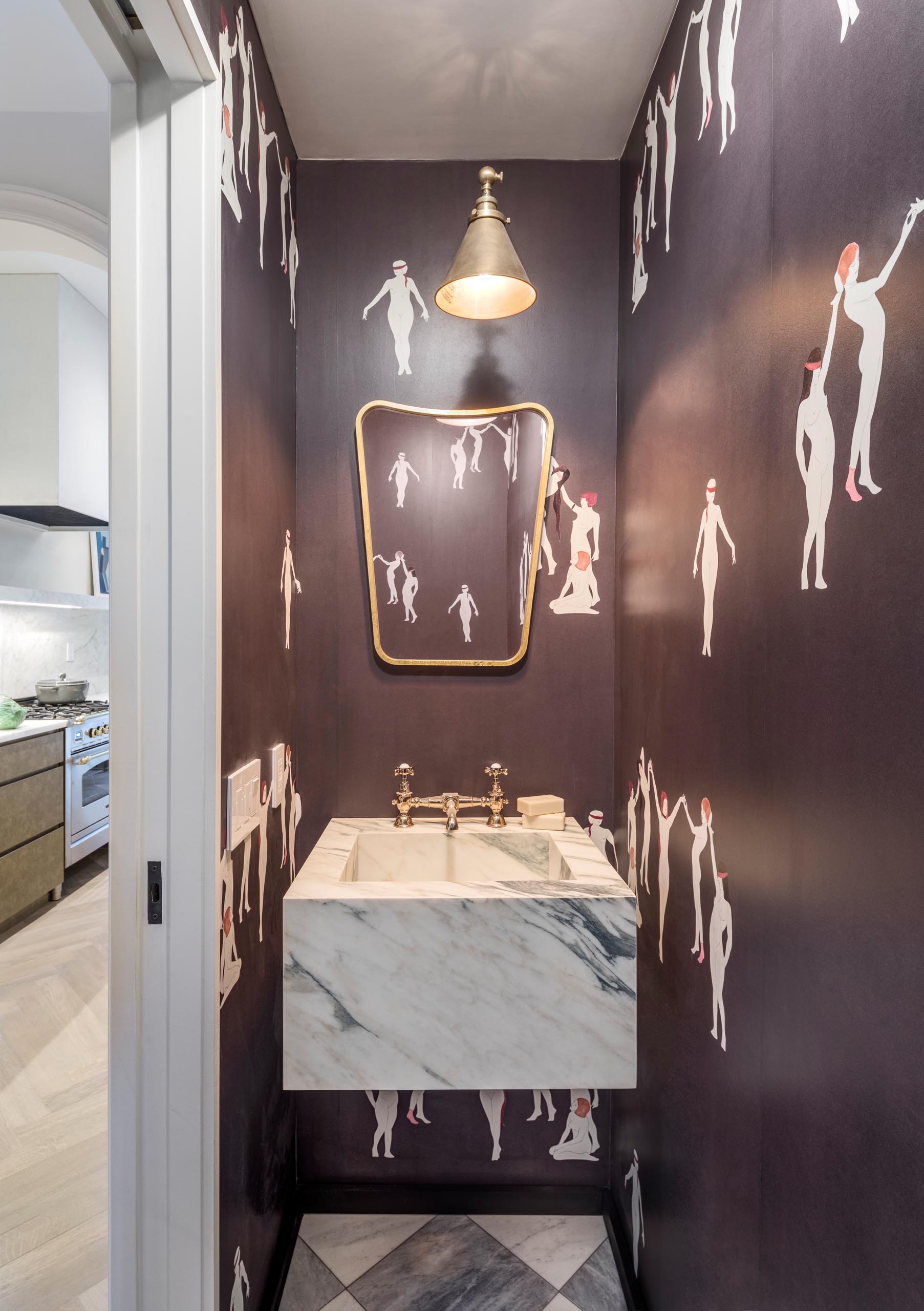 13. Barker Associates Architecture Office designed the interiors of an 1860s townhouse in New York, and included a fun powder room with dark wallpaper. Photography by Francis Dzikowski/OTTO.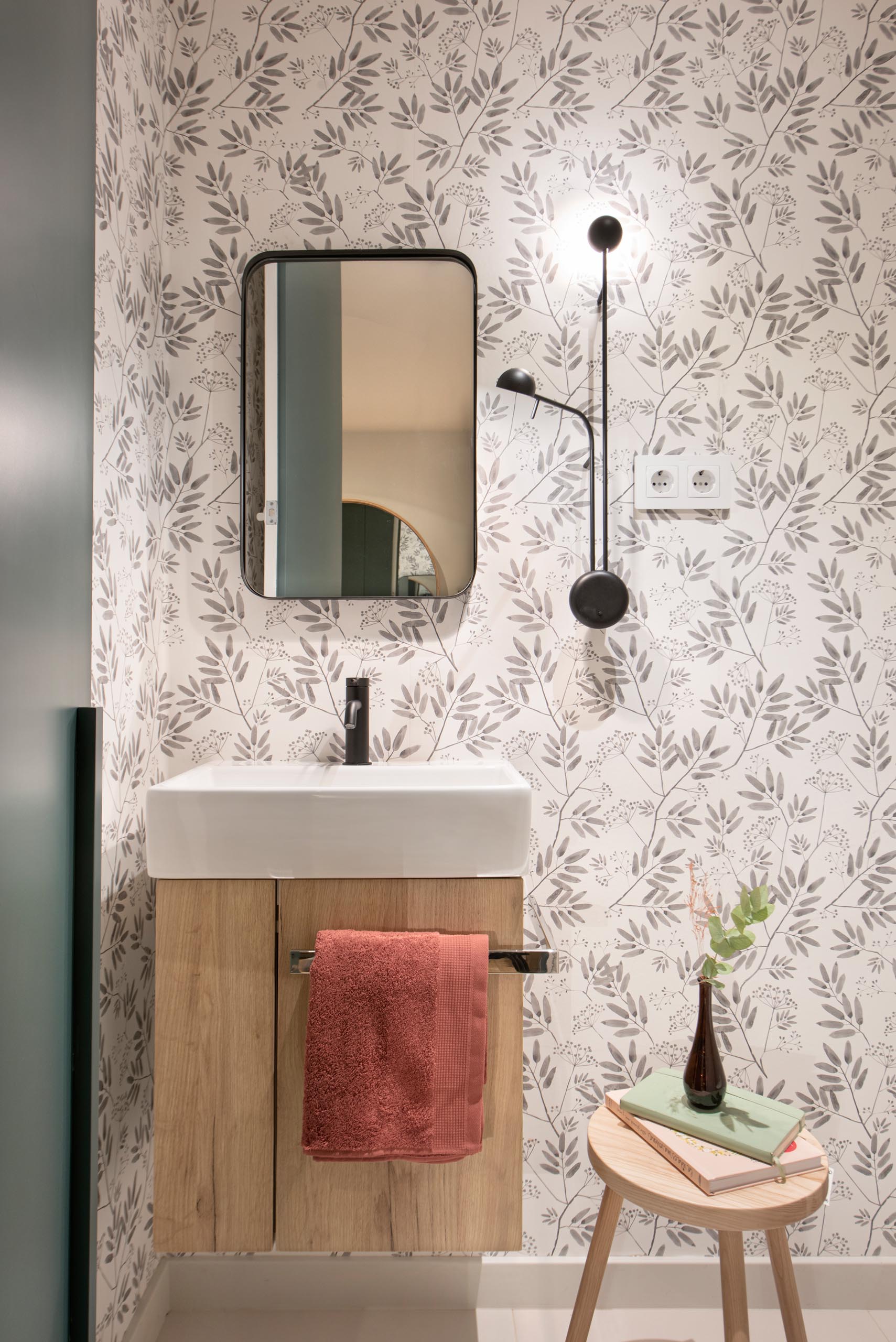 14. Floral pattern wallpaper, high contrast accessories and taps, and a wall lamp by Ichiro Iwasaki for Vibia give this small powder room by Egue y Seta a unique appearance. Photographer: VICUGO FOTO.