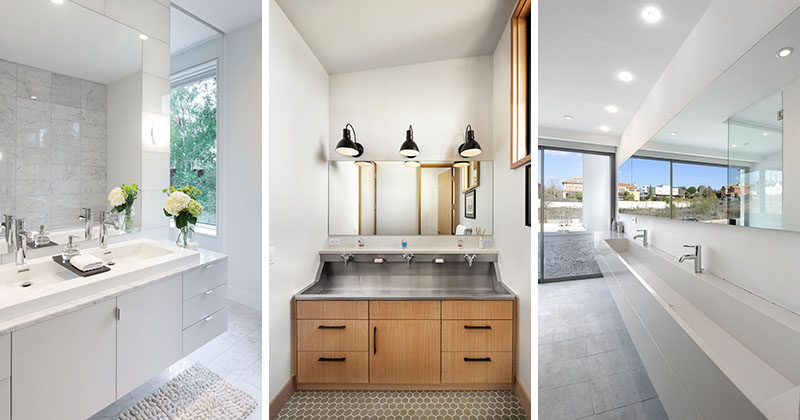 Having an extra large sink in the bathroom is good for a number of reasons. First, it makes it easy to share a bathroom without encroaching on the other person's space. Second, it creates a unique focal point in the bathroom and makes the space more original. Third, extra long sinks make cleanup faster especially if they're used in a bathroom shared with kids.
To give you some ideas of how you could include an extra large or trough sink in your bathroom, here are 20 inspirational photos.
1. This long sink has a wood divider on top of it that lets water flow underneath it and provides an extra spot to store a few small items.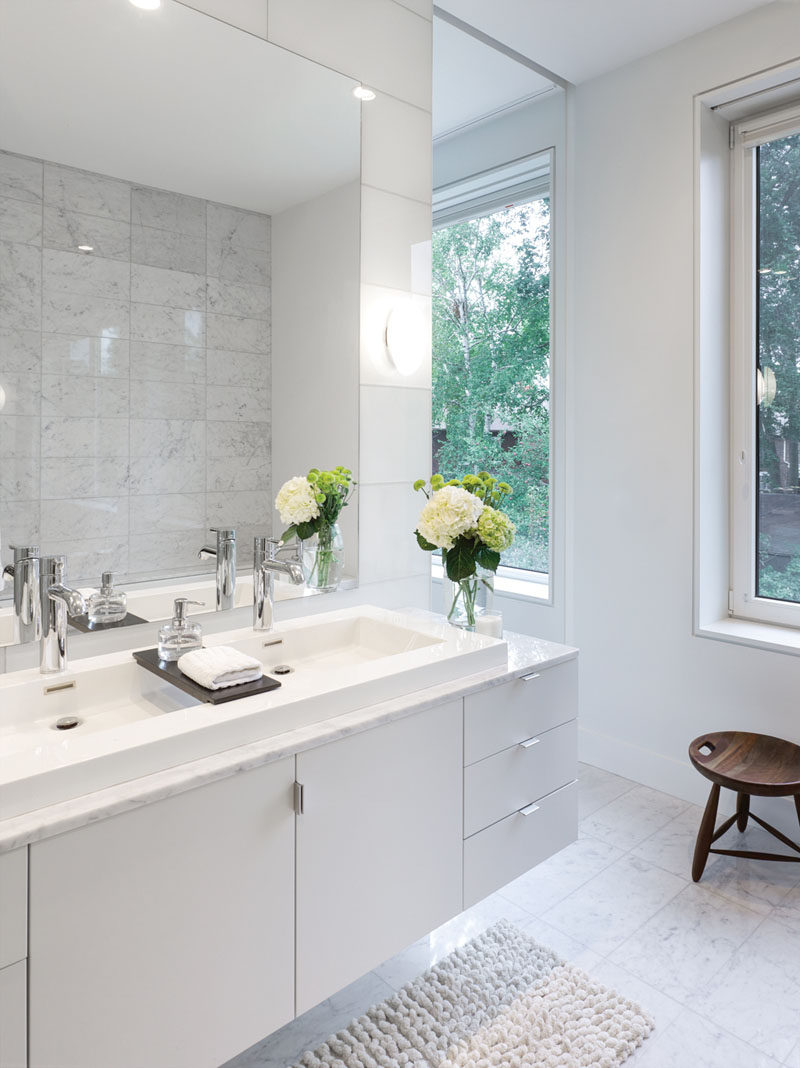 2. This trough sink replaces the countertop and lets two people get ready comfortably at the same time.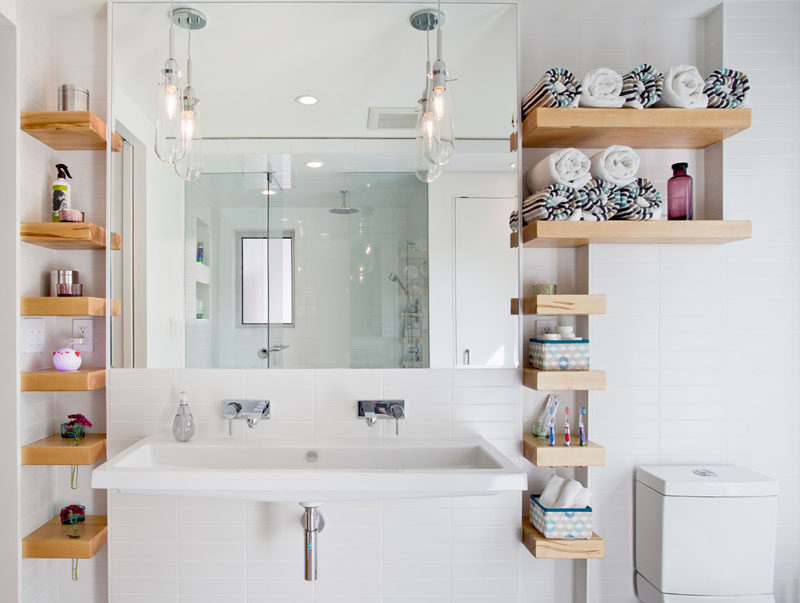 3. This extra long sink fits right in to the extra long countertop and gives each person plenty of space to get ready.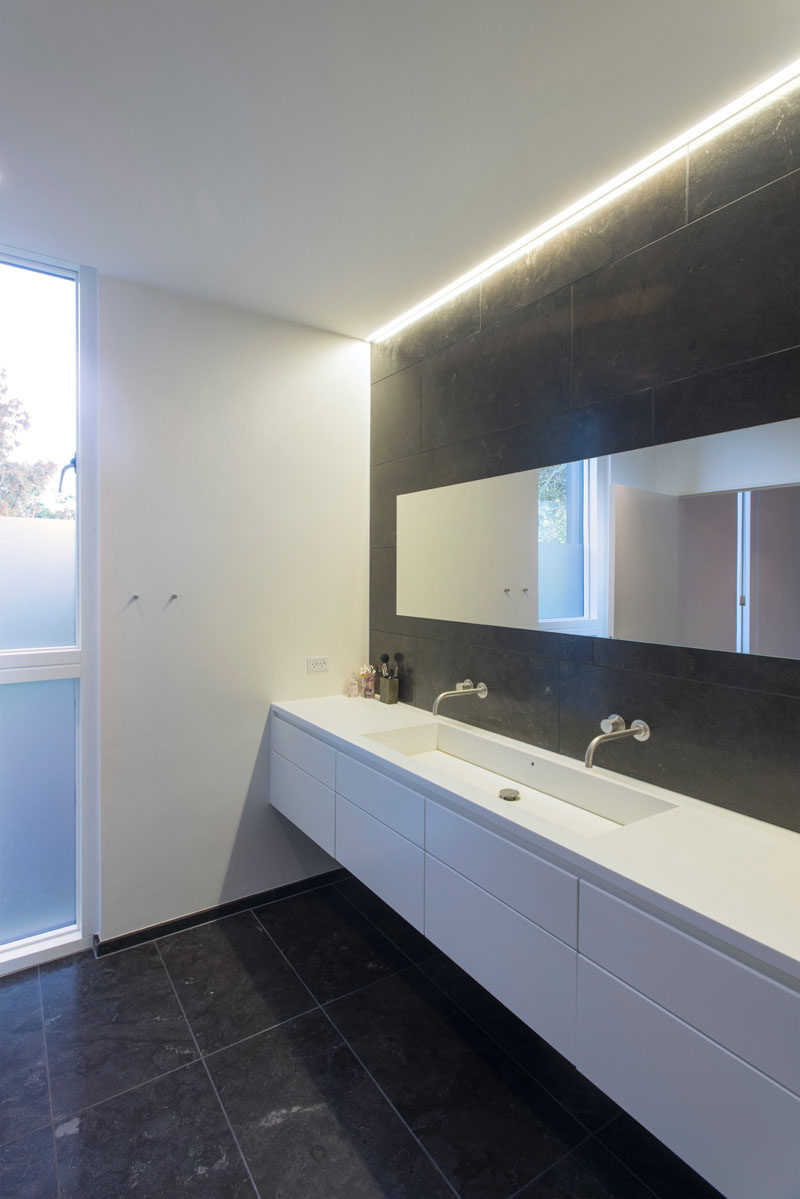 C.F. Møller designed this bathroom in a contemporary home in Denmark. Photography by Julian Weyer.
4. The round edges of this trough sink make it extra easy to clean and matches the other rounded feature in the bathroom, like the tub and the toilet.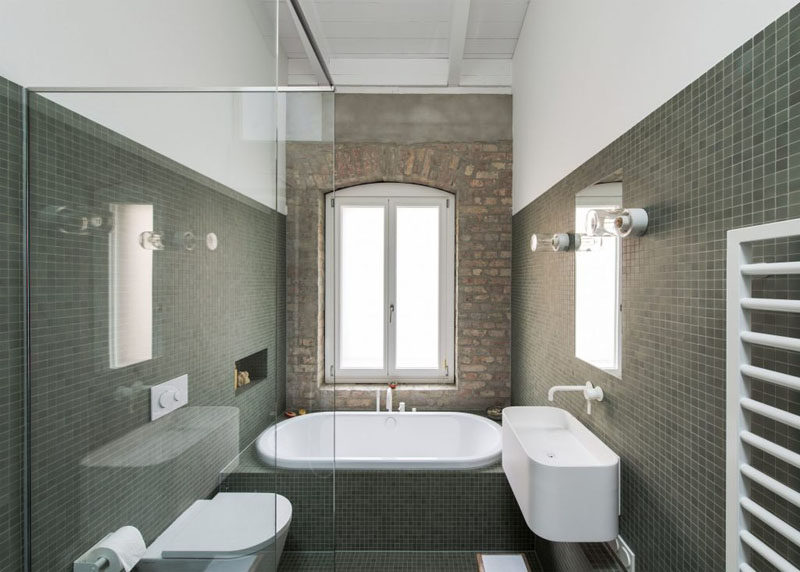 5. This large sink looks even larger by being placed right up against the fully mirrored wall.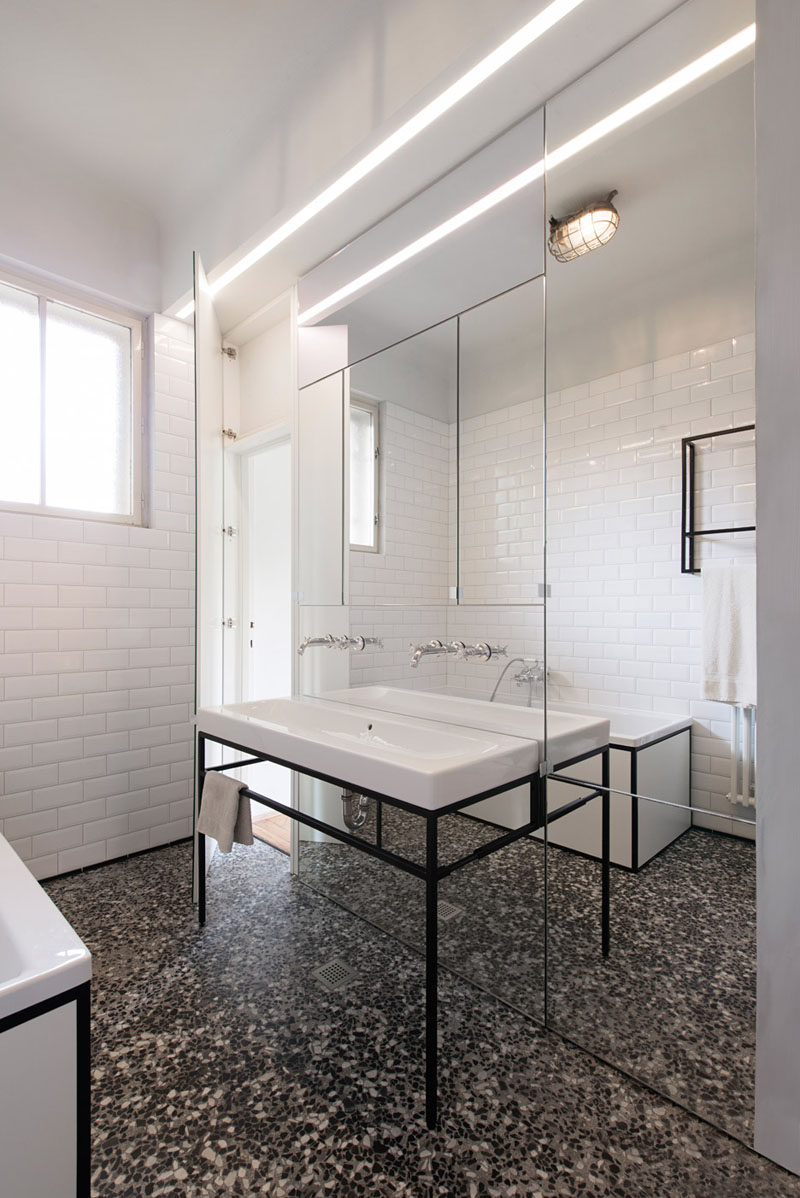 Bathroom designed by IFUB. Photography by Sorin Morar.
6. The long rounded trough sink gives this bathroom a stylish and sophisticated look.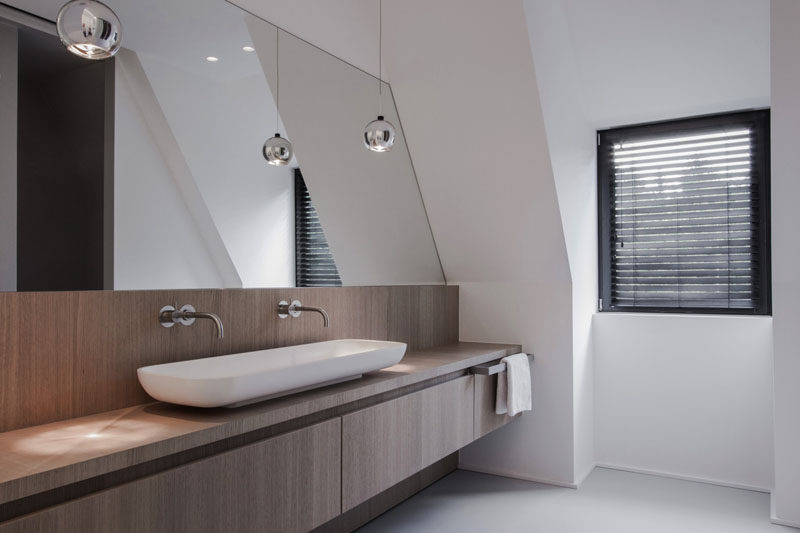 7. Water disappears down an invisible drain in this extra long trough sink.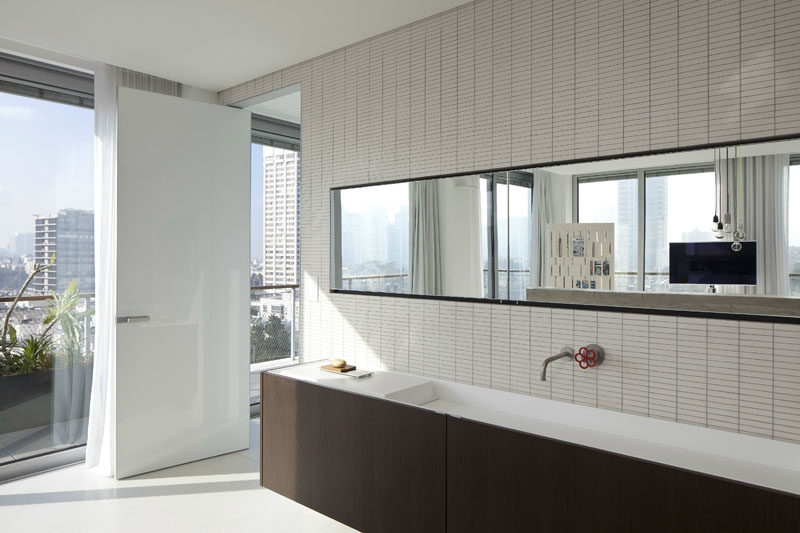 8. The hardware of this trough sink matches the hardware throughout the bathroom and creates a stylish, cohesive look.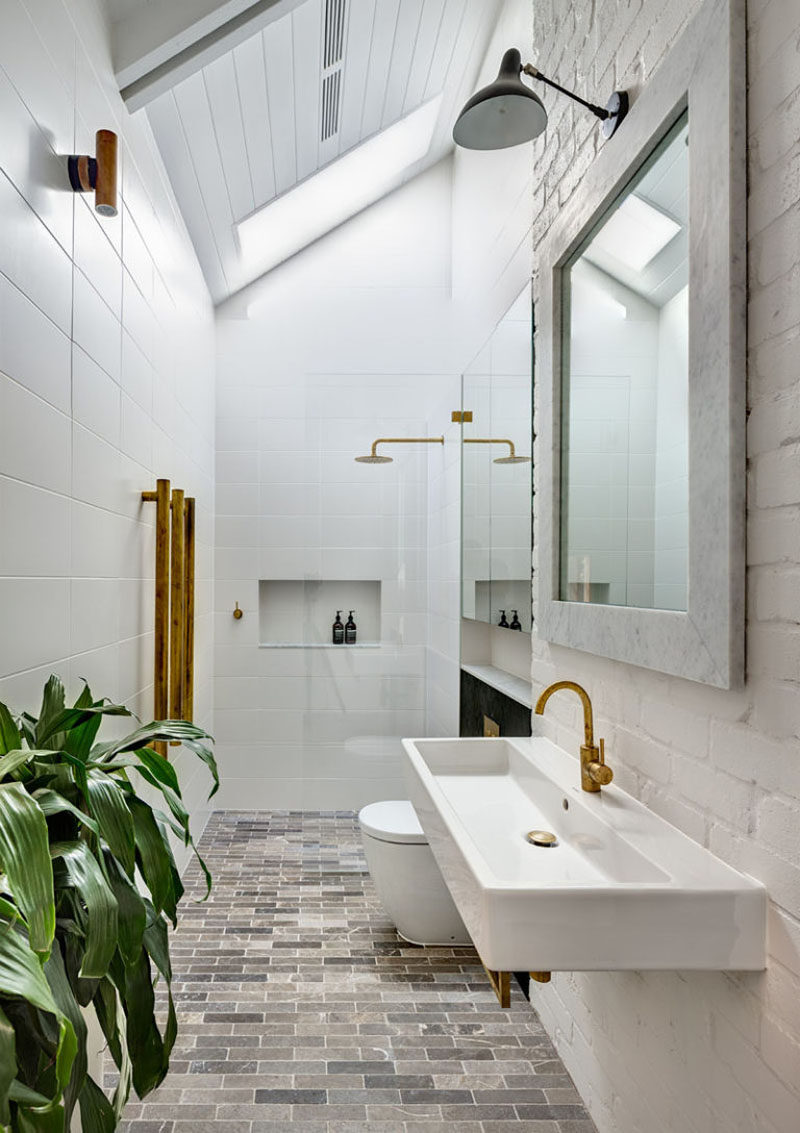 9. The long dark trough sink in this bathroom works with the rest of the dark colors in the room and makes the bathroom feel neutral yet warm.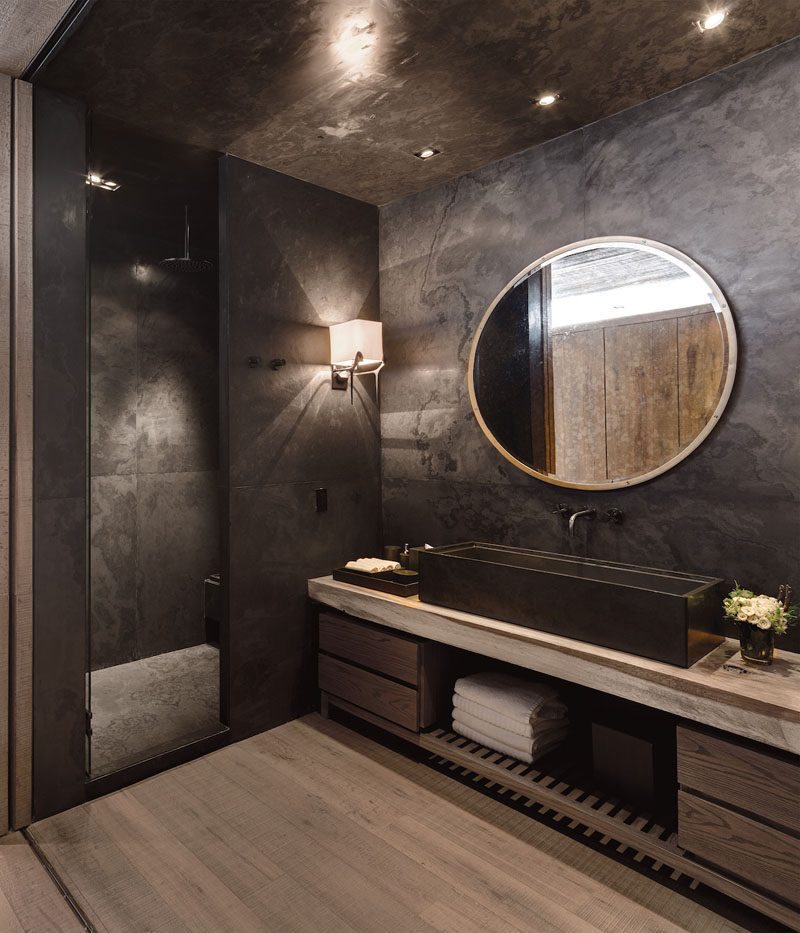 10. The bright blue countertop of this bathroom makes the clean white trough sink really stand out.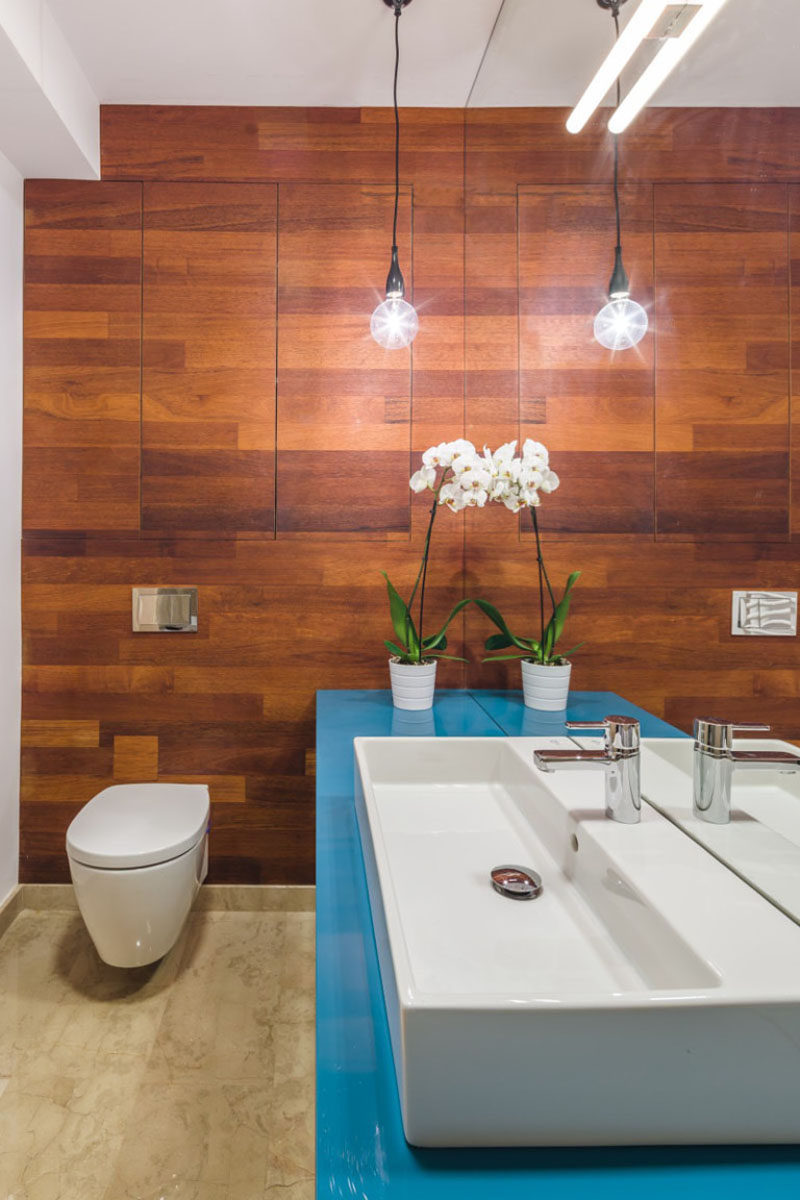 11. Matte black hardware and a bright yellow drawer unit coupled with the long white trough sink, give this bathroom a fun, modern vibe.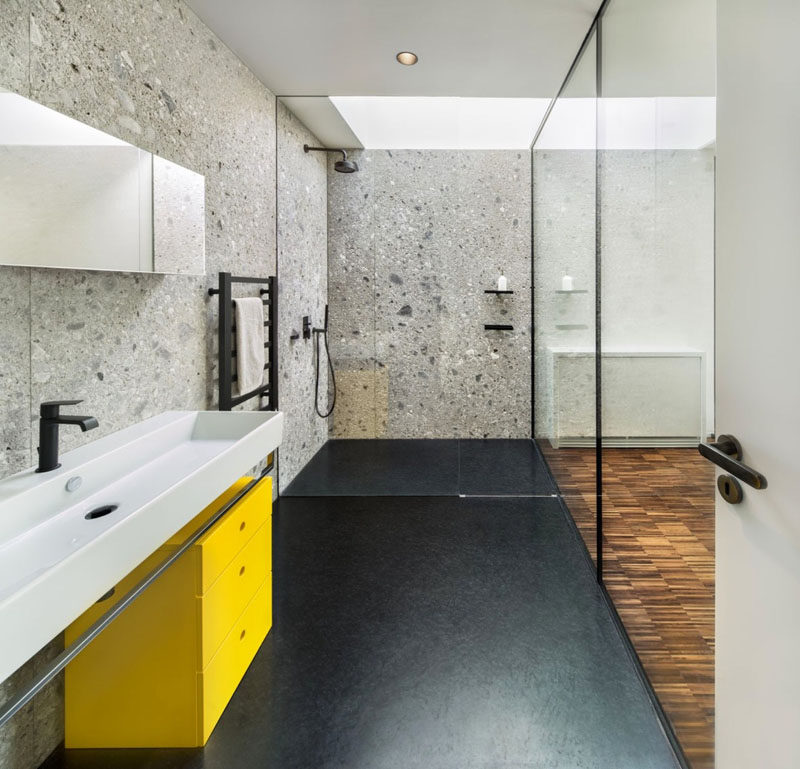 12. The faucets of this long sink are on the ends of it rather than along the back, making the trough sink in this bathroom even more unique.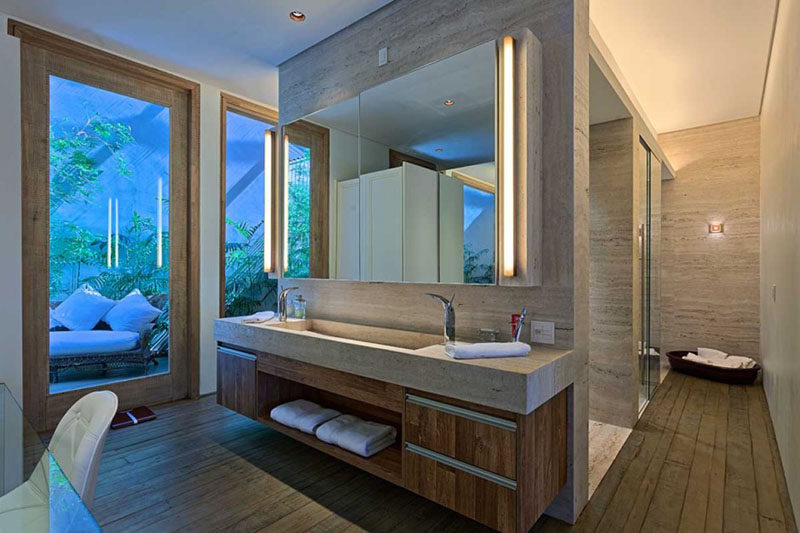 13. This long sink is built right into the counter and sends water down the back through the invisible drain.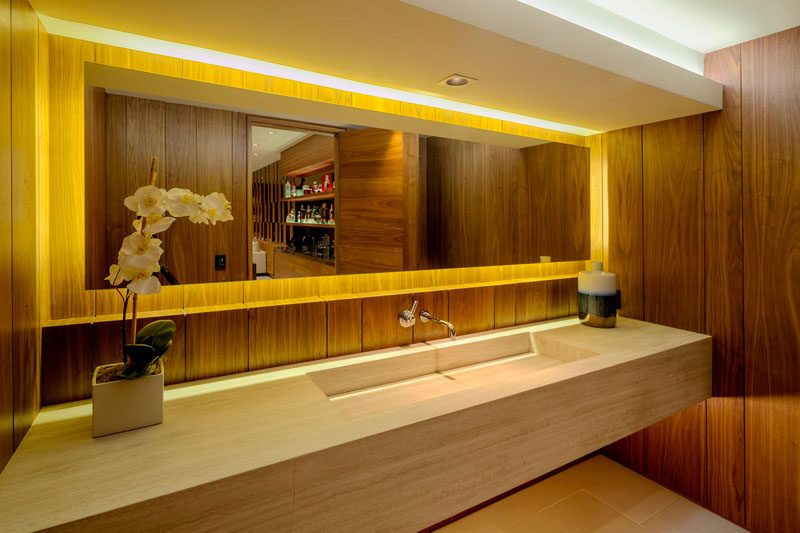 See more photos of this house, here. Photography by David Blank.
14. This marble trough sink matches both the countertops and the shower creating a sophisticated and unified look.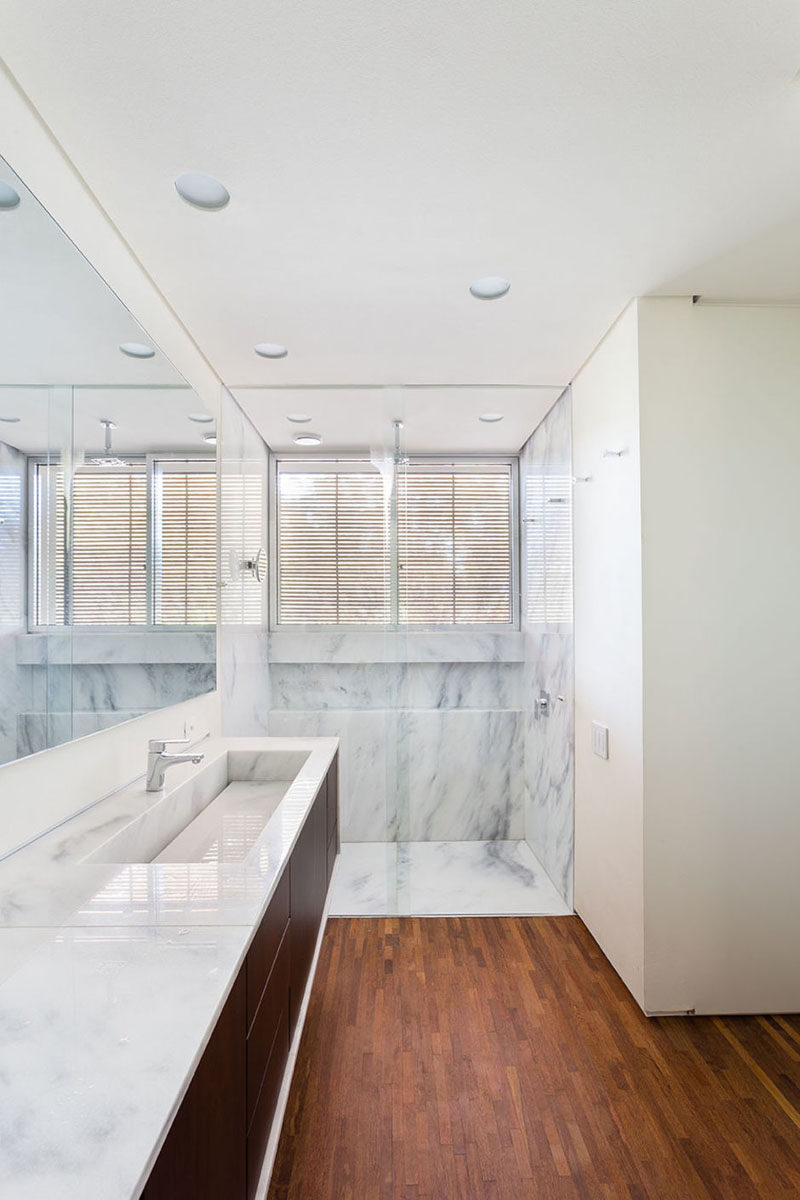 15. The extra long design of this trough sink lets three people use it at once and makes it easy to wipe down when it's time for a clean.
16. This trough sink runs almost the entire length of the bathroom.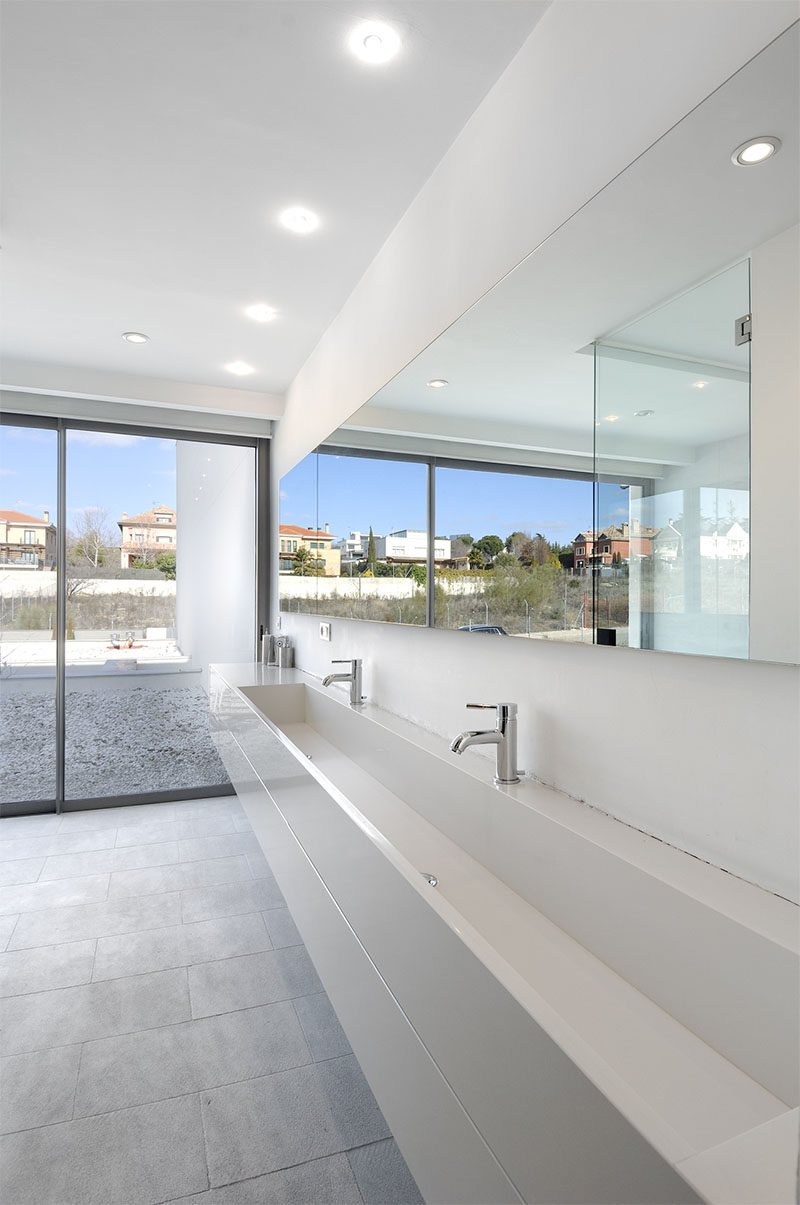 A-cero designed this bathroom in a modern home in Madrid.
17. There's just enough room on the ends of this trough sink to allow for the essential bathroom things, like toothbrushes and soap to be stored on it.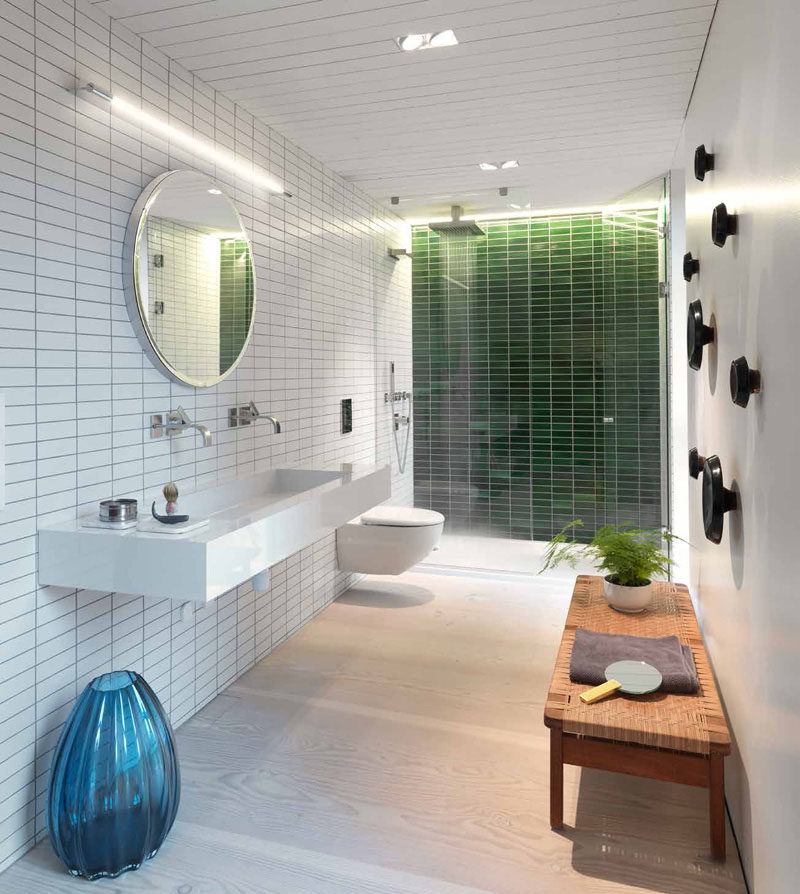 18. Two people can easily get ready at the same time in this bathroom thanks to the extra long sink that creates a convenient double vanity.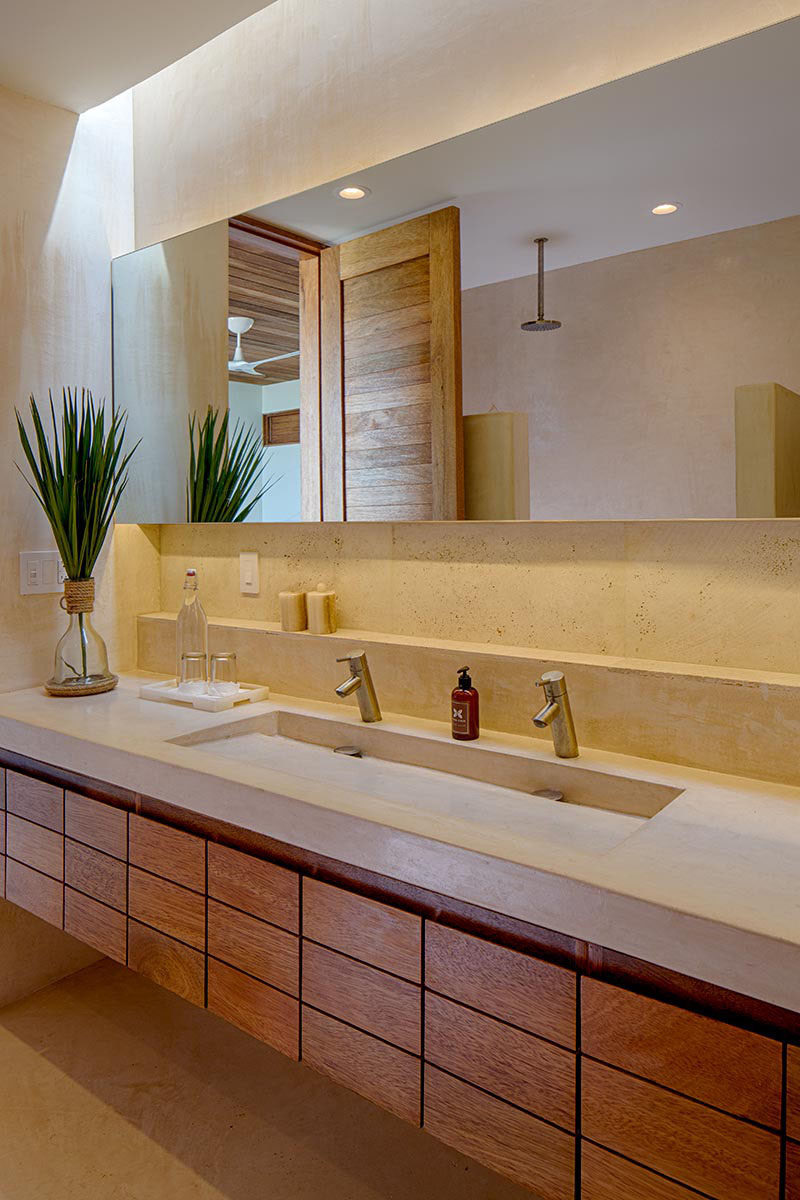 19. Here's another example of an extra long sink that has a divider sitting on top of it to provide a spot to keep things like towels and cleansers and divide the sink up evenly.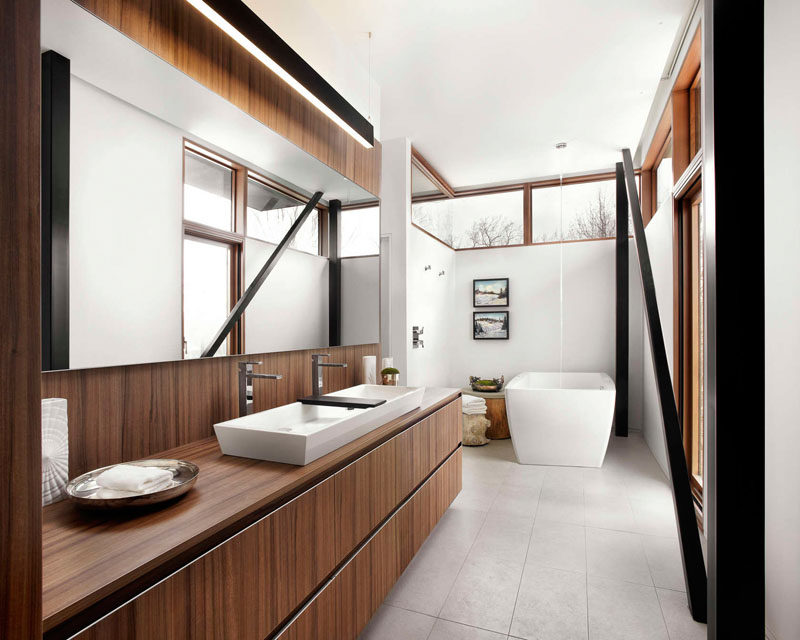 20. This marble trough sink features an invisible drain that allows for a seamless and stylish design.